Vegan pet food is healthier for dogs than a traditional meat-based diet as long as it is nutritionally complete, according to a recent study which examined 2,500 canines across the UK
Surveys compiled by pet owners over a one year period discovered almost half the dogs fed conventional diets required veterinary medication as opposed to only a third of the dogs following plant-based regimes.
Andrew Knight, Professor of Animal Welfare and Ethics and Founding Director of the Centre for Animal Welfare at the University of Winchester, UK, led the study, which he said was the largest of its kind ever undertaken.
'Evidence to date from our study and others in this field indicates that the healthiest and least harmful dietary choice for dogs among conventional, raw meat and vegan diets, is a nutritionally–sound vegan diet,' he said.
'Vegan diets are among a range of alternative diets being developed to address increasing concerns of consumers about traditional meat-based pet foods' he added, 'including their environmental 'pawprint', their perceived lack of 'naturalness', health concerns, or impacts on those animals in the food chain used to formulate such diets.'
The survey concluded that 17 per cent of dogs on conventional diets had four or more visits to the vet over the course of a year, compared with nine per cent for those on vegan diets.
Slightly fewer fed raw meat were admitted for treatment – but those animals were, in the main, significantly younger than the rest of the sample.
The researchers also looked at the prevalence of 22 specific health disorders, including problems with skin or coat, dental issues, allergic dermatitis and arthritis.
The percentage of dogs reported to have suffered some form of illness was 49 per cent for the conventional diet, 43 per cent for the raw meat diet and 36 per cent for the vegan diet.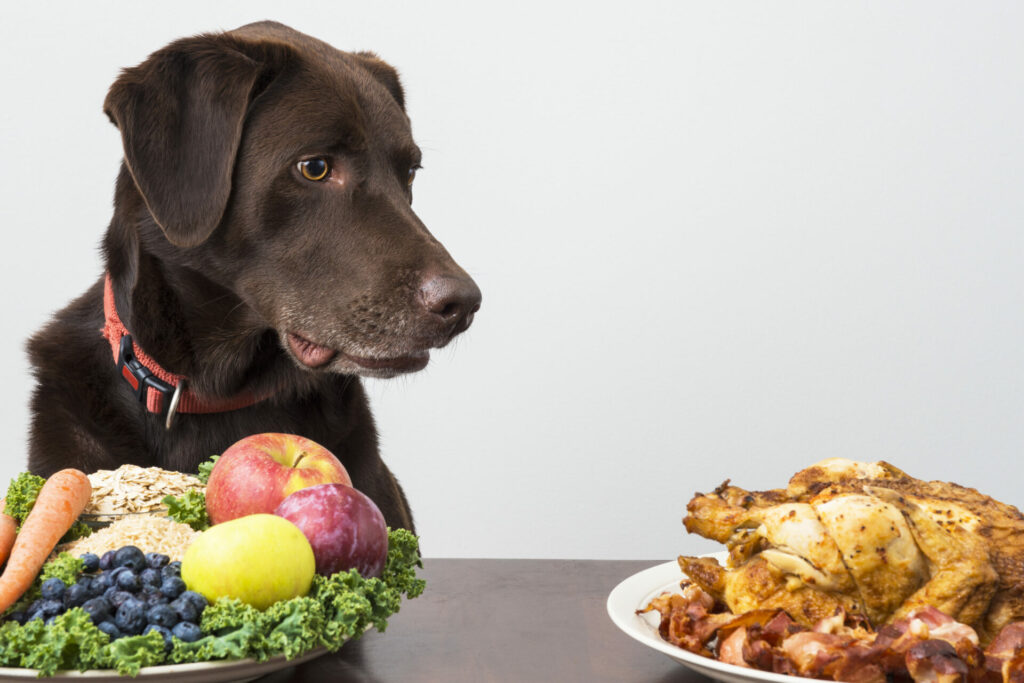 Prof. Knight, a vegan, who doesn't own a dog, said of the findings: 'One of the most common health problems for dogs is being overweight or obese and it is unfortunately common that when we do tests on the commercial meat-based diets, there are more calories.'
Vegan Pet Food Booming
There are about 470 million pet dogs in the world and an increasing number of pet owners are now considering vegan or vegetarian diets as well. About 6.9 billion pounds of vegan pet food was sold worldwide in 2020 and the sector is growing.
Dr Hazel Brown, co-author of the study, added: 'Alternative diets and pet foods offer benefits to both environmental sustainability and the welfare of farmed animals – which are processed into pet foods – but many pet owners worry that vegan diets may harm the welfare of pets.
'There is no evidence that biological and practical challenges in formulating nutritionally adequate, canine vegan diets mean their use should not be recommended."
Justine Shotton, the president of the British Veterinary Association, said: 'There is a lot of ongoing research in the field of vegan dog diets and this paper adds to the body of evidence supporting its benefits.
'However, there is currently a lack of robust data mapping the health consequences of feeding a vegan diet to a large number of dogs over many years, so we look forward to seeing further research.'