An artist who was so scared and anxious as a child that she didn't speak to anyone apart from her parents for seven years is creating hyper-realistic paintings of endangered animals to help them find a voice.
Sophie Green was a self-selected mute as a child and, as an introvert, discovered that the only thing that helped her relax was interacting with animals.
At school, she refused to speak and had to record herself narrating books at home to play to her teacher who didn't believe that she could read.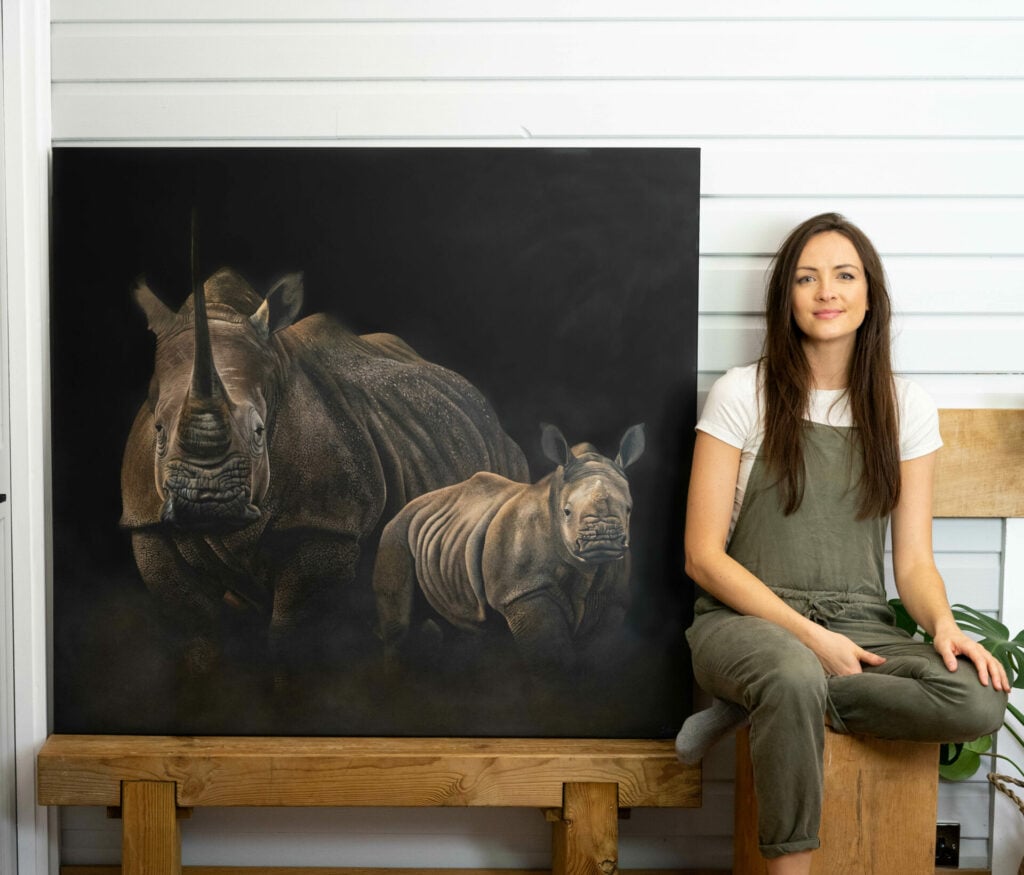 But as Sophie, who now believes she had an undiagnosed anxiety disorder as a child, spent more and more time with her cat, Rufus, she forgot her fears and began to talk to him.
The little girl would spend all her time drawing animals in nature and growing up volunteered at a wildlife sanctuary so she could study them up close.
Speaking Up
Now Sophie, 30, is one of the world's top environmental and wildlife artists and is giving back to the vulnerable species who – like her as a child – can't speak up for themselves.
She consciously travels the planet to spot endangered creatures such as polar bears, rhinos, tigers and whales which she paints and exhibits to raise funds for global conservation projects and to draw attention to their plight at the hands of mankind and climate change.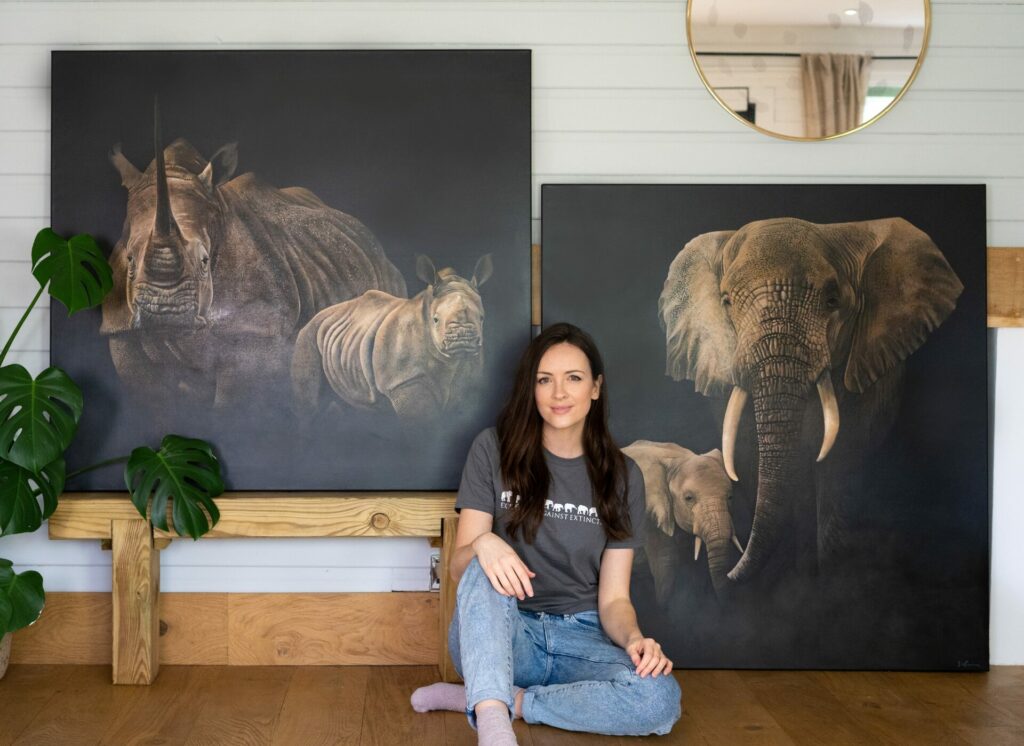 Her paintings – which are so detailed they look like photographs – fetch between £10,000 – £20,000 each, and are currently being shown in a free exhibition called Impermanence at London's OXO Tower Gallery,until 13 November, 2022.
'I paint animals to save animals,' Sophie, who has exhibited at COP26 and won many international conservation awards, tells The Ethicalist. 'I would love to make a difference in the world of conservation and use my art to make a positive impact.
'Animals helped me when I was young. I could be myself around them and didn't have to worry about anything. I know what it's like not to have a voice and I want to help give animals a voice. They can't speak for themselves so I want my art to do that for them.'
According to the International Union for Conservation of Nature (IUCN), there are currently more than 40,000 species of animals that are believed to be under threat.
Art With A Heart
Since turning professional, former teacher Sophie, who lives in the woods in the English countryside, has donated a large proportion of her income to wildlife and conservation charities worldwide, and has even set up her own project fund that will support vital conservation work, from safeguarding the snow leopards of the Himalayas, to conducting research on threatened marine species including sharks and turtles.
'Animals and the natural world have always been close to my heart,' she says. 'As a young child, I was a selective mute, which meant that I couldn't speak outside of the family home until the age of seven. I was very introverted and spent almost all of my time outside with nature and wildlife, or reading books about animals.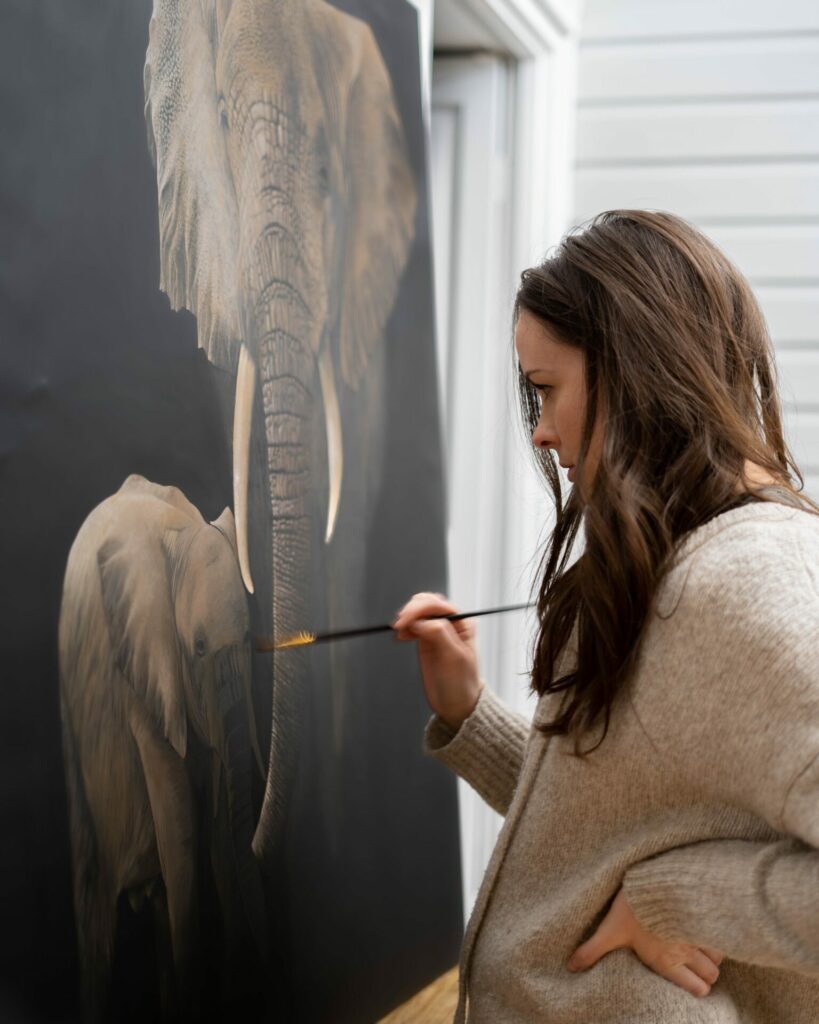 'It was never a choice to become a wildlife artist and conservationist, it came completely naturally. Animals don't have a voice and are not responsible for any of the struggles that they face due to human encroachment, climate change, poaching, etc. It is a no-brainer for me, that as many people as possible should be trying to make a difference for the voiceless.'
For her current exhibition she has painted 14 thought-provoking pieces, many of which were already reserved before Impermanence even opened. Sophie, who has an A-list following, initially thought she would do an Arctic themed exhibition following her travels there last year, but a plethora of endangered animals became her focus, including Majesty, an East African lion, which she named after Queen Elizabeth II, because the piece was finished on the day the British monarch died.
'It just seemed fitting,' Sophie says.'All of my pieces are based on a species or a current conservation issue that has drawn my attention. My recent expedition to the Arctic brought forward so many issues in terms of the wildlife, climate change, and ice melting that for a while, a lot of my pieces were polar-themed.
Hyper-realistic Art
'But I'm drawn to a range of endangered animals, including ones that not many know about such as the pangolin, and I want them to make an impact. My art is hyper-realistic and not only capture the animal but also the essence of me as person; extremely detail-orientated, deep-thinking and fascinated by wildlife and the natural world.'
After the exhibition, Sophie, who in 2021was awarded the 'medal of excellence' from the Artists for Conservation Foundation (AFC), representing 500 of the world's leading nature and wildlife artists, for her outstanding work in the wildlife and conservation sphere, will travel to Tanzania to study and photograph more endangered species.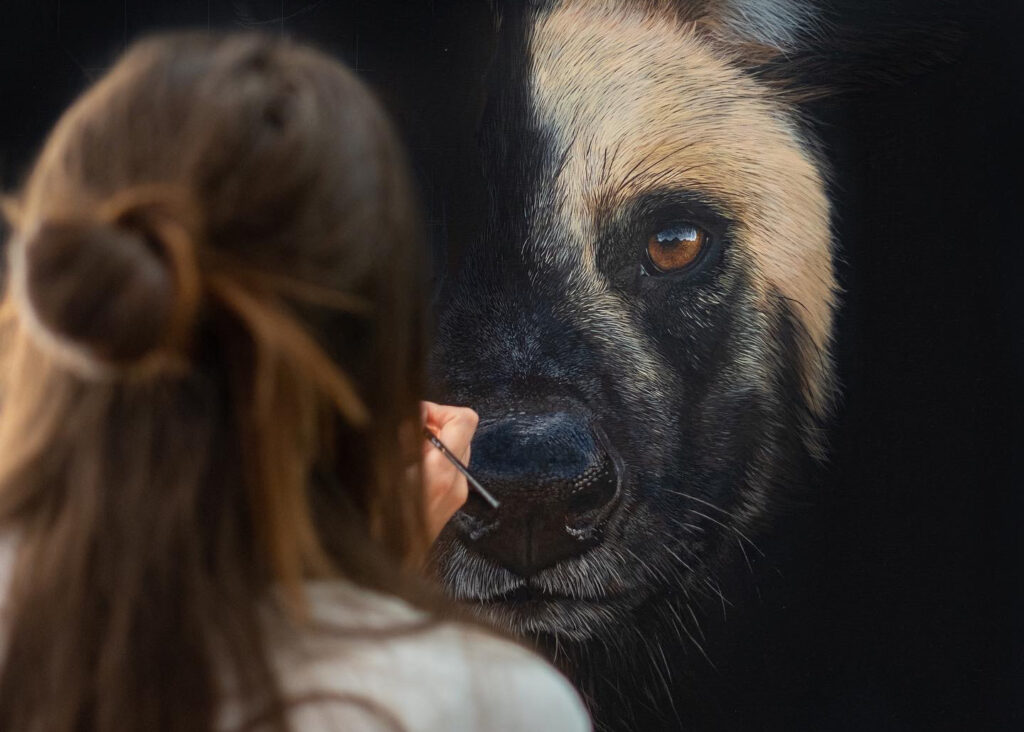 'I don't like to travel too much because of my carbon footprint, but I have always wanted to go there to see the wildebeest migration and I would also love to go to the Galapagos and Costa Rica,' Sophie says. 'I like to use my own photos for my paintings and do it to not only find sources for my inspiration and creativity but to save the animals I see.'
Sophie, who recently donated one of her paintings to Tusk and the African Community & Conservation Foundation (ACCF), where it sold at auction for $24,000, wants to scale up her exhibitions so that she can have an even bigger impact on the natural world.
'There are very few species that aren't affected by human behaviour, climate change and our encroachment onto their land,' she says. 'I'm passionate about animals and saving vulnerable and endangered species. I hope my art can speak for me – and for them.'
Admission to Sophie Green's exhibition, Impermanence is free and runs until November 13 at the Oxo Tower Gallery located in London's South Bank on Barge House Street, SE1 9PH.