More than 2,500 wild animals are being moved from a reserve in southern Zimbabwe to Zambezi, a riverside location in the north of the country to save them from a parched landscape.
A severe drought has hit the Save Valley Conservancy forcing the evacuation, as the consequences of the climate crisis replaces poaching as the number one threat to Africa's wildlife populations.
According to Tinashe Farawo, spokesman for the Zimbabwe National Parks and Wildlife Management Authority, the evacuation is in order to prevent 'a disaster from happening.'
Helicopters are being utilised to herd thousands of impalas into an enclosure, while cranes lift sedated upside-down elephants into trailers.
Rangers are driving other animals into metal cages, before loading them onto convoys of trucks, which travel 700km to take them to their new homes in, the Sapi, Matusadonha and Chizarira conservation areas, along the Zambezi river – the fourth-longest in Africa.
'We are doing this to relieve pressure. For years we have fought poaching and just as we are winning that war, climate change has emerged as the biggest threat to our wildlife,' Farawo said.
'Many of our parks are becoming overpopulated and there is little water or food. The animals end up destroying their own habitat, they become a danger unto themselves and they encroach neighbouring human settlements for food resulting in incessant conflict.'
Project Rewild Zambezi
Approximately 400 elephants, 2,000 impalas, 70 giraffes, 50 buffaloes, 50 wildebeest, 50 zebras, 50 elands, 10 lions and a pack of 10 wild dogs are among the animals being moved in one of southern Africa's biggest live animal translocation exercises, known as Project Rewild Zambezi.
One option would have been culling to reduce the numbers, but conservation groups protested that such killings are cruel. Zimbabwe last did culling in 1987, said Farawo, and this time the large scale removal project was adopted.
It is supported by the Great Plains Foundation, a non-profit organisation that works 'to conserve and expand natural habitats in Africa through innovative conservation initiatives'.
One of the new homes for the animals is Sapi Reserve a 280,000-acre private concession.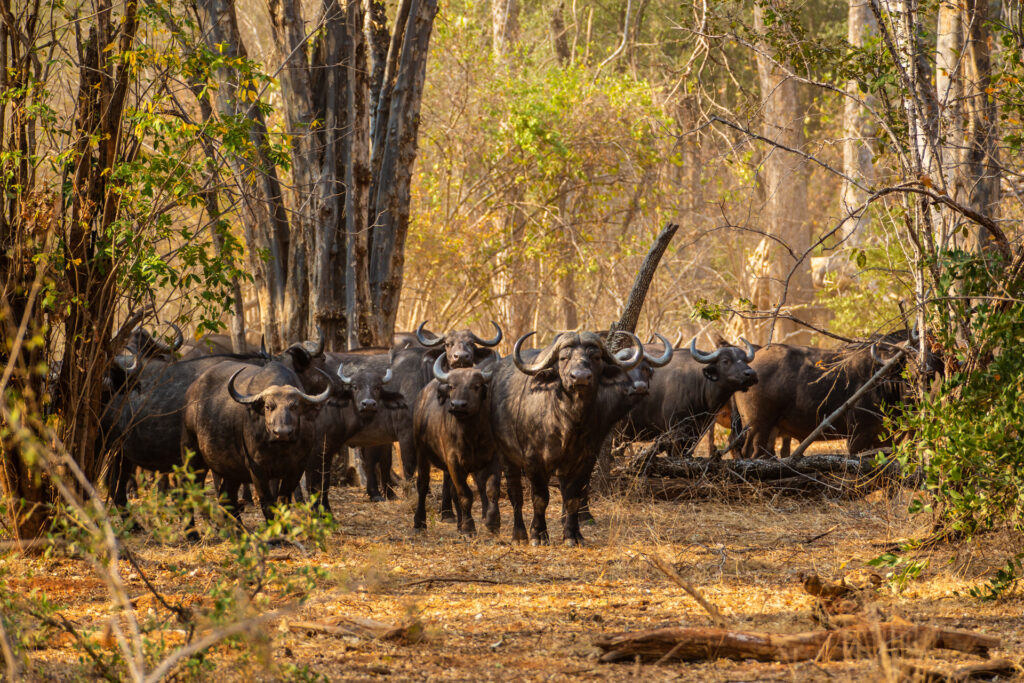 It is located to the east of Mana Pools National Park, a UNESCO World Heritage Site along the Zambezi River, that forms the border between Zimbabwe and Zambia.
Sapi 'is the perfect solution for many reasons' Great Plains CEO Dereck Joubert said.
'This reserve forms the middle-Zambezi biosphere, totalling 1.6 million acres,' he added.
'From the 1950s until we took it over in 2017, decades of hunting had decimated wildlife populations in Sapi Reserve. We are rewilding and restoring the wild back to what it once was.'
Global warming increases the risk of drought as water evaporates more quickly at higher temperatures so resulting in drier soils. As high air temperatures sap liquid water from soils and plants, ground-level drying increases.
The effects of climate change is being felt across Africa, as national parks are increasingly threatened by below-average rainfall, and also by new infrastructure projects.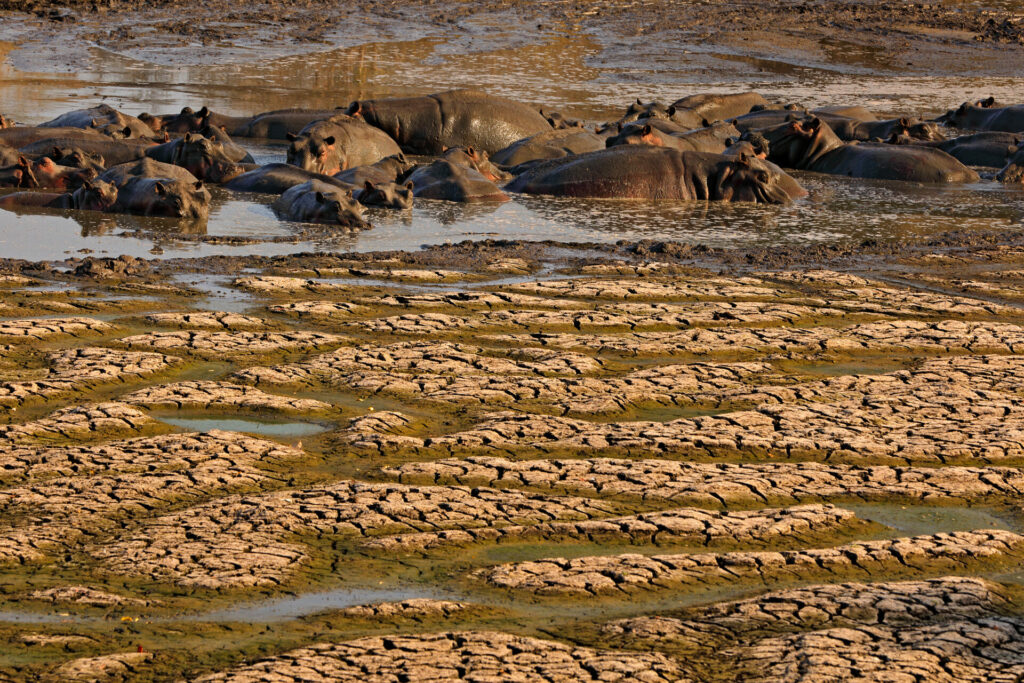 The increasing urbanisation of the population and the infrastructure that goes with it, including new roads, electricity grids, gas pipes, ports and railways, have also added to the pressure on wildlife reservations.
The at-risk parks stretch all the way from Kenya in the east — home to Tsavo and Nairobi national parks — south to the Mkomazi and Serengeti parks in Tanzania, the Quirimbas and Gorongosa parks in Mozambique and the Kruger National Park in South Africa, and west to the Kahuzi Biega, Salonga and Virunga reserves in Congo.
The parks not only protect flora and fauna but also act as natural carbon sinks — storing carbon dioxide emitted into the air and reducing the effects of global warming.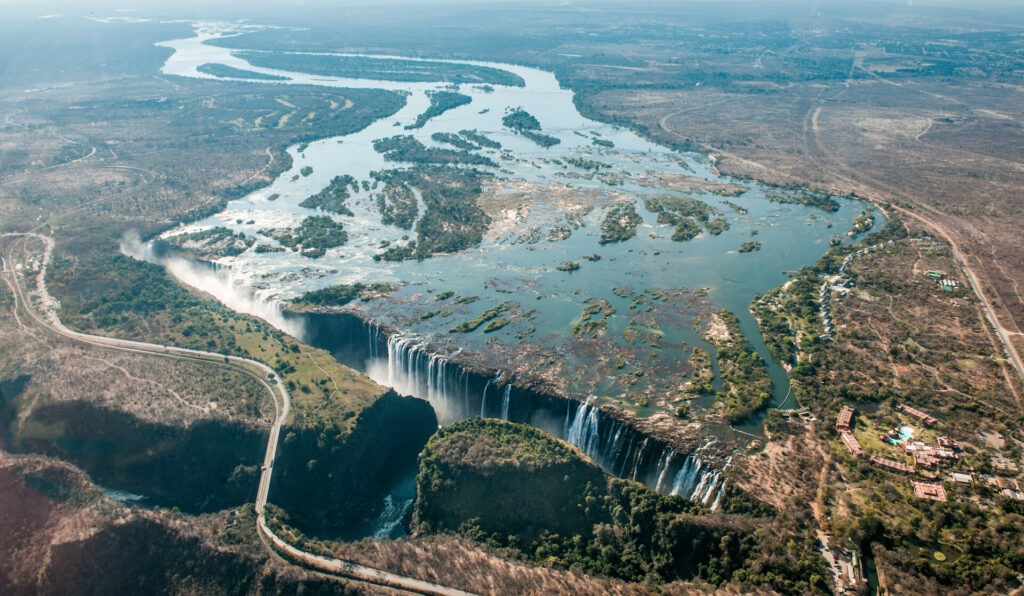 An estimated 38 per cent of the continents biodiversity areas are under severe threat from climate change and infrastructure development, said Ken Mwathe of BirdLife International.
'Key biodiversity areas over the years, especially in Africa, have been regarded by investors as idle and ready for development,' he said. 'Governments allocate land in these areas for infrastructural development.'