A pair of Labrador detective dogs, trained by the UK's Metropolitan Police, are set to join the fight to save the threatened pangolin.
The crime-fighting canines, named Buster and Bess, are preparing to join the Zoological Society of London's (ZSL) team of experts protecting the Critically Endangered creatures in Thailand – working alongside conservationists, border force operatives and in-country law-enforcement.
The dogs will complete their training in Thailand, where the scents they've been trained to recognise by police handlers will be mixed with pangolin scales until they come to associate the two – and then learn to recognise the scent of vulnerable pangolins.
Pangolins are the world's most trafficked mammals, with high levels of hunting and poaching for the illicit trade in their meat and scales, which are used for traditional medicines in Asia, primarily in China and Vietnam.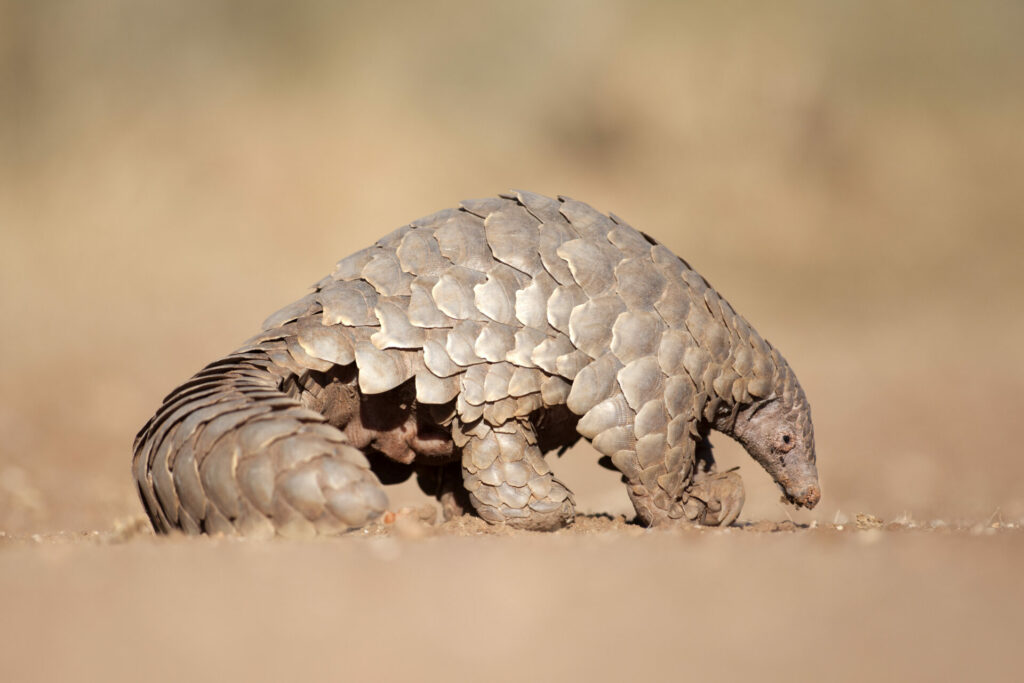 Buster and Bess will then work sniffing out live pangolins being smuggled through airports, ports and roads, so that they can be rescued and released back into the wild.
Top Dogs
'Not all heroes wear capes – some walk on all fours and have extremely powerful noses,' explained ZSL Pangolin Technical Specialist Georgina Gerard.
'Protecting species is a core priority for ZSL, so we were excited to welcome Buster and Bess to ZSL headquarters, to meet some of their new colleagues and showcase their newfound skills – before they jet off to start their new life sniffing out wildlife crime and protecting pangolins.'
During the visit to ZSL's London Zoo, the detective dogs, who passed their police dog sniffer training with flying colours, met with Gerard and ZSL Thailand Country Manager, May Moe Wah, showed off their expert detection skills, visited its Humboldt penguin colony and were presented with pangolin soft toys.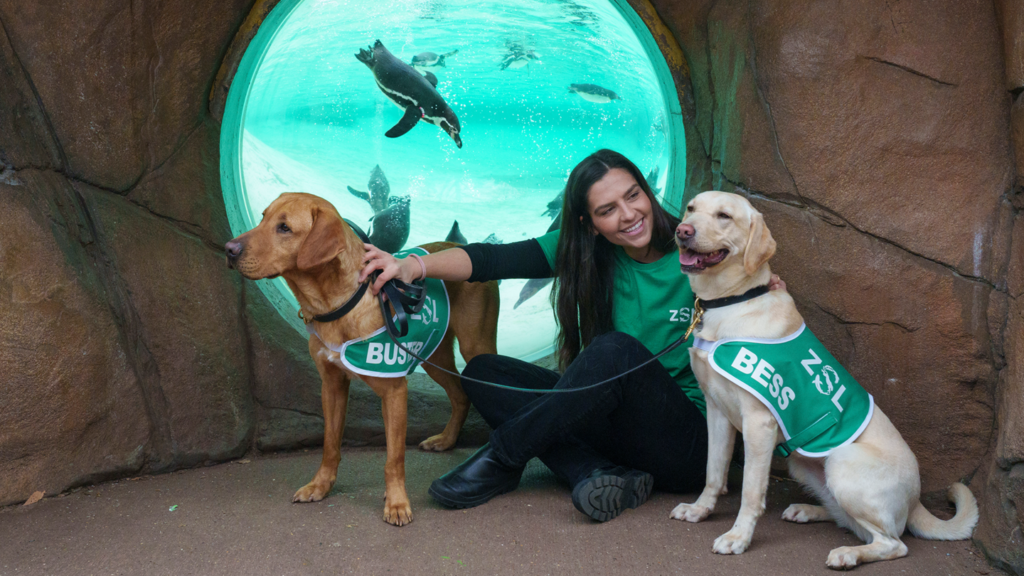 All eight species of pangolin are on the IUCN Red List of Threatened Species and considered threatened with extinction.
Although a total ban on commercial trade in pangolins was introduced in 2017, the world's only scaly mammal is victim to highly unsustainable levels of poaching and illegal trade for their meat, scales and other body parts – with 200,000 pangolins believed to be trafficked every year.
ZSL Law Enforcement Specialist Grant Miller MBE said: 'Intelligence has been telling us that live pangolins are being trafficked all across Thailand – mainly by road. Some vehicles even have purpose-built concealed areas to transport the Critically Endangered species.
'The question was, how to stop it. Before joining ZSL, I worked at UK Border Force, so I have first-hand knowledge of how effective these dogs can be in helping to deter and detect smuggling – they're as highly trained as Olympic athletes, so we know they'll be perfect for the job.
'Bess and Buster are going out to help a problem on the Indo-Burma peninsula, predominantly in Thailand, where we're seeing live animals like pangolins being trafficked along the road network to the northern neighbours in Thailand. The live animals are critically endangered and indeed one of the most trafficked animals in the world. We reckon one is poached every five minutes.'
Detective Dogs
Led by ZSL, the crime-fighting venture is a collaboration with the Met Police and United for Wildlife through funding from the Critical Ecosystem Partnership Fund and DP World, with the deployment of Buster and Bess in Thailand following on from ZSL's previous work introducing sniffer dog units to hotspots for illegal wildlife trade in Mongolia.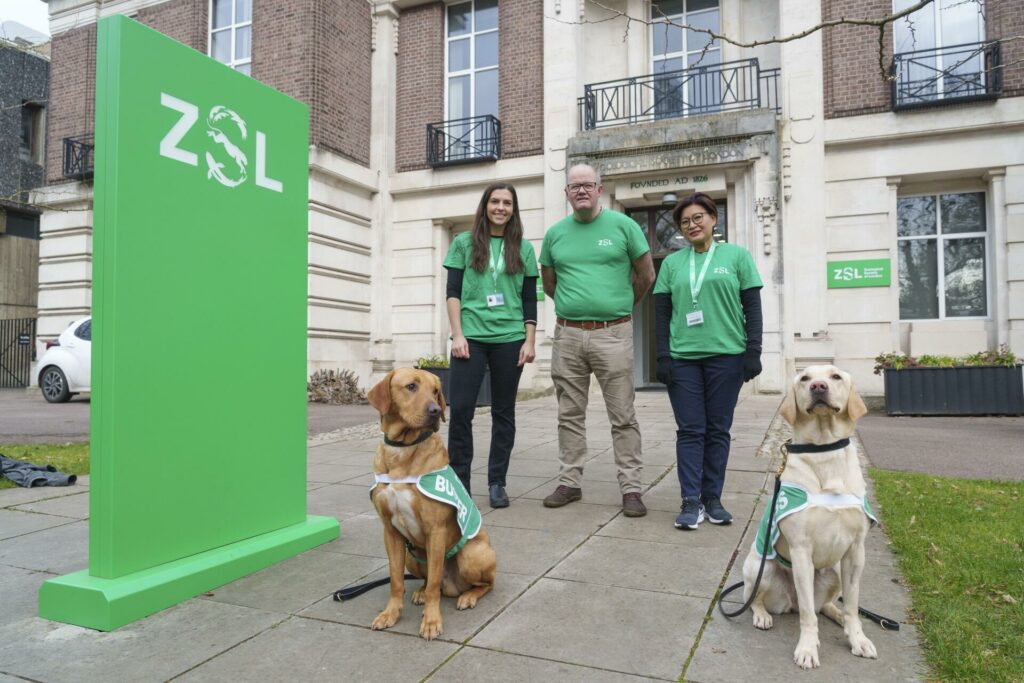 Stephen Biles of the Met Police said: 'We pride ourselves on being world class leaders in training and so we were absolutely delighted to provide support to colleagues in Thailand with this unique project.
'Police Dog Handler, PC Rob Eldridge and Dog Training Instructor, Sean Turner, have diligently worked outside of their core shift hours, sacrificing personal time to focus on Buster and Bess to get their basic skills in place.
'Buster and Bess have worked incredibly hard with their trainers to get to this point and we all look forward to hearing about the next phase of their training and the positive impacts they're sure to have in Thailand.'
The detective dogs have a working life of up to eight years, and then they'll be retired and cared for in Thailand
The United for Wildlife Taskforce said illegal trafficking of animals is estimated to be worth $20bn to organised crime.
David Fein, its chairman, said: 'It threatens protected species such as pangolins with near extinction, threatens public health and robs vulnerable communities of their lives and livelihoods. We are proud to support the deployment of these hero canines in the hope that pangolin trafficking across Thailand and around the world can be brought to heel.'
For more stories related to animal welfare, visit out Change section