Rescue dogs who have been saved from the horrors of the cruel dog meat trade are the stars of a charity's 2023 calendar.

The NoToDogMeat charity was founded in London in 2009 and saves puppies and dogs destined for the dinner table in China and Cambodia.
Now some of them are the faces of the charity's new calendar including dogs like Camille, who was undoubtedly a much loved pet before he was stolen and crammed into a truck bound for slaughter.
Dog Meat Trade
Luckily, he was rescued by the charity but Camille then caught distemper, one of the potentially fatal illnesses the many unvaccinated dogs can carry to the markets.
He pulled through but he still suffers from night fits which made rehoming him hard, and so the Tibetan spaniel has now found a new home with NoToDogMeat CEO Julia de Cadenet and is featured as Mr August in the calendar.
'He is the kind of dog that touches your heart and even though it is so hard to choose who to rescue, we couldn't leave him behind,' Julia tells The Ethicalist. 'He has borne so much in his little life and his soul carries the stories of the many who can't be saved. His DNA also carries a big history.
'Tibetan spaniels have long been revered in China, gifted by Tibetan monks, a rare ancient breed. It is therefore particularly shameful and sad that such a loyal companion would be stolen and sold by criminal gangs for food.

'We hope that dog lovers will purchase our calendar to help us save more dogs like Camille, and help end the dog meat trade for good.'

Earlier this year, in response to the pandemic, the Chinese government declared that dogs were not food, but just stopped short of making it a law.

Since 2009, Yulin, an ancient city in China, has become notorious for holding a dog meat festival each year from 21 – 30 June to 'celebrate the summer solstice' where an estimated 10,000 dogs and cats are killed and eaten.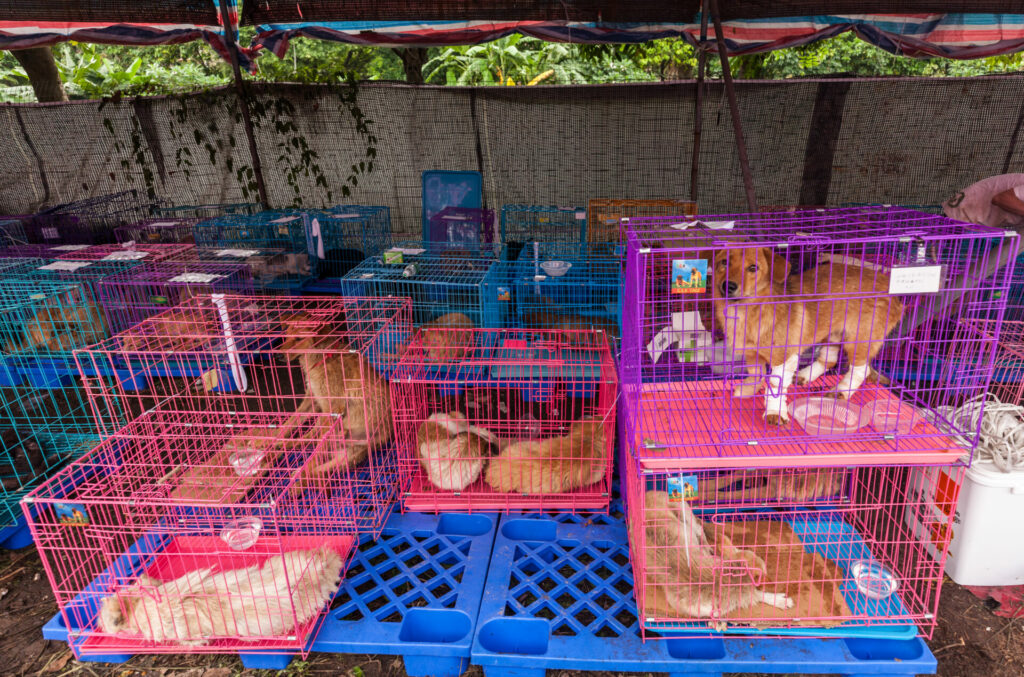 Lauded locally as traditional, this festival was, in fact, created to bring business to a place that was economically depressed. Sadly, it has been very successful in doing so.

What is not so well known is that festivals like Yulin happen all year round, all over the Chinese countryside, with horrifying dog meat trade statistics. It is estimated that in China alone, 10 – 15 million dogs are eaten annually – some figures say up to 50,000 per day – and 4 – 5 million cats.

'Far from dying out, the cat and dog meat trade is a thriving, highly profitable industry thanks to a strong network of greedy restaurateurs, meat dealers and butchers who, out to make easy money, have convinced the public that eating dog and cat meat is healthy and fashionable,' Julia tells The Ethicalist.

'Many may defend dog and cat eating as a country's right to follow its 'cultural tradition' but haven't there been many cruel practices throughout history that have been banned as societies became more civilised and compassionate? After all, slavery and human sacrifice were once considered 'cultural traditions'.

'The 'tradition' of eating dog and cat meat is no different. We believe any country that supports or turns a blind eye to such malicious cruelty – whether toward humans or animals – has no right to call itself 'civilised'.'

In 2021 the World Health Organisation renewed its call for the sale of live wild mammals to be suspended at food markets in Asia, and China took the historic step of establishing a specific office in Beijing to protect pets – the China Compassion Animal Protection Office.

That same year China declared that dogs were not livestock and should not be treated as food, banning the live slaughter of dogs for the dog meat trade.

This should have effectively outlawed Yulin but a lack of respect for and enforcement of the rules has emboldened organisers further.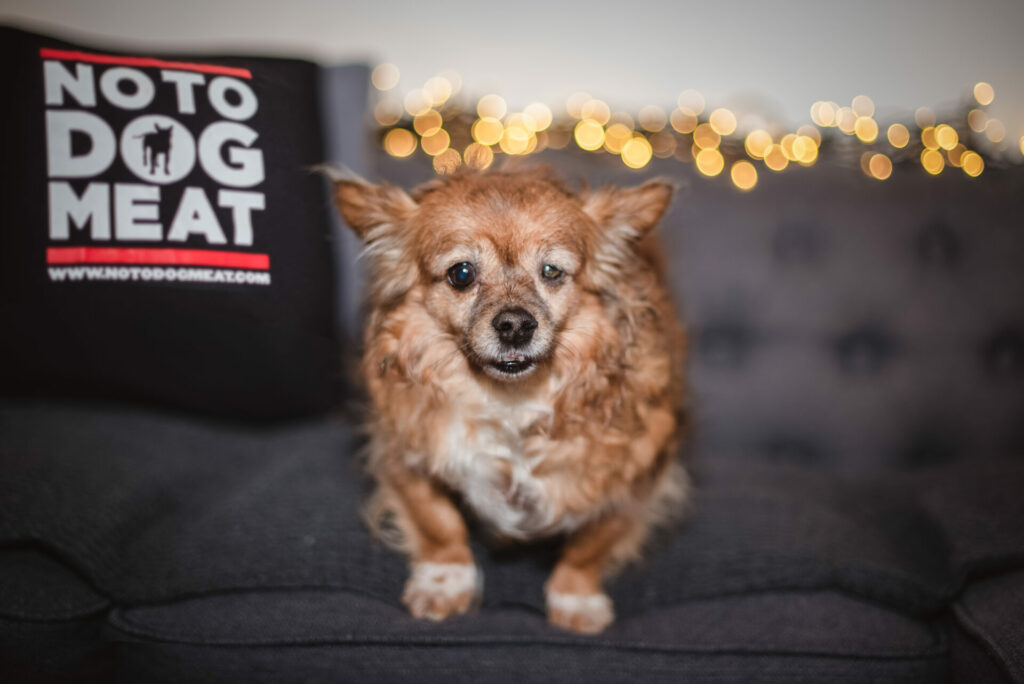 Eight-year-old Alie, a Corgi-cross puppy, was found cowering under a meat stall at the notorious Chinese dog meat festival after suffering an horrific beating.
Volunteers from the NoToDogMeat charity were able to transport her to safety, and she received extensive medical care for horrific injuries to her face, eye and lower back.
Following her ordeal, she was transported to a loving home in London, and is one of the rescued dogs featured in the calendar.
Julia, who founded the NoToDogMeat NGO in 2009, says: 'Alice's story is inspirational but sadly not unique. She is such a happy loving dog, and was clearly somebody's pet before being taken to the meat market.
'We work hard every day so that dogs like Alice can get a second chance at life, and we hope that people will show their support by buying our calendar.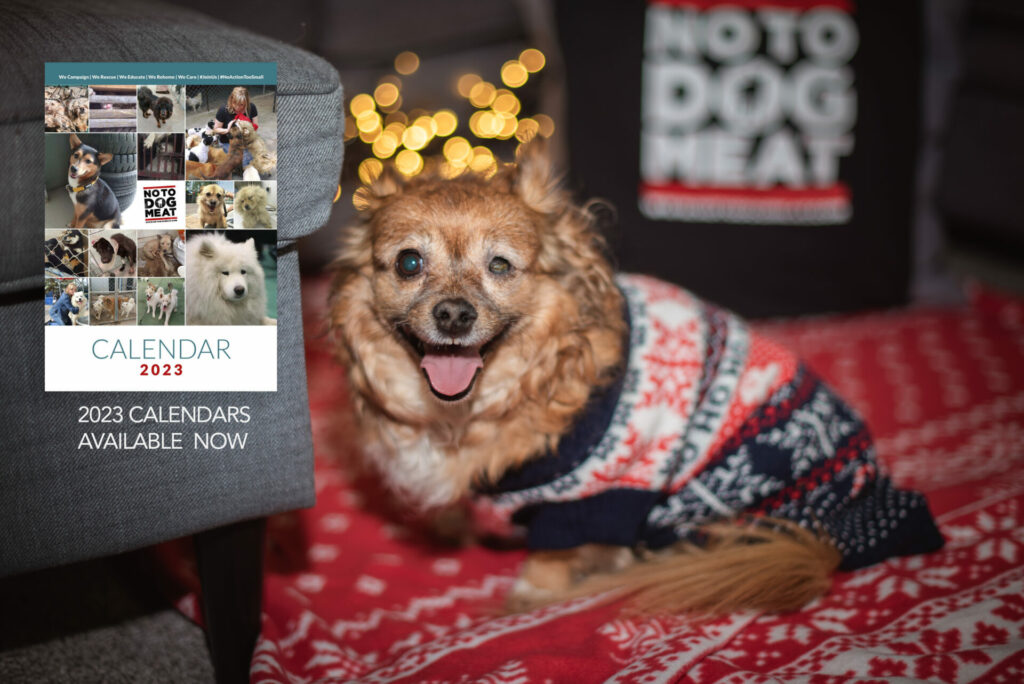 'Starting NoToDogMeat has shown me the very best and very worst of humanity. This work has been a life calling for myself and so many others, and we can't stop now, not when we know that dogs still suffer.'

NoToDogMeat also recently opened its first shelter in Cambodia, expanding the charity's reach, working with local people who want to make a difference and outlaw the dog meat trade.

The NoToDogMeat 2023 calendar is priced at £12 including postage www.notodogmeat.com