Once again, the world must brace itself for the horror that is the Yulin Dog Meat Festival, an annual event held in Yulin, Guangxi, China, which sees thousands of dogs tortured and killed for their meat.
The 'festival' held from 21 – 30 June, in the ancient city is purportedly to celebrate the summer solstice and it's estimated 10,000 dogs and cats are killed and eaten each year at the event.
The people who attend believe eating dog meat on this day will bring good luck.
Far from being ancient or traditional, this festival, known worldwide as 'Yulin', was created recently in 2009 to bring business to a city that was economically depressed. Sadly, it has been very successful thanks to a thriving dog and cat meat trade.
This highly profitable industry has flourished thanks to a strong network of restaurateurs, meat dealers and butchers who, out to make easy money, have convinced the public that eating dog and cat meat is healthy and fashionable.
In every country where dog meat is eaten, the people who do these things believe that the more intense the fear and torture experienced by the animals, the better flavour the meat will have. The belief is that stimulating as much adrenaline as possible through the animal's body before death will make it taste better and bring the maximum health benefits.
Long Road to Death
Every year thousands of dogs and cats are grabbed from the streets and their communities or homes and transported long distances, crammed into cages so small they can't move, with no food or water on journeys that can take days.
Many dogs die during the transportation process from illness, dehydration or heatstroke – those that survive the journey will only endure more pain and suffering when they arrive in Yulin.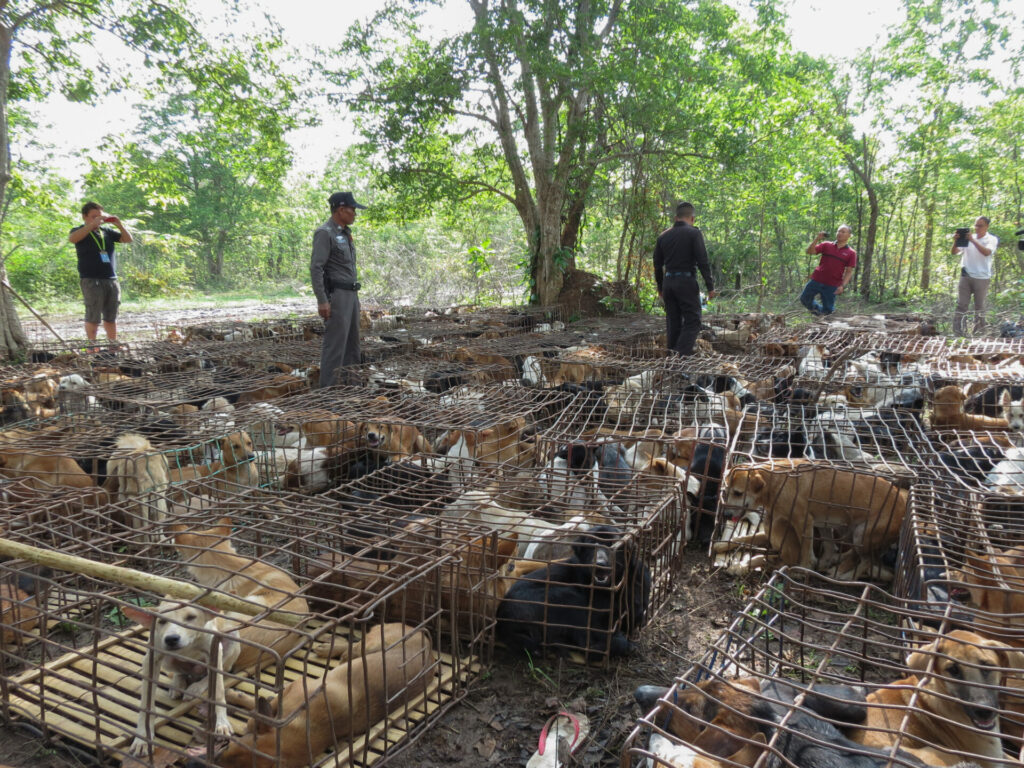 Only this week campaigners say 2,000 dogs have been transported to the festival, which despite the pandemic seems to be attempting to be bigger than ever.
One truck with 386 dogs crammed on board was stopped 800km away from Yulin a few days ago with help from the police.
The operation began in a village close to the Chinese city Hebei, when rescuers from NGO NoToDogMeat discovered a truck being loaded with hundreds of desperate dogs, destined to die by being made into soup.
Mr Zhao, an activist who runs NoToDogMeat's shelters in Beijing and Hebei, which currently house around 700 rescued dogs, said: 'It took a long time and a lot of work to identify the truck, but we are hopeful of a positive outcome. They should not be travelling, and Yulin should not be going ahead. This rescue has been a team effort with multiple campaigners from multiple organisations, all united to stop this horrible trade and cruelty.'
Footage shows the terrified dogs looking through the sides of the truck, as it was forced to stop at the side of a busy main road.
People lined the pavement to ensure that the driver did not leave, until the authorities arrived.
'It was horrifying to see so many dogs in such an appalling state, it was like a truck from hell for these poor animals,' Lin Xiong, an activist on the scene is quoted in The Telegraph.
'They had probably been on the truck for days, dehydrated and starving, many of them with visible signs of injury and disease. We could see their petrified faces peering out from the cages and we knew those dogs were headed straight for Yulin slaughterhouses where they would have been bludgeoned to death.'
Julia de Cadenet, CEO of NGO NoToDogMeat said: 'It is the Chinese activists and grass roots charities who are risking themselves to act in these situations. Mr Zhao is a superhero.
'As a charity we have very few resources, but we always do our best to act quickly on information we receive, to help these poor dogs, many of whom will be people's stolen pets. We call on other organisations and campaigners in China to help us, so that we can spare as many dogs as possible from the torture and horror of Yulin.'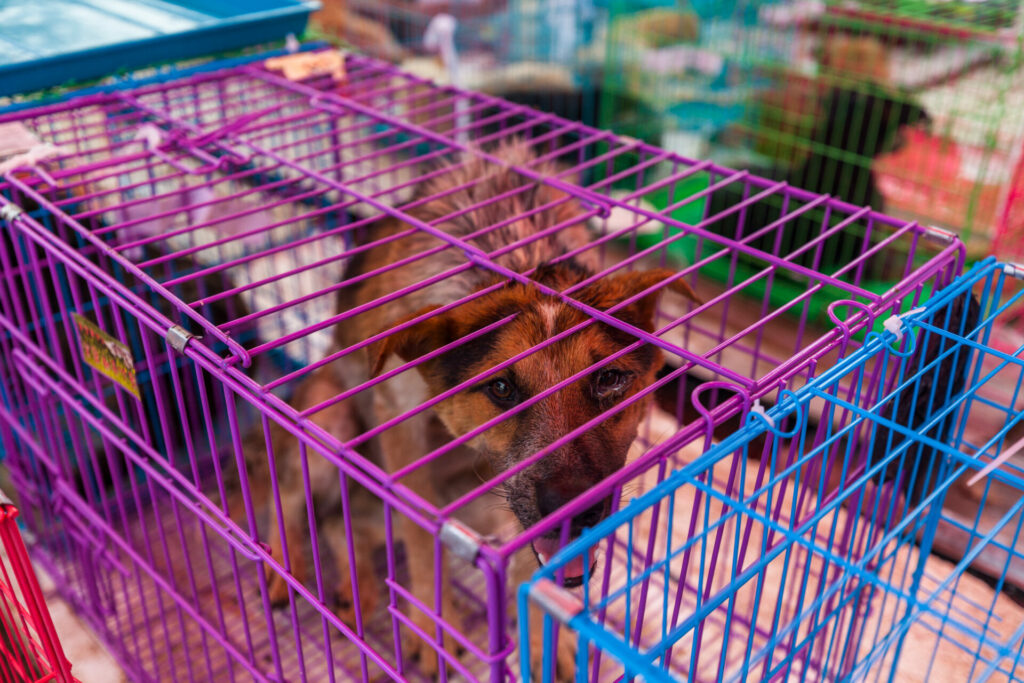 Prior to being killed, the dogs are 'tenderised' before death via malicious practices, including various combinations of hanging, bludgeoning, drowning, suffocation, stabbing, electrocuting, burning, blowtorching, boiling, and skinning alive.

In order to increase their suffering, the animals are usually forced to watch this being done to others while they await their own turn.

The places where they are kept are filthy, cold and damp. In some cases, the dogs are starved as part of the torture. In others, their only food is their companions who die and then are boiled whole in a pot.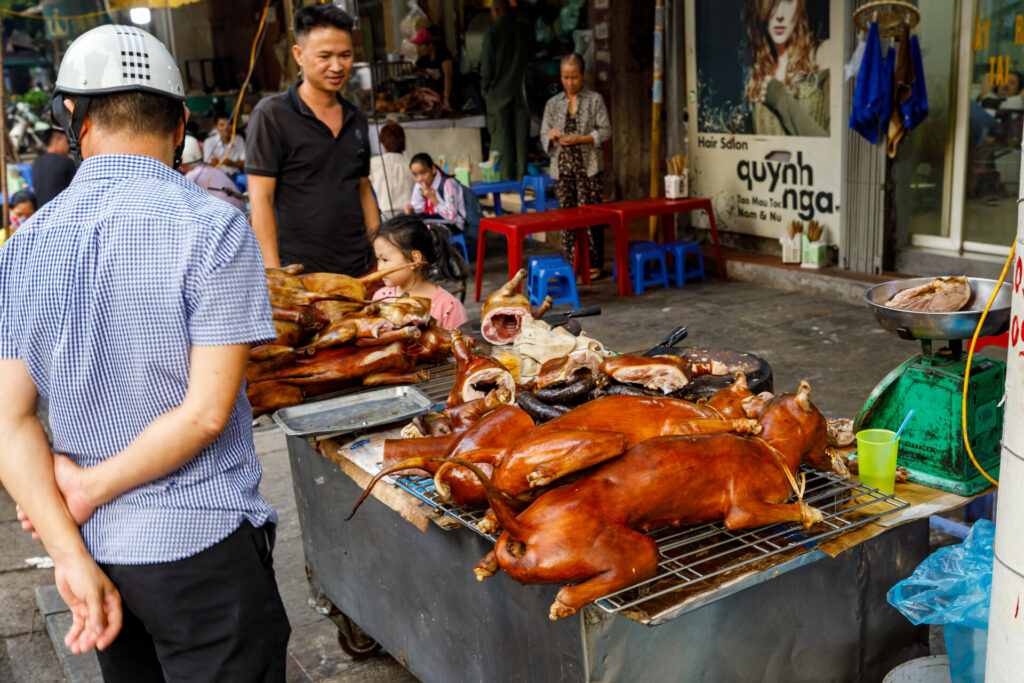 And it's not just an animal welfare crisis but a health and safety catastrophe waiting to happen. The dogs sold on the market are sick, poisoned and dying animals who possibly carry contagious diseases.
Not Just in June
The Yulin event is only one small part of the year-round dog and cat meat trade in China and across Asia, where millions of animals are killed each year.
It is estimated that in China alone, 10 to 15 million dogs are eaten annually – some figures say 50,000 per day and 4 to 5 million cats.

Any dog can end up in the meat trade. Former companions, stolen pets, all types of purebreds, including cocker spaniels, poodles, Labradors, shih tzus, lhasa apsos and schnauzers.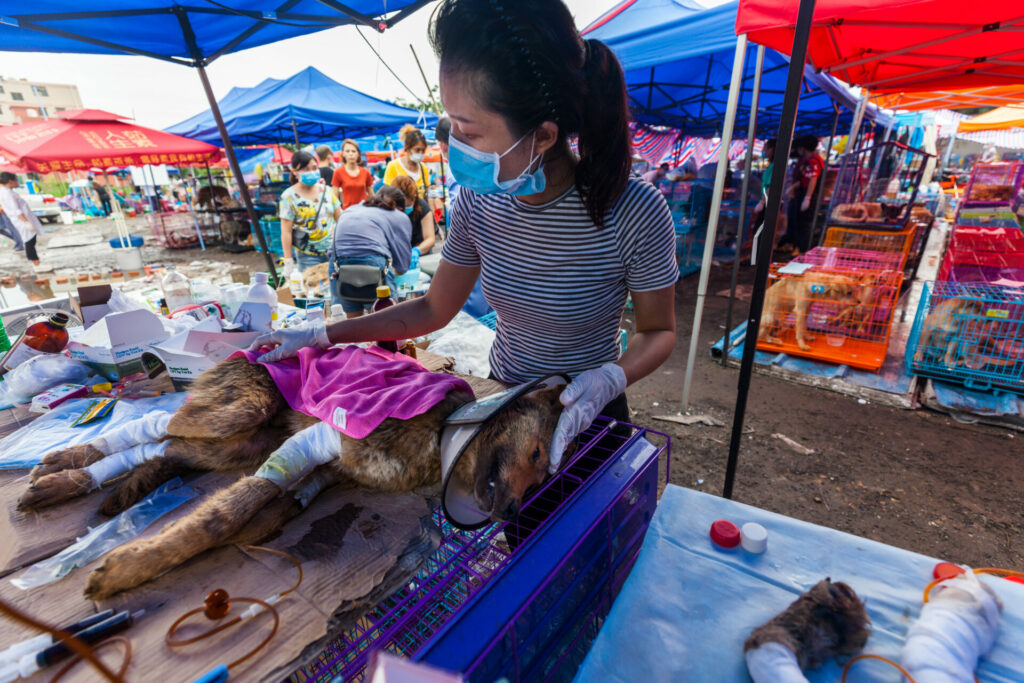 Dogs from puppy mills, shelters, farmed dogs, dogs trafficked from the police pounds and dogs sold at closed dog auctions. Puppies are regarded as a delicacy.

Some may defend dog and cat eating as a country's right to follow its 'cultural tradition'. Yet many cruel practices throughout history have been banned as societies became more civilised and compassionate.
After all, slavery and human sacrifice were once considered 'cultural traditions'. The 'tradition' of eating dog and cat meat is no different.
Hope
As people become educated on the cruelty and health risks of dog meat, fewer dogs face slaughter in China.
Two major cities – Shenzhen and Zhuhai – have banned the consumption of dog and cat meat, a decision that polling has showed was supported by almost 75 per cent of Chinese citizens.
Although it was once illegal to keep dogs as pets in China, times have changed, and many households now have a dog. These pet owners are not only shunning dog meat but speaking out against it. As a result, the number of dog slaughters is decreasing throughout China.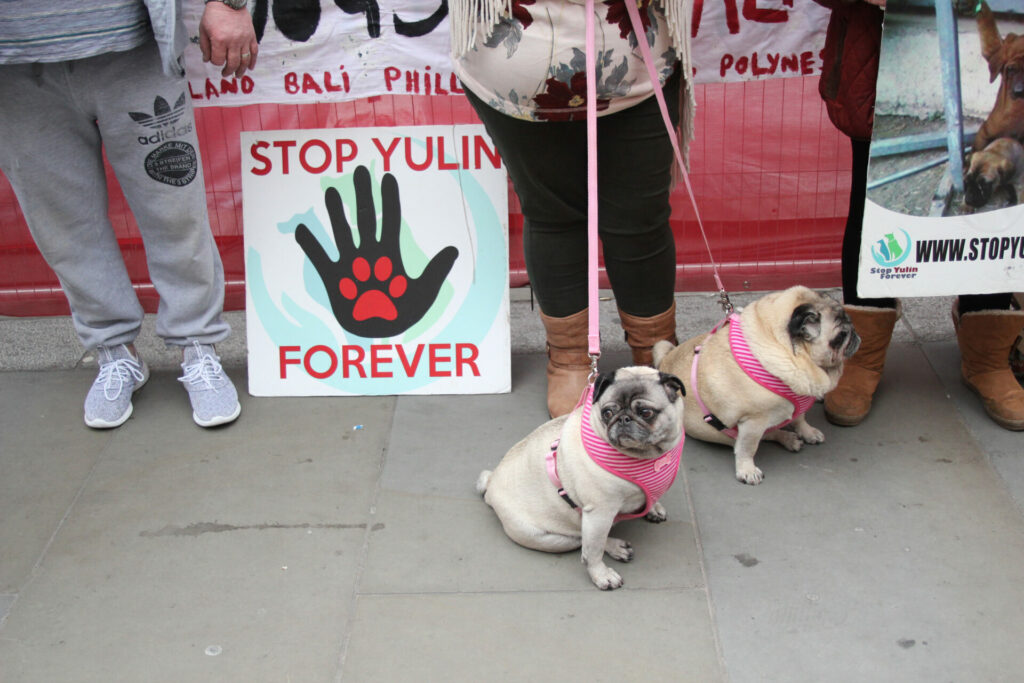 Hopes of a change in Yulin were raised in February 2020 when the Yulin authorities declared a ban on dog meat, calling it an effort to combat coronavirus. However, the festival still went ahead on 21 June 2020 in defiance of the orders.
Nonetheless the tremendous global outcry against the festival means dog butchers are now forced to hide from public eyes.
And while it is almost impossible to know exactly how many dogs are killed during the event because no official figures are available, pressure from activists and the public have helped to reduce the size of the festival.
In 2021 the World Health Organisation renewed its call for the sale of live wild mammals to be suspended at food markets in Asia, and China took the historic step of establishing a specific office in Beijing to protect pets – the China Compassion Animal Protection Office.

That same year China declared that dogs were not livestock and should not be treated as food, and banned the live slaughter of dogs.

This should have effectively outlawed Yulin, but lack of respect for and enforcement of the rules has emboldened organisers further.
For more information on the work of Julia de Cadenet, CEO of the NoToDogMeat NGO visit the charity here