Halloween might be frightfully fun, but it's also often terrifyingly terrible for the planet. From plastic pumpkins filled with E-numbers and candy wrappers, to cheap polyester costumes flown in from far-flung countries, the ethical impact of just one day's celebrations can be frightful. But is there a better way of doing it? Here are 11 ways to have some spooky fun in the UAE that aren't too scary for sustainability.
Messy Play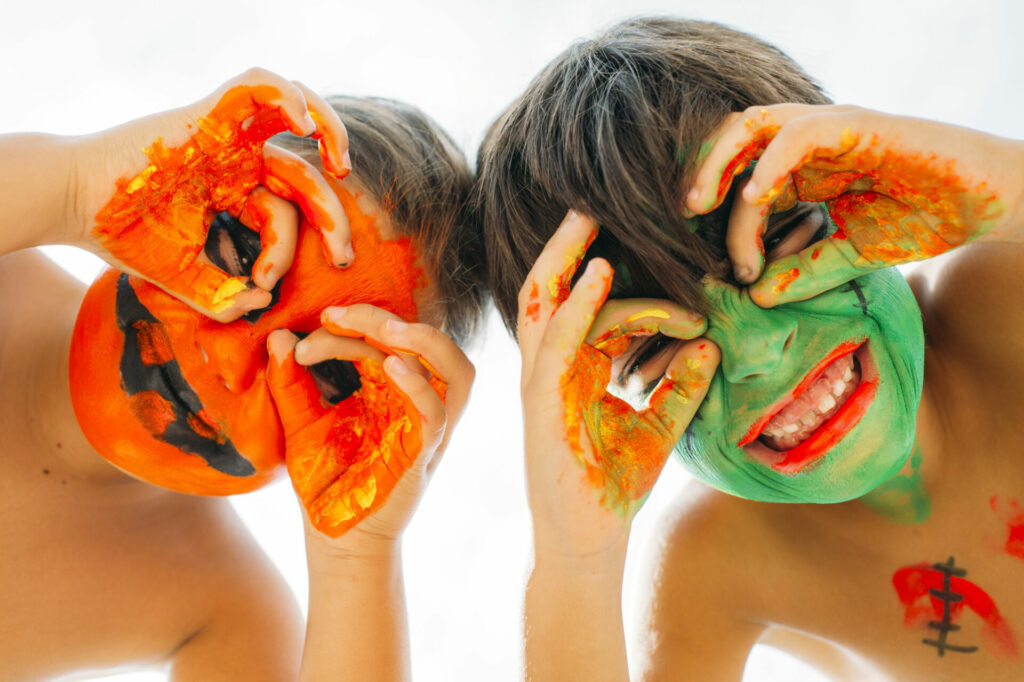 Popular child-led play experts Katie Jane Dubai are going spooky for their drop-in sessions over the Halloween weekend. These guys are fully sustainable – all messy play materials are natural, non-toxic and gentle on children's skin and the environment. The fun-filled, child-led sessions encompass group singing, finger-painting (or hand, feet and body painting!), as well as an array of imagination and unique, high-quality messy-play stations that are guaranteed to get kids' creative juices flowing. Think spooky slime, Halloween sensory boxes, magic witches potions and more.
THE DETAILS: Halloween Messy Play sessions are being held from Monday 24 – Saturday 29 October 2022 at various times at both Kids HQ Umm Suqeim and Playtorium in the Meadows. Baby classes are suitable for children aged 6-14 months, Toddler classes are suitable for children aged 15 months to 3 years. Dh135 per class, including 30 minutes of playtime in the play areas. Email hello@katiejanedubai.com or visit Katiejanedubai.com to find out more and book your spot.
Halloween Beach Clean-up
There's nothing more horrifying or gruesome than sea-creature-killing litter left on the UAE's beautiful beaches. Turn your Halloween festivities into a good deed by hosting a spooky-themed beach clean-up. Put on your (ideally handmade or second-hand) Halloween costume, bring refuse sacks and gardening gloves, and enjoy the balmy weather and gorgeous sea views of your local public beach while you get litter picking.
Say Boo! at Woo-Hoo
Instead of the usual, food-waste-hell of Halloween brunches, take your little witches and wizards down to children's play museum Woo-Hoo in Al Quoz for one of their family-friendly workshops. Kids of any age with love the Woo-Hooween afternoon of tricks, treats and fun games and activities, all designed to get children thinking about Halloween in a creative way. Top of the list will probably be the Crisp Cookies Halloween workshop, where children will be guided through rolling the dough, cutting and baking spooky Halloween cookies before decorating them with ghoulish designs and taking them home to devour.
THE DETAILS: Crisp Cookies Halloween Workshop, Friday 28 October 2022, 2pm-3pm, Dh99 per child, suitable for children from three years upwards. Book tickets.
Spooky Trashion Show
Not only do shop-bought Halloween costumes have a high carbon footprint due to the air miles and plastic-laced materials it takes to make them, but the fabric can often contain chemicals that are harmful for children's health. They're also frequently manufactured in unethical sweat-shop environments that exploit workers and are far more terrifying than any Halloween horror story. Sidestep the ethical quagmire of cheap, mass-produced costumes and instead invite your friends to a spooky Trashion Show – where you use your creativity and imagination to repurpose and upcycle old clothes, cardboard boxes, cereal packets, pieces of string – you name it, you're sure to be able to fashion it into something spook-tacular! Bonus points if your outfit makes an eco point.
RAK Ghost Town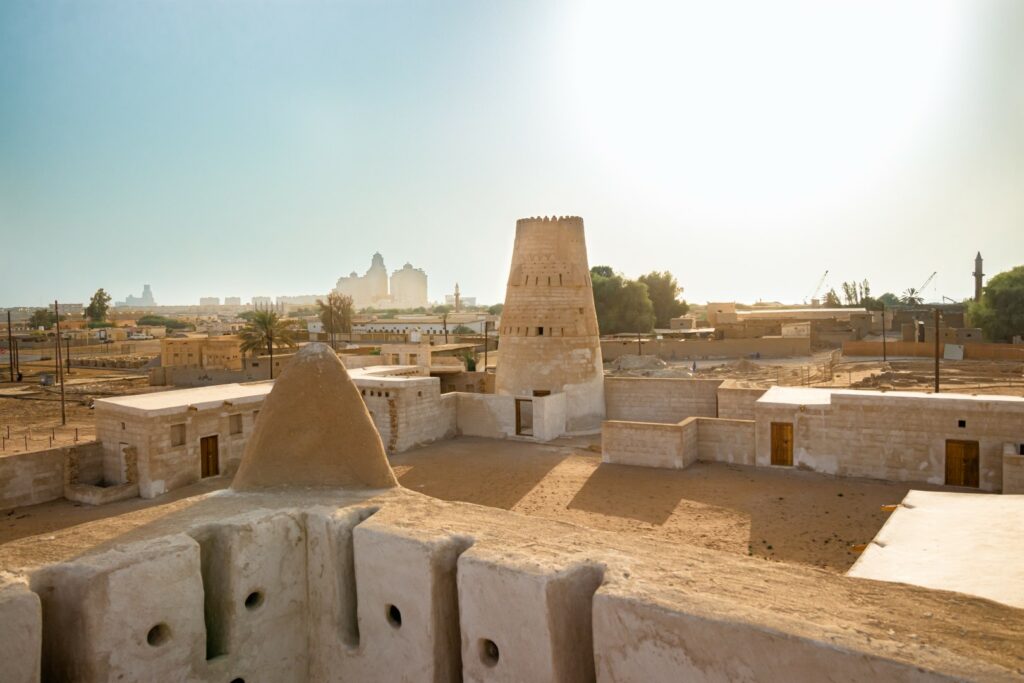 Go on a real-life ghost hunt in Ras Al Khaimah's mysterious ghost town, Al Jazirah Al Hamra. This perfectly preserved, abandoned fishing town dates back to the 14th century and is currently in the process of becoming a Unesco World Heritage site as the only historical pearling town in the Gulf that has survived modernisation following the discovery of oil.
Translating as 'the Red Island,' Al Jazirah Al Hamra was a tidal island up until the 1970s, when a large land reclamation project made it part of the mainland. By that point the town was already deserted – no-one knows exactly why, but rumours abound of supernatural forces and ghostly presences haunting the historic walls.
THE DETAILS: Al Jazirah Al Hamra, Ras Al Khaimah, free to enter, although it is recommended only to do so in daytime hours since many of the structures are unstable and could be dangerous. Find out more.
Eco Chocolate Factory
Teach little ones that Halloween treats can be about quality not quantity with a chocolate-making workshop at award-winning Mirzam Chocolate Factory in Al Quoz. Suitable for children aged four years and above, kids can have a fascinating, Willy-Wonka-style tour of this working chocolate factory.
They'll learn all about Mirzam's sustainable bean-to-bar making process, and then design their own custom chocolate bars to take home – choosing their own mold and personalised toppings, and even designing their own their own illustrated paper wrapper (here's their chance to go spooky for Halloween!). Inspired by the Spice Route, Mirzam's conscientious approach to sourcing their single-origin beans and commitment to small-scale production supports biodiversity and less-intensive farming, making for a much more planet-friendly way to enjoy boo-tifully scrumptious chocolate treats this Halloween!
THE DETAILS: Mirzam Chocolate Factory, Al Quoz, Dubai, Mondays, Wednesdays, Fridays(2PM); Tuesdays & Thursdays (10AM); Saturdays & Sundays (9AM), 90 – 120 mins, Dh85 per person (minimum of two); book your own tour at Mirzam.com.
Boo-gie On Down
Shift your Halloween focus away from sugar and scares and support the arts instead with a theatrical extravaganza. Join children's entertainment characters Louna & Friends for a fun, non-scary Halloween party at The Theatre, Mall of the Emirates that's suitable for the whole family. There will be a Halloween workshop, a Louna Dancing Halloween Party and a meet and greet with the Louna team, as well as some special Halloween characters.
THE DETAILS: Saturday 22 October (11am and 2pm) and Sunday 23 October (11am) at The Theatre Mall of the Emirates, Dubai; show lasts 70 minutes; Dh60 per adult, Dh160 per child; book tickets.
Make Jack-O-Lanterns
There's nothing more autumnal and Halloween-y than a pumpkin-carving session, and the UAE is now growing its own big, beautiful pumpkins, so you can skip the carbon footprint of imported pumpkins and go totally local. Be sure to check the country of origin label of your chosen gory gourd, scour Pinterest for inspiration for quirky and clever Jack-O-Lantern designs, make some scrummy hot chocolates and get carving! Once Halloween is over, turn your spooky Jack into some hearty pumpkin soup, a cosy pumpkin pie, or pop it onto the compost to help create wonderfully fertile soil for your garden. All the Halloween fun, with none of the waste.
Haunted Rainforest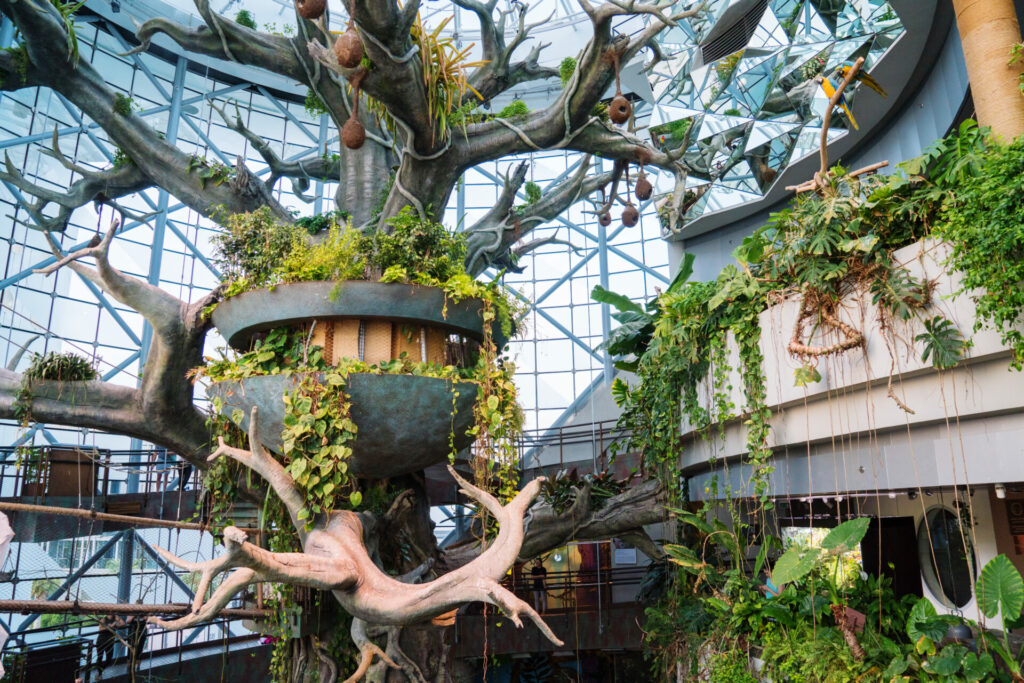 For a truly fang-tastic experience that's also about saving the planet, head down to indoor biodome The Green Planet in City Walk, where you can explore the dark and eerie bat cave experience – if you dare… (watch out, those flittery critters do swoop!).
The latest residents of this indoor rainforest are the cute Flying Foxes: spot their leathery clawed wings hanging upside-down Dracula-style. There is also a witch's brew worth of other spooky insects and reptiles that you can get up close to: from big hairy spiders, to huge, slithery snakes, and even giant cockroaches! Teaming with over 3,000 types of tropical flora and fauna, this sustainably designed venue is dedicated to teaching children about rainforest conservation, animal habitats and eco-awareness.
THE DETAILS: The Green Planet Dubai, City Walk, tickets from Dh110 when bought in advance online, buy tickets.
Monster Party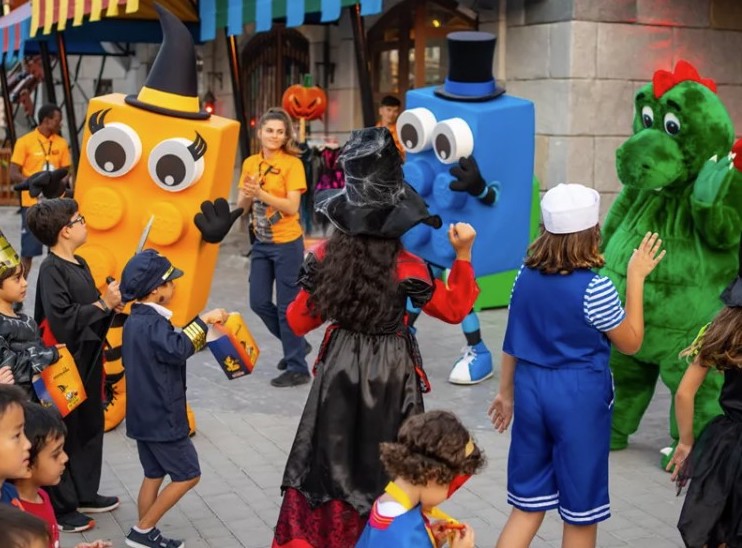 The imaginative-play experts at Legoland are turning the whole park into a jolly Monster Party venue this Halloween. Make your spooky season all about wholesome creativity and child-led play, with the Lego pumpkin patch creation zone – where kids can build their own Lego pumpkins. Then creep over to the Zombie Cheerleaders Graveyard, where a Zombie Cheerleader has risen from her LEGO grave; take part in the park-wide scavenger hunt, or don your best spooky outfit and join the Operation Monster Squad games and interactive show, where the mini monster deemed the best dressed will win a range of fantastic prizes. Best of all, the brand-new 4D Lego movie 'The Great Monster Chase' will be exclusively played in the park over the Halloween period.
THE DETAILS: Best Dressed Monster contest running 22nd, 23rd, 29th, 30th, 31st October at Legoland, Dubai Parks and Resorts, Dubai. Park open daily from 10am to 7pm, tickets from Dh295 per person when bought in advance online, book tickets.
Spooky Camp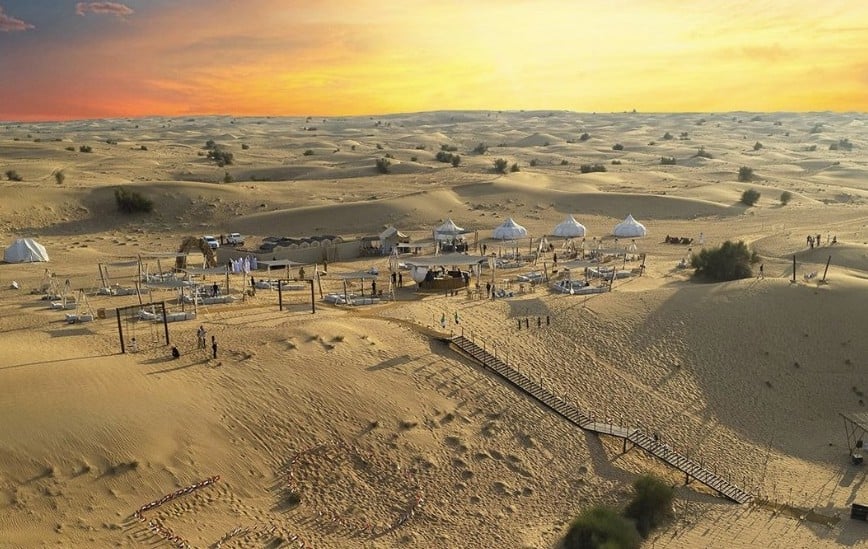 Escape from the city and be at one with nature in the desert instead at Sonara Camp's spooky sunset experience. Located at the top of a sand dune in the Dubai Desert Conservation Area, the tranquil dunes will be turning into a spooktacular for one night only on Saturday 29 October.
Children are encouraged to dress up in their Halloween best, and will be guided on a camel 'trick or treat' trek in the desert, after which they can enjoy a live falcon show, take part in sandboarding, archery, desert volleyball, pumpkin carving, spooky face painting or cupcake decorating, before indulging in a five-star al fresco buffet and relaxing in front of a family-friendly scary movie under the stars.
THE DETAILS: Sunset Experience (including all Halloween activities) is Dh580 for adults and Dh250 for children aged six and over. Sunset and Dinner is Dh980 for adults and Dh490 for children aged six and over. Children under six years can attend for free. Call +0)4 223 8011, email info@sonara.ae or visit the website.