Boo! Did that scare you? No? Well, this will. Did you know that Halloween generates an estimated 2,000 tonnes of plastic waste – that's the same as 83 million bottles – from families throwing away fright night costumes after wearing them once? And that's just in the UK alone. Every single year.
And pumpkins? They're natural, so the carving and disposing of them isn't frightening for the planet, is it? Wrong. A scary 60 per cent of decoratively-carved real pumpkins get their inner flesh chucked away, when it can be made into broth, chutney, hummus and even a face mask, if used correctly (see below). A staggering 80 per cent of pumpkin-buyers don't even realise that it is food.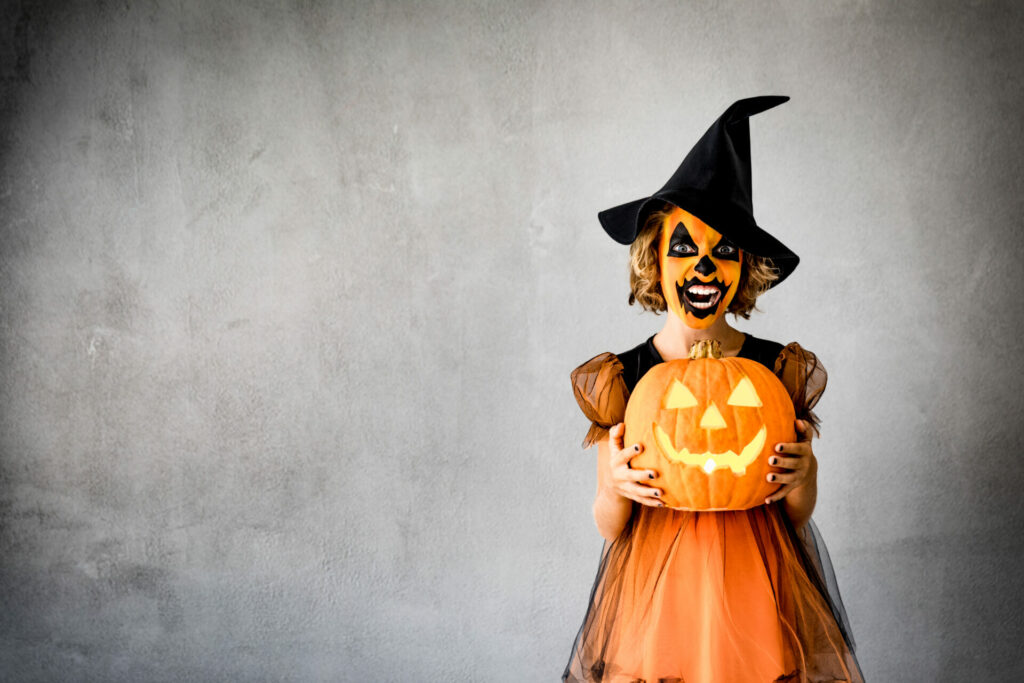 So what's the alternative? Scrap the most spectacularly spook-tastic night of the year? Crawl under the bedsheets and hide? Of course not. But let's face facts: without rethinking how we celebrate this annual event in an environmentally-friendly way, Halloween is sure to become dead and buried. Here are some eerily easy eco-tips to ensure a happy planet and a terrifying All Hallows' Eve – not vice versa.
Old Bed sheets
'Tis ye oldest trick in the (spell) book. Every home has old bedsheets that look a bit off-white. You wouldn't even want to put them on the spare bed when your crankiest relative comes to stay. So cut two holes for eyes and go for a classic costume this year. And if you're the sort of family who loves matching PJs at Christmas, then you can be a matching gang of ghosts every Halloween. Look, if it's good enough for E.T. it's good enough for anybody.
Cardboard Tombstones
In this age of online shopping and daily home deliveries, if there's one thing households aren't short of its cardboard boxes. Even the least crafty parent can cut out a weathered gravestone and 'engrave' it with a black marker pen. Plant your eco-creation in your front garden or lean it on your balcony for dreary decor.
Healthy Halloween Treats
Kids love sweets. But they also love fruit. Peel tangerines and pop a tiny slice of celery on top to create mini ready-to-eat pumpkins. Fruit kababs are terror-trendy; alternate orange or mango slices onto a stick with fresh blackberries for the tastiest trick or treats in town.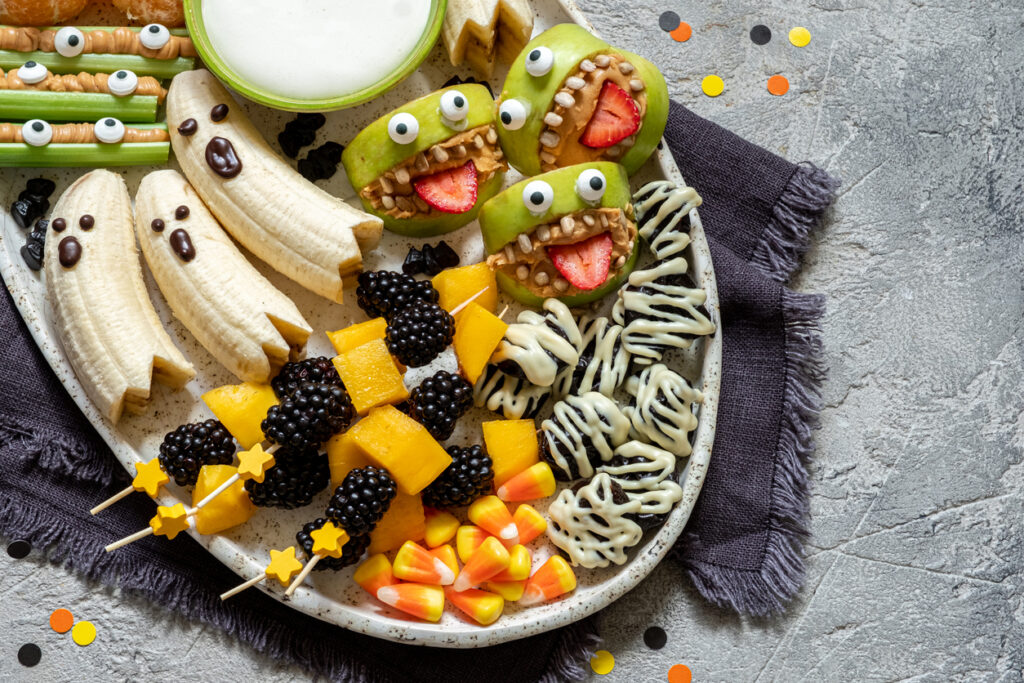 Veggie Splat
Trick your little ones into eating their five-a-day by making dinner look scary on Halloween. Fill a large circular plate with lots of carrot batons to make a big flat pumpkin. What's their favourite dip? Earthy hummus? Creamy garlic to ward off vampires? Or spicy blood-red salsa?
Using two small ramekins, plop your dips inside each one and nestle into two spaces between the carrots to create the eyes. Then, zig-zag a chopped cucumber for a big pumpkin mouth. Looks terrifying-ly good to eat!
Black Bats and Web Legs
There's no point in buying toy bats when you can make your own with black paper and a pair of scissors. The paper flaps just like real wings and can be attached to string to hover from the ceiling. Snagged tights and stockings make great spider webs to hang them around your home.
Pumpkins' Inner Beauty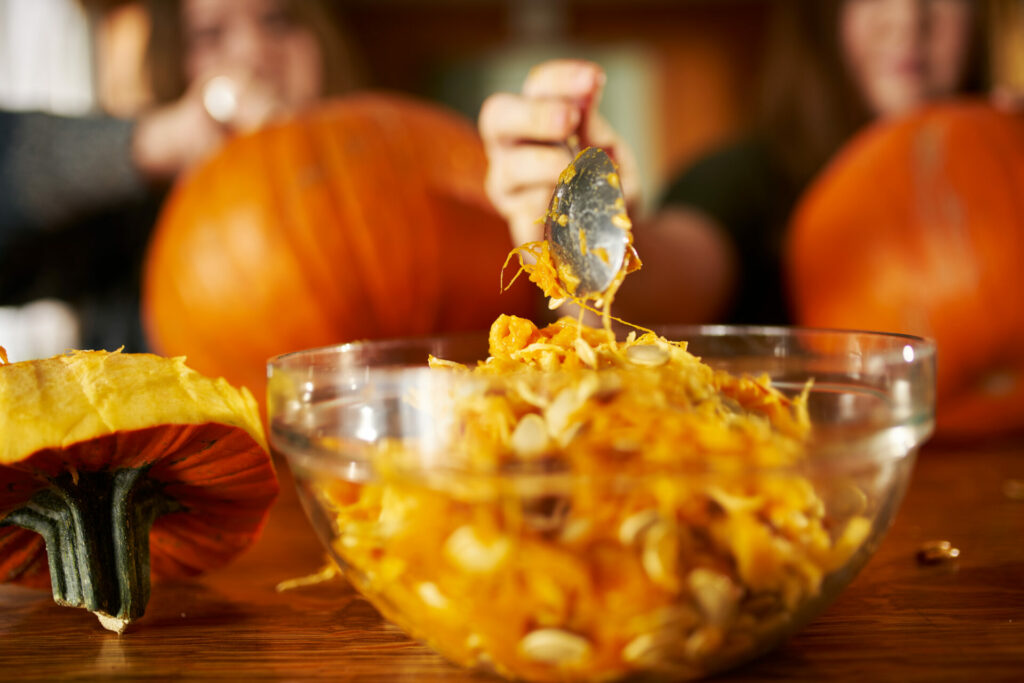 Carve away and create lanterns, by all means. Just don't bin the inner bits. Use the flesh to make soups, stews, risotto or curries. For extra zero-waste points, how about roasting the pumpkin seeds to make a crunchy snack?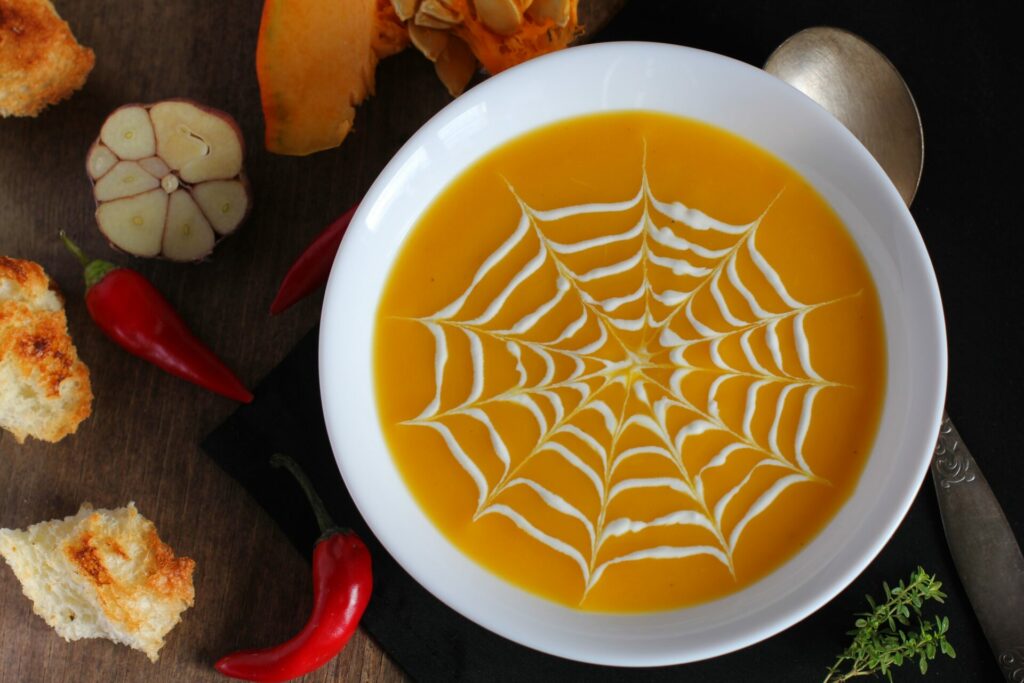 And, did you know that the skin of a pumpkin is also edible and can be used to make crisps? Just peel the unpainted pumpkin, and pop the skin side down on a baking tray out of the oven until completely dry, then bake on a medium heat for eight minutes. Remove and lightly coat the hot peelings with oil, sprinkle with salt and a pinch of paprika before popping back into the oven for an extra 10 minutes until crispy and golden brown.
And They're Compostable!
Who'd have thought pumpkins could be even more versatile? They make terrific compost and every bit from the outer skin to the flesh and seeds is compostable if it hasn't been painted. While painting is fun, many paints are made with plastic or other chemicals. So make the smart choice and carve out scary faces rather than draw because no less than 18,000 tonnes of pumpkins are thrown away each year, the equivalent of 360 million portions of pumpkin pie. Don't forget to compost pumpkins in a food waste bin or compost heap.
Ethical Choccies
Conjure up some deliciously ethical chocolate and candy this Halloween. Ethical alternatives to regular chocolate and sweet brands are popping up everywhere. Look out for Fairtrade products or those that are Certified Organic, or have other independent certifications. They taste delicious and will keep you up until midnight with the sugar kick!
Aromatic Witches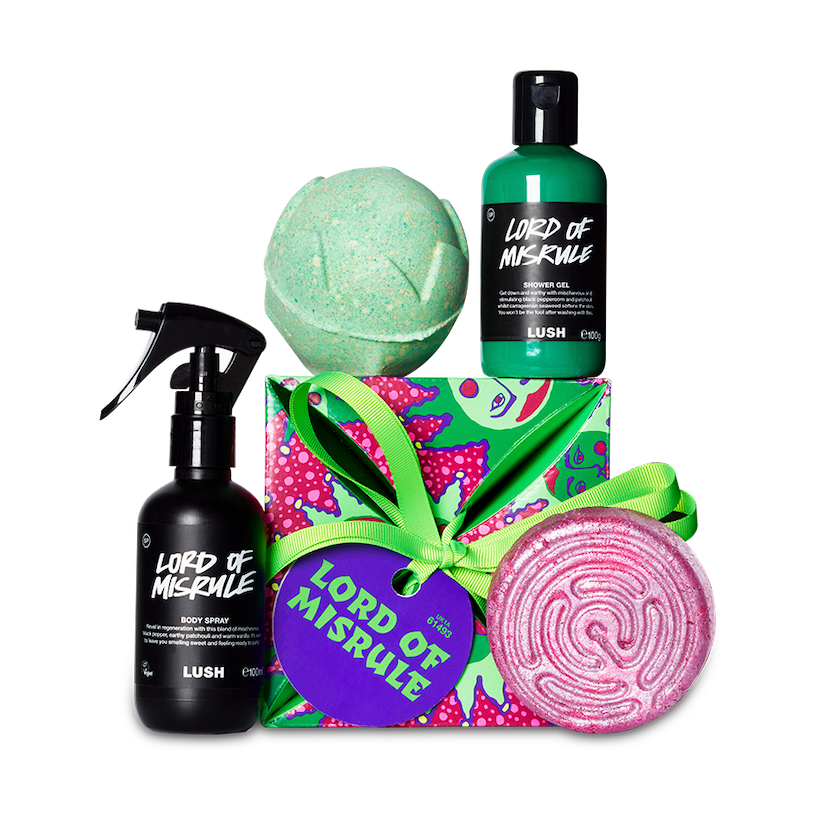 Lush's atmospheric scent, Lord of Misrule, is a cauldron of delights for Halloween. With black pepper for a spicy kick, patchouli oil to keep it earthy and distinct, and a mellowing creamy vanilla for a sweet touch, this is the perfect fragrance for a spooky night out. Lush is a skincare company that believes in making effective products from fresh, organic fruit and vegetables, the finest essential oils, and safe synthetics. So you see? Not all witches are bad.