With another few weeks of summer holidays to go, trying to keep the kids busy and off screens and devices can seem daunting! And while there are plenty of camps and activities to book (read our roundup here), there's nothing wrong with a little homemade fun that doesn't involve schlepping around town or dipping into your wallet.
Stuck for ideas? Here are just a few to help get you through the endless summer holiday weeks…
Let Them Bake
An oldie but a goodie, there's nothing like a family bakeoff to occupy a few hours during the summer holidays. From banana bread to cupcakes, stock up on sprinkles, fruit and icing so that the kiddos can get busy decorating. For easy baking that guarantees you won't lose your sanity, try the Baking School Club which offers innovative baking kits with pre-measured ingredients, step-by-step instructions and fun baking tools. Set up by a mum who wanted to give her kids the opportunity to be independent in the kitchen while introducing them to really good ingredients, the recipes are delicious and straightforward. Not only will the kids be proud, you'll also get to enjoy a few treats as a result.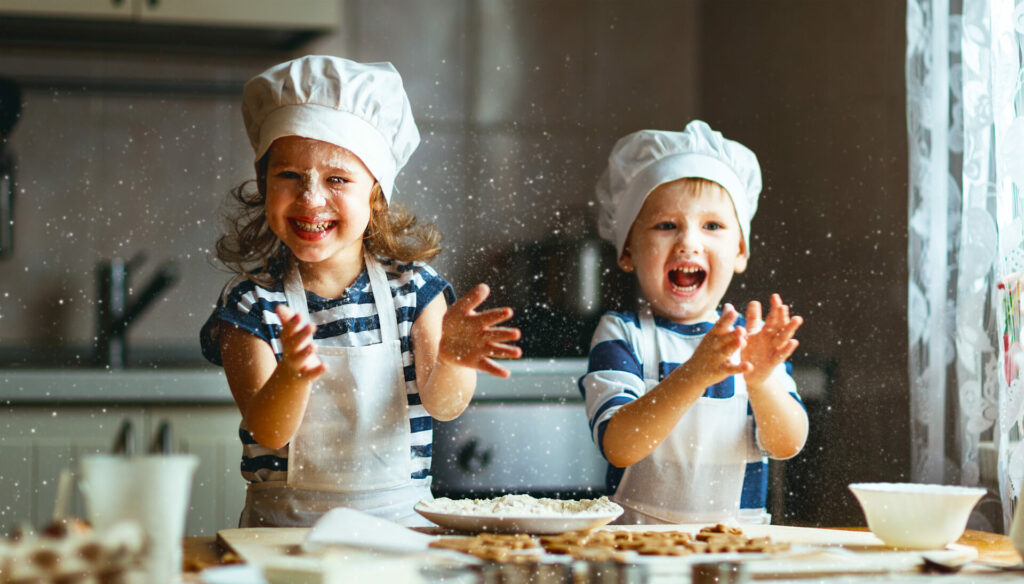 Make 3 Ingredient play dough
Yes you can buy play dough, but making your own with the kids will not only fill time over the summer holidays but also tick heaps of boxes from helping them learn to using creativity, imagination – even maths and science (or are we stretching it a bit there?!). Whatever the reasons, making your own is more fun, more sustainable and just better all round. Add essential oils and colour to your play dough to elevate the experience too, then set the kids challenges to make a city, a park, an animal and get a few minutes peace… or join in too! 
Ingredients:
½ cup cornstarch
1 cup baking soda
¾ cup water
2-3 drops of essential oil and 4-5 drops of food colouring
Directions
Add the cornstarch, baking soda and water to a saucepan
Place over a medium heat
Stir continuously until mixture bubbles – it'll quickly turn solid. Once a ball is forming (around 4 mins), take the pan off the heat>
Let the dough cool on a piece of baking paper.
Once cool, add food colouring/scent
Play!
Set up a summer holidays scavenger hunt
Make being stuck indoors fun by creating a scavenger hunt for the kids. Either give them a list of items they must gather indoors and outside and get creative with all kinds of things for them to find – from pink socks to books with titles beginning with an E – you can even add the things that have been missing for ages to see if they can use their detective skills to help locate them!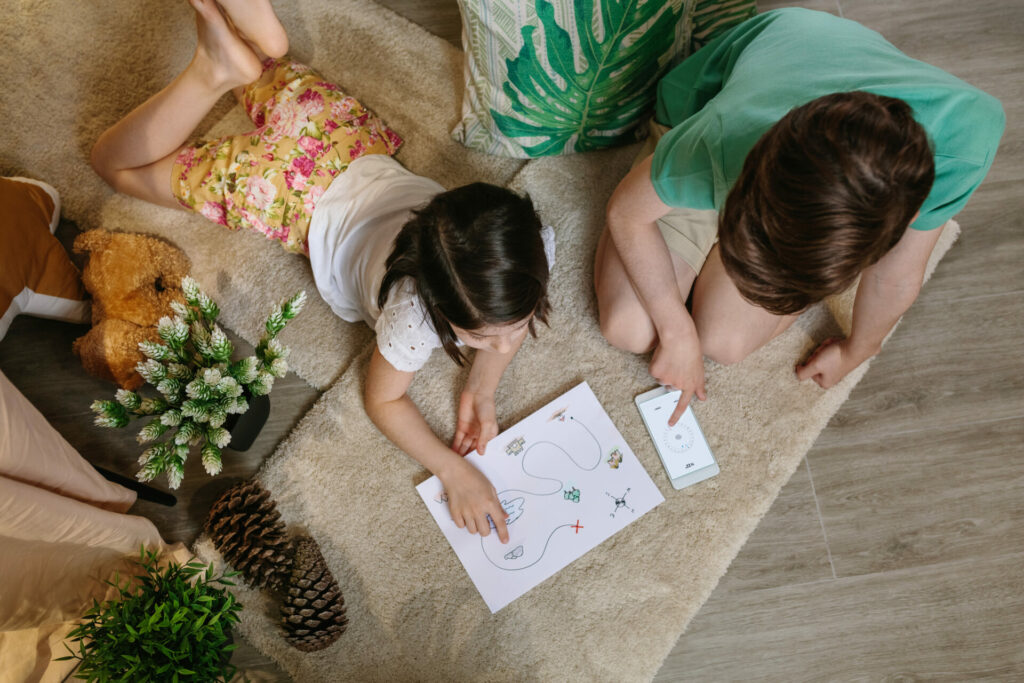 Go one step further by creating clues which lead to specific spots – with a treasure (a toy or treat) hidden at the final destination. Get playful with your clues and provide a brain workout for the summer holidays– we love playing on words, incorporating trivia or being ambiguous to keep the kiddos on their toes! Check Pinterest for lots of suggestions.
Build Epic Forts
From castles to caves, houses to tents, building forts is a childhood favourite regardless of age so let the kids loose on the linen cupboard. Turn a blind eye as they pull the sofa apart and set them a challenge to create the most epic fort ever! And then afterwards, whether they're playing with toys, enjoying make-belief adventures, watching a movie or reading a book (here's hoping!) – it's guaranteed to be much more fun from inside their fort – you could even allow a sleepover for extra fun.  
Sustainable Arts & Crafts
Challenge the kids to create something awesome from your recycled items – whether magazines and newspapers, plastic containers (we try not to have them but sometimes there's no avoiding), egg cartons, tin cans, scrap paper and cereal boxes. Recycled jar lids can make super cool wind chimes when hung from string on a stick or old wooden spoon, old cans can be painted and decorated to make pen pots and plastic bottles are perfect for fashioning a terrarium (add soil, activated charcoal and moss before planting).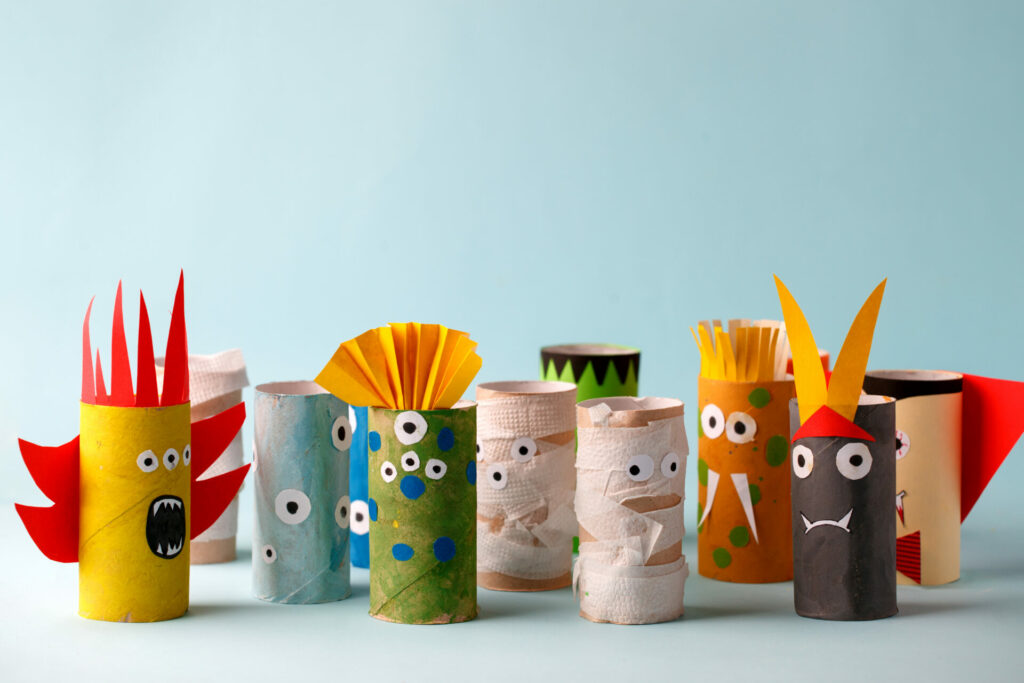 Got scrappy old clothing that can't be donated or handed down? Textiles make up a huge portion of waste so teach your kids to quilt, sew or make pretty wreaths with pieces of fabric.
Make a vision board
A craft session that's actually fun for the whole family AND holds meaning too? Yup, it exists in the form of creating a vision board – either together or individually – and channeling your creativity into expressing everything you hold important or want to attract more of in your life. All you need are magazines or newspapers, scissors, glue and a big piece of card or paper on which to stick.
The idea is that you each find pictures of things that inspire you and that you want in your lives – whether it's palm trees or turquoise seas – anything which evokes emotion (material things too – the kids are naturally going to focus on 'stuff'!). Encourage them to talk about what they've chosen and why – and then visualise it all coming to you!
Mix up some oobleck  
Wow your kids with a little science during the summer holidays. Oobleck is a classic science experiment that's perfect for entertaining kids. If you haven't seen it in action, prepare for some serious entertainment. Before too long they'll have their hands covered with it, happily making a mess that can be washed away with water.
Mix two parts cornstarch with one part water – and then experiment! If you make enough you can even walk on it (but that's a lot of cornstarch!).
Rethink sports
If the kids are leaping off furniture and kicking footballs against the wall then channel their sporting energy into indoor-friendly games that won't wreck your home. Get them to bowl tennis balls into buckets, kick rolled-up socks into the laundry basket, use a broom and tennis ball for hockey or try indoor bowling by setting up a tower of paper cups, yogurt pots or any containers headed for the recycling.
Invest In Puzzles and Games
From pick-up sticks to Jenga and puzzles of all kinds plus heaps of board games for all ages, First Cry have a huge selection to stock up on (with many in the sale at the moment). Prepare for some good old-fashioned fun with a games at home throughout the summer holidays. Perfect.