Kids are surrounded by plastic. At every special occasion they seem to be inundated with toys and trinkets that once home, are inevitably discarded in a toy box, drawer or worse, the bin. Although often provided by well-meaning parents on Birthdays, Halloween and Christmas, these seemingly inoffensive toys have a short life span and are hazardous for the environment, impacting the very world our children are set to inherit.
Most toys are made from hard plastic and a mixture of different materials, meaning they are considered non-recyclable waste that ends up incinerated or in landfill. While some can be handed down to other children or charitable organisations, the majority simply get thrown out in the garbage. It's estimated that up to 80 per cent of toys end up in landfill and once there, they can take up to 1000 years to biodegrade. When you consider that in 2021, the world toy market was worth $104 billion, that's a staggering amount of toys destined for the dump.
The good news is, as Christmas approaches and children hand over their never ending wish lists for Santa, that there are many ways to continue buying toys for your kids that don't involve the P word.
Start by making thoughtful decisions about what and how much to buy. Choose premium toys that are made to last longer and can be handed down generations. Ensure you choose durable, natural and biodegradable materials, and don't forget to check thrift stores and online exchanges for nearly new bargains! Children often outgrow and get bored of a toy quickly (six months is the average interest time apparently) so it's always worth scouring social media for toys in excellent condition.
Another great tip to extend their shelf life is to rotate your child's toys every few weeks – hiding those that are no longer in use. This increases the toy's novelty factor and the overall number of them you then need to buy.
So, with these thoughtful tips in mind, the following sustainable toys are sure to have you kids falling in love with them as much as the materials they are made from, love the planet. Natural, durable and premium these toys are certainly not just for Christmas…
Girls
Kinderfeets' Push & Pull Swan
My First Book of Reduce, Reuse & Recyle
Kalusha, Wooden Pink Bus
Little Dutch Beauty Case
Maison Tini, Reya Doll's Cot
The Barbie Inspiring Women Series, Dr. Jane Goodall
Natura Pura Play Dough, Natura Tribe
Meli Essentials Doll & Kitten
Imperfectly Perfect Rattan Bamboo Hula Hoop
For Him
Fathers Factory Wooden Camera
Mumba – Upcycled Children's Elephant Toy
Maison Tini, Camper Van Toy
Areaware Cubebot
Polar B Modern City Blocks
Fanny & Alexander Wooden Tool Set
Nobodinoz Wooden Mini Croquet Set
One for the whole family
Why not help save the world's last two remaining northern white rhinos by supporting the Ol Pejeta Rhino Sanctuary in Kenya? This 1000 Piece Jigsaw featuring one of the two rhinos, Fatu, is the perfect gift for boxing day family fun. Made from 100 per cent recycled cardboard, it is printed in the UK in a renewable energy-powered factory using eco friendly inks.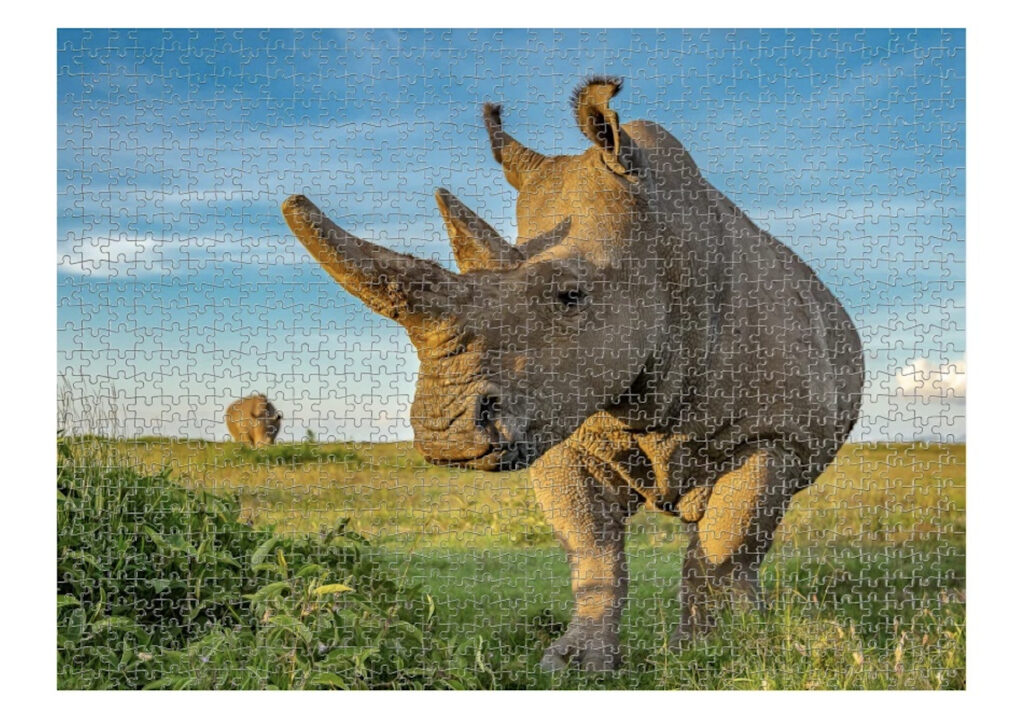 Ol Pejeta is the largest black rhino sanctuary in East Africa, and home to the world's last two remaining northern white rhinos. It has some of the highest predator densities in Kenya, and still manages a very successful livestock programme. Ol Pejeta also seeks to support the people living around its borders, to ensure wildlife conservation translates to better education, healthcare and infrastructure for the next generation of wildlife guardians.
Don't forget, when you have bought toys – which is inevitable given the love you hold for your child and the love they hold for new toys – remember to pass them down to someone else when they have outgrown or simply out loved them!