Sustainable style has never been so fashionable. With Stella McCartney's recycled-textile collections constantly reshaping designer fashion, People Tree's fair trade wardrobe staples guaranteeing the wow factor and the luxury responsible brand, Two Days Off, created by a geologist who studied climate solutions, re-imagining the entire industry's production process, everything eco from sustainable swimwear to climate-neutral red carpet gowns is having an ethical moment.
So, as awareness and demand for planet-friendly fashion grows – and conscious consumers admit they're willing to pay a premium for these green garments – it's no surprise that many brands are jumping on the sustainable bandwagon when, in reality, their lines are anything but ethical.
Fast fashion is one of the most polluting industries in the world. Each year around 300,000 tonnes of discarded clothes are burned or buried in landfill in the UK alone.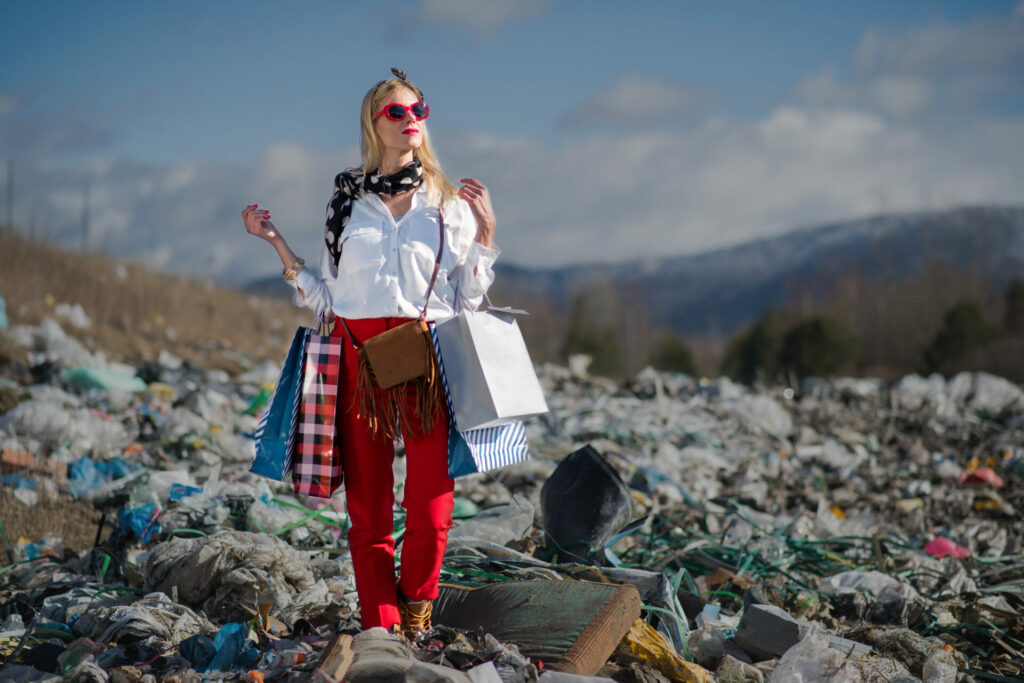 Some estimates say the industry is responsible for between 2 – 8 per cent of global carbon emissions, contributing more to the climate crisis than the shipping and aeronautical industries combined. It's believed it could make up a quarter of the world's carbon budget by 2050.
But while there are many ethical clothing brands who genuinely using sustainable production methods, materials, plastic-free packaging, and even give back to the communities where their clothes are made, there are many fashion lines that are engaged in greenwashing – claiming that their products are more environmentally friendly than they really are.
Misleading Claims
A recent study by campaigning group Changing Markets Foundation found that nearly 60 per cent of sustainability claims by 12 major clothing brands in the UK and Europe were unsubstantiated or misleading.
That's because up to now there has been little or no regulation attached to such prominent labels as 'eco', 'sustainable,' 'recycled materials', 'organic' and 'better for the environment'.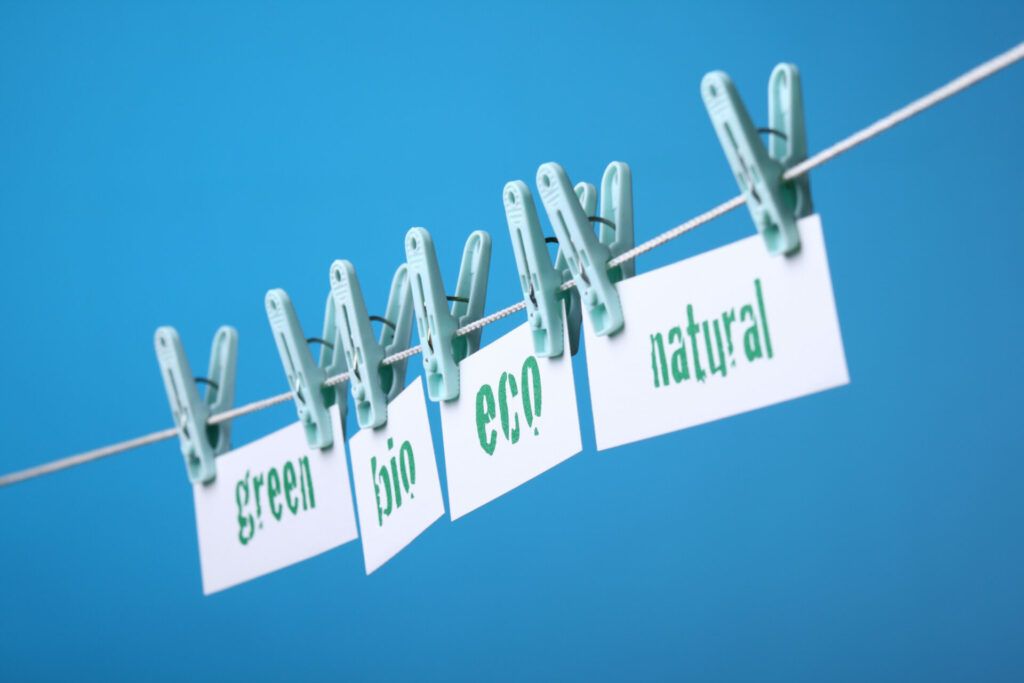 Greater customer demand for eco fashion has increased the use of misleading marketing, says Josephine Palumbo, president of The International Consumer Protection and Enforcement Network (ICPEN), a global network of consumer protection authorities from over 65 countries, who is also deputy commissioner, deceptive marketing practices directorate at Competition Bureau Canada.
'There's an incentive to make vague, false or misleading claims about sustainability, and to hide information which could show products as unsustainable,' she told Vogue Business. 'We need to ensure consumers' willingness to invest in ethical and sustainable products is not exploited.'
Just recently, another investigation found that 62 per cent of textile products labelled as recycled polyester were fraudulent. Few brands own the raw materials or make their own garments and so they rely on third-party agents to verify environmental claims along complex global supply chains – something that is very difficult.
Greenwashing Checker
'Greenwashing is so rife in the fashion industry that you really need to question every green claim that a brand is making about a product and work out whether it is a genuine effort towards sustainability,' George Harding-Rolls, campaigns advisor at the Changing Markets Foundation, said. 'Are they giving you as much information as they can to back up that claim, or is it just marketing trying to soothe your eco-conscience and make you buy it?'
The group has launched Greenwash.com for consumers to see the truth about greenwashing.'We created the website to show the variety of tactics that brands use, from the egregious to the [more] subtle,' Harding-Rolls explained.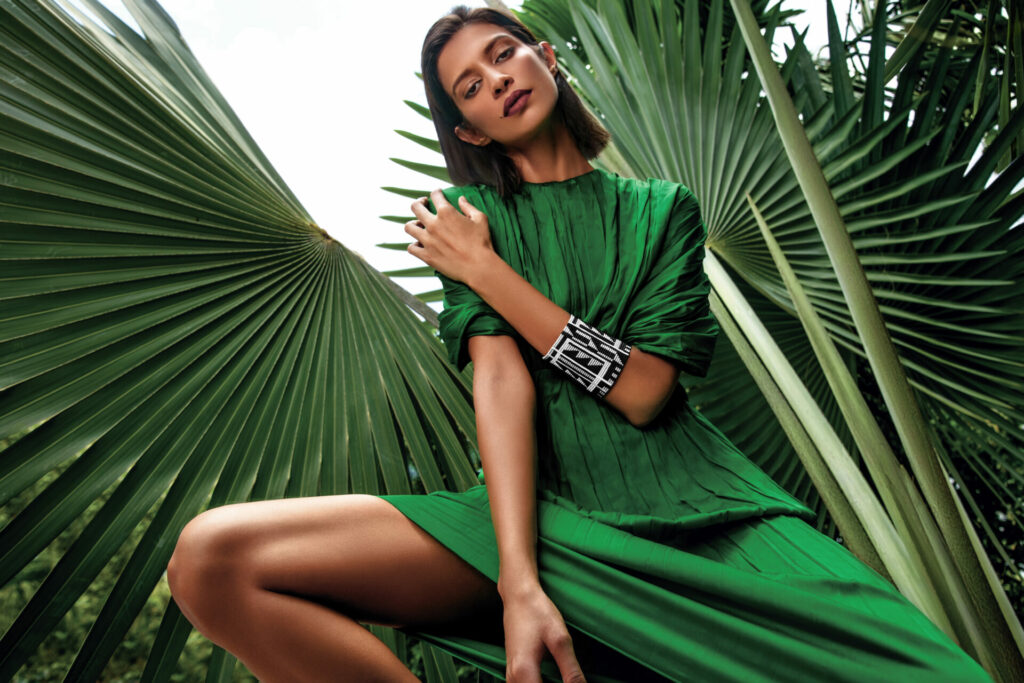 Asos, Boohoo and George at Asda all hit the headlines this summer over news they were being investigated for their eco-friendly claims.
The UK's Competition and Markets Authority (CMA) is scrutinising the brands' sustainability claims to see if they constitute greenwashing and says it 'won't hesitate to take enforcement action' – including through the courts – if they have been misleading customers over their eco credentials.
The investigation comes after a review in January raised concerns over potentially misleading claims including the use of recycled materials in new clothing 'with little or no information about the basis for those claims.'
Other concerns included, according to the BBC, vague and broad statements that 'may create the impression that collections – such as the 'Responsible edit' from Asos, Boohoo's 'Ready for the Future' range and 'George for Good' at Asda – are more environmentally sustainable than they actually are; that some products may contain as little as 20 per cent recycled fabric, that some items have been included in these collections when they don't meet the criteria, a lack of information about the products, such as what the fabric is made from, and a lack of clarity over whether eco accreditation applies to particular products or a firm's side practices.
'People who want to 'buy green' should be able to do so confident that they aren't being misled,' Sarah Cardell, the interim CMA chief executive said. 'Eco-friendly and sustainable products can play a role in tackling climate change, but only if they are genuine.'
Asos and Boohoo are co-operating with the investigation with Asos saying it's: 'committed to playing its part in making fashion more sustainable, including providing clear and accurate information about its products.'
Boohoo said it was 'committed to providing its customers with accurate information on the products they buy'. Asda said: 'We know how important it is that our customers can trust the claims we make about our products, which is why we ensure the statements we make can be supported by industry accreditations. We are ready and willing to answer any questions the CMA have about our George for Good range and welcome further work by the CMA to ensure the sustainability claims made by the fashion industry as a whole are robust and clear.'
They're not the only fashion brands to be under the spotlight recently. Greenpeace called out ultrafast fashion giant Shein for 'taking greenwashing to a new low' in the summer after the company made a $15million donation to an NGO working with textile waste workers in Accra, Ghana.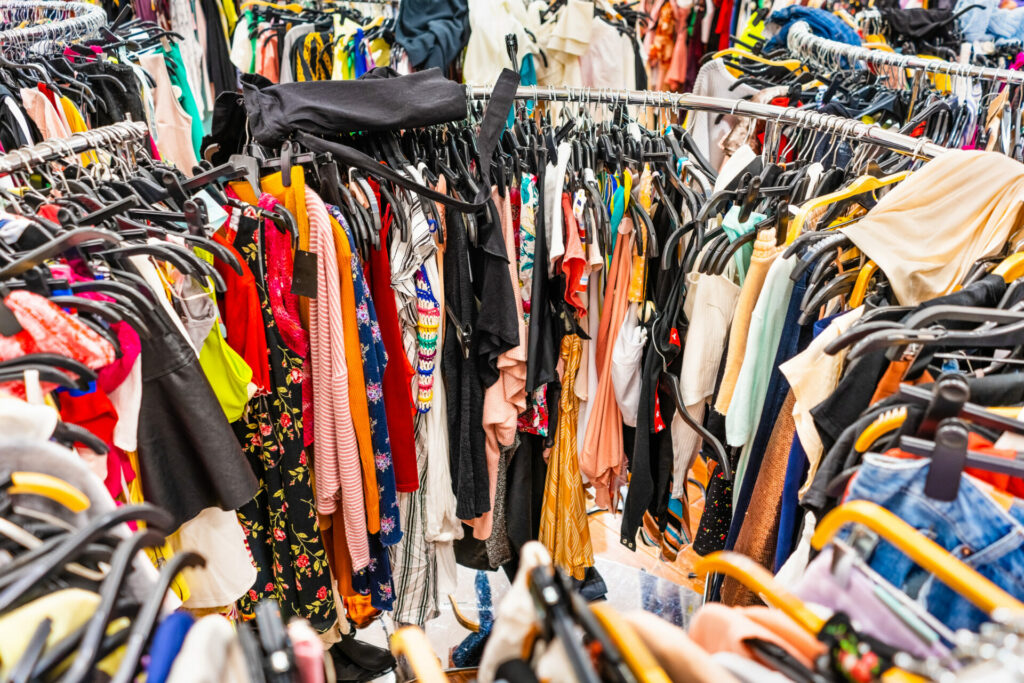 Describing the world's largest online-only fashion retailer's donation as 'nothing more than a greenwashing stunt', Greenpeace demanded that Shein drastically overhaul its entire business model to encourage slower fashion and responsible practices.
'It churns out staggering numbers of dirt cheap, disposable fashion items, with more new styles per day than any other fast fashion brand,' Greenpeace said. 'Because the clothes are so cheap, most returns probably end up in landfills, since it would cost more to put them back in circulation.
'Producers like Shein should be made financially responsible for the cost of cleaning up the environmental and health damage caused throughout the supply chain, regardless of the geographical extent of the damage,' the environmental organisation argued. 'We need global fashion brands to make a U-turn in the opposite direction, and start producing fewer clothes that are also designed to be better quality, longer lasting, repairable and reusable.'
Even major clothing brands who were ahead of the curve in the terms of eco-fashion and marketing are now calling for action as greenwashing damages the entire ethical fashion industry.
Damaging Fashion Industry
Reformation, a Los Angeles sustainable clothing and accessories brand that's popular with celebrities including Selena Gomez and Hailey Bieber, became famous for its tagline: 'Being naked is the number one most sustainable option. We're number two.' Now, it is calling for far tighter controls and guidance.'Regulations can help establish standards and definitions to ensure that brands are cutting through this noise and engaging with their customers in authentic, real ways," says chief sustainability officer and VP of operations Kathleen Talbot.
Research by ICPEN shows that greenwashing is a global problem but individual countries and agencies are tackling it in different ways.
In the UK, the CMA launched its Green Claims Code last September outlining the six principles companies need to adhere to, including making sure claims are clear, unambiguous, substantiated, and relate to the full lifecycle of the product. After consulting with consumers and retailers, the watchdog will be publishing its final guidance on misleading environmental claims at the end of this month (September).
There will be a grace period for businesses to adjust their claims, after which the CMA will take enforcement action.
'Greenwashing and misleading environmental claims is not an area that a lot of regulators in the UK have looked into so far,' the CMA's director of consumer protection Cecilia Parker Aranha said, adding that such claims undermines trust.
'And ultimately, if you undermine trust, consumers don't believe what they're seeing on any packaging as far as green claims are concerned,' she said. 'And that's going to have an impact on the UK's ability to do what it needs to do to tackle climate change and the other sustainability challenges that we face.'
Greenwashing Phrases
Eco
It is very difficult to prove that an entire supply chain and manufacturing process is eco-friendly. The CMA's Cecilia Parker Aranha told The Guardian: 'I was really sceptical about anybody that's making a sweeping claim that a product is 'eco' or 'sustainable' because the business would be having to really show that every element of the product from production through to disposal will be good for the environment, not harmful to the environment.'
Sustainable range
Certain components of a product can legitimately be called 'sustainable' but it's difficult to label an entire range as such because it is such a sweeping statement and supply chains are complex and opaque.
Genuinely sustainable brands with eco-friendly practices and products use third-party certifications such as Bluesign® to prove that textile products are safe for the environment, workers, and customers. The Bluesign certification applies to chemicals, processes, materials, and products. It helps manufacturers properly manage chemicals and replace harmful substances with safer alternatives.
Textile Exchange has various standards it provides to the industry as a way to verify sustainability claims from the raw material to the final product. Its Global Recycled Standard verifies the use of recycled material.
Made with organic or recycled cotton
Many clothing lines say they are made with recycled or organic materials when these fibres only make up a small percentage of the fabric. As Parker Aranha says: 'They are often only made with 16% to 20% recycled fibres.'
Unfair comparisons
If something is labelled 'greener' or 'more eco-friendly' but does not indicate what this comparison is with, it could be a greenwashing claim.