At least seven major wars and 32 conflicts are raging across our world right now, from the Myanmar civil war to the recent escalations of the Israel-Palestinian conflict, all of which have left more than 200,000 people dead in this year alone. But there's another toll: ecocide, which is leaving its battle-scarred and long-lasting mark on our environment.
From factories and hospitals being bombed, potentially spilling out toxic chemicals and waste, to the destruction of national resources, these wars don't just spell environmental disaster for the countries where they take place, but can impact reserves and supply chains worldwide. There is a knock-on effect where richer countries lose money and have less to support poorer countries that have been stricken by the effects of the climate crisis. 
Although the harmful link between war and the environment seems obvious, for many who signed the Paris Agreement, the legally binding international treaty on climate change signed at COP21 by 196 parties, their efforts at mitigation may be excluding the impact of war entirely.
Military Pollution
Pollution from the global military sector is estimated to constitute around six per cent of the emissions recorded globally, according to Dr. Stuart Parkinson, Executive Director of Scientists for Global Responsibility. However, due to a 'loophole' in the Paris Agreement, governments aren't obliged to report, or reduce, carbon emissions of the armed forces. It is a glaring oversight, only made worse when you consider that these estimates are conservative and do not account for when different armies engage in warfare.
War poses monumental threats to our environment beyond the much-discussed emissions. Contamination of water resources and food security are highly probable in war-torn countries. While the Global Stocktake at COP28 will examine each party's commitment and progress in terms of greenhouse gas emissions, and efforts to limit the rise of global temperatures to under 1.5 C, there are 'gaps' that are not covered, which was recently acknowledged by the UN's Deputy Secretary-General, Amina J Mohamed.
At the Pre-COP28 talks in Abu Dhabi, the United Nations Framework Convention on Climate Change (UNFCCC) Executive Secretary, Simon Stiell, broadly addressed the challenges of the conference taking place while intense conflicts rage on but asked that people be 'united by the knowledge that climate change is our common challenge.'
Warfare's Destruction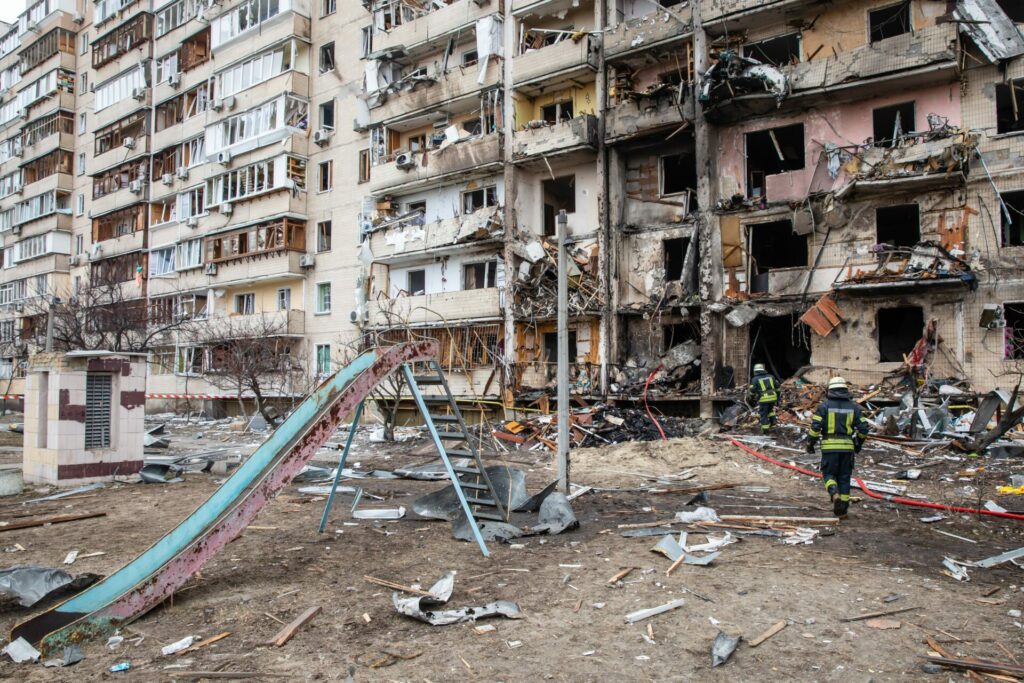 Ecocide creates its own battles with wildlife and nature as its casualties bearing the scars for years, if not forever. After the Vietnam War, it was found that nearly 50 per cent of mangroves had been destroyed, along with natural habitats for rare species such as leopards and bears.
Some people will remember 600 oilfields ablaze in Kuwait during the first Gulf War in 1991, and one of the world's largest oil spills when Iraq pumped up to 336 million gallons of oil into the Gulf and environmental activists everywhere cried out.
More than 3 million acres of protected areas have been disrupted in some way due to the war in Ukraine, from bombings and burning to pollution. In the East of the country, the forests along the Donets River have been the setting for brutal engagement with Russia, scarring the landscape for years to come. Endemic flora and fauna are being wiped out, according to Yale Environment, with at least 20 unique species from the steppe grasslands expected to perish due to the war.
A hydroelectric dam in Russian-occupied Kakhovka is under threat from both sides. Ukraine shelled it in July with no ill-effects, however if it was blown up by either side it could have dire implications for all the communities downstream of the dam on the River Dnieper. In the event of the dam's destruction, a volume estimated at over 13 billion cubic metres of water could be released on the Kherson region.
Nuclear Peril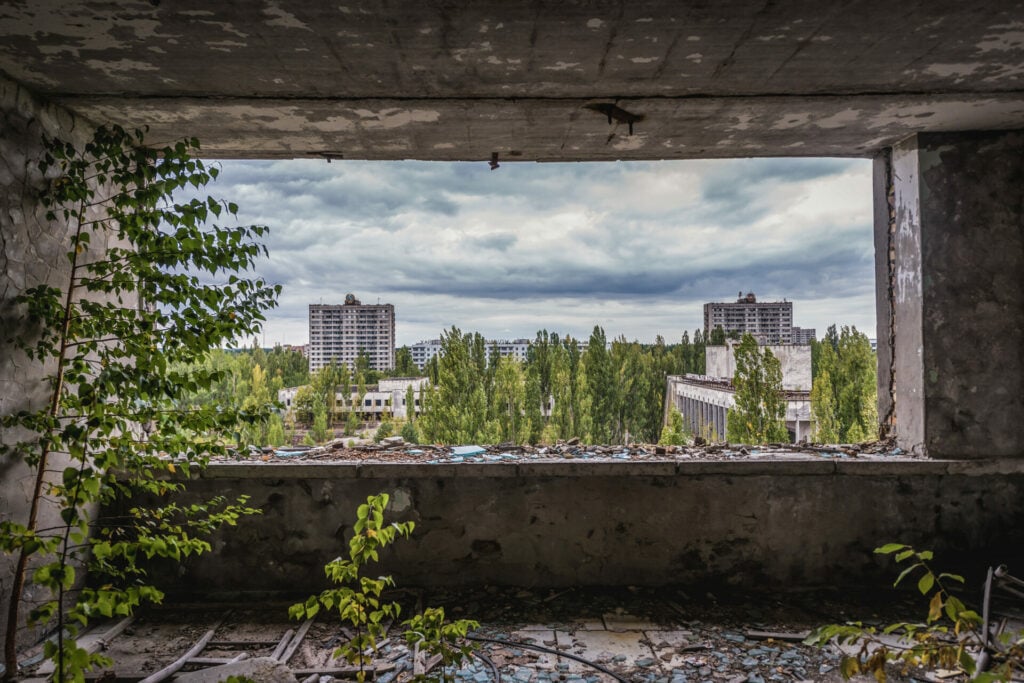 The ever-present threat of risk of nuclear fall-out is a high priority for the UN's International Atomic Energy Agency, heightened by the fact that the largest nuclear power plant in Europe is on the frontline of this war, based in Zaporizhzhia in the southeast of Ukraine. Although its reactors are safely designed to withstand major attack, the spent reactor fuel in cooling ponds is not protected and a direct hit might generate an outpouring of radioactive water, according to Ross Peel, who leads research on nuclear security at Kings College London.
Thirty-six years on from the Chernobyl disaster, scientists have discovered that many plant and animal species suffered increased mortality, reproductive dysfunction, and genetic anomalies in the years after the accident. Some scientists have lingering doubts about the ecological impact of the nuclear fallout, claiming that it is greater than reported.
Environmental Cost Of Regeneration
When the time comes to recover and rebuild after war, it also comes with a considerable footprint. Reconstructing schools, hospitals, offices, and homes requires resources – both financial and from the ground. In Ukraine alone, it's estimated that carbon dioxide emissions from this regeneration will reach at least 50 million tonnes. As Dr. Axel Michaelowa, Head of Research for International Climate Policy at the University of Zurich, explains those figures are 'comparable to that of entire countries' emissions'.
Rebuilding also requires enormous amounts of sand, which is one of most in-demand raw materials on Earth, according to writer Ed Conway, in Material World: The Six Raw Materials That Shape Modern Civilization. In Vietnam, one of the world's largest exporters of sand, whole villages have disappeared into the Mekong Delta due to sand dredging.
Ecocide
Last year at COP27 in Sharm el-Sheikh, the Ukraine delegation used their platform at the conference to highlight the ecocide and ongoing threat to the environment due to the Russian invasion.
At the Ukraine pavilion, which contrasted sharply with other countries in its sober set-up, visitors could see soil samples unearthed by Russian bombs, according to UK newspaper, The Guardian. A bullet-ridden piece of oak was exhibited, a remnant from Irpin where homes and forests were ravaged by flood from a dam breach caused by Russian aggression.
Reporting to The Guardian, Ukraine's leading climate scientist, Svitlana Krakovska compares the wreckage caused by war to the damage to developing countries by hurricanes, floods and other extreme events caused by climate change. While she acknowledges that, 'the type of destruction is different,' she also remarks that fossil fuels caused both the war and climate change. Although there is general agreement about the phasing out of fossil fuels, some countries believe that it isn't happening fast enough, with US climate envoy, John Kerry, calling for an end to coal in pre-COP talks at the end of October.
Geopolitical Tensions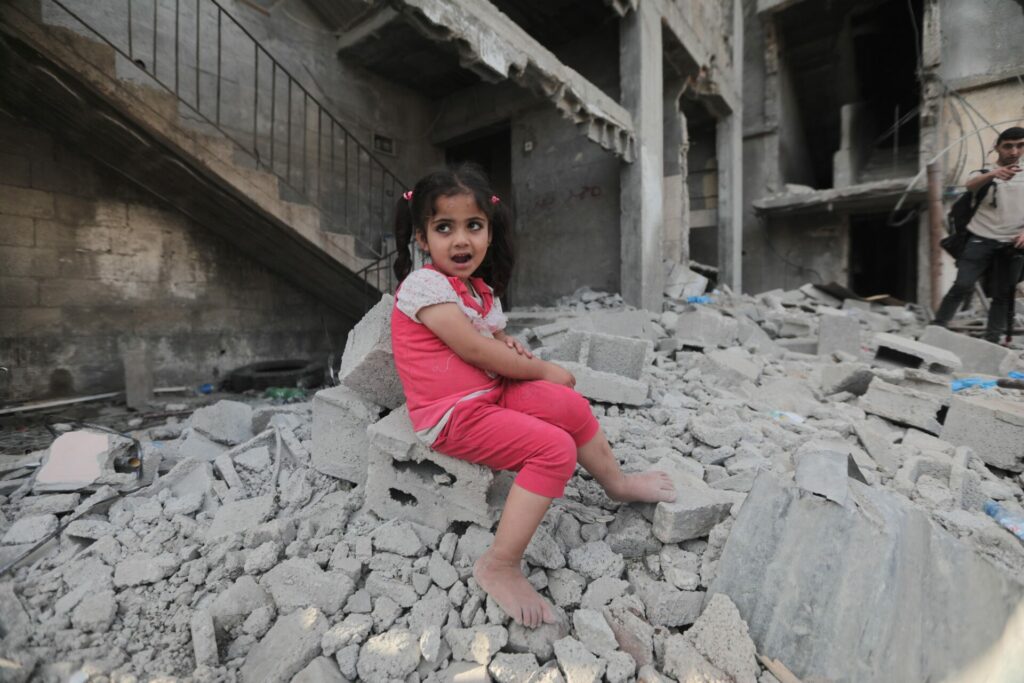 Ecocide doesn't just affect the war-ravaged countries the conflicts are playing out in. It affects the rest of the world in other ways, too. While the UAE has always been a safe haven in the Middle East, some companies may choose to impose travel restrictions to the region for their employees. This could reduce the number of visitors to the event taking place from 30 November – 12 December.
There is also the possibility that senior figures in talks at COP28 will be focused on the events happening in Gaza. Though the climate crisis has been more evident this year than ever before, the humanitarian crisis unfolding in the region – and the possibility that Hezbollah and Iranian-backed groups may increase hostilities – is likely to be drawing the most attention for many right now. This is happening during a time when they would normally be solidifying their negotiating position for the conference.
COP28 President Calls For Unity
Perhaps one man can bring everyone together and focus on one crisis that transcends all borders? At the pre-COP event in Abu Dhabi, COP28 President-Designate Dr. Sultan Al Jaber stated: 'There are too many things dividing our world at this moment. Now, more than ever, we need to unite on climate and deliver a clear message of hope, solidarity, stability, and prosperity.'