F.A.M.E – Fashion, Art, Music and Entertainment – is back this year and promises to delight its audience with the exceptional talent of its extraordinary performers.
The eagerly anticipated show, which was set up back in 2016 by Rosy Ahmed, whose daughter Hana has Down Syndrome, provides a fun and powerful platform for people of determination to perform and showcase their limitless skills.
A key event in Dubai's calendar, this year the two hour production will see 40 participants showcasing drama, music and dance performances. F.A.M.E will open with a dramatic piece written by the show's creators, focusing on the devastating effects of bullying, while highlighting the specific challenges for people of determination as well as their strength and resilience. The night will also feature a fashion show with designs from world renowned designer Rina Dhaka, referred to by international media as the 'Jean-Paul Gaultier of the Middle East.'
Held at the World Trade Center on Saturday 19th November at 7pm, the accoladed production – which picked up the Audience Choice Award at the Toronto Lift-Off Film Festival last year – ensures performers receive the support, access and time to showcase their love for the arts.
The Ethicalist spoke with Rosy Ahmed, the founder of F.A.M.E, CEO of Purple Vogue Events and mother of Hana (26) in the run up to the must-see show.
TE: What inspired you to set up F.A.M.E in 2016?
My daughter Hana inspired me to start events and performing arts for people of determination as she expressed a talent for dancing and modelling from a young age. At primary school in London she would catwalk down the playground with her friends to Beyonce's music. Later, she developed an interest in art, which has become a recurring theme in F.A.M.E. This year we are combining both of those interests by showcasing her artwork on caps that will be worn down the catwalk along with Rina Dhaka's designs.
As for why I set this up, having lived in Dubai for over 15 years I realised there wasn't an opportunity for our children to showcase their talents in performing arts so, I decided to create one.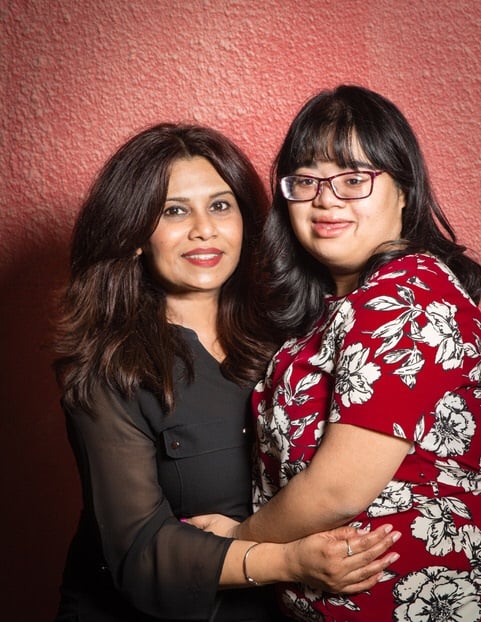 TE: In what ways has the annual show helped promote inclusion for people of determination?

We have seen the show grow year on year, with word spreading quickly and more and more parents applying on behalf of their children. Over the years I have noticed that every child has so much talent to showcase and their parents want to support that wish to be on stage. We have collaborated with professional performers and models who have performed and walked the catwalk alongside our models. We actively try to integrate and encourage a mixed audience reaching out to mainstream schools to come and watch our show.

TE: This year F.A.M.E features a piece on bullying. Can you share your insights about how devastating bullying is on children and adults of determination?

I truly cannot give you an insight into how devastating it is for our children of determination because I don't know first hand how they feel. Bullying has become very prominent in today's society and it effects everyone not just people of determination. What I do find devastating is the fact that some people do not even know that they are being bullied while some people can't vocalise that they are being bullied. What is also really upsetting is the silence that surrounds bullying, people see it happening but remain indifferent when really, we should all be speaking out against injustice.

TE: You've recently launched the F.A.M.E Talent Hub, a space where students can engage in the activities they enjoy. Tell us more about it.

The purpose behind Talent Hub is to create a relaxed weekend social club that serves as a creative safe space for our members to express themselves. With the help of Step Up Academy we have been able to develop musical theatre and dance classes with independent music teachers that run throughout the year. We have been able to set up public performances with the last being showcased at The Courtyard back in June. When we first opened Talent Hub back in February, the word spread quickly and we immediately filled all the available slots. We have been fortunate enough to keep that momentum going and now even have a waitlist.

You've done so much already to facilitate opportunities for people of determination to share their voice. What would you say are the areas that still need attention from the community at large?

I believe that in order to bring the community more inclusivity there should be more CSR (Corporate Social Responsibility) programmes. Currently there are some very progressive sports and social activities, however there is a lack of performing art schools. That's why I created The Talent Hub, but I feel more could be done in this field. I must however recognise and praise the changes that are happening in the UAE, including the Year of Tolerance, the Accessibility Expo and the day to day improvements such as wheelchair access to our beaches.

For more information and tickets visit the FAME website here