Hollywood star Leonardo DiCaprio, who is worth around £230million, has demonstrated his commitment to sustainability by pumping cash into British firm Løci, which manufactures vegan trainers from recycled materials.
The Titanic star has invested £4million into Løci which was founded in 2021 by a quartet of Londoners: Emmanuel and Frank Eribo, Philippe Homsy, and Mark Quaradeghini.
Cruelty-Free Vegan Trainers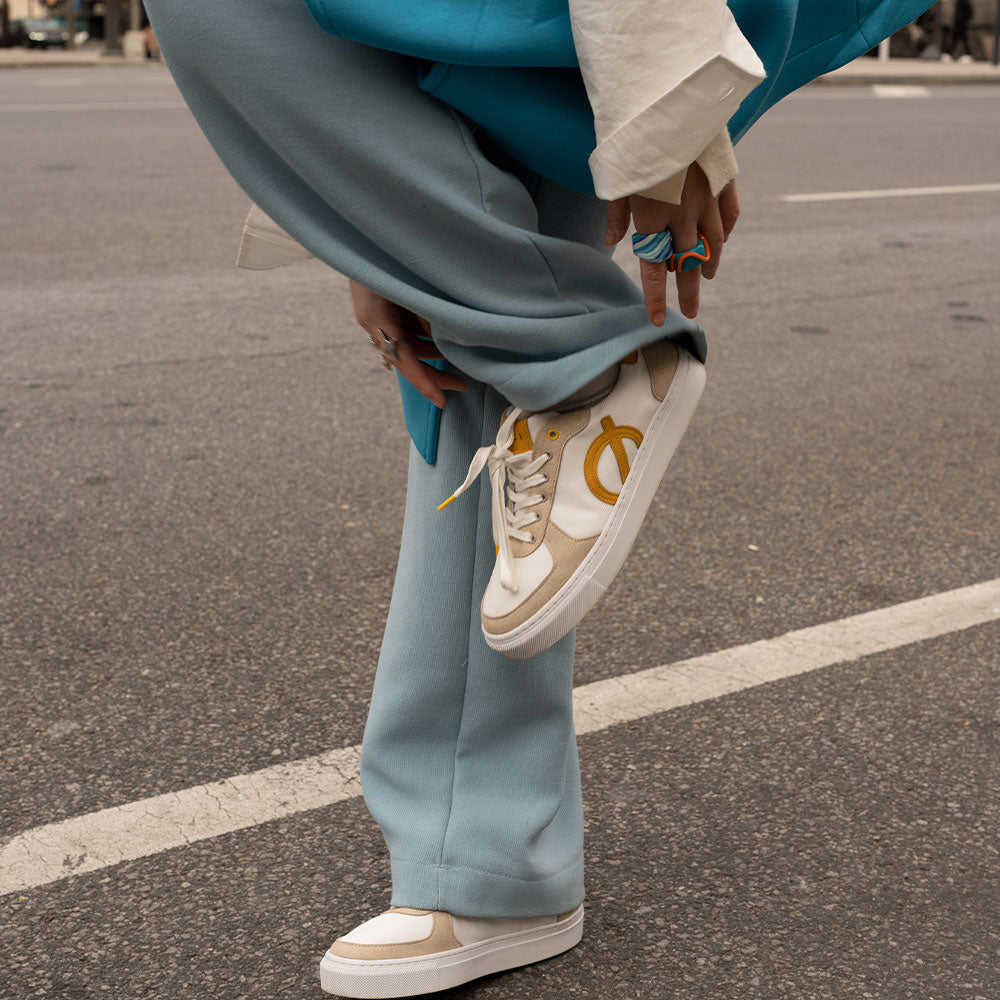 CEO Emmanuel Eribo said: 'We exist to make a difference and are delighted to have Leo on that journey with us. The idea was to innovate in an area where people weren't necessarily doing things differently. For us, being sustainable and cruelty-free was key.
'He's an absolute star and sees the world the same way we see it. It's been an absolute blessing having him on the team. If I could say things about Leo, I'd probably use two words: genuine and kind. You can care about the world and still want good things.
'He didn't need to do this — there's definitely something in there that is tugging on him. I have not seen him wear another pair of shoes the last 50 occasions he's been snapped — apart from when he's wearing formal attire. That's not part of any agreement, that's a genuine love for the brand and him supporting it.
Each pair of Løci vegan trainers, which are made in Portugal and cost from AED670, reuses the equivalent of 20 plastic bottles, which would otherwise end up in the ocean or degrading for decades in landfill sites.
In addition, cork, bamboo, recycled nylon, brass, and natural rubber replace conventionally animal-based or unsustainable materials.
This is not the first vegan business venture for the actor, who has previously invested in racing driver Lewis Hamilton's vegan food chain Neat Burger, as well as cultivated meat and seafood brands such as Mosa Meat and Aleph Farms.
Speaking to his 19.6 million Twitter followers, DiCaprio said: 'I am proud to be an investor in Løci, a brand dedicated to minimising its environmental impact, and centred around creating cruelty-free, ethical footwear.'
Løci states that since its inception, it has prevented almost one million plastic bottles from being discarded.
The business also donates 10 percent of sales to a number of nonprofit organisations including DiCaprio-endorsed Sea Shepherd and See Turtles.
'Today, sustainability is one of the most used buzzwords. We want Løci to cut through the noise and be judged by our impact,' Homsy, CMO of Løci said.
'Through education, innovation and donations, we've built a business model that is driven by our passion. With Leo, we could not have hoped for a more genuine and committed partner.'
DiCaprio has also worked to bring attention and funding to the protection of biodiversity, ocean and forest conservation, and climate change, including the creation of a bridge for wildlife in California and the reintroduction of bison to the forests of southern England.
The Leonardo DiCaprio Foundation supports over 35 innovative conservation projects around the world that protect fragile ecosystems and conserve threatened species.