Mainstream media may have forgotten last year's devastating floods in Pakistan, but the scenes across the country remain the same — volunteers of all ages still gather in people's homes to painstakingly assemble safe birthing kits in the thousands, just as they have been doing since swathes of the country were ravaged by heavier than usual monsoon rains and melting glaciers that followed a severe heat wave last summer.
They are part of midwife Neha Mankani's invaluable army of anonymous volunteers assisting Mama Baby Fund – a non-profit that provides maternal health care to women in need – and they show no signs of slowing down. Stacks and stacks of plastic sheets speak of just how many women are in need of a dry birthing surface. Latex gloves, alcohol swabs, and bars of soap serve as a reminder of the unsanitary conditions in which they'll welcome new life.

Simple string and clean razor blades, meanwhile, are all that guarantee timely umbilical cord cutting. And the drug misoprostol, while controversial, offers hope in managing postpartum haemorrhage under unspeakable circumstances. As for those new to the world and in need of support? The onesies and swaddle wraps flattened into small, zippered bags – along with the aforementioned essentials – will be the only source of comfort in their early days. Collectively, it's a sombre reminder of what Pakistan's most helpless are up against.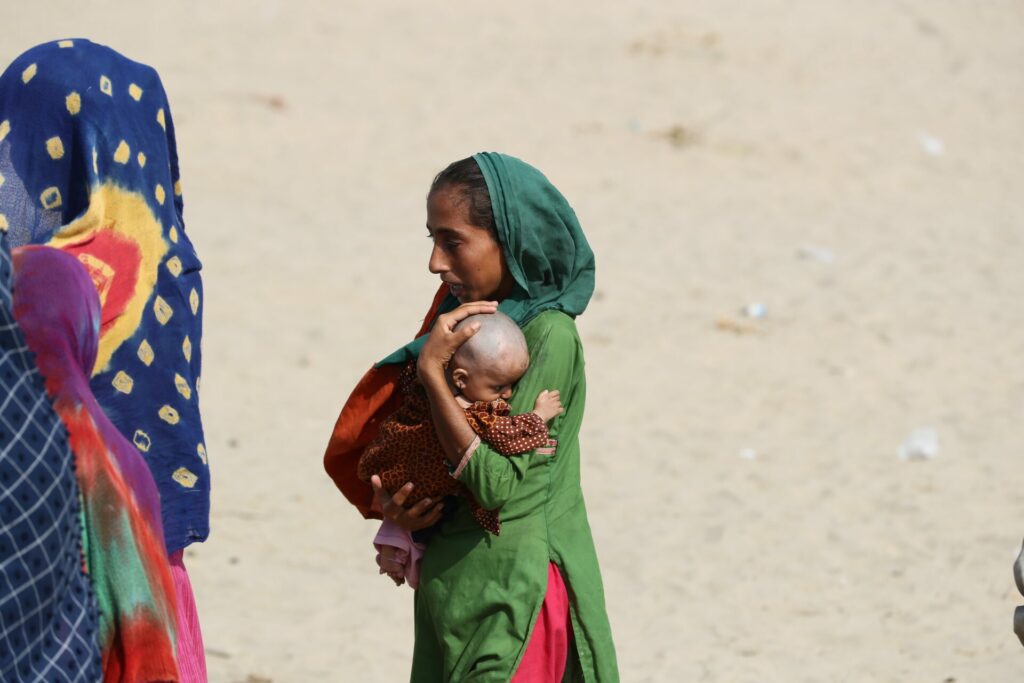 'Imagine all of the vulnerabilities of being pregnant, in labour, or postpartum, having a newborn, and add to that displacement, a struggling health system, food insecurity and being away from your community,' says Mankani. 'The Mama Baby Fund emergency response and our community-based programmes are centred around these gaps.'
Mere hours after our conversation with the midwife, she's named U.S. Mission Pakistan's 2023 'Woman of Courage' in Islamabad — yet another accolade that recognises Mankani's contributions to her country. Yet, she's modest to the point of exhibiting discomfort over all the attention she has garnered in recent months.
Mama Baby Fund, which she founded in 2015, is a non-profit that provides maternal health care to women in need, with Mankani at the forefront of supporting the pregnant women and new mothers impacted by 2022's devastating floods in Pakistan's worst-hit province of Sindh. She and her team have been relentless in their efforts, travelling 300km from the city of Karachi to makeshift camps housing internally displaced people (IDP) in order to examine pregnant women and deliver hundreds of safe-delivery kits.
It is estimated that 32 million people across Pakistan were displaced by the floods, 650,000 of who were pregnant. Needless to say, the circumstances in which Mama Baby Fund was operating were dire. With women giving birth in schools, in tarpaulin tents, and even on boats, the non-profit was doing everything from raising funds and running pop-up clinics to assembling and distributing their birthing kits designed to ensure safe deliveries.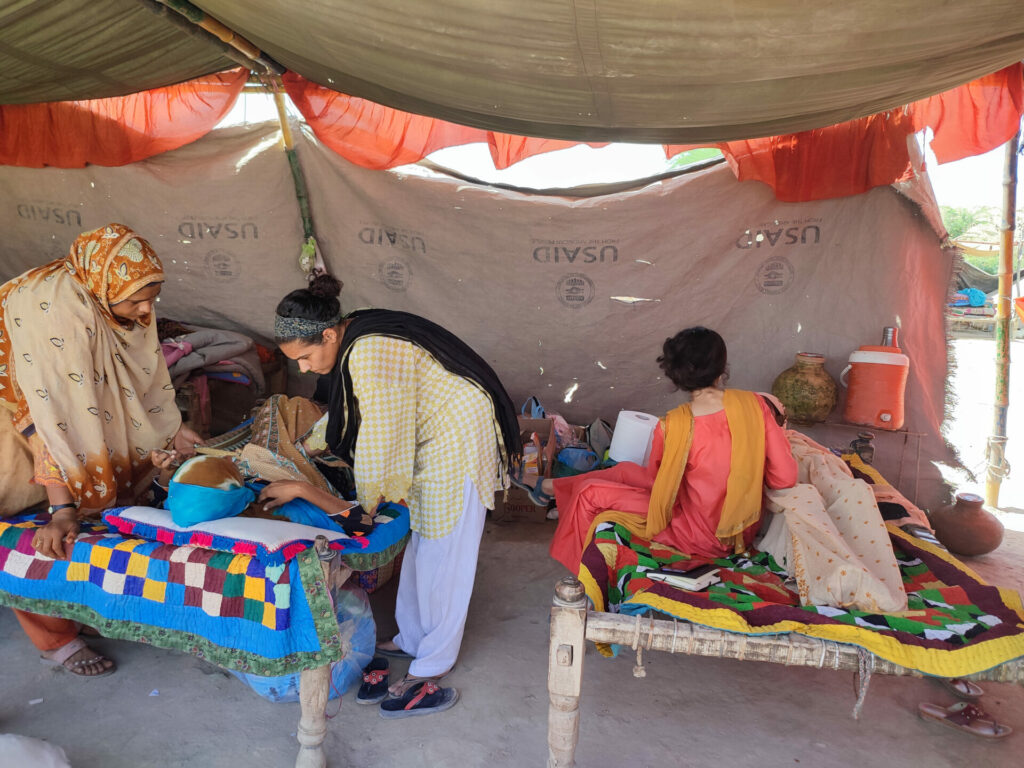 But in the face of extreme heat, poor sanitation, and women and children who've long been poor and malnourished, it was never enough.
It's no surprise, then, that the midwife has been described as 'fearless' for her work in flood-struck areas — a description she vehemently denies. 'The trauma of living through disaster or displacement was not mine; it was of the people who lived through it. The reason we do this work is because I have some kind of cognitive dissonance between what is and what should be,' she explains. 'But it's difficult. It's definitely difficult. And I don't think I have the best self-care strategies. What I've learnt over time is to compartmentalise because, in a lot of situations, it's the only way that I'm able to carry on.'
What most people don't realise is that Mankani's humanitarian work with Mama Baby Fund is almost more challenging today than it was during the flood's immediate aftermath. Memories of natural disasters fade fast amongst those who didn't experience the devastation firsthand. Worse still, the economic crisis and longstanding political instability in Pakistan has been drawing attention away from flood victims for several months now.
'The situation continues to be grim in many areas – roads and infrastructure were damaged beyond repair, but with water levels rising to 12 feet in some parts, people could at least take boats to get from point A to point B. But it's actually worse when the water starts receding because you can't take a car nor a boat to reach people in need of help and supplies,' she explains.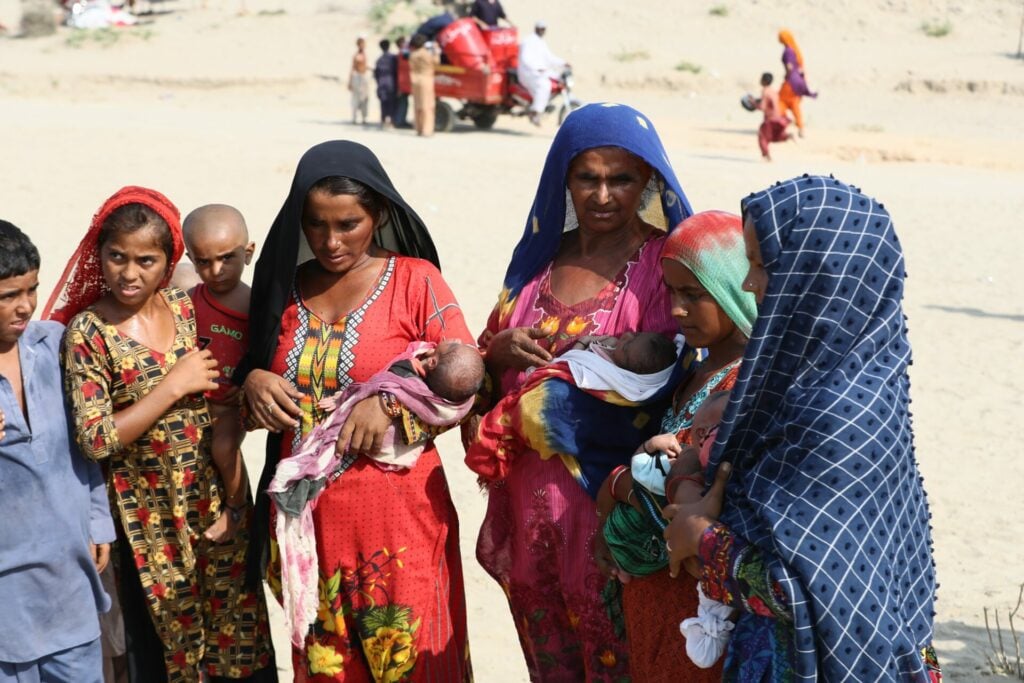 The people of Sindh in Pakistan's southwest now live in a protracted emergency, but the attention paid to their vulnerability has dwindled, as have food staples, medical supplies, and mobile clinics.
Some of those displaced now live in camps in Dadu, the same district UN High Commissioner for Refugees special envoy Angelina Jolie visited in late September. 'In all my life, I have never seen anything like this,' Jolie said. 'Families are sleeping under open skies and have lost everything in these floods.'
Midwifery in Emergencies
In Dadu families of up to 12 members can share a tent, facing hunger, dehydration, and a host of health issues. The most vulnerable include expectant mothers and newborn babies and with little access to district hospitals or village midwives, they are desperately in need of help.
'A lot of the babies who were born in that period, their infancy has been spent in displacement, so they have a lot of health issues related to living in an environment where poor hygiene and a lack of sanitation is the norm — we're seeing a lot of respiratory issues, a lot of gastric issues, a lot of malnutrition. And then there's the mental health issues that come from living in IDP camps, moving around from place to place,' explains Mankani.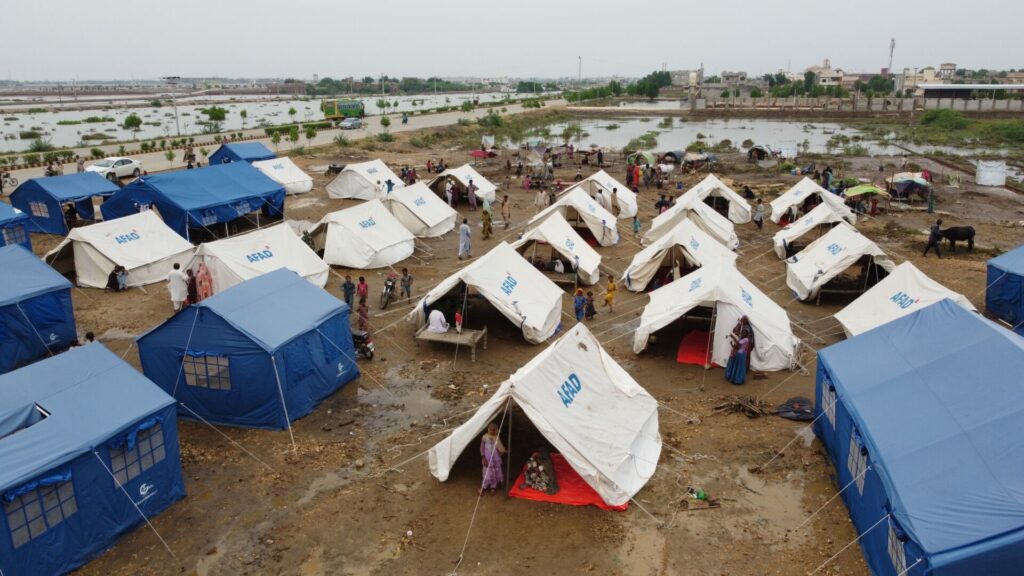 The silver lining, for lack of a better term, are the lessons that Mama Baby Fund is learning in this process. 'We're a small organisation, so we can't be involved in preparedness strategies as far as climate-related disasters are concerned. But what's important is that we used our work during the floods as a major advocacy opportunity,' says Mankani.
'We've always worked closely with community members, whether it's birth attendants or just ordinary women who are interested in our work. But lately, we've been emphasising the role of midwives in rural areas during complex emergencies and how to mobilise them, especially in the absence of community-based healthcare providers.
'Highlighting what Mama Baby Fund was able to accomplish, I've been advocating for midwives on both a national and international level, speaking with government stakeholders and at midwifery conferences. A lot of midwives have since said that they'd like to be involved in disaster-response committees.'
Mama Baby Fund Roots
Neha founded Mama Baby Fund with the aim of serving as a rapid response fund for emergency needs in maternal care such as preterm birth, incubator fees, extra medicine costs, and multiple bags of blood. It also aimed to respond to in-kind needs providing newborn clothes, diapers, baby oil, and supplements for mothers.
While the organisation has featured in the media for the outstanding work carried out during the 2022 flood, Mamma Baby Fund has been helping disadvantaged communities for far longer.
The fishing community of Baba and Bhit islands – small yet densely populated islands located off Karachi – has been receiving much needed aid from the fund for several years. The two islands are only accessible by boat, so during the monsoon season, pregnant women are at risk in a community that is often completely cut off.
It is here that Mama Baby Fund has not only established a fully functioning maternity clinic, but is also gearing up to introduce a water ambulance.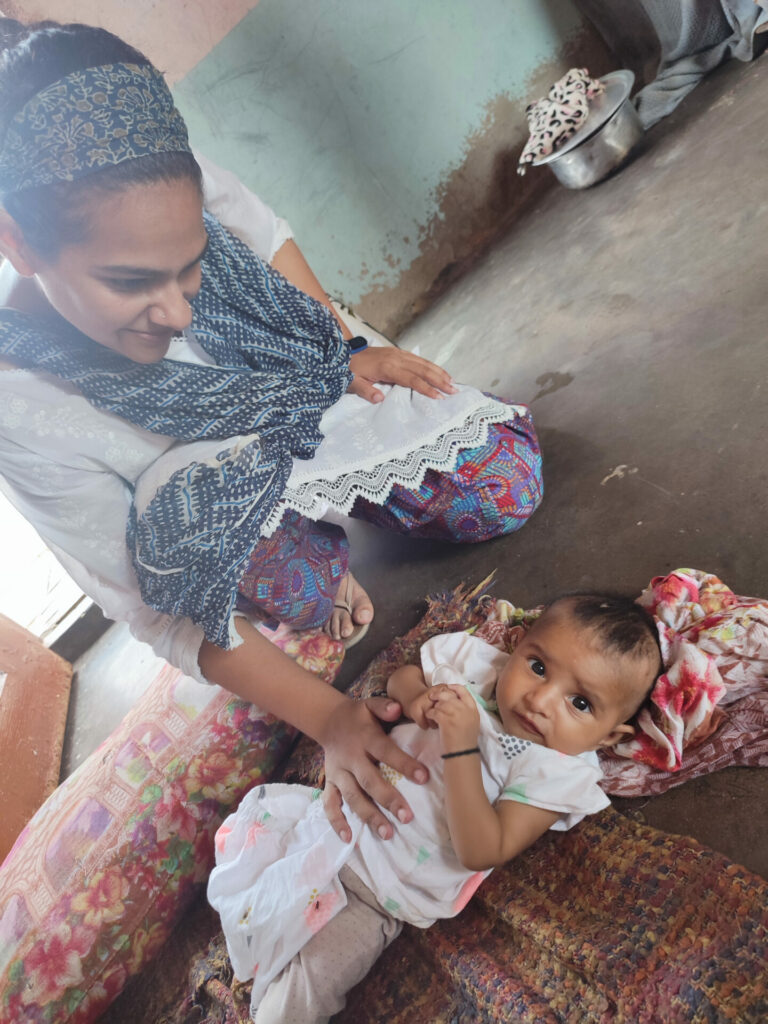 'The fisherfolk are completely reliant on fishing for their livelihood, but with climate change and environmental degradation, they've been struggling. The population of nearly 40,000 had no access to maternity health clinics, neonatal care, nor emergency services. I've been giving antenatal care to the women from these communities for the past two and a half years, which is our way of trying to mitigate the impact of the climate crisis.'

'Most people think of midwifery as only maternal and child health, but there's plenty more. We provide contraceptive care, we guide on family planning choices, we help mothers with the whole continuum of the birthing process — that includes women who approach our clinics with postpartum depression or reproductive health infections.'
It goes well beyond childbirth, despite the challenges of practising in a conservative country like Pakistan, where and myths and misconceptions around contraceptive methods only make it harder. 'It's a really important need in most of the communities we work in, but women don't always have the autonomy to make decisions about their own reproductive health. Son preference and rumours about current contraceptive methods aside, there's not a very high level of partner compliance with condoms. Healthcare providers will often discourage women from using family planning methods, too.
It all affects women's uptake of services,' she says resignedly. 'Still, as a midwife in Pakistan, I think my ethical responsibility is towards such women, who are experiencing the maternal health crisis firsthand.'
Visit the Mama Baby Fund website to learn more.
For more articles about people changing the world head to our CHANGEMAKERS section