When it comes to saving the planet Sophia Campbell-Shaw is deadly serious. Already concerned about the environment, she began working with willow as bereavement therapy after her mother died of breast cancer and her sister was killed.
But then Sophia, 32, came up with the idea of creating sustainable coffins and has now launched one that families can rent for up to a week at a time.
She even encourages family members to join her to make the coffin as a 'final loving gesture' and as a fitting way to say goodbye.
Now the mother of two is the only person in England offering such a unique rent-a-coffin idea as a way of protecting the environment while de-mystifying the funeral process for ordinary families.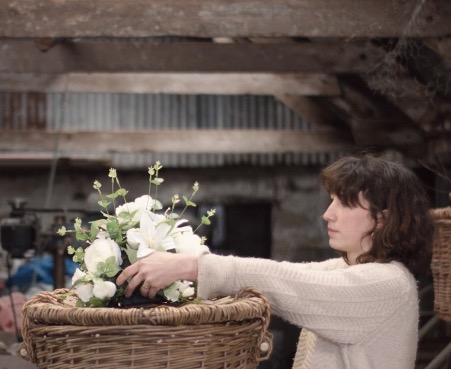 'I'm passionate about the environment, sustainability and products that support biodiversity,' says Sophie, 'and I want to bring light and love to what can be an ultimately dark topic – death.
'Rental to me is a very intriguing concept and it fits well with sustainability and the circular economy. If we can rent items for other big events, such as marriage, then why not death?
Sustainable Funerals
'It's a dignified movement away from the single-use, less sustainable culture of funerals.'
Sophia, owner of Woven Farewell Coffins, first began making backpacks and baskets out of willow when her mother, Ava, died of breast cancer at the age of 52 in 2012. 'I was 22 and although devastated about losing my mother, I realised she'd had a special death. We were all with her, and she was very open about dying and the entire process.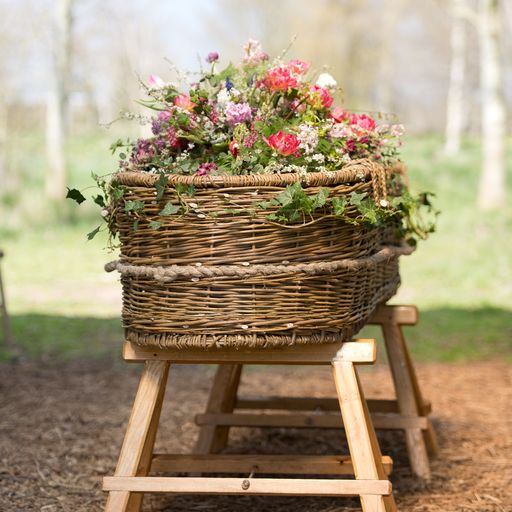 'It meant I wasn't scared about death but then my sister Anna, was killed suddenly just eight weeks after I had my first baby Ava and it made me realise that life's too fleeting not to do what we love.
'Out of that epiphany I decided to start making coffins out of willow. It was my way of helping the environment and also families who were going through the same process I had.'
It was also a way of subconsciously helping herself. Sophia's sister Anna Montgomery Campbell was the first British woman to die fighting with the Women's Protection Units (YPJ) in the Syrian civil war. She was killed in March 2018 in Rojava by a Turkish Armed Forces missile strike.
'She couldn't stand social injustice and wanted to do her bit,' Anna says. 'It was a shock when we discovered she'd died so young. She was only 26, and also we haven't been able to recover her body as it's in a place that's too dangerous to enter.
'The BBC made a documentary on my sister [Anna: The Woman Who Went To Fight Isis], and now I realise that I'm helping other families lay their loved ones to rest while we couldn't do that. We had two memorial services, as there were so many people who loved Anna, but it's not the same as a funeral. It's incredibly important to know that a loved ones' physical remains are at a ceremony. It's closure – something we've never been able to have with Anna.
'She would be so proud of what I'm doing.'
Eco Coffin
The coffins take four days to make at Sophia's studio near Lyme Regis, Dorset, and are made out of willow from nearby Somerset while timber for the base is from a sustainable local woodland.
A biodegradable plastic double and unbleached cotton lines the coffin, which also has a cardboard liner inside in which the body is placed. At one end, there's a woven panel that can be opened to slide out the body after the ceremony. The coffin, which can be rented for up to a week, is then returned to Sophia where is it cleaned. 'Each one can be used up to five times,' Sophia explains, 'and the cardboard liner and the plastic are both biodegradable.'
Willow only takes one year to grow and at the end of the rental coffin's life-cycle is it fully compostable.
Non-rental willow coffins can be personalised, and made in different colours and even have two round ends. 'There's a trend for people to choose their own coffin, and use it as a trunk,' says Sophia, who donates five per cent of her profits to The Woodland Trust charity in the UK.
Prices start from £650 – £750 and can be delivered all over the UK. 'Some traditional coffins can be £2,000 plus,' says Sophia, 'so these willow coffins are accessible to low income families without compromising on quality.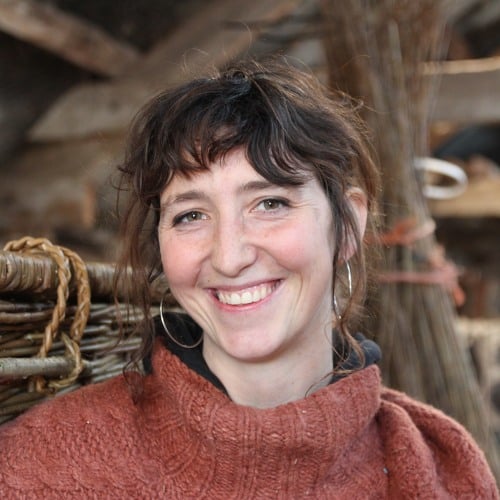 Sophia's passion for family-centric funerals means she opens up her studio to family members to help make the coffin. 'It's a beautiful thing to help weave part of the coffin,' she says. 'They share memories, show photographs and it's their way of showing their love for their family member as well as preparing to say goodbye. I feel honoured to be part of that.'
Sophia, who won a Best Businesswoman Award last year, aims to create a natural burial ground in the future. 'I want people to be able to come to remember their loved ones and be surrounded by beautiful land, with wildlife, flowers, and butterflies. I'll make it very special.'