While politicians, activists and the rest of us all talk, worry and try to gain everyone's attention to find a solution to the climate crisis and world's environmental issues there's a raft of people who easily cut through the noise: celebrities.
'When someone famous takes a stand, people notice,' Jane Fonda said. And she should know. An early activist for women's rights, and protestor against the Vietnam war, the 84-year-old, who became a movie icon in 1968 after starring in Barbarella, led the way for future generations of A-listers and sports stars to make their voices heard.
Giving her advice to Harper's Bazaar on exactly how to become an activist recently, the actress made it clear just what the number one priority for everyone should be: 'Right now and until I die the issue will be the climate because it affects everyone else.'
And while she is still getting arrested – most recently in October 2019 while protesting in Washington over climate change policy – a whole host of other stars are lining up to do their bit to save the planet with various collections and collaborations, ranging from launching vegan burger bars to creating sustainable beauty lines. Here are some of our favourite conscious collections from celebrities with clout doing what they can to make a difference.
Leonardo DiCaprio and Lewis Hamilton's Neat Burger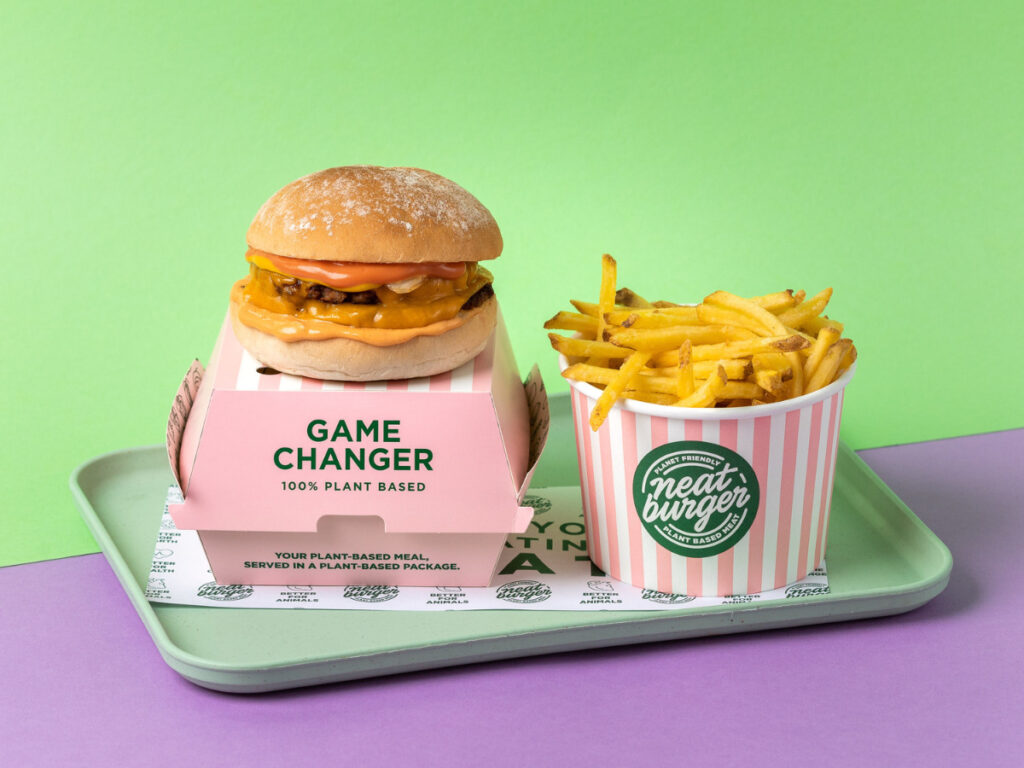 When it comes to vegan burgers we're lucky enough to get two celebrities for the price of one with the environment's poster boy Leonardo DiCaprio joining forces with Formula 1's Lewis Hamilton to launch Neat Burger – most recently right here in Dubai!
The duo have backed the plant-based restaurant in Dubai Mall – it's in the food court overlooking the ice rink – which has salads and shakes as well as the vegan burgers served with a side order of stardust backed up with genuine eco credentials.
Vegan, GMO-free and ethically-sourced, the food is delicious, the packaging is biodegradable and compostable and with the financial backing of the Oscar-winning actor and seven-time F1 world champion, they're onto a winner.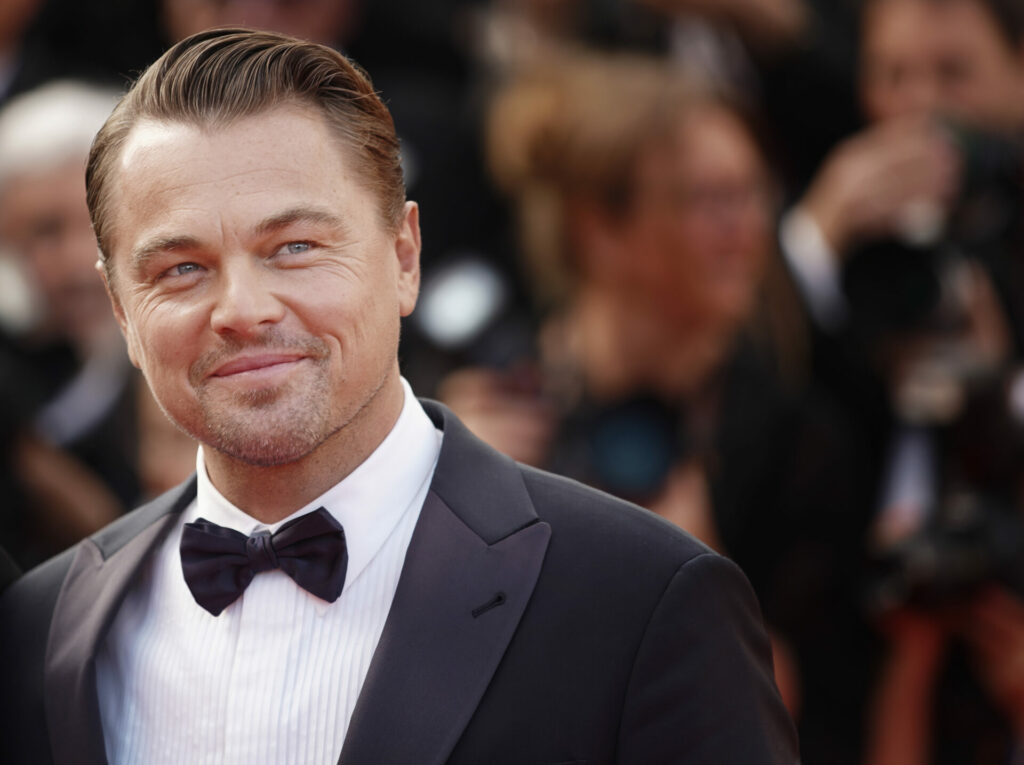 The restaurant chain, which has branches in London and New York, is the latest collaboration for environmental activist DiCaprio. As well as producing the 11th Hour, Cowspiracy and Sea of Shadows documentaries, the Titanic star is on the board of WWF, and International Fund For Animal Welfare, and has been a US Messenger of Peace with a focus on climate change.
His foundation supports conservation projects – including working with Amazon Watch which protects the Amazon Basin's indigenous tribe's lands – has donated $5 million to Earth Alliance to protect the Amazon rainforest and has also invested in brands including Beyond Meat, which creates plant-based meat substitutes.
He also understood when to unleash his star power by using his 2016 Oscar speech (for Best Actor in The Revenant) to tell the world: 'Climate change is real, it is happening right now,' causing a huge spike in searches online into the problem and creating what has now been dubbed the 'DiCaprio effect.'
It's no wonder vegan Lewis Hamilton raced to get DiCaprio on board as a 'strategic investor' saying how delighted the pair are with the plant-based brand collaboration, ahead of the latest launch in Dubai. 'The response to Neat Burger since we opened has been incredible,' Hamilton said. 'I'm really proud of the boundaries we have been able to push in this space and the plans for expansion are really exciting.'
Gwen Stefani's GXVE cosmetics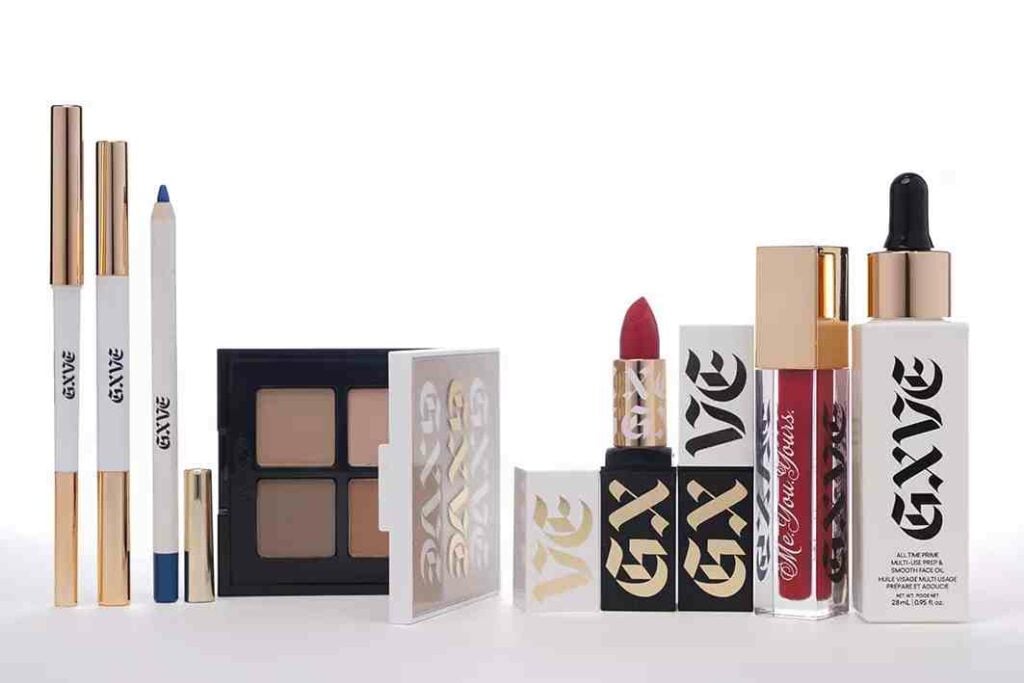 Known for her bold look and statement red pout, the singer has created an affordable collection of scarlet lipsticks, eyeshadows, eyebrow pencils and eyelines that are vegan and cruelty-free.
The GXVE – it's pronounced give – cosmetics are all made without parabens, sulfates, phthalates or synthetic fragrances. The gorgeous packaging is created using sustainable materials including glass, recycled plastic and everything comes in 100 per cent recyclable packaging.
'People have asked me my entire life, "What colour lipstick are you wearing?"' the 52-year-old told WWD prior to the beauty line launch. 'That was the number-one question I've had in my entire career…and I would never tell people what colour I was wearing, ever. I don't know why, but I guess it was probably meant to be that I was going to do this one day.'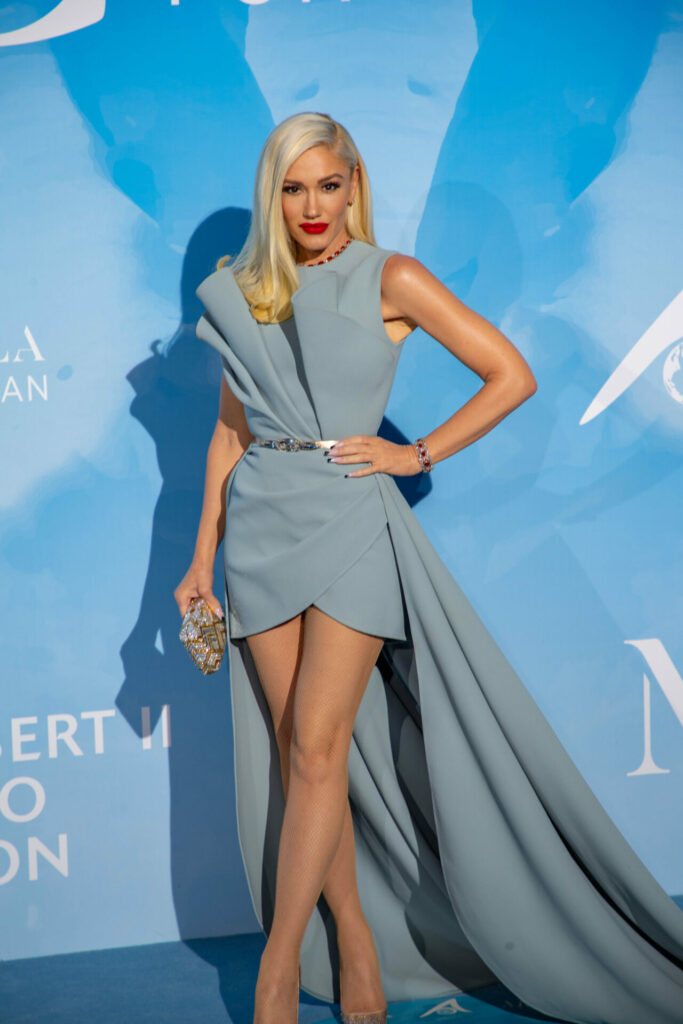 The Hollaback Girl hitmaker's first beauty brand brings together her love of make-up with her environmental and humanitarian work after taking part in myriad collaborations. As well as performing at the Global Citizen Event on Earth Day before, she has also donated $1 million for relief efforts in Japan following the 2011 earthquake and tsunami that devastated the country, killing thousands.
The Grammy award-winning pop star has auctioned off her clothes and held dinner parties, donating the proceeds to relief effort charities. Gwen has also supported UNICEF, Save the Children, and the Elton John AIDS Foundation and used her Las Vegas residency to donate $1 from every ticket sold to a local children's cancer treatment center.
Now that the musician, who has won multiple awards for her philanthropic work and collaborations, is turning her attention to ethical beauty we're in No Doubt it will be a huge success.
Gwen's GXVE collection is available at sephora.
Stella McCartney's Falabella bag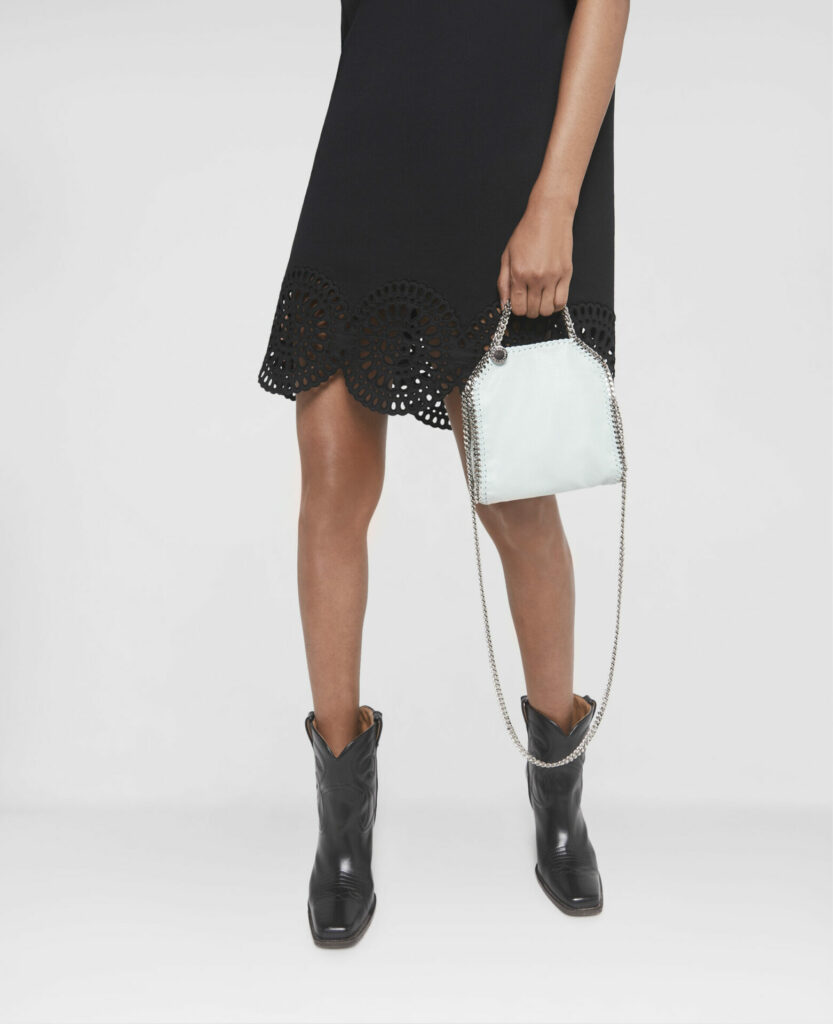 The Queen of sustainable style, Stella McCartney has made vegan handbags and ethical clothing fashionable. A lifelong vegetarian and PETA spokesperson, she frequently speaks out against animal cruelty, and works with organisations such as Greenpeace on collaborations to make a statement about the environment with her clothes.
'We strive to create the most beautiful, desirable products with the least impact on our environment,' she says on her website. 'Our conscious values are also the inspiration behind our innovation. As industry leaders, we endeavour to create the most cutting-edge materials and animal alternatives, continuing to push towards circularity and being fully transparent by developing tools to measure and report our impact.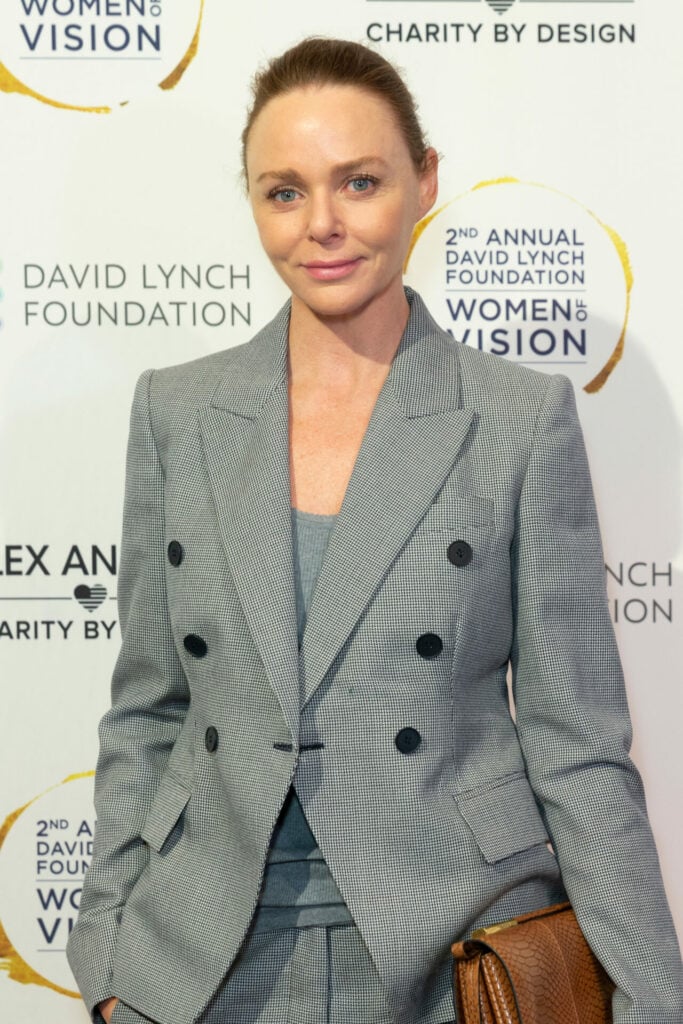 As well as using vegan materials, recyclable packaging and sustainable energy in her stores, she has created a collection of sporty pieces for a collaboration with Adidas that is made from post-industrial and post-consumer waste such as plastic bottles.
Her latest iteration of her iconic Falabella bag comes in lipstick red or mist blue and is crafted from grained vegan 'Shaggy Deer' fabric, recycled materials and solvent-less polyurethane. The £650 (around 2,809 AED) slouchy tote comes with a magnetic snap fastening, can be worn across the body, or carried as a clutch, and comes with a recycled brass and diamond-cut chain frame. Divine! Stella McCartney store, Mall of the Emirates.
Pharrel Williams' G-Star Raw jeans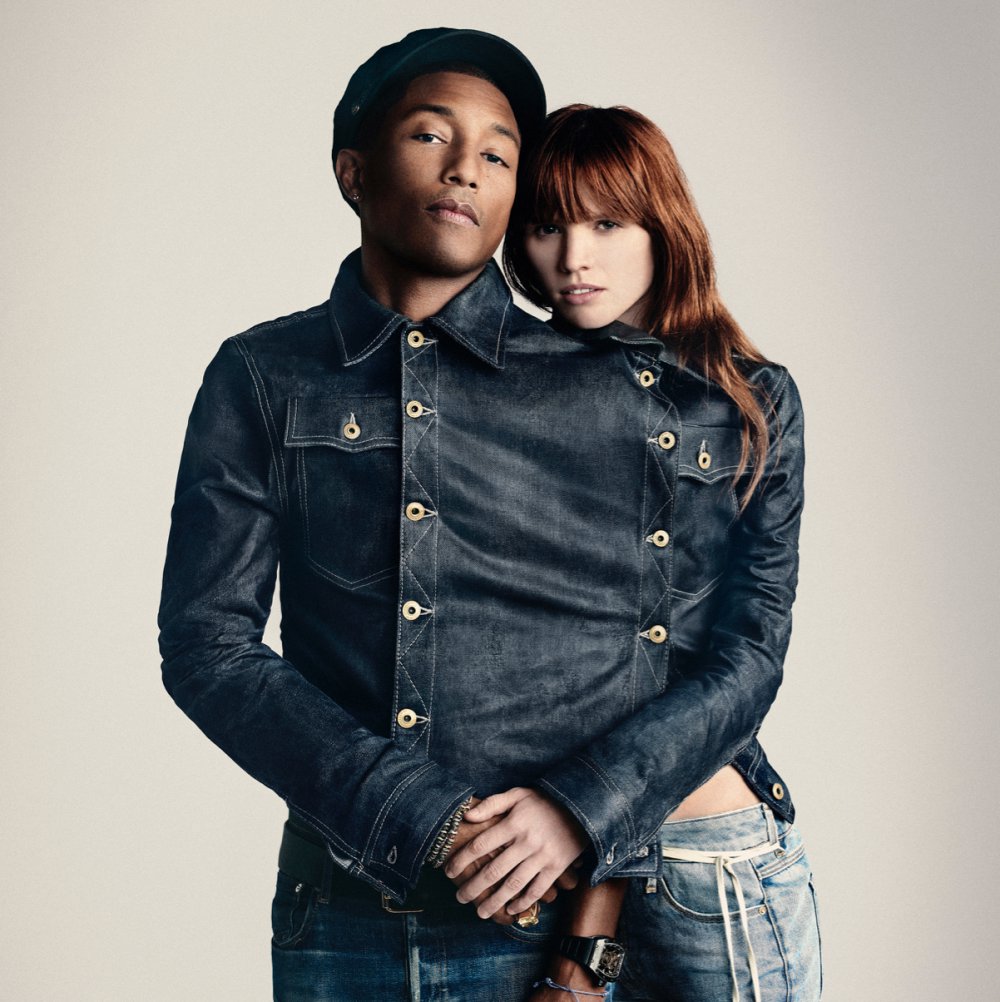 A climate crisis activist since before most people had even heard of the term, music star Pharrell Williams is now a fashion ecopreneur.
Not only did the Grammy award-winning singer donate 25 cents for every one of the first million downloads of 'Hey You' – his hit collaboration with Madonna way back in 2007 – which was donated to the Alliance for Climate Protection, but he has also invested in and worked on many collaborations with sustainable clothing companies.
The rapper, songwriter, and producer is the co-owner of G-Star Raw which makes jeans out of recycled fishing nets and plastic waste scooped out from the sea. The popular denim brand – known for its innovative 3D jeans – now uses Bionic Yarn, a marine engineering company where Pharrell is the creative director and investor, and which turns coastal and marine plastic into premium textiles and polymers.
Along with various collaborations with Adidas, including with the Parley division, which uses ocean plastic to make parts of the Boost model sneaker line, and adidas Originals, the Happy singer – who founded wellbeing brand Human Race even cut a single record in 2017 called 100 Years which will debut in 2117.
Laid onto the only record made from clay found in the Cognac region of France – and yes, just a single copy! – the song is now in a safe that is said to be indestructible unless submerged in water. Because sea levels rise with global warming, the song will only survive if the climate stays where it is, otherwise the record will dissolve and the tune will never be heard again.
'Climate change is one of the most defining issues of our time that threatens our very existence on Earth,' he said.
Emma Watson's Sustainability Committee Role for Gucci and Yves St Laurent owner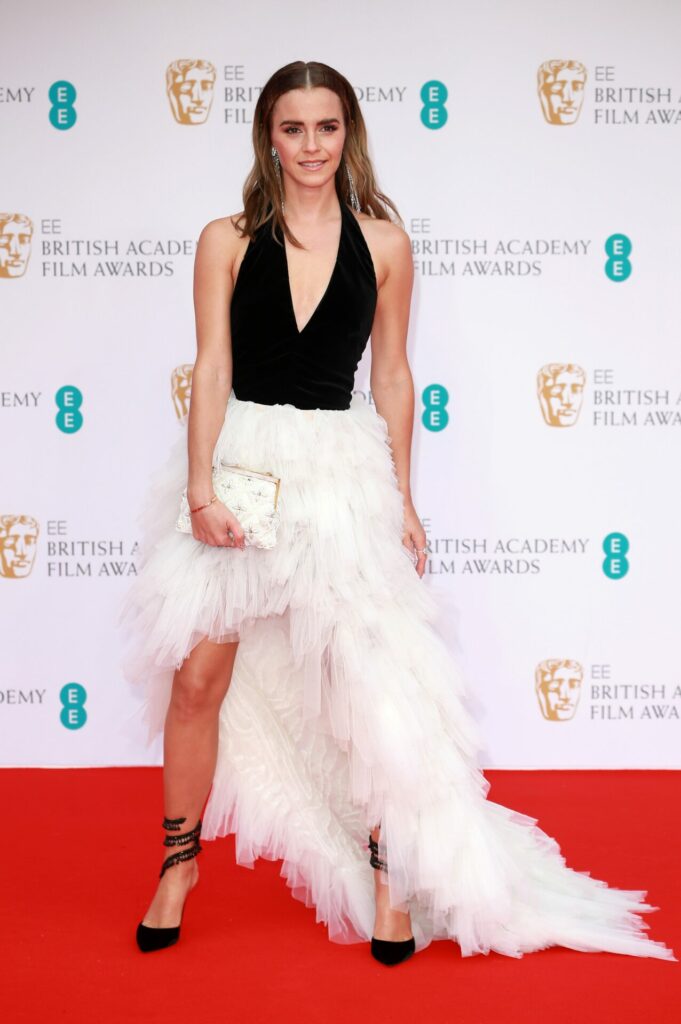 An advocate for women's rights – even shrugging off death threats following her speech to the UN insisting that feminism is not 'man-hating' – Emma Watson has long been the poster girl and pioneer for sustainable fashion.
She was an early adopter of ethical lines, working with Fair Trade fashion brand, People Tree, at the age of 19, and launching her own sustainable fashion and natural beauty Feel Good Style site in 2010. A year later the Harry Potter star collaborated with Alberta Ferretti to produce the eco-range Pure Threads.
Since then Emma, 32, has taken sustainable fashion into the mainstream, making every appearance at a red carpet event green by showcasing eco brands, vintage outfits or one-off pieces from high-end designers created ethically just for her including a MET Gala dress created out of recycled bottles.
The actress has campaigned against fashion brands using child labour and is now the chair of the Sustainability Committee of Kering Group's Board of Directors. The company owns luxury fashion brands including Yves Saint Laurent and Gucci.

'For me, sustainability is about the impact of today's actions on our common future,' she said when she was appointed. 'As the youngest Kering board member, I hope to influence decisions that will affect future generations and the world we leave them.'
The company has made numerous efforts in sustainability recently, aiming for a climate-neutral supply chain as well as creating the Kering's Foundation for Women's Rights which Emma said she was 'extremely excited to be working with'.
We're eagerly watching that space, expecting Emma to conjure up a covetable ethical line soon.