Crowned 'the queen of textiles' for its lustrous sheen, silk has been synonymous with wealth and luxury for five millennia and at one time was worth its weight in gold. Five times stronger than steel, it remains one of the world's most durable natural fibres.
While most people have heard of The Silk Road – the famed network of caravan trading routes from China to Europealong which goods, including silk, were conveyed for more than 1,500 years – few are familiar with how the fabric is actually made.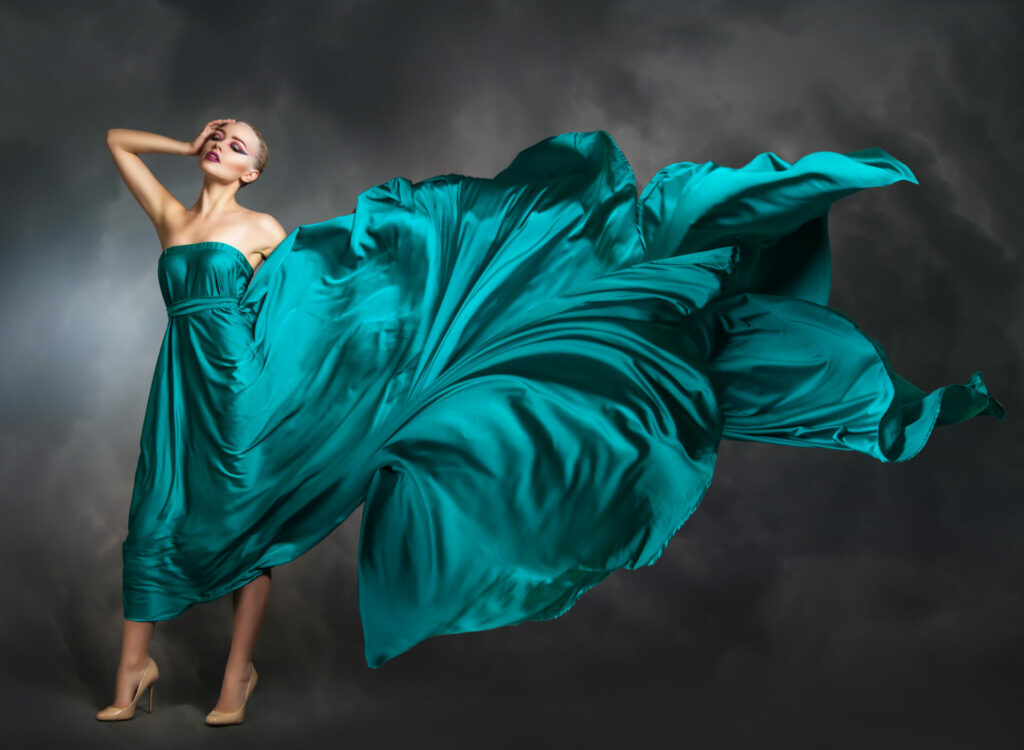 Spiders and most orders of insects make silk, but none can match the prolificacy of silkworms. Technically speaking it's not a worm, rather a mulberry tree-eating larva. Using a protein secreted from specialized glands, the caterpillars spin raw silk to make their cotton-bud-like-cocoons for their transformation into winged moths. Sadly, it's a metamorphosis that millions never get to make because of humans' lust for the luxurious textile.
Industrious Weaving Machines
Farmed from its wild Chinese cousin circa 3,500 BCE (Before the Common Era), the silkworm is one of only two insects on the planet – the other being bees – to have been domesticated by humans. In their native Northern China, wild silkworms emerge from the cocoon as scaly four-winged moths. But 5,000 years of domestication has rendered these insects blind and unable to fly.
The ancient practice of growing silkworms for the manufacture of silk is known as sericulture. Now a multibillion-dollar global industry, China produces 80 per cent of the world's silk, while India is the leading consumer.
Silk farms breed, rear and harvest silkworms from egg to cocoon in two months, normally indoors at temperatures of 25-31°C. These 'caterpillar cows' munch on trays of mulberry leaves in their millions, before spinning their protective cocoon over three to eight days. Each cocoon is unravelled into a single thread of silk (which can extend to the length of ten football fields!), that is then wound into skeins of silk. The smoothest fabric results from reeling the thread in one continuous piece known as a filament, dubbed 'the Rolls-Royce of silk'.
Baked to Death
But while the material might be considered beautiful, the truth about its production is anything but. The uncomfortable reality is that thousands of silkworms are killed to make a single silk pillowcase. One pound of silk equates to the slaughter of 2-3,000 silkworms.
In the wild, silkworm moths live for roughly seven days after emerging through a small opening that they bore in their cocoon. In this short time, they'll find a mate and produce eggs. But domesticated larvae (also known as bombyx mori),never get the chance to mature into moths. To guarantee the pupa doesn't damage its precious cocoon, it's locked like a prisoner in its self-made silk cradle. The cocoons are kept intact by either dropping them into boiling water, or through a process called stifling, which literally steams the pupae alive.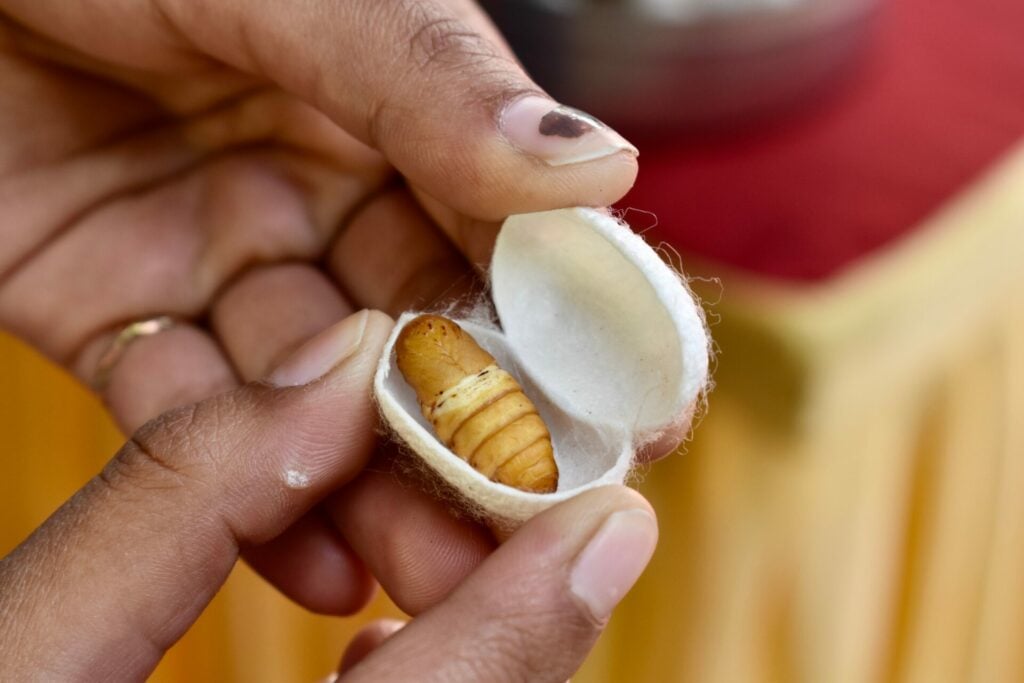 Humans have actually altered the course of silkworms' evolution. Domesticated females are so weighed down with eggs they can hardly walk, while their atrophied wings mean they can no longer survive in the wild. It's little wonder PETA have called for a ban on silk.
A Moral Dilemma
But the ethics of commercial silk production is contentious, with questions raised over whether silkworms feel pain at all since they are invertebrates. However, insects do have a central nervous system and a brain, albeit a simplified version of their vertebrate cousins.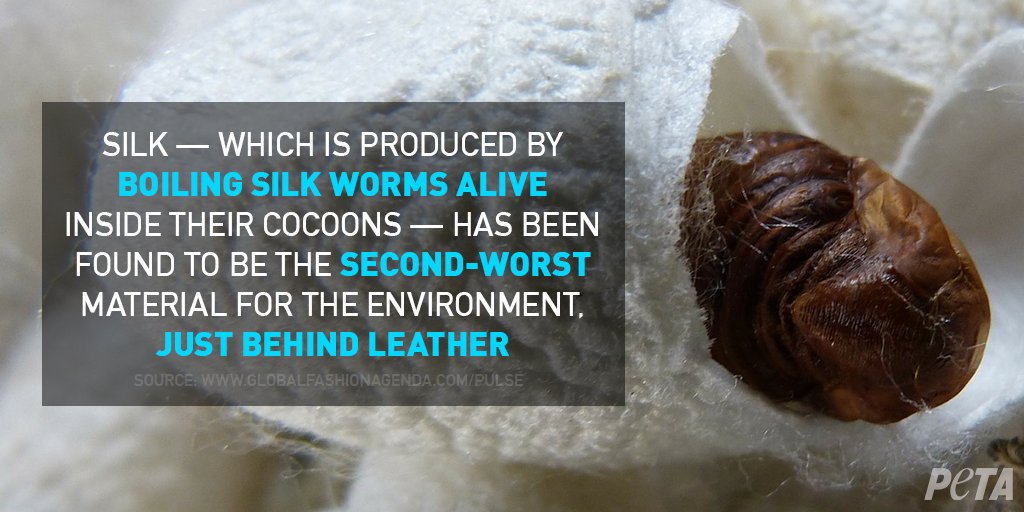 Despite being one of the most persecuted living species on the planet, animal welfare protections rarely acknowledge insects. But change could be afoot. Last year, the U.K Government added a number of invertebrates (including octopus and lobsters) to a new bill that recognizes sentient animals.
Mounting evidence suggests that insects may be capable of experiencing pain after all. The lead author of a recently published review article in scientific journal Proceedings of the Royal Society B: Biological Sciences, told Newsweek 'It's conceivable that insects have evolved a similar pathway to deal with feelings of pain.'
A Thirsty Fibre
Untreated silk may be entirely biodegradable, but the fabric's ecological footprint ranks worryingly high. According to the Higg Index (developed by the Sustainable Apparel Coalition), it has the worst environmental impact of any textile.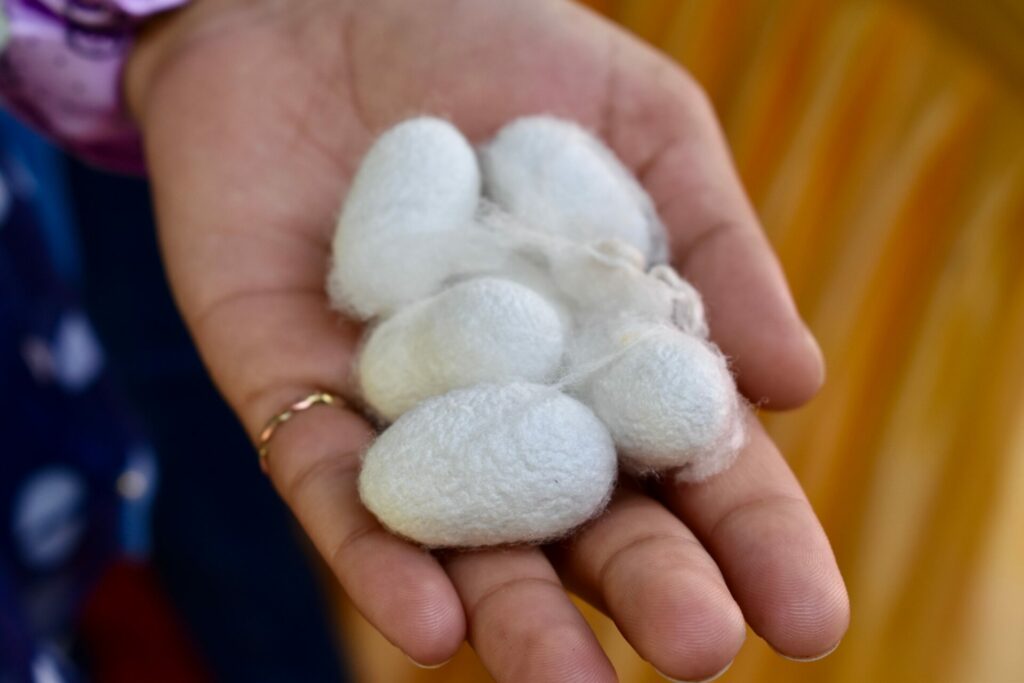 A staggering 50 per cent of the energy used in the fabric's production is attributed to the manufacture of fertilizers and irrigating mulberry trees, with around 11.25 tons of leaves needed to produce 40kg of raw silk, according to not-for-profit trade association: The Council of Fashion Designers of America (CFDA). It's estimated that one metric ton of silk requires approximately 1,000 metric tons of water to produce (that's more than much-demonised cotton), with untreated water often dumped in local waterways.
Also wreaking havoc are carcinogenic silk dyes, which can leach into local water supplies, as well as the noxious fumes created by boiling the cocoons.
And the damage doesn't end with the fabric's manufacture. Most silk requires dry cleaning, which uses harmful solvents like perchloroethylene. One small silver lining is that the fabric doesn't shed harmful microplastics like its synthetic siblings when washed. In fact, silk is now being touted as a substitute for microplastics, with one study proposing the recycling of cocoons that are rejected for not meeting textile quality.
Beyond its aesthetic function, silk's unique qualities are being exploited as a biomaterial for everything from optical and mechanical implants to surgical sutures. But as Peta says: 'Humane alternatives to silk—including nylon, silk-cotton tree and ceiba tree filaments, polyester, and rayon—are easy to find and usually less expensive than silk, too.'
Sustainable Silk
Textile innovation is already playing a pivotal role in the production of vegan silk alternatives.
Biotech company, Bolt Threads has engineered a micro-silk from a blend of yeast, sugar and water produced through fermentation, that Patagonia and Adidas are already championing. Meanwhile, H&M's sustainable Conscious Collection has featured 'orange silk' created from citrus juice by-products.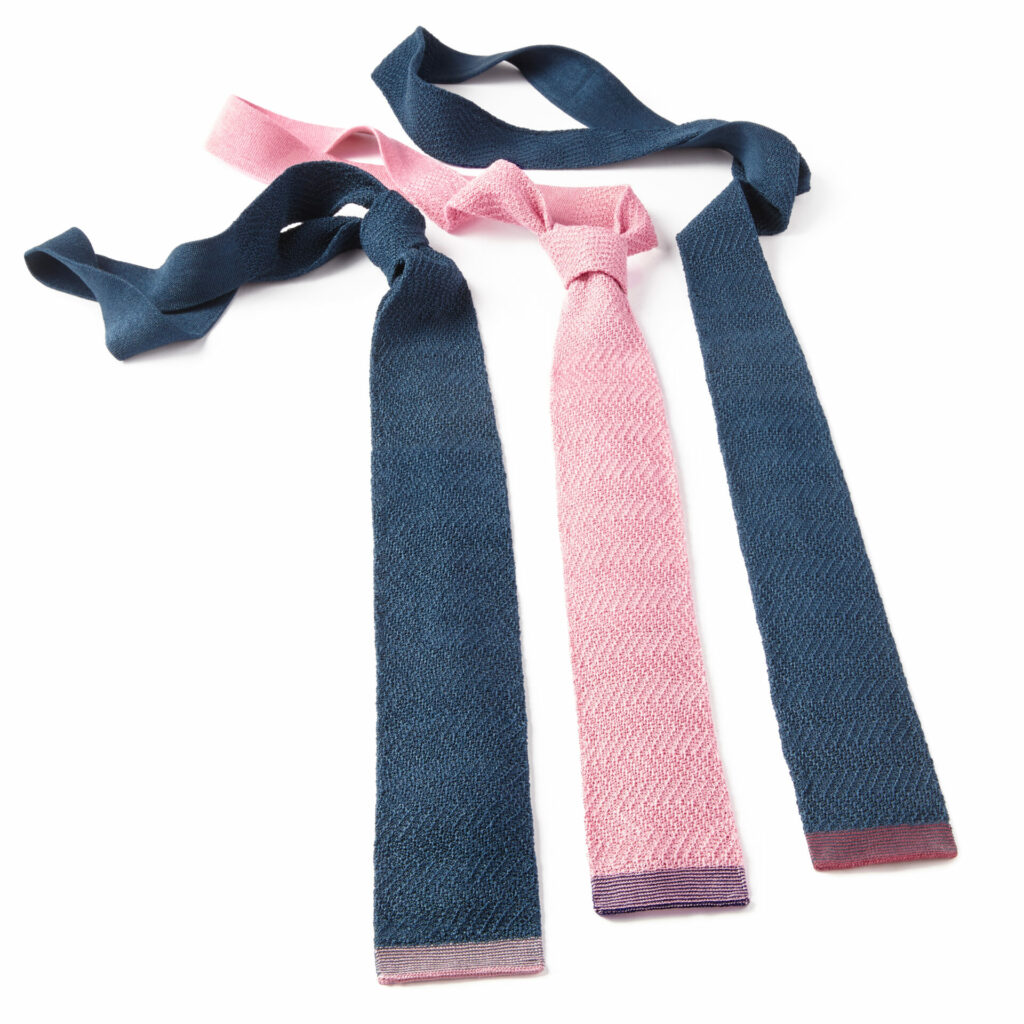 Other big brands boycotting animal-derived silk include British online fast fashion retailer ASOS, and labels like luxury sleep and loungewear brand niLuu. Their PETA-approved Cupro silk is made from a cotton waste called linter. Founder and designer Nilüfer Bracco tells the Ethicalist: 'I was inspired to build a brand that provides beautiful silk-wear products that look and feel great, but that are also gentle on our planet, our society, and all living things.'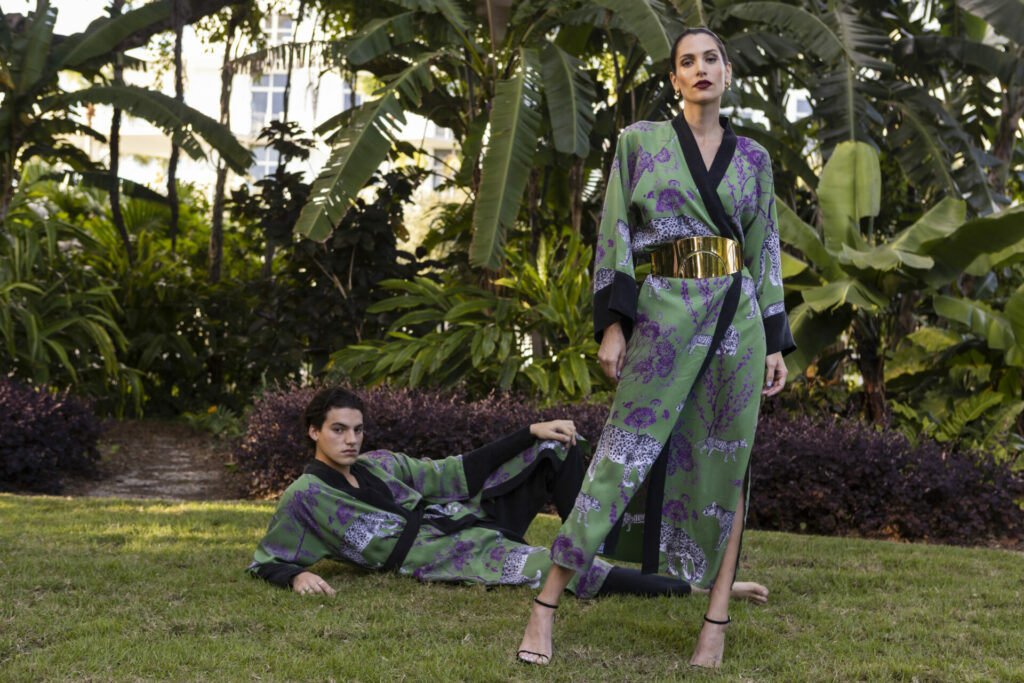 Unfortunately, a desperate lack of certification remains a challenge when shopping for so-called 'vegetarian silks', also known as 'Peace' or 'Ahimsa'. Developed in India, the mostly hand-spun fabric is still extracted from domesticated silkworms, but only after the moth has completed its full metamorphosis. The result is a less-shiny textured silk, owing to the moths hatching naturally. While it's preferable to wearing a silk dress produced from 2,000 unbroken cocoons, these silks aren't 100% vegan, whereas Tencel and bamboo silk (a natural viscose) are.
For consumers not ready to slip permanently out of that chic blouse, you can still buy responsibly by choosing garments coloured with low-impact dyes or certified by the Global Organic Textile Standard (GOTS): the world's leading standard for textiles made from organic fibres.
In reality though, transitioning to plant-based silks is the only sure-fire way to shop sustainably. With the help of fabric innovation, the backing of major fashion retailers and mindful consumer buying, sericulture's 5,000-year-old practice could be consigned to the history books, once and for all.