Hands up who doesn't want a sizzling new look for summer? Aloushi's, an online slow fashion boutique founded by Alia Jashanmal in the UAE, has handpicked a collection of the hottest fashion and beauty buys that that are kind to planet for a guilt-free glow-up.
There's something for everyone – from a moisturising SPF hybrid multi-stick, cooling aloe facial mist, and fruity perfumes to a cute high-waisted purple floral bikini, matching lilac kimono, and sustainably-crafted shoes. You can even add a little bling with gorgeous aqua ear cuffs!
SKIN STORY – Bare Multistick AED 160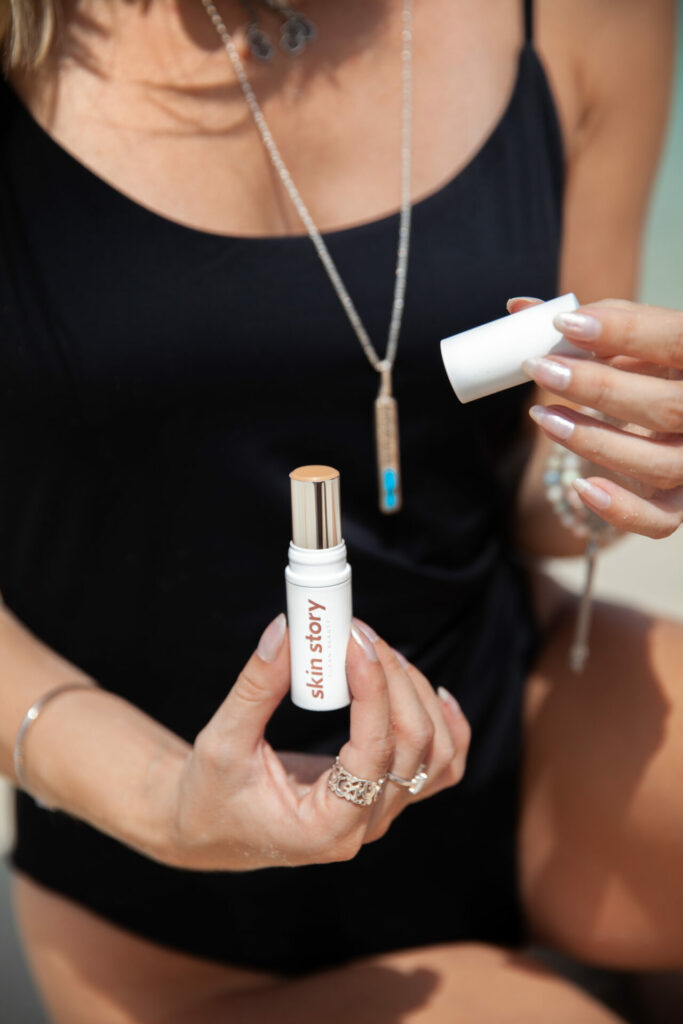 Cute and compact, with moisturising and anti-aging properties, the Bare Multistick comes with SPF 50 and is the perfect beach bag summer must-have. Made for all skin types and tones, it also soothes and nourishes the skin with all-day hydration. If there is one thing you need to have at your side in the summer heat, it's this!
KAL HANS – Aloe Cucumber Mist AED, 50 (50g bottle)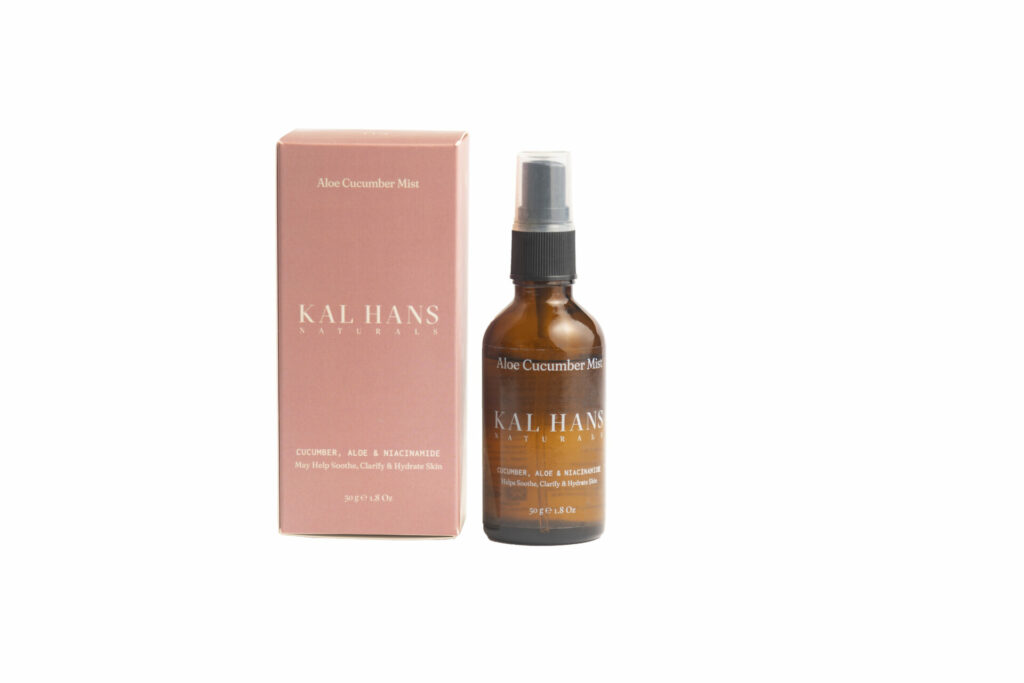 The Kal Hans Aloe Cucumber Mist is the coolest summer essential out there. This fantastic facial mist protects, soothes, and protects the skin while the aloe vera helps repair sun damage, slows down ageing, and makes skin more supple. It is, quite simply, magic in a bottle – just one spritz will keep your skin cool and hydrated in the desert heat.
BARON BISHOP – Vertical 15ml, 205 AED.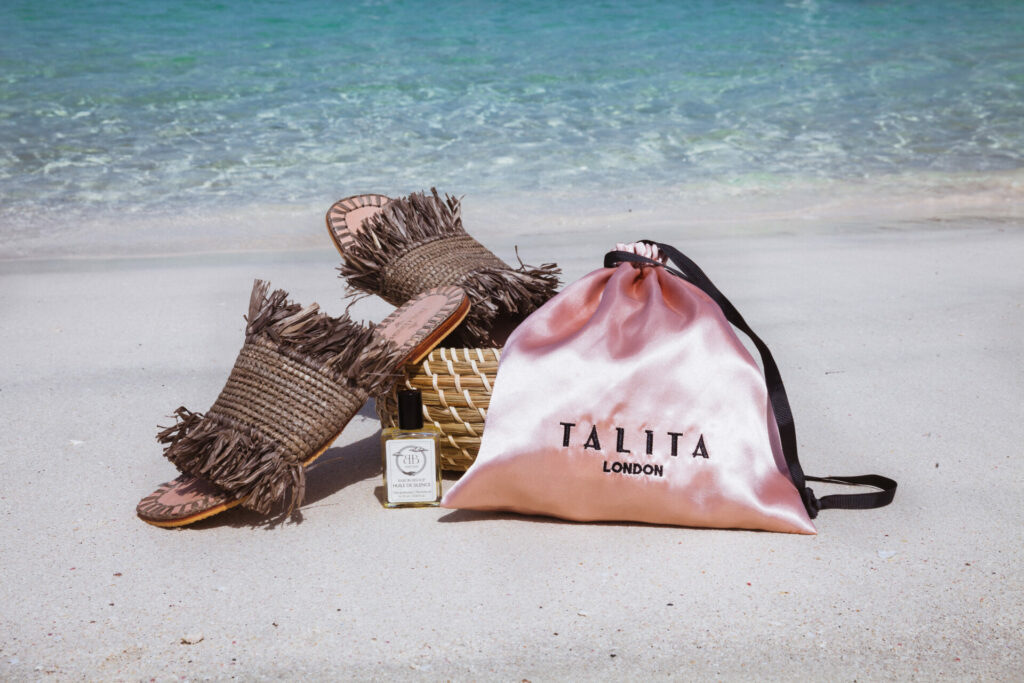 Time spent by the pool is perfectly complemented by a zesty perfume that lingers all day. The Vertical scent by Baron Bishop is a fresh and sparkling oil-based perfume evoked by lemon and bergamot. It is a holiday in a bottle which fits in your beach bag or night-time clutch and will remind you of the best vacation memories long after touch down.
ZONARCH – Aloha Blossom Bikini Set Set 720 AED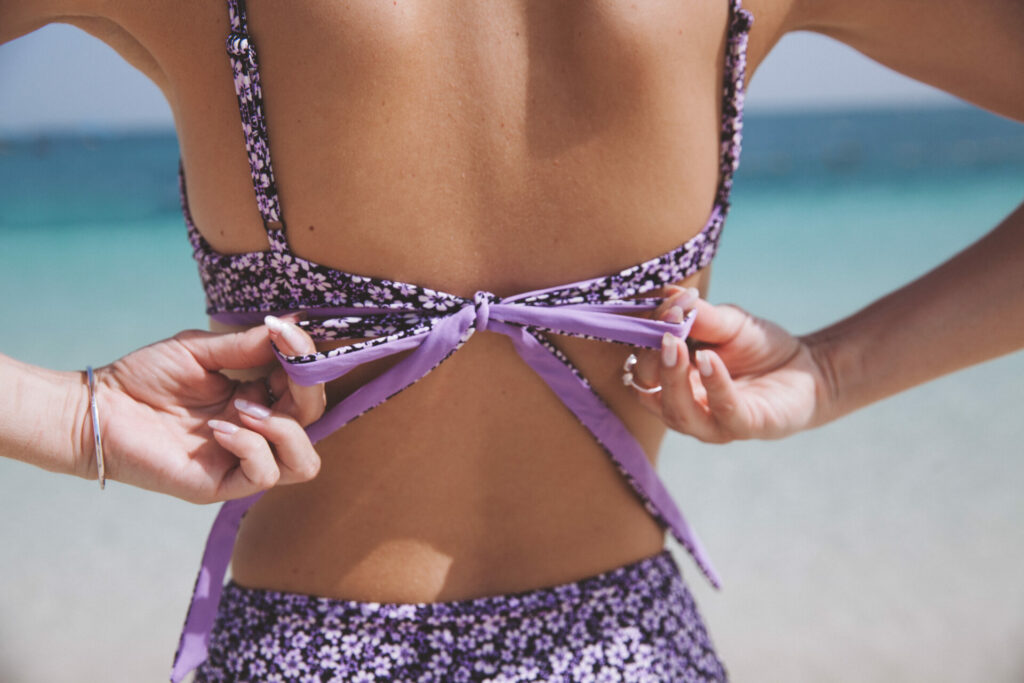 We all want to look stylish on the beach but we need to be comfortable too and this Zonarch bikini is both. The non-padded, underwire top is ultra feminine, the shoulder straps are adjustable, and the back ties into a pretty bow. The 90s inspired high-waisted bottoms are cut to accentuate your hips, with medium coverage and a seamless finish. Sizes range from XS to L.
BULI BASHA – Basha Neutral 379 AED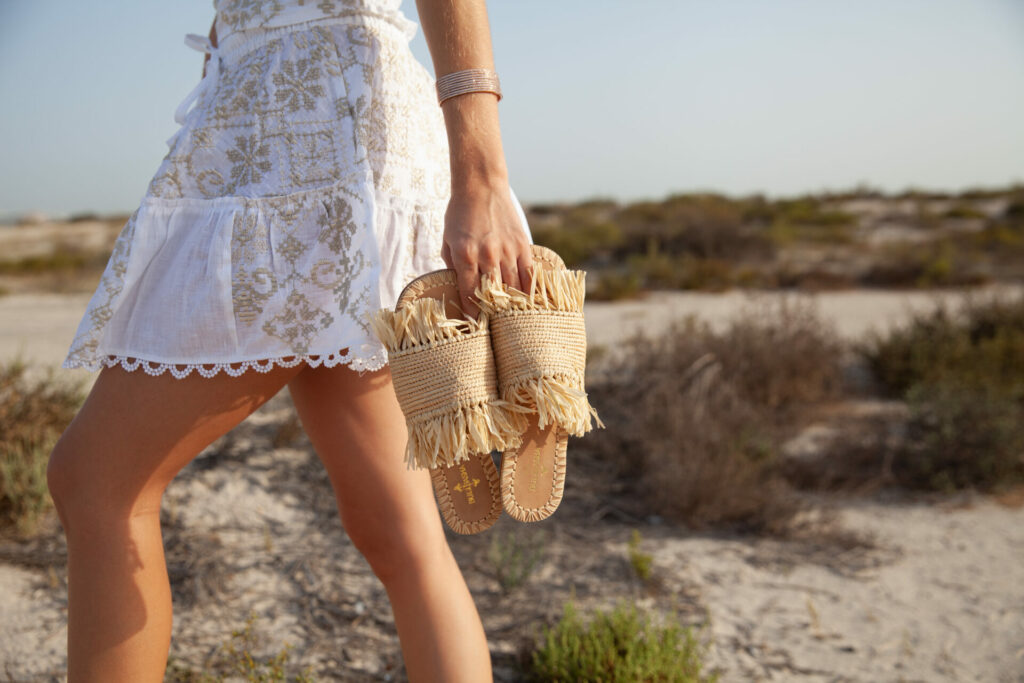 Put your best foot forward in these gorgeous handmade Basha Neutral shoes. Created with vegetable-tanned leather and natural dyes, they're the ultimate sustainable and luxurious vacay shoe. They will go with everything an you can even get them wet – just leave them in the sun to dry after. Sizes range from 37-40 EU
ALIA JASHANMAL – Arora Kimono 1,160 AED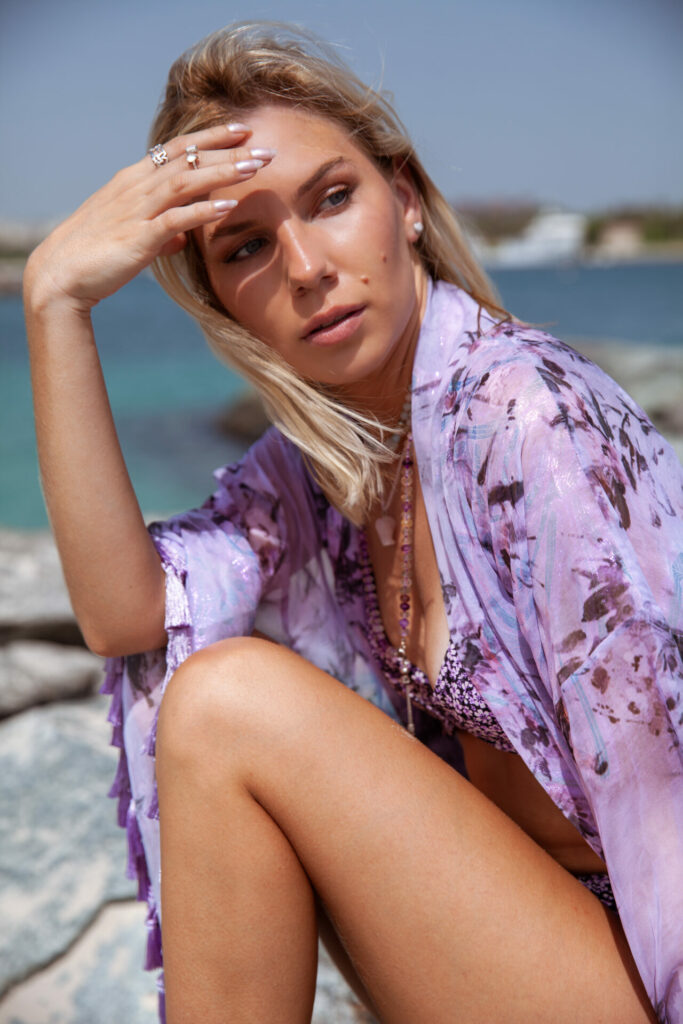 Handmade in Abu Dhabi with carefully selected materials and embellishments, Alia Jashanmal's Arora kimono is a printed lilac fabric embroidered with lotuses. The lilac tassels along the hemline give a very feminine feel to the light and summery kimono. Pair with the Zonarch Aloha Blossom bikini set, head over to lounge at the pool deck, and unwind with a novel. One size.
TALITA JEWELLERY- Spaces blue ear cuff and reflection bangle 750AED-1,296AED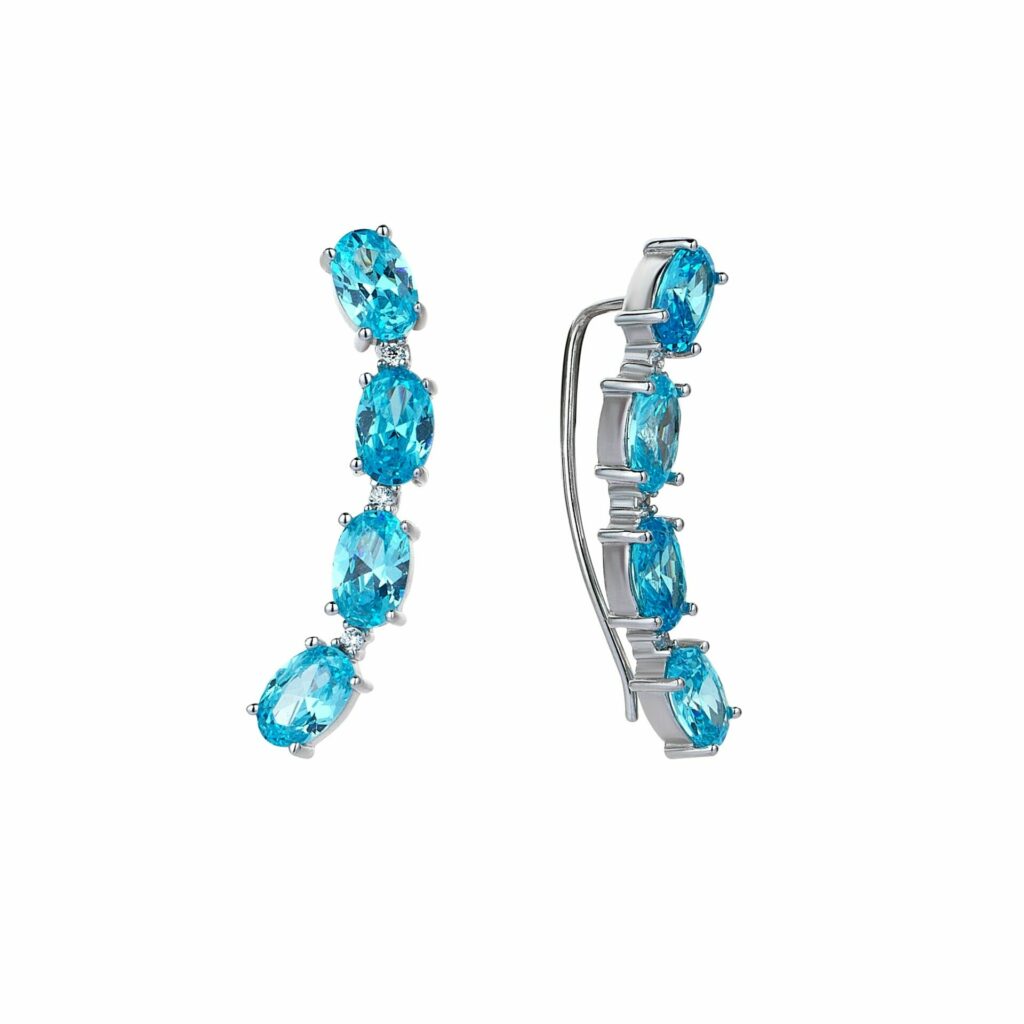 Accessorise your summer outfit with Talita's reflection bangle and blue ear cuff. The Reflection bangle subtly adds an elegant touch to beachwear, while the ear cuff adds a pop of playful colour. Made with 925 Sterling Silver, a natural precious metal, with Zircon and Natural Stones, these jewellery must-haves should definitely be added to your online cart.