Accounting for roughly 10 percent of global greenhouse gas emissions and 20 percent of waste water – by cheaply disposing untreated factory waste into streams and rivers – many clothing brands prioritise profits over the planet.
Even worse, 85 per cent of all these environmentally damaging textiles end up in landfill every year and washing some types of clothes sends significant amount of microplastics – tiny plastic pieces that measure less than five millimetres – into the ocean.
Despite these staggering statistics, over-purchasing and under-using clothing has become the norm, and throughout the world an estimated 92 million tonnes of textile waste is produced every year.
It's all pretty dismal stuff.
But thankfully, these shocking figures have made slow fashion and second-hand stores the latest red-hot trend, inviting you to save items from landfill and create new, cutting-edge looks that no-one else will have, they offer a win-win solution.
Here we have compiled a handful of local UAE thrift stores making it easier than ever to tread with care on our planet while still looking stylish.
BAZAARA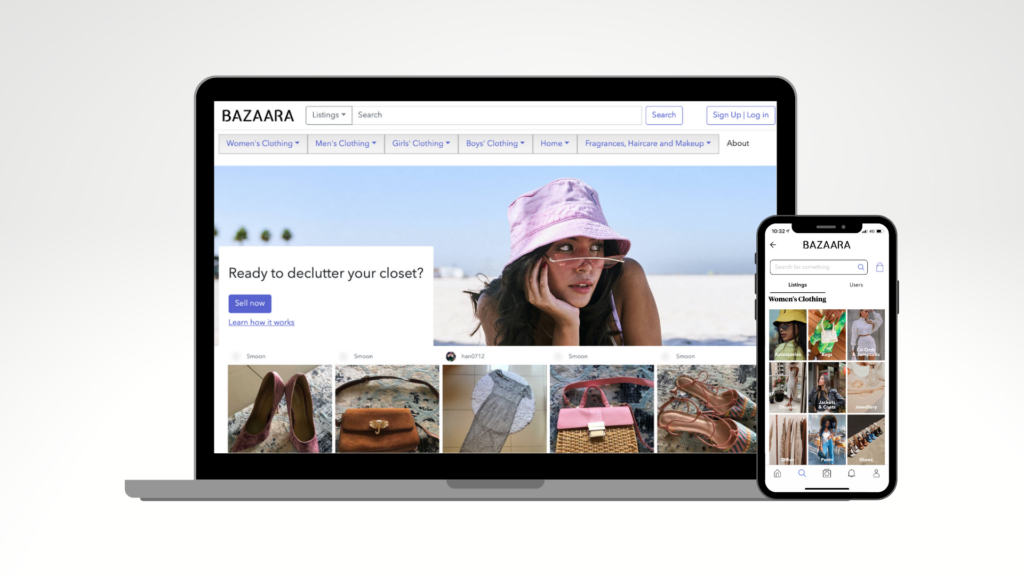 As one of the nation's biggest second-hand marketplace apps, BAZAARA makes it easy to sell your unwanted items and pick up fashionable bargains. Combining eco-conscious values with an efficient business model, it stocks a huge array of clothing for women, men and kids, plus homeware and cosmetics. Of course, creating a sustainable future isn't about personal gain but with super low transaction fees and shipping included in every purchase, it's certainly a very efficient way of earning some welcome pocket money.
Free to download for iOS and Android. @bazaara.ae.
Thrift for Good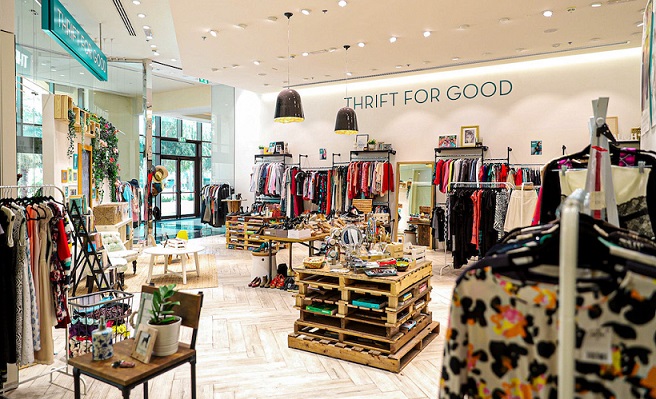 With items starting from just AED 10, Thrift for Good is the ultimate place to dig out some steals. Navigating through the colourful packed rails of its two stores on the Palm Jumeirah and Times Square in Dubai might take a bit of time and energy, but you'll be rewarded for it handsomely. A wholesome social enterprise, it donates all profits to the children's charity Gulf for Good and it's run by a force of over 100 volunteers. It also has an online store and, as an extra bonus, everything is sold and delivered in sustainable packing.
@thriftforgood.
RETOLD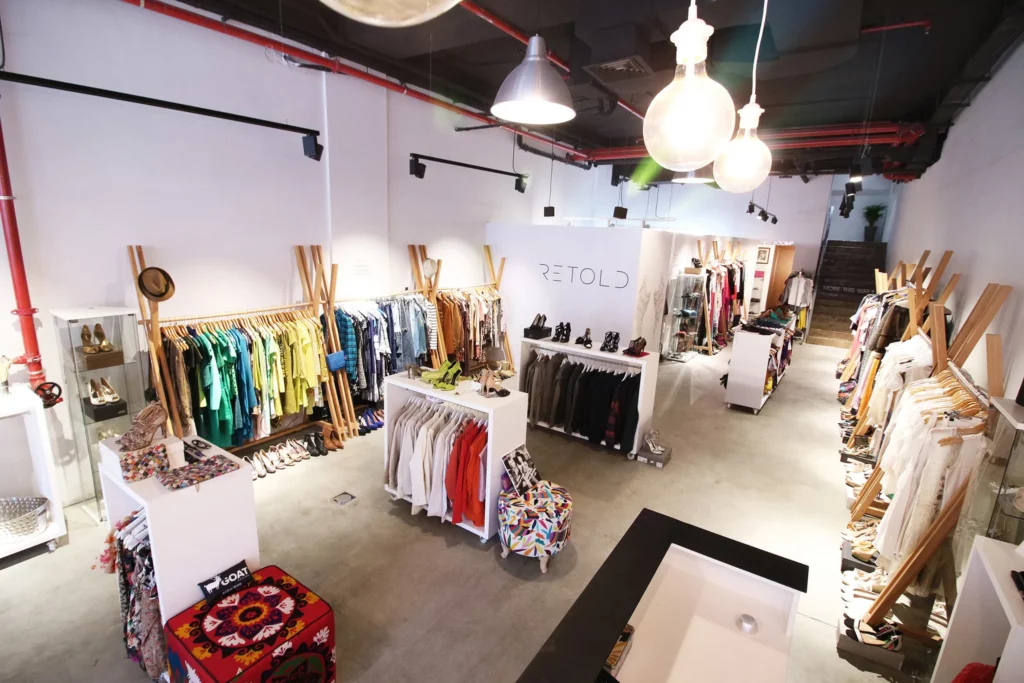 Offering an ever-changing selection of over 6,000 second-hand designer and high street gems, RETOLD has a hipster-style warehouse store in Al Qouz, Dubai. It also sells via its Instagram stories, but be warned, you will get totally addicted to scrolling through all the amazing pieces. With vintage, handbags, gifts, accessories, brand new items and luxury labels, narrowing down your final choices can be tricky. Plus, having developed a rather cult-like loyal following, it also hosts regular events for like-minded, ethical fashionistas.
Garderobe
Shop Louis Vuitton, Chanel and all the world's most desirable brands for half the original price. Offering an awe-inspiring array of second-hand designer wares (in perfect condition), Garderobe encourages you to live the ultimate Dubai highlife whilst caring for mother earth. Whether you've got a thing for labels or you finally feel ready to splash out on the statement bag you've always dreamed of, this innovative concept lets you spend your hard-earned cash the sustainable and smart way.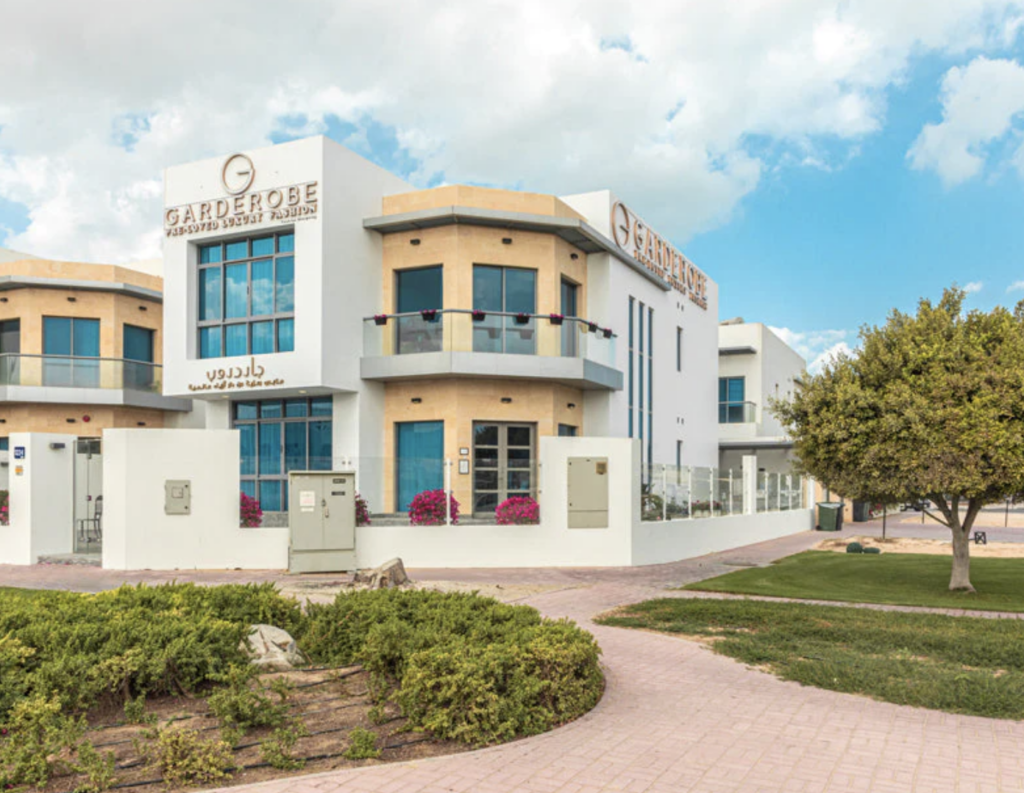 Experts in luxury wholesale, it's been in operation for over a century and you can peruse the dreamy collection at the store on Al Wasl Road, or spend many happy hours drooling over the website.
@gaderobedubai.
Thrift Bazaar
Filled to bursting with unique and unmissable low-priced pieces, ethical shoppers are invited to roll up their sleeves and get stuck into the eclectic array of designs at Thrift Bazaar. A true institution and long-standing favourite amongst Dubai residents, it has branches in Al Quoz Al Khail Mall and Al Barsha. Refreshingly down-to-earth and 'real' compared to some of the trendier vintage stores, it receives new arrivals on an almost daily basis. With stacks upon stacks of clothing, accessories and shoes for adults and kids, it's the perfect place to while away a summer day with some joyful rummaging.
@thriftbazaaralkhailmall.