Tell fashion designer Laura Zabo her jewellery is rubbish and she'll agree with you. That's because her collections of gorgeous earrings, necklaces and belts are made out of discarded car and bicycle tyres along with inner tubes that were destined for landfill.
But what was once somebody's trash is definitely now treasure as her stunning, environmentally focused jewellery is in serious demand.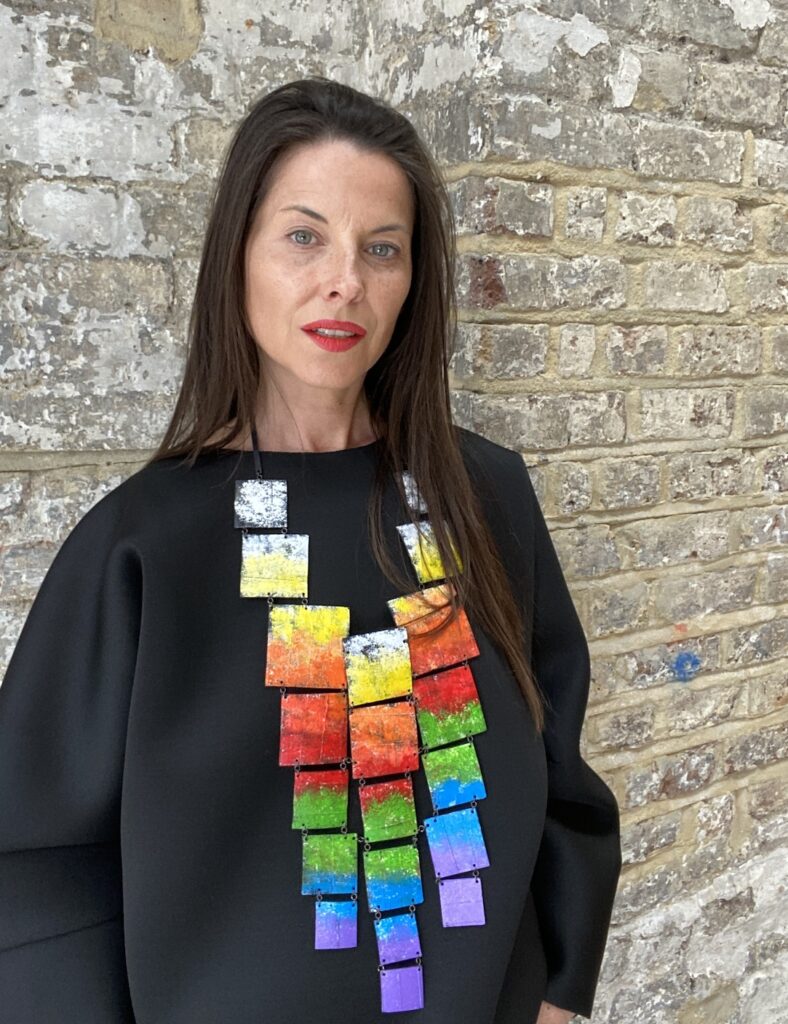 'The abundance of trash is a tremendous problem for us and our planet, and we need to make more room for ideas that help us get rid of it or transform the excess, instead of producing more and more,' says London-based Laura. I realized that I could create fashion that was beautiful but also that would use materials that were destined just to be thrown away, take generations to break down and poison the Earth. Now we can not only save, but also celebrate, these tyres and tubes.'
Inspired by a pair of recycled colourful sandals she saw made by the Maasai in a market in Tanzania, Laura decided to create her own range of fashion accessories out of tyres and tubes saved from the dump. A staggering three billion tyres are scrapped globally each year. Each one takes decades to break down.
'My goal is to prove that we can create anything by reusing existing materials or waste,' she says. 'I love sustainable brands but I don't think we need to produce more materials, more fabrics, the world is full of products. What we need is creativity, consciousness and to learn to think outside the box.'
High Fashion Low Impact
After individually collecting the tyres – she once accepted 5,000 scrap tyres from a company in Germany to keep them out of landfill – 'that lot kept me going for about three or four years' –, Laura creates couture pieces that are high fashion. No two pieces are the same but they're the embodiment of the recycling, low waste movement and appeal to those conscious consumers who don't want to betray their ethical and environmental principles when it comes to fashion.
Yet, Laura insists, her pieces are not 'make do and mend' but a couture makeover for unwanted tyres that would otherwise have been binned.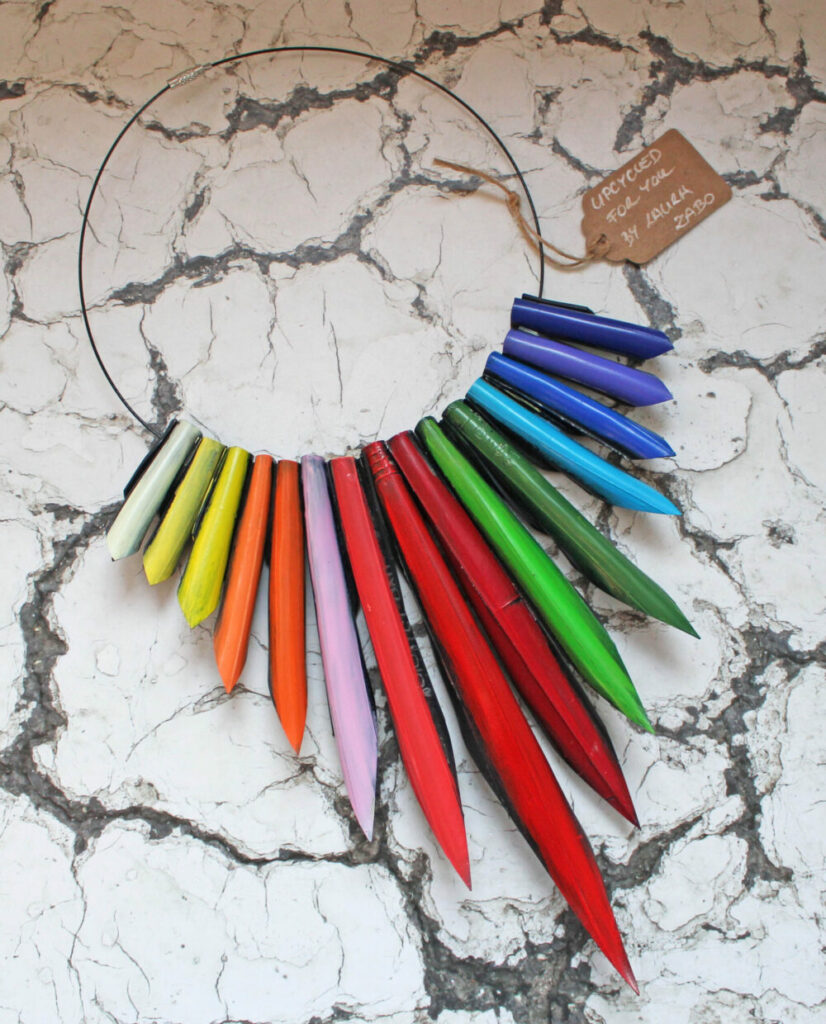 The designer is so committed to recycling she even has her own Zabo Zero Waste Scheme. Clients who have bought one of her products but no longer wear it can send it back and claim a discount instead of throwing it away or letting it languish in their jewellery boxes. Laura then up-cycles her own pieces into something new.
Fashion for People and the Planet
Her conscious couture pieces aren't just created to make a fashion statement, they also, hopefully, inspire people to produce less waste, recycle and protect the environment.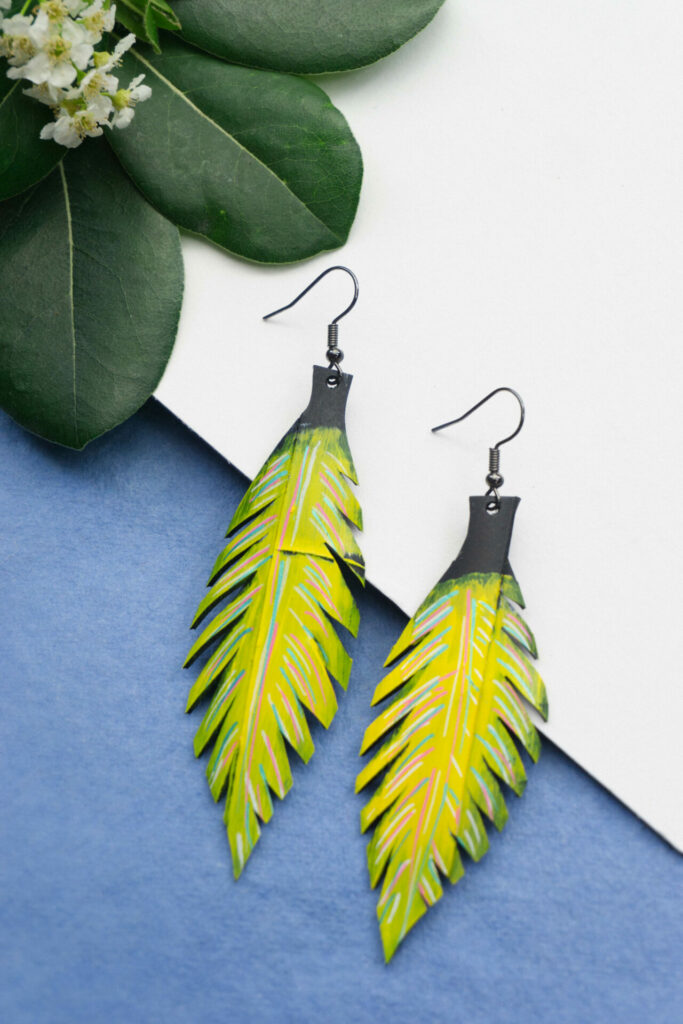 From her recycled bike inner tube necklace (£67) to her Rainbow recycled statement piece (£79) and yellow leaf earrings (£12), she's turning the mundane into stand-out pieces that will brighten up any outfit – and help the planet.
'I think upcycling is a perfect fusion of self-expression, eco consciousness, creativity, independence and entrepreneurship. It boosts your creativity, improves your self-confidence, reduces stress and gives you a purpose in life,' she says. 'You can express yourself, you can create your own world and you can decide how far you go with your skills. It gives you freedom.'
Laura's accessories are available on her website, Amazon and Etsy.