Known as 'the world's loneliest orca' killer whale Kiska has died after more than 40 years in a Canadian theme park.
For the last 12, despite wild orcas being social and intelligent animals that live in tight-knit family pods that hunt together and communicate, Kiska swam alone – the last captive orca in the country.
Canada's government announced that the female mammal had died from a bacterial infection at an estimated 47-years-old.
Kiska's health appeared to be declining in her final years. In the summer of 2021, Phil Demers, of legal wildlife advocacy group Animal Justice, posted a video of a listless Kiska in her tank as a boy calls to her, then in October another of the orca bashing her head against the walls of her small barren enclosure.
She was often seen displaying stereotypical abnormal and repetitive behaviours that can result from boredom, stress, and lack of stimulation in captivity. In addition to banging her head against her tank, Kiska often swam in circles or simply floated lifelessly.
Inspiring Change for Other Orcas
Despite grief over the death, marine wildlife activists credit her with inspiring change in protection for some sea life.
Kiska's death comes four years after Canada passed bill S-203, banning the captivity and breeding of whales, dolphins and porpoises.
Although the new law was too late for Kiska – marine wildlife already in captivity were excluded from protection – activists say her story was instrumental in drawing public attention to the plight of captive oceanic mammals.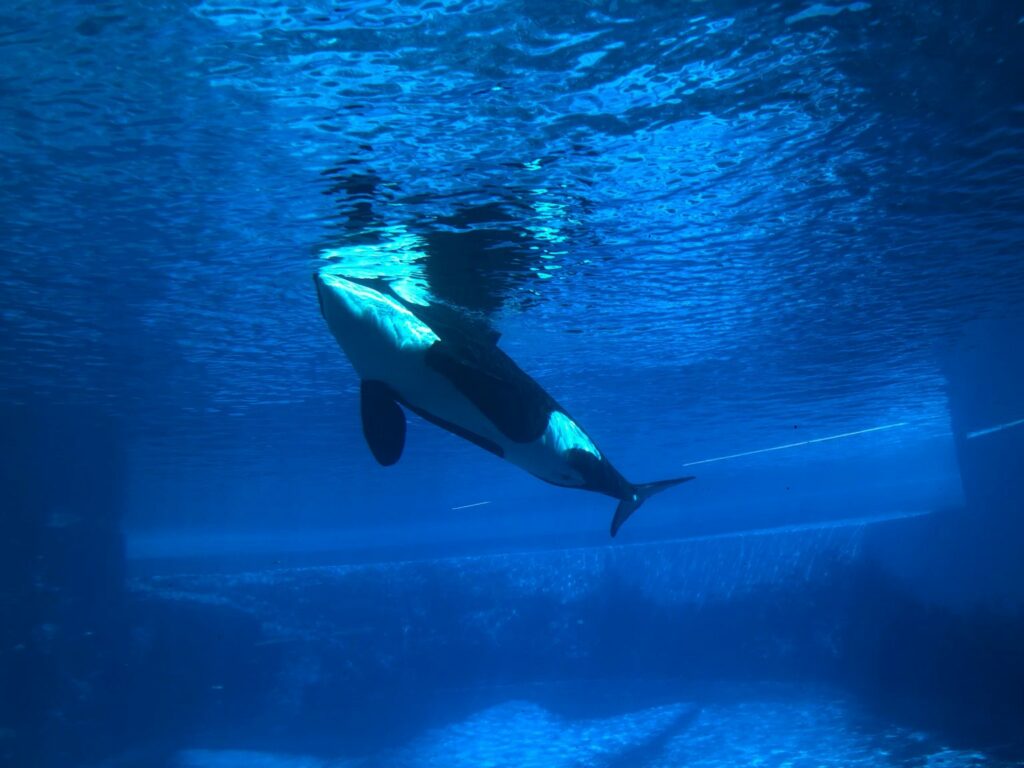 Since the bill, campaigners had been working hard to free Kiska, protesting on the streets of nearby Niagara Falls, instigating legal complaints and drafting plans to secure her release from the MarineLand park, where she was displayed to visitors.
'When I heard that Kiska died, I just bawled, which I almost never do,' said lawyer Camille Labchuk, who is also executive director of Toronto-based Animal Justice.
'It's frustrating for so many people because it felt like we were so close to being able to get her out and she just couldn't hold on long enough.'
Captured off Iceland along with Keiko, the orca in the film Free Willy, in 1979, Kiska was transferred to MarineLand, where the two whales lived together. Keiko was later sold to a Mexican entertainment park, then finally released back into her Icelandic home waters
Kiska, however, remained at the park, where she gave birth to five calves, none of which survived.
Animal Justice is now calling on the Ontario government to release the results of Kiska's post-mortem examination, and is pushing for the remaining animals at MarineLand – including belugas, dolphins and sea lions – to be removed.
'It is heartbreaking to know that Kiska will never have the chance to be relocated to a whale sanctuary, and experience the freedom that she so deeply deserved,' said Labchuk.
'While no other orca will have to suffer the cruelty of captivity in Canada again, we are demanding justice for what Kiska endured at the hands of MarineLand. We are calling on provincial authorities to make public the results of a post-mortem, and prosecute MarineLand for the unlawful distress Kiska clearly experienced throughout her final years.'
Animal Justice added it hopes this tragedy galvanises support for the Whale Sanctuary Project, which is working to build Canada's first seaside protected home for marine wildlife in Port Hilford, Nova Scotia, and that other whales and dolphins at Marineland will be able to live out of the rest of their lives in a safe environment with hundreds of times more space than the tanks they currently endure.
'There's very little positive to take away from Kiska's death, but a lot of animals have died similarly, whereas at least she will be recognised as the last, and the orca that largely created and inspired bill S-203,' said Demers.
In a statement, MarineLand said its 'marine mammal care team and experts did everything possible to support Kiska's comfort and will mourn her loss'.