As England swelters in the hottest ever recorded temperatures, bison are roaming the nation's countryside for the first time in millennia – and helping to fight global warming.
Three females have been released into woodland, close to Canterbury, in Kent, and wildlife experts say their natural behaviour will transform a dense commercial pine forest into a natural woodland which will accommodate a greater species diversity.
The gentle giants' taste for bark will knock over and kill some trees which will open up trails, letting light on to the forest floor, while their habits of rolling around in dust baths will create more open ground. All this should allow new plants, insects, lizards, birds and bats to thrive.
A more natural wooded environment will also absorb more greenhouse gas carbon dioxide, helping to tackle the climate crisis.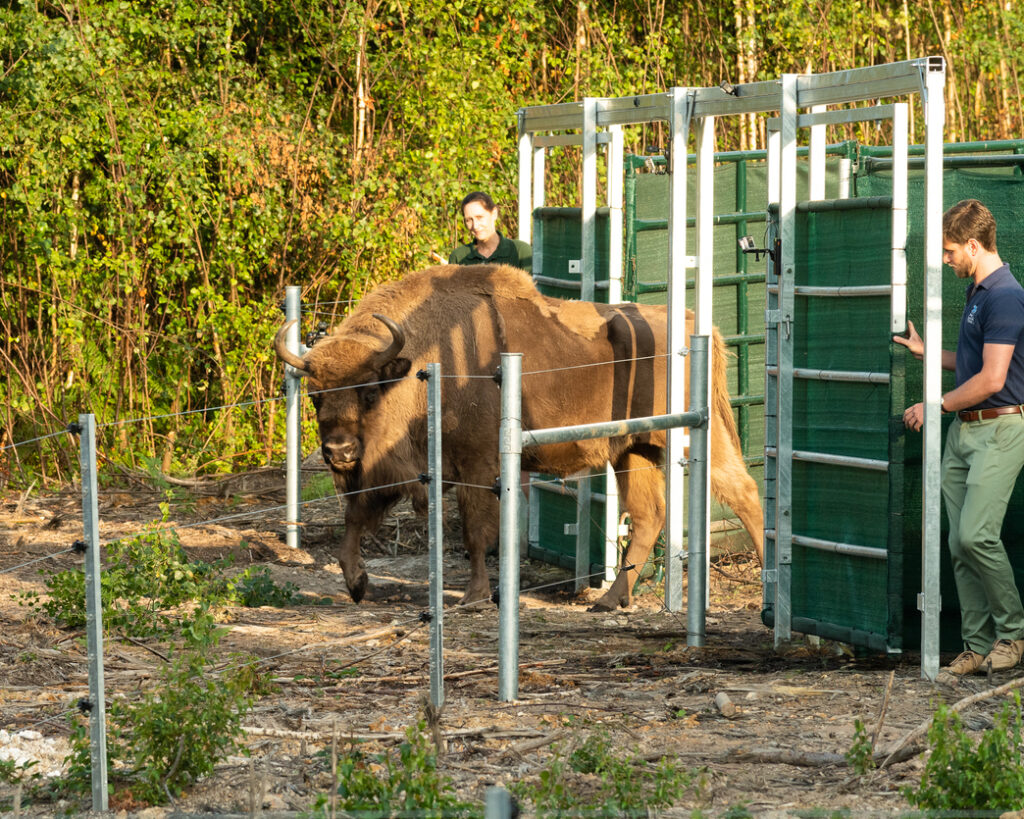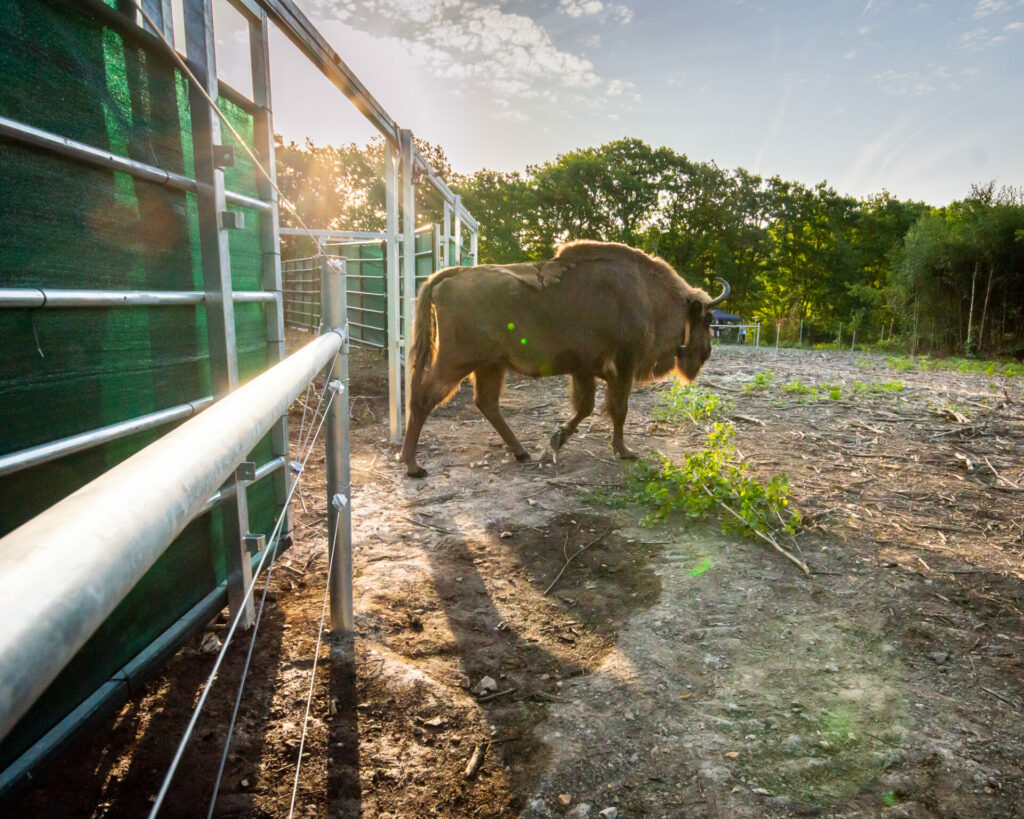 The reintroduction is run jointly by Kent Wildlife Trust and Wildwood Trust, who manage the herbivores' new home – part of a wildlife park containing native UK species including bears, wolves, wildcats, otters and beavers.
Paul Whitfield, director general of Wildwood Trust, said the project 'heralds a new dawn for conservation and the fight against climate change'.
The bison release forms a major part of the million pound Wilder Blean (named for the area of woodland) project, which is an experiment to see how well species of animals can act as natural 'ecosystem engineers' to care for natural landscapes.
European bison are the continent's largest land animal – males can weigh a tonne – and were extinct in the wild a century ago, due to habitat degradation and fragmentation, forest logging and unlimited hunting and poaching, but are recovering through reintroduction projects. They were last recorded in England 6,000 years ago.
The three European bison arrived from wildlife parks where they have less space to roam freely. They are an older female from the Highland wildlife park in Scotland, which will be the matriarch of the herd, plus two young females from Fota wildlife park in Cork, Ireland.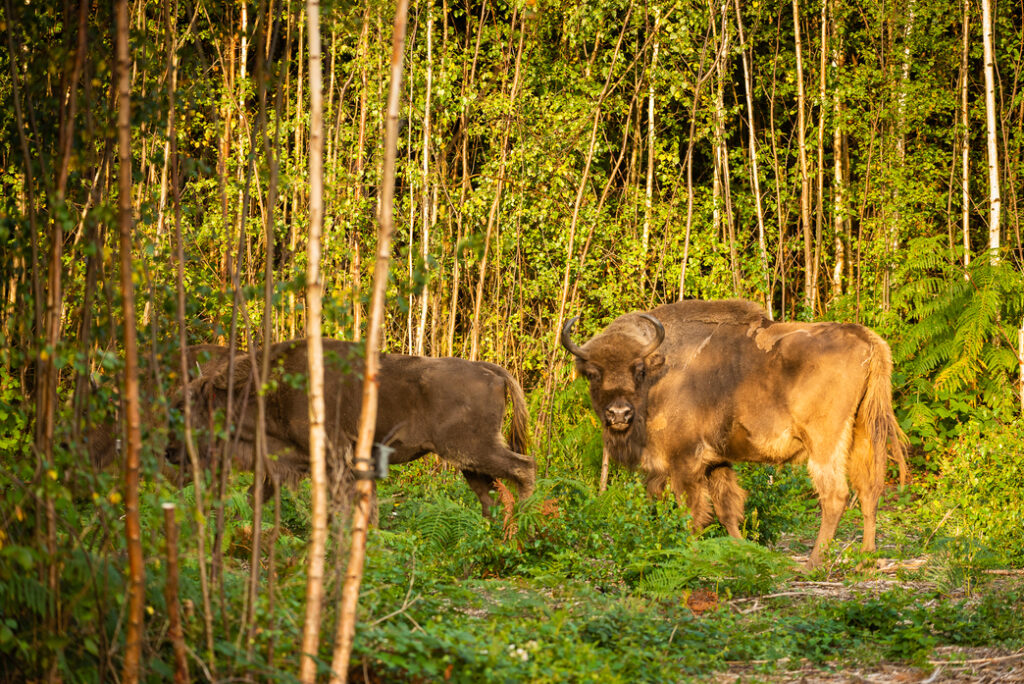 'We could not have asked for a better matriarch,' said Donovan Wright, one of two new bison rangers employed by the project. 'She's very, very calm, she's very confident.
'The European bison will be free roaming and managing the woods in a natural, sustainable way. There will be minimal human intervention allowing the bison to display natural behaviours.'
The trio will be joined by a young bull from Germany in mid-August, whose arrival was delayed by post-Brexit import regulations.
European bison, the continent's largest land mammal, are the closest living relative to ancient steppe bison that would have once roamed Britain thousands of years ago.
No date for their extinction can be finalised but it could be as long ago as 10,000 years, when the last ice age finished.
Evan Bowen-Jones, CEO at Kent Wildlife Trust (KWT) explained the wider significance of the current project.
'The bison will help to create climate-resistant landscapes which can adapt to the challenges presented by the crisis we face,' he said. 'We want Wilder Blean to mark the beginning of a new era for conservation in the UK. We need to revolutionise the way we restore natural landscapes, relying less on human intervention and more on natural engineers like bison, boar and beaver.'
Biodiversity Bison
The project was created following a report by the UK's National Biodiversity Network, called State of Nature, in 2019. This found species were declining at the fastest rate for thousands of years. It looked at ways to manage woodlands and identified the habits of bison as an alternative to human intervention.
Whitfield said; 'We're giving people in the UK – for the first time in over a thousand years – the chance to experience bison in the wild. It's a really powerful, emotional, visceral experience and it's something we've lost in this country.
'They will create an explosion of biodiversity and build habitat resilience, locking in carbon to help reduce global temperature rise.'
At first the females will have a five-hectare double fenced area of woodland to explore, but this will increase to 50 hectares when the bull arrives.
The animals will eventually have access to 200 hectares. Visitors to Blean Woods then might be able to catch a glimpse of the bison from trails, the team said.
Bison-sized tunnels are also being built to allow the animals to safely cross existing footpaths. They are contained by two fences, one of which is electric.
'I cannot wait to see how the bison start to shape the Blean over a five-, 10-, 20-year period as they settle into their new home and start throwing their weight around,' said Tom Gibbs, second bison ranger.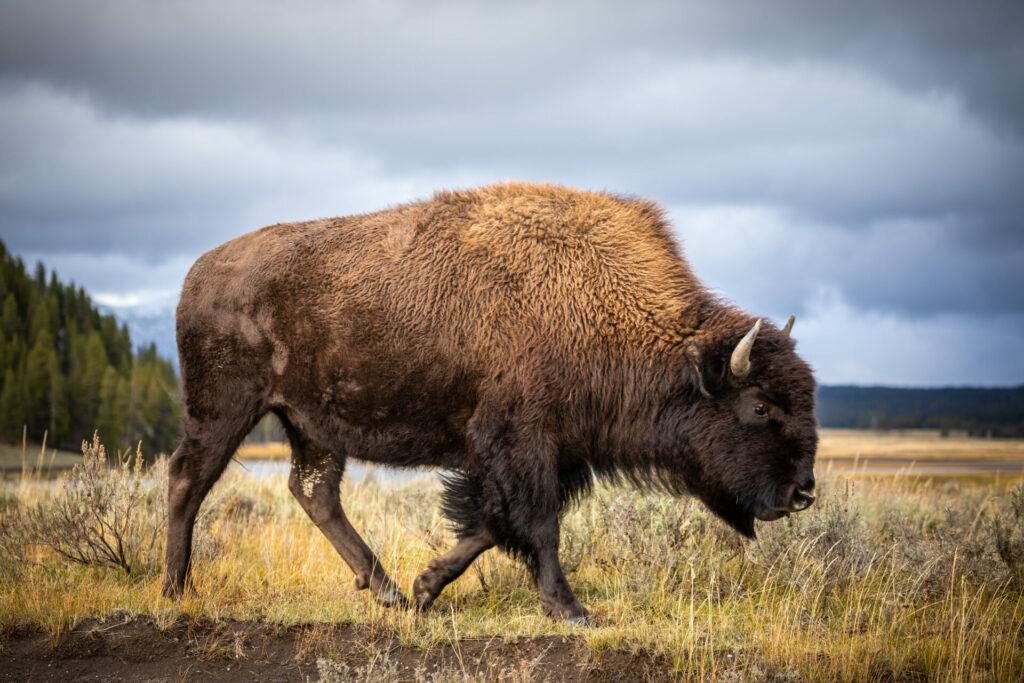 'It evokes a sense of wildness that in many ways feels alien to us here as it's been such a long time since we had large, wild, free-roaming herbivores and feels especially poignant in this corner of Kent where so many people live.
'To me, it feels like we are joining two ends of a rope – connecting our wilder, ancestral landscapes where large grazing animals once roamed freely, along with our wilder future where people and wild animals coexist, side by side once again.'
The rangers gained experience of their charges at the Kraansvlak Project in the Netherlands, where people can now walk freely through the area occupied by 14 bison.
The bison will soon be joined in the woodland by other grazing animals, including Exmoor ponies, iron age pigs and Longhorn cattle, whose natural behaviours complement the bison in managing the landscape without the need for human intervention.
Their impact will be closely watched over the long term, including soil sampling and examination of the vegetation structure and monitoring invertebrates, birds and mammals.
The rangers expect the bison to breed, with females producing one calf a year, and the Wilder Blean site is licensed for up to 10 animals
The plan is then to provide bison to found other sites in the UK, as well as exchanging animals across Europe.
All 7,000 bison living in Europe are descended from just 12 zoo animals from Eastern Europe, and the species is still classed as near threatened, so maximising genetic diversity is very important.
'If we can create diverse, dynamic, bio-abundant habitats in our crowded corner of the south-east, why shouldn't we be doing it in our national parks and protected landscapes?' said Paul Hadaway, director of conservation at Kent Wildlife Trust.
Learn more about the Kent Wildwood Trust here.