Flying vehicles have long been confined to the imagination of filmmakers. From the animated cartoon The Jetsons to Back to the Future and the dystopian blockbuster Blade Runner, the only way to get around in the future – on celluloid at least – has been by taking to the skies in small electric flying cars.
Now, these movie images are close to becoming reality as numerous models of eVTOL (electric vertical take-off and landing vehicle), many of which have been in development for up to a decade, come close to commercial production. Some of the world's biggest companies are investing in fleets of these flying vehicles, including Uber and Boeing.
In the past decade, eVTOL development has suddenly taken off, enabled by technological advances in areas including aeronautics, drone development, battery powered vehicle design and AI coding.
Flying Transport GoldRush
Futurologists predict that in the next few years there will be an eVTOL goldrush as several prototypes come to market. The driving force behind this dash is the perfect storm of increasingly congested roads and a move away from fossil fuels to more sustainable forms of transport.
The size of the opportunity presented by eVTOL travel, particularly in urban areas, is recognised by the huge investments being made in eVTOL design and development. Aerospace companies, car manufacturers and technology businesses are all vying for a slice of the pie.
The first eVTOL aircrafts are expected to enter commercial service around 2025. They will be piloted, but unmanned versions could be introduced within a decade. Experts predict that by 2040 there will be 430,000 flying vehicles in operation around the world and Dubai is in the race to be the first city to launch a commercial eVTOL service.
Global Leader
Earlier this year Dubai-based business and sightseeing operator Falcon Aviation Services announced a partnership with one the major eVTOL manufacturers, Eve Air Mobility, a subsidiary of Brazilian aerospace company Embraer.
Falcon expects to receive the first of up to 35 Eve aircraft in 2026, and plans to begin flying sightseeing tours from Atlantis, The Palm, Dubai's iconic waterfront hotel. Falcon is also working with local stakeholders to lay the foundations for a wider urban air mobility network within the UAE. Eventually the company hopes to operate business flights between sites within a 120km radius.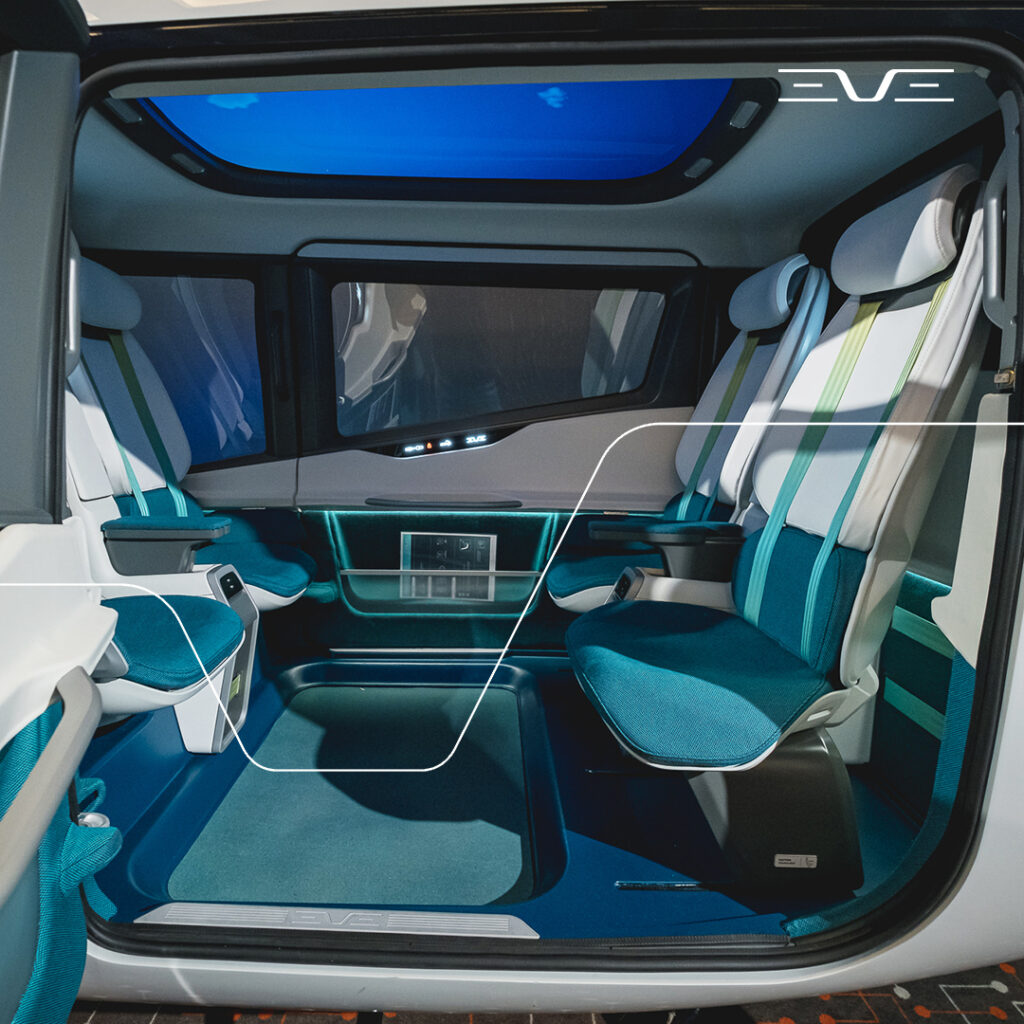 Captain Ramandeep Oberoi, Chief Operating Officer of Falcon, said: 'We are ecstatic to partner with Eve and be the first operator of eVTOL in Dubai and the MENA region. The launch of this concept fully aligns with the Smart Dubai vision and will contribute to positioning Dubai as a global leader in sustainable Urban Air Mobility transportation.'
Andre Stein, co-CEO of Eve added: 'We are thrilled about having the immense opportunity to enable the future urban mobility in the United Arab Emirates and launch eVTOL flights in Dubai.'
Any eVTOL commercial venture will rely on infrastructure and a network of 'vertiports' from which vehicles can take off, land and recharge. As the flying vehicles are small, typically carrying four passengers, vertiports could be located on the top of buildings.
Dubai has hot competition to be the first commercial eVTOL operator, however. There are currently around 250 companies involved in the research and development of electric flying vehicles and the infrastructure to use them. Earlier this month (September) United Airlines announced an order for 200 of Eve's vehicles. It also expects the first deliveries to arrive from 2026 and plans to use its fleet commercially for short range passenger transportation.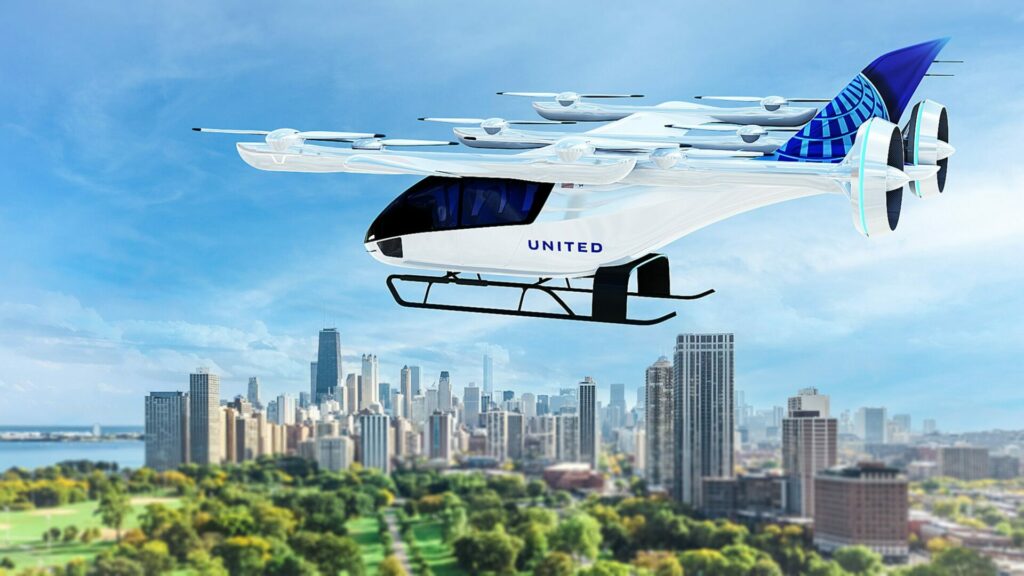 United Airlines Ventures president Michael Leskinen says the agreement highlights the airline's confidence in the urban air mobility market.
'We believe our suite of clean energy technologies will revolutionize air travel as we know it and serve as the catalyst for the aviation industry to move toward a sustainable future,' he adds.
Batman Style
Meanwhile the largest aircraft maker in the world, Airbus, is developing its own eVTOL. The CityAirbus NextGen will be a battery-powered flying vehicle with eight propellers, eight electric motors and a V-shaped tail, which the company says will increase safety. It will hold four passengers, cruise at speeds of 120 km/h (75 mph) and have a range of 80 km (50 miles). Airbus calls the concept 'a design that Batman could be seen flying in'.
Airbus Helicopters, the part of the company charged with developing these flying vehicles, has begun building a test centre for the CityAirbus NextGen in Donauwörth, Germany where prototype aircraft will be tested in preparation for the maiden flight.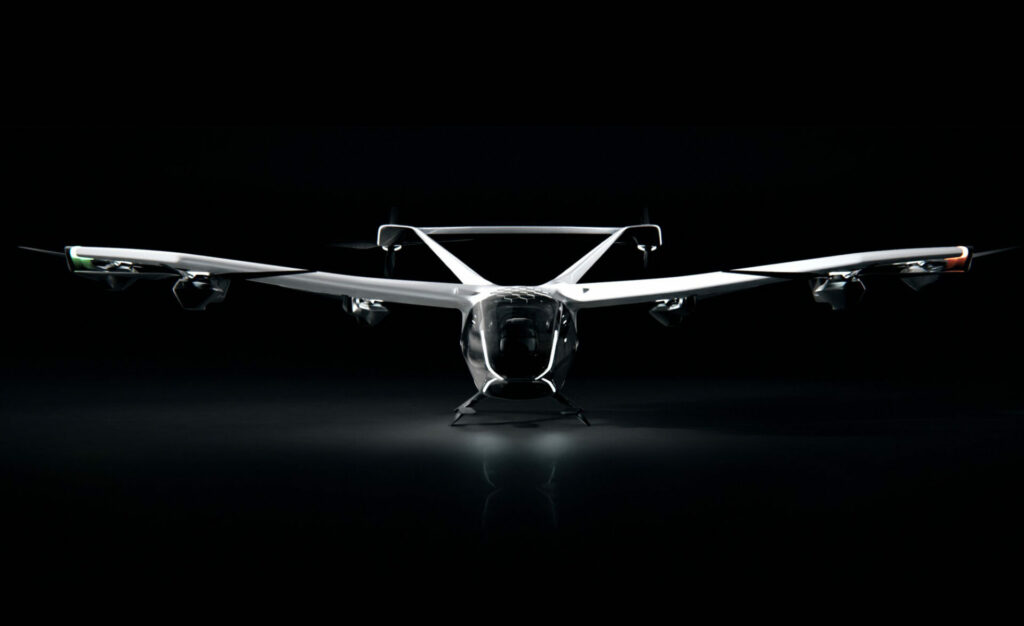 The centre will be completed in the first quarter of 2023. The company has already developed and flown an experimental single seat autonomous eVTOL, the Vahana, which was developed from a sketch on a napkin to a full-scale flying aircraft in two years.
The eight electric motors and tandem tilt-wing configuration enabled Vahana to achieve both vertical take-off and landing, as well as cross-city flight range on battery power alone. It took its final test flight in Oregon, USA, in November 2019 after flying more than 138 full-scale test flights. The main objectives of the development programme were to achieve all-electric vertical flight, autonomy and prove the business case for eVTOLs. All the objectives were achieved.
Drone Taxi
Another prototype that has completed flight tests and is nearing production stage is the Ehang 184, a Chinese flying vehicle that is being marketed as the world's first drone-taxi. It is designed to be autonomous and can travel for 23 minutes on a battery charge to deliver a passenger and luggage load of up to 230 kg up to 15 km. Over a thousand test flights have been conducted in varying weather conditions. The drone is equipped with a hazard detection system, and passengers can take control of it in emergencies. An Ehang drone-taxi will cost around $200,000.
US firm Joby Aviation's eVTOL is also close to market. The $1.2bn California-based business has carried out more than 1,000 test flights of its piloted craft, which has zero operating emissions. The Joby eVTOL is bigger than the Ehang's. It can carry four passengers and travels at a top speed of 200mph with a range of 150 miles. It could take passengers from Downtown Manhattan to JFK Airport in seven minutes, a journey which takes on average 49 minutes by car.

The company hopes to get approval from US regulator, the Federal Aviation Administration (FAA), to begin commercial operations in 2024 and most recently applied for certification in the UK, backing up a previous statement that Britain is a key market.
'We envisage offering our aerial ride-sharing service from locations near to where people live, work and want to go,' says Oliver Walker-Jones, a spokesperson for Joby. 'We are working closely with cities to ensure our service connects to other modes of transit, co-locating skyports with train stations, airports and other hubs.'
The company also has a partnership with the US Defence Department. The U.S. Marine Corps are testing flying vehicles for uses including resupply, relocation of personnel, and emergency medical response applications.
As more manufacturers near the production stage of their projects the need for infrastructure and regulation becomes more urgent. And this could ultimately be the issue that holds up the roll out of the technology. Vehicles and operators will need to be certified and rules of operation will need to be established before any passengers can hop on board.
Passenger Confidence
Even with the right infrastructure and regulations in place, perhaps the biggest hurdle operators face will be passenger confidence. Commercial eVTOL companies will need to lure customers away from ground-based taxis and into the skies. For this reason, safety will be paramount. All eyes will be on the first services, and they will need to be faultless as Brandon Robinson, CEO of eVTOL developer Horizon Aircraft admits.
'There is much debate around the safety requirements of eVTOL aircraft, with some commentators for example, saying they should be twice as safe as driving a car, or have safety records on a par with helicopters', he says. 'The safety bar must be set much higher so that potential passengers, regulators, and other stakeholders have the highest possible levels of confidence in the first eVTOL aircraft. This is essential to the sector reaching its full potential.'
Within this context it is easy to see why operators have been carefully working on their designs for over ten years and why developers such as Joby and Ehang have such extensive testing processes. The promise of environmentally friendly, quick and easy transportation is tantalising, but above all these flying vehicles need to be safe and reliable.