Pioneering electric vehicle (EV) startup, Lightyear has unveiled its prototype Lightyear 0 – a solar-powered vehicle that can keep drivers charged for weeks, or even months, without having to plug in.
The solar electric vehicle (SEV) features five square metres of curved solar panels encased in safety glass on its roof and hood to complement a small 60kWh battery pack that delivers 625 km (288 miles) of range on a single charge.
Combined with solar power, the Lightyear one can offer drivers up to 695 km (432 miles).
Six years in development, the Dutch company announced earlier this month that Lightyear 0 is available for order ahead of first deliveries this fall, with test drives taking place this month.
Lighyear says: 'The automotive industry needs to change its course. Every year, all cars drive 9,460,000,000,000 fossil-fuelled kilometres. That's a lot. In fact, it's a light-year. It's our goal to have the world drive one light-year on solar power by 2035.
A light-year is a large unit of length used to express astronomical distances and is equivalent to about 9.46 trillion kilometres, or 5.88 trillion miles.
'Our goal is to accelerate the adoption of electric cars so that by 2035, we see the first light-year driven in solar kilometres by clean, scalable vehicles….Clean mobility for everyone, everywhere.'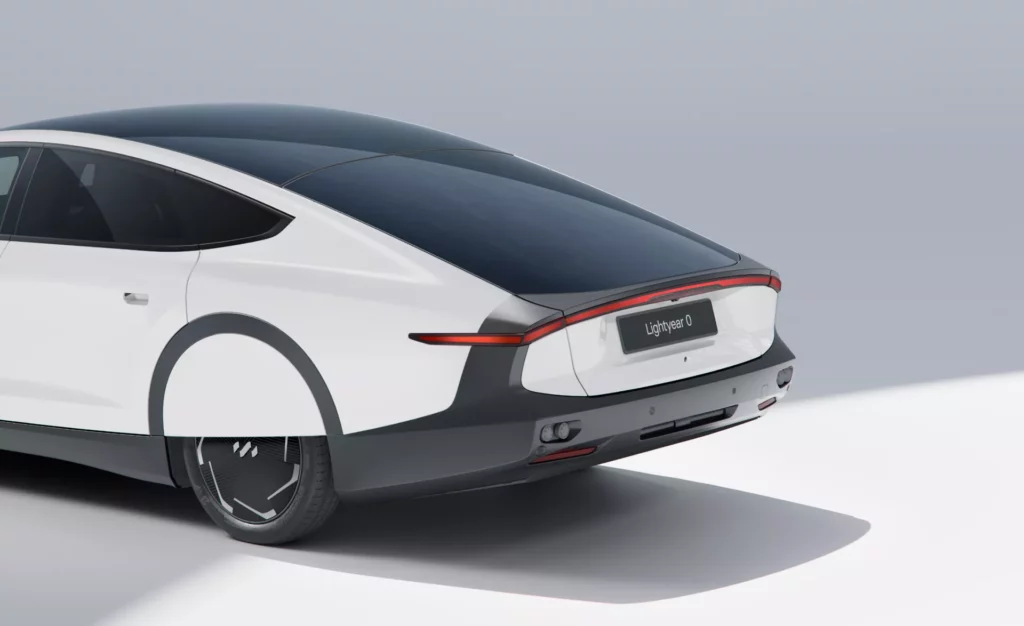 The vehicle charges itself when exposed to the sun – meaning it can be driven for short distances of less than 44 miles for months before needing to be plugged back into a traditional power source.
With their technology, any power outlet in the world becomes a charging station. Plugged into a regular home socket, Lightyear 0 can still charge 32 kilometres of range per hour. But for Lightyear 0, range doesn't start and finish with plugs and sockets. The sun is its source.
However, the amount of power generated by the solar panels will be wholly dependent on the amount of sun exposure in any particular region.
Lightyear says in northern Europe the time between charges would be around two months but in sunnier climates – such as the UAE – it could last up to seven months.
Depending on the climate, you could yield between 6,000 to 11,000 kilometres of free, effortless, and clean range every year.
Lex Hoefsloot, Lightyear Co-founder and CEO, said: 'Electric cars are a step in the right direction, but they have a scaling problem. By 2030, we can expect 84 million electric vehicles on roads in Europe alone.
'There's no hiding from it, access to charging stations will not keep up with the demand for electric cars. To minimise plug-charging and maximise range, the industry's strategy, so far, has been to add batteries. That increases the carbon footprint of production and, in turn, boosts weight and the need for high-power charging stations.
'Our strategy flips that approach. Lightyear 0 delivers more range with less battery, reducing weight and CO₂ emissions per vehicle.'
Other sustainable factors in the design include featuring plant-based leather seats, fabrics made from recycled PET bottles and wooden elements from sustainably-restructured rattan palm.
Lightyear 0's outer body panels are also made from reclaimed carbon fibre materials that would otherwise go to waste.
The company says it plans to produce 946 cars at a cost of AED970,000 (£215,000) to buyers.
In addition to Lightyear, Hyundai, Tesla, Mercedes and Toyota are developing solar-powered models or hybrid versions of them.
You can now configure a Lightyear 0 of your own on the automaker's website, starting at a price of €250,000 (approximately $265,000).