Your love of flying probably depends on four things. First, your ticket. If it says 'economy' on it, things are already off to a rocky start. Next comes your departure airport – some are very pleasant; others make you feel like you're only welcome if you're splurging out on overpriced coffee or a 1100 AED ($300) fragrance.
Numbers three and four are all to do with the trip itself: where are you flying, and what are you travelling for? Destination Hawaii for a family reunion? Great. Brussels for a business meeting with someone you've already dismissed as a timewaster, less so.
One thing that literally never factors into anyone's love of aviation is the environmental aspect.That's because it's been drilled into us for much of the past decade that aeroplanes are bad, and that the mere act of stepping onto a Dreamliner or an Airbus A380 marks you out as some sort of selfish eco-terrorist who probably stamps on daffodils just for fun.
But all that is going to change because aviation is about to become a whole lot greener.
The Sustainable Shape Of things To Come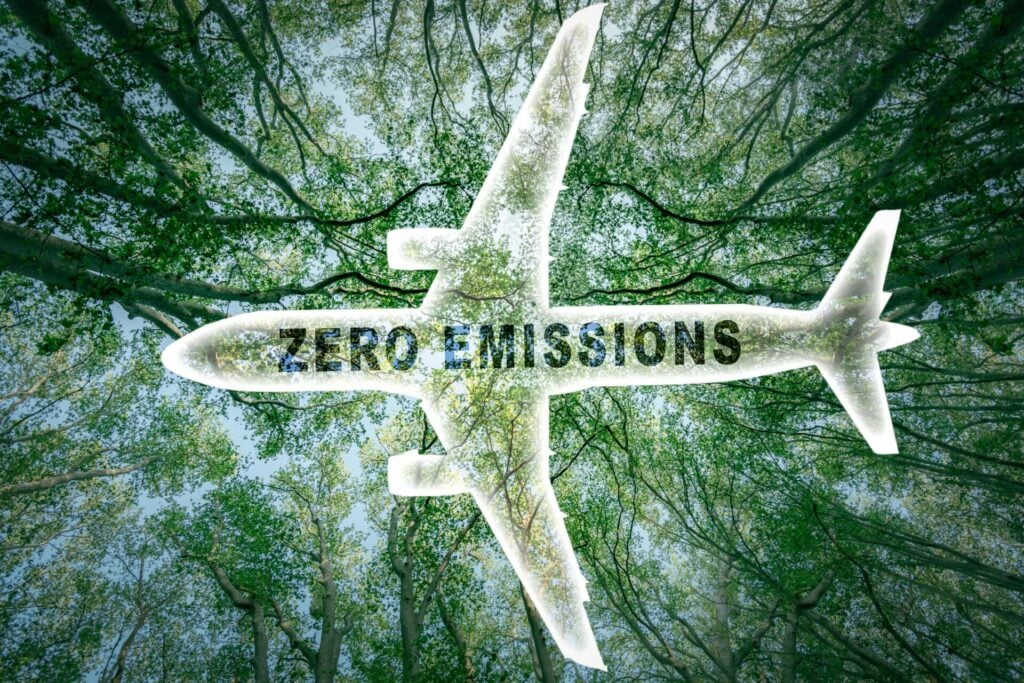 For an article in an airline's inflight magazine, I recently had the chance to interview three people who had the inside track on sustainable aviation. One looked after the sustainability brief for one of Scandinavia's national airport networks, another worked at Airbus, while the third was from the Brazilian multinational aerospace corporation Embraer.
Here's what I learned:
1. That some of the world's airports are already pretty green, embracing practices that are nudging them towards net zero within the next decade. Lyon in France will be net zero by 2026, Vancouver and Bristol by 2030, and 10 airports in Sweden are already there. While the planes in our skies might not be that green (yet), many of the airports we use are.
2. That the whole aviation sector has stated it will be net zero by 2050. This was announced by the International Air Transport Association (IATA) in October 2021, and the strategy to get there includes the use of greener fuels, improved efficiencies, new technologies and carbon capture/offsetting.
3. That there's some seriously cool new tech coming soon.
The fact is, the airline sector has to up its game. With flight shaming now well established as a global hobby, the industry needs to get to a place where air travel doesn't have the same whiff of eco-carnage about it as whale hunting.
And that's a pretty tall order for an industry that accounts for 2.5 per cent of all global emissions.
Green Fuel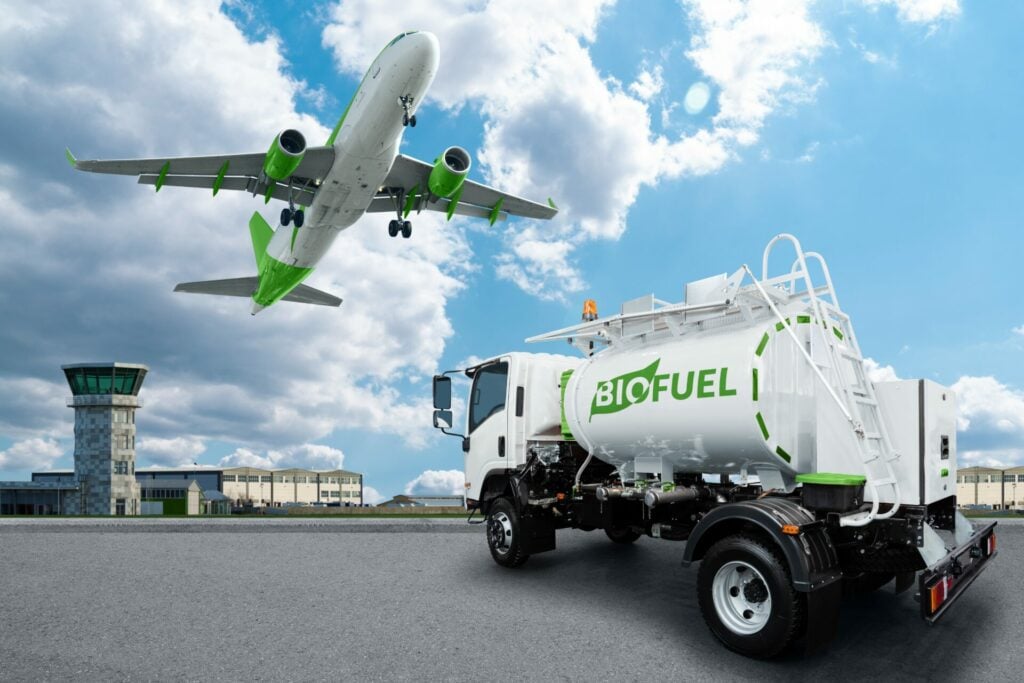 Most commercial aircraft today are powered by jet kerosene – which is about as eco-friendly as it sounds. The World Economic Forum says that demand for air travel is so high right now that aviation's emissions could rise 300 per cent by 2050 if nothing's done to change the status quo.
But the status quo is about to change. All modern jet aircraft can already fly with a blend of regular jet fuel and something called Sustainable Aviation Fuel (SAF) and may even be able to run on unadulterated supplies of the stuff – as proven on an Airbus test flight last year.
SAFs are made from forestry and agricultural waste, used cooking oil, animal waste fat and other not very tempting goodies. The raw materials are cleaned to remove impurities and then refined, and SAFs basically do what regular jet fuel does: burn in a safe and controllable manner.
What makes them special, though, is that they emit up to 80 per cent less CO2 emissions. Hundreds of thousands of flights have already been powered, in part, by SAFs, though its global use is still pretty puny, accounting for less than 0.1 per cent of all airline fuel currently used.
The challenge now is to ramp up production and make this green fuel more accessible to everyone. That's easier said than done, though the industry hopes to boost this at least 100-fold by 2028, thanks to the development of new SAF refineries and expanding the capabilities of existing ones.
Alongside this, newer aircraft are always more efficient than previous models, reducing emissions by around 15-20 per cent every time a new generation comes out. It's why the 747 went the way of the dodo. While game-changing at the time of its launch, it became a thundering, gas-guzzling white elephant of the skies, and its fuel inefficiency played a major role in its downfall.
While newer generation aircraft tend not to look all that different to the ones they replace, that's not the case with some of the all-new planes that are waiting in the – sorry! – wings. Some are straight out of Star Wars.
The Future's Hydrogen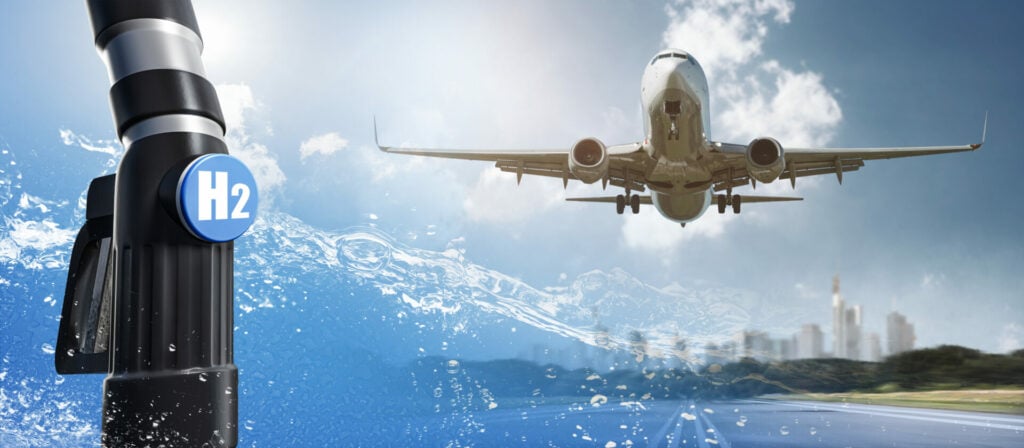 The key to a whole new generation of revolutionary new aircraft is hydrogen. This hyper-efficient fuel is generally made by splitting water using heat that is generated by electricity. When used in engines, it creates zero emissions – meaning that an aircraft fitted with a hydrogen fuel cell could fly from A-B without producing a single gram of CO2.
That's not quite the full picture, though, as the creation of the hydrogen and its transportation to the airport will result in a carbon footprint. But not if the hydrogen is produced at the airport itself using electricity that has been generated by wind or solar power.
Is this likely? No. Not any time soon – not least because the World Economic Forum (WEF) calculated that the area needed for a solar farm to create all this energy for next-gen aircraft would be half the size of Belgium.
But the WEF remain optimistic, stating that hydrogen and electric planes (more of which in a moment) could account for up to 38 per cent of all flights by mid-century.
Once the aircraft manufacturers can find a way to safely store hydrogen at minus 253 degrees as it hurtles through the sky on a plane filled with passengers, there's lots to get excited about.
Airbus is tinkering with a 'Blended-Wing Body' design that looks more like a spacecraft than an aeroplane. Its streamlined design could make it up to 15 per cent more fuel efficient than traditional designs – meaning it would need less hydrogen.
While Airbus plans to have at least one new fleet of hydrogen-powered aircraft in the skies by 2035, they won't – sadly – be the ones that look like something Luke Skywalker would fly.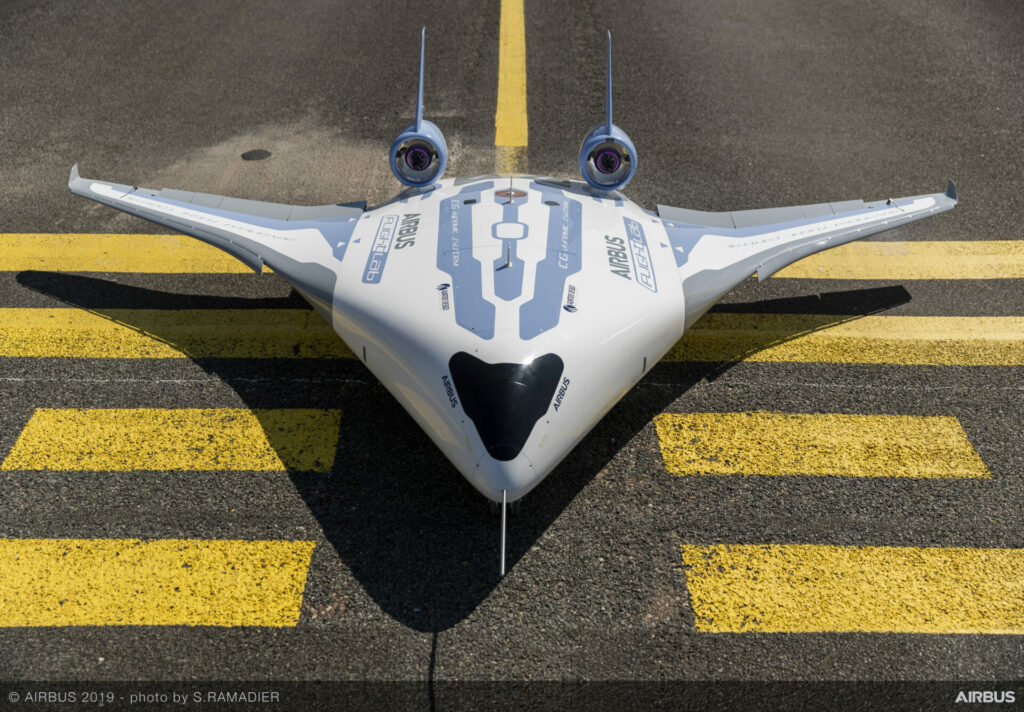 Equally exciting is the possibility of electric aircraft, such as the eVTOL (electric vertical take-off and landing) four-seater from Brazilian company Eve, which could be flying commercially by 2027.
Again, this technology promises zero CO2 emissions, as does the Energia Electric E9-FE nine-seater proposed by Embraer. Electric aircraft is a burgeoning industry, with dozens (if not hundreds) of companies lining up to be part of the revolution.
Sustainable Aviation
Of course, none of these major global changes will happen overnight – or without huge financial input and commitment from airports, airlines, aircraft manufacturers and all of the other players in this vast sector. But, as the man from Embraer said when we chatted, there is no alternative but to 'go through it' if the industry is to meet its stated net zero goals.
And what an incredible target to aim for! Not only will these changes help combat climate change, they will also mean that your children or grandchildren may one day be able to explore the world guilt-free.
For now, though, Airbus may have one clever trick up its sleeve that could ease all our consciences the next time we're crossing the Atlantic. They're trialling a system where one jet flies around 3km behind another, coasting in its slipstream and saving up to 10 per cent of its fuel reserves as it does so.