It's December and the festive season is officially here. People are buying gifts, preparing for parties and decorating their homes. The centrepiece for the season is most certainly the tree, around which all the presents are placed and without which Christmas simply doesn't seem complete. So naturally, when the first of the month chimes, people flock to local garden centres, hardware stores and Christmas tree farms in search of the perfect fir.
But now more than ever questioning the sustainability of our choices, including a tinsel clad tree is paramount. With the year seeing record temperatures reached around the world, countries battling wildfires and others contending with devastating droughts, the time is now to become acutely aware of the environmental impact of our choices.
Given people in the US alone are believed to buy 25-30 million real trees over the season and 13 million fake ones, the question is, which has a smaller carbon footprint? An artificial tree or a real one?
The Debate
There are several things to consider when choosing which is best. The first being the environmental footprint. An average sized real fir has a carbon footprint of about 3.5 kilograms of carbon dioxide CO2e. Comparatively, the footprint of a two metre artificial tree with all its manufacturing needs, is about 40 kilograms CO2e. However, if a real tree is sent to landfill instead of being recycled, its carbon footprint increases to close to 16kg of CO2e as decomposition produces methane, a potent greenhouse gas. It's still so far, the more sustainable option.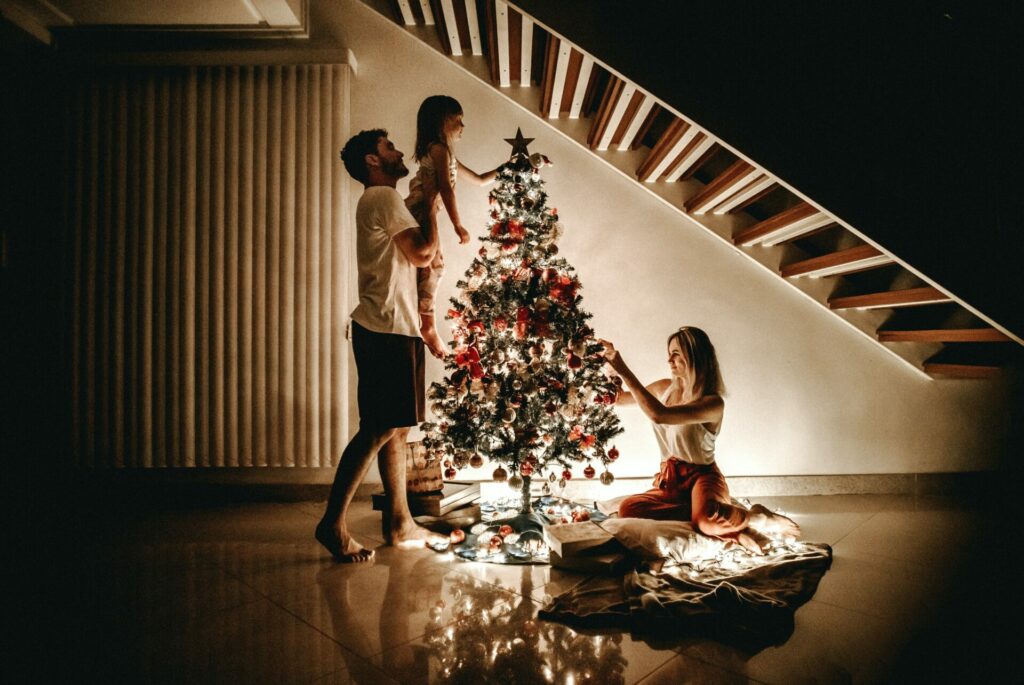 Fake trees tend to be made from plastic and are energy-intensive to produce. They are also commonly made in China, so there's also the travel emissions to consider. Fake Christmas trees also have a short life span despite their main asset being their durability. It's estimated that people only use their artificial tree an average of four times before disposing of it in landfill.
If however, you invest wisely by choosing a good quality artificial tree which you will use for years to come, this helps significantly to reduce its impact. According to The Carbon Trust – a partner organisation that helps businesses transition to net zero emissions – an artificial tree used seven to 20 times, depending on its size and material, is actually more sustainable than buying a new real tree every year.
With statistics pointing to real trees as the potentially superior sustainable choice, how can you make sure your spruce is the most planet caring it can be? Read on to find out…
How to find an eco-friendly real Christmas tree
Ideally, choose a tree which is slow-grown locally and organically from a wildlife-friendly farm. Check if it is certified by the Forest Stewardship Council or Soil Association for a guarantee of minimal or no pesticides and responsible growing. Christmas trees take around ten years to grow to size, which over this time provides a habitat for wildlife and, importantly, captures carbon from the atmosphere.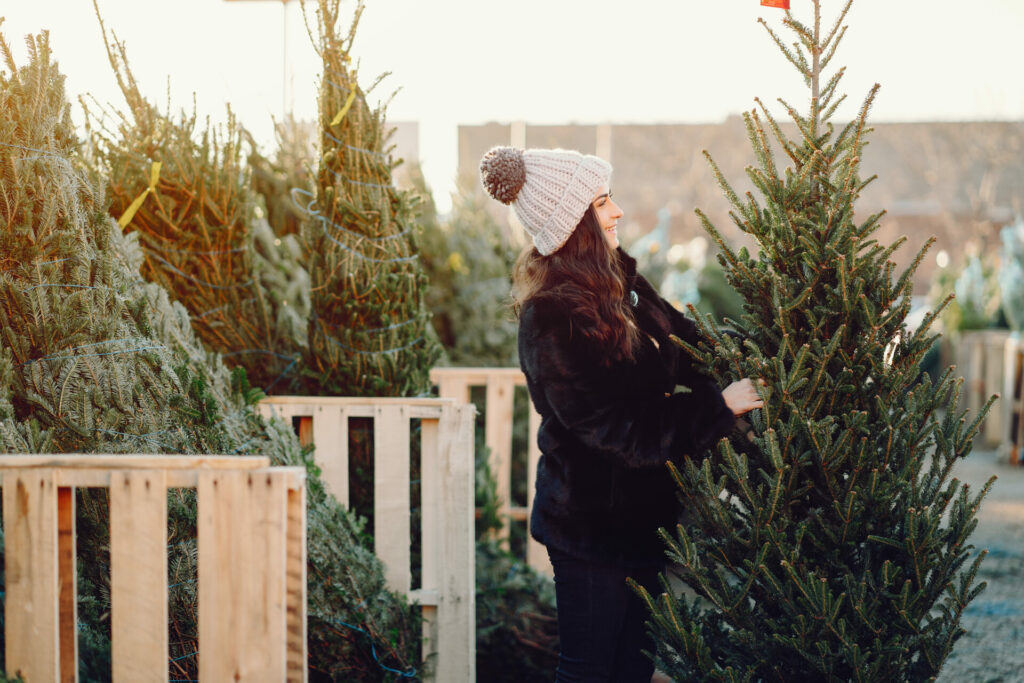 Instead, why not choose a potted Christmas tree with roots which can be cared for throughout the year and enjoyed each festive season? This reduces the trees carbon footprint by around 80 per cent, according to the Carbon Trust. Remember to water it well and ideally choose a shaded spot for the rest of the year. Some farms in the UK now offer rent and return Christmas trees so check online for a similar service near you.
Bear in mind that most Christmas trees are grown in Europe or the USA. So, if you're based in the UAE, keep in mind your tree's carbon footprint and travel emissions. Consider offsetting the impact of your festive tree via a certified tree planting online scheme such as One Tree Planted. However, remember that schemes like this take a significant time to actually balance out the carbon promised.
How to care for a real Christmas tree
Treat your Christmas tree like any other living plant – it needs care to look its best. If it is a potted tree, water it regularly and ensure good drainage. It's also wise to place your tree on a drip tray. For all real trees, remember to keep it in water and choose a spot away from heating or air-conditioning to prevent the needles drying out. Make sure your decorations are light and well balanced to prevent any branches from snapping or being damaged.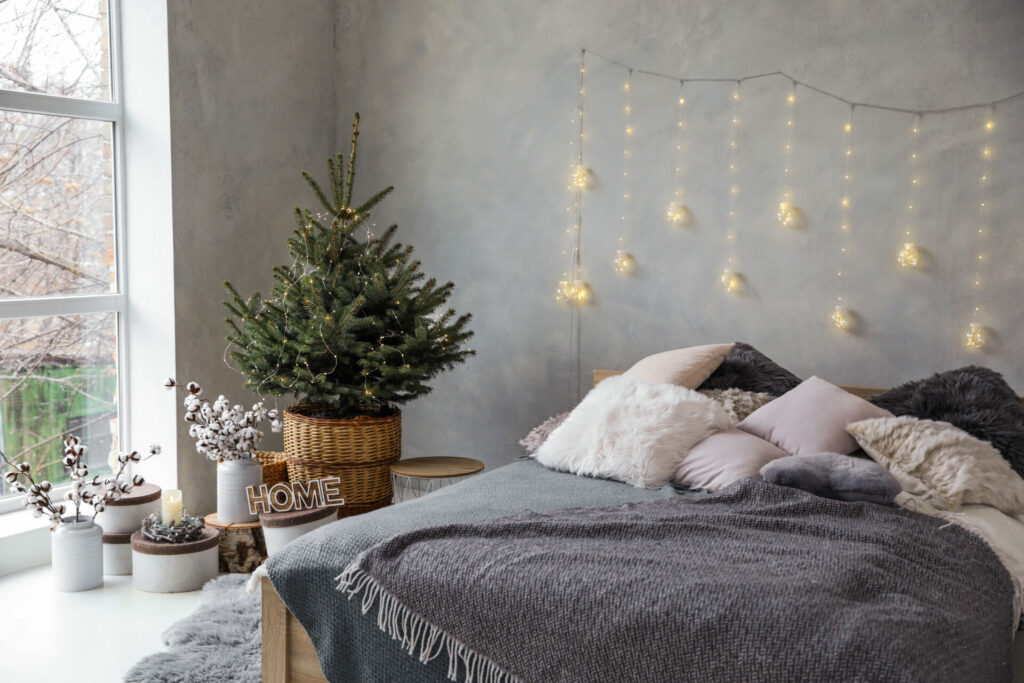 The best way to dispose of a real Christmas tree
A tree sent to landfill will release methane, a potent greenhouse gas, when decomposing. It is far more sustainable to recycle your Christmas tree, an option often offered by local councils in the UK or the farms from which you have purchased it. Better yet, repurpose your tree around the garden. Christmas trees can be turned into woodchip or compost which is beneficial as a mulch for soil or on potted plants. Alternatively, chop your old tree into logs to use as a bug hotel or wildlife habitat.
Decorate a tree you already have
If you want to forsake the fir for the sake of the planet, why not spruce up a tree or plant you already have, rather than buying a new one for Christmas? This could be a tree or shrub in your garden which you adorn with Christmas lights. Or maybe a house plant or cactus which you decorate. A lovely twist on a Christmas tree without the waste.
Create an upcycled Christmas tree
Why not make your own Christmas tree? This could be as simple as some foraged twigs or branches placed in a vase and decorated with fairy lights or painted silver and gold. You could also try old pieces of wood stacked and screwed together in a Christmas tree shape, which can be pained or decorated with lights, baubles or pinecones. Get creative using the things you have to hand – old bottles, string, driftwood and ribbons could all be incorporated into your unique, upcycled festive tree.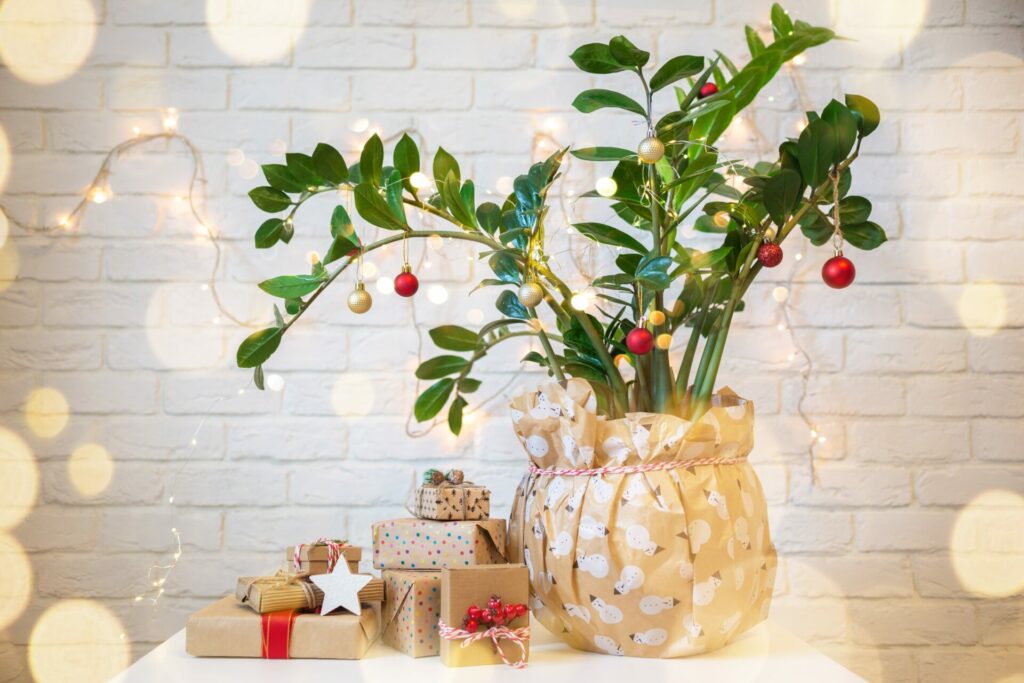 Choose a second-hand Christmas tree
If you prefer to avoid needle fall or simply prefer an artificial tree, try to source one second-hand from a charity shop, community sharing website or social media. It may need a little more TLC, but you'll be saving it from landfill and saving yourself some money too. If you have an artificial tree which you no longer want, consider donating it to a charity shop or friend to prevent it being wasted.
Whatever tree you choose will have some impact but try to be mindful this festive season. Make an informed Christmas tree choice by keeping the past and future of your tree in mind – and remember to have fun!
Ellen Tout's book, How To Reduce Your Carbon Footprint: Practical Ways to Make a Real Difference, is available to order now.