Most of us are looking for ways to support Palestine as violence continues to escalate. The heartbreaking frustration of watching the horrors unfold while being unable to do anything that feels genuinely helpful is crippling. Yes we can volunteer our time to pack relief aid boxes, spend time educating ourselves and spread the word, we can share pictures and news and pressurise governments and companies – but, as human beings we also feel the need to show solidarity, to shout our support. We want to wear our hearts on our sleeves (or watermelons on our t-shirts) to show the world where we stand.
By spending your money supporting charities, causes and values that you believe in, you can make a difference. Your purchase can help fund important humanitarian efforts while also allowing you to 'fly the Palestinian flag' in one of the only ways we currently can.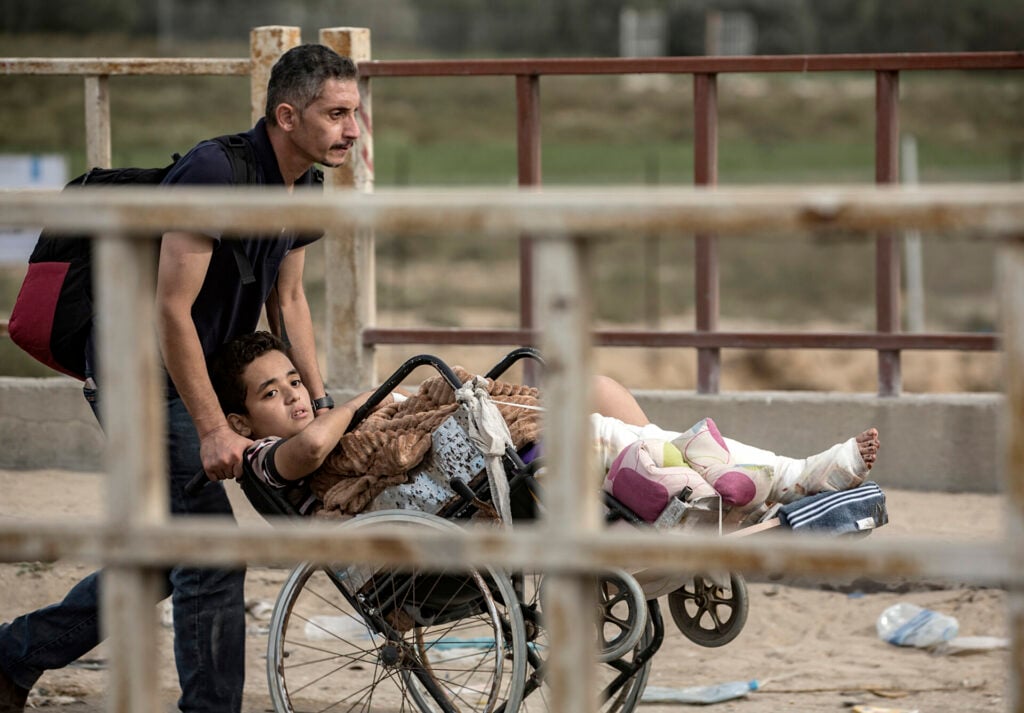 In recent weeks, millions of consumers around the world have wielded their purchasing power by boycotting products or brands which they believe are powering the conflict. Similarly, many are seeking out the artisans and brands which support Palestine.
We've put together some of the ways you can be a conscious consumer in the UAE, empower local artisans, contribute to raising awareness and foster a collective commitment to positive change. And with the holiday season upon us, it's the perfect way to make your gifts extra meaningful this year.
Bubbly Threads
Germine began making bags from the traditional Palestinian Kiffiyeh head scarf before the conflict began but has now dedicated an entire collection to Palestine, to raise awareness, to donate funds and to represent standing up for the Palestinian people. Each bag is unique and each can be embroidered in Arabic with a message of your choice – be it 'peace' or 'Palestine'. We love.
Dunnzz and Cratefulmomuae
They say it's small and humble – we say it's great. Dunnzz and cratefulmomuae (aka two fabulous small businesses) have joined forces to create limited edition Palestine branded totes, designed not only to raise awareness but as a means of raising funds (the entire sale price will be donated to the UAE Tarahum campaign). Totes are available until February so get buying.
Patches for Palestine
The traditional Keffiyeh scarf is not just an accessory – it's a powerful statement of support for Palestinian freedom, representing unity and identity. In an effort to 'sprinkle a little bit of colour and hope into the resistance', journalist and author Hafsa Lodi has dusted off her sewing box and is hand-embellishing Keffiyeh scarves with patches, pearls and beads, creating unique one-of-a-kind and donating all proceeds to The Palestine Children's Relief Fund. Shop the first batch at Sereni-tea by Tanias Teahouse.
Mishkah
Not only a gorgeous Palestinian owned artisan café in Al Quoz, Mishkah is also dedicated to bringing Palestinian olive oil (and other Levant products) to Dubai. Go for coffee and and fill recycled glass containers with the best quality extra virgin cold pressed olive oil from Palestinian groves – not only is it absolutely delicious but you'll also be supporting Palestinian farmers.
Body Tree Studio
The team at Abu Dhabi based wellness space Body Tree Studio are not only committed to providing the best health and fitness classes, workshops and treatments but also to inspiring positive behaviour and assisting causes close to their heart. This includes raising awareness and money to support the people of Palestine. Book a spot at their Tuesday 'Body Tree Body' Advanced classes and all profits will support @aneraorg who ensures all donations reach those in need in Gaza through @dubaicares.
And that's not all, Body Tree Studio will also be donating profits from their highest earning day each week to Tarahum for Gaza via the @emiratesrc and the studio is running regular healing experiences for the community to come together and reflect.
Painting 4 Palestine
Bringing together people of all religions and nationalities, Painting 4 Palestine is an initiative to learn more about Palestinian history, cuisine and culture while expressing yourself through painting. With regular events throughout the UAE, children are also very welcome and a percentage of profits will be donated via Emirates Red Cresent.
Madeena the Doll
Orignally created as a tribute to prominent Palestinian-American journalist Shireen Abu Akleh, Madeena the doll has evolved to represent the incredible members of the press, the doctors and the advocates on the ground in Gaza. A portion of funds collected by the sale of these hand-stitched dolls, made to spread and preserve Palestinian culture, will be directed to either the Red Cross in Palestine or the Jordan Hashemite Charity Organization. One of these will definitely be making it into my little girls stocking this Christmas.
Coloring Palestine
These coloring books for adults and kids are fueled by love and designed to bring awareness of common Palestinian culture and motifs while offering that all-important chance to practice a little mindfulness. A percentage of profits is donated to relief efforts in Gaza and the team often partner up with local markets and events so check-in regularly with their socials for info.
Kave
Kave, The Story of Things, is a creative upcycling cafe concept in Al Serkal Avenue. Founded by Palestinian sisters Rania and Zaina, this very cool space is home to home to resident artists, fair trade shops, and Charicycles, the only custom bicycle shop in Dubai which donates a bike to a child in a Palestinian refugee camp for every bike purchased. Not only can you buy from Palestinian artisans but also take part in meaningful initiatives including writing letters of hope and solidarity to the children of Gaza.
Kave also run regular 'markets of misfits for good' and have pledged to donate part of the proceeds to The Little Wings Foundation who is committed to providing specialist medical care for children in critical humanitarian conditions. Keep any eye out for plenty of initiatives to do good – oh and grab yourself one of their very special Palestine t-shirts featuring the watermelon symbol and a little explanation of its significance.
Forever Rose Café
Support local and head to Forever Rose Café where you can pick up a beautiful coffee cup designed in support of Palestine – with a percentage going towards the relief effort. The owners have also created a wall dedicated to Palestine and to the thousands of innocent civilians who have lost their lives.
Cptn Dxb
Red, black, white and green – the colours of the Palestinian flag – and of watermelons which became a symbol of resistance when flying the flag was prohibited. Designed by a Dubai dad (and meant for men but they look equally good on women), the Keffiyeh Watermelon Shirts will allow you to wear your support while looking pretty cool in the process. And AED 100 from the sale of each shirt will be donated to Emirates Red Crescent.
Together For Umi
On a mission to support mothers from underserved communities around the world, Together For Umi is a platform selling the most beautiful products made by refugee mothers. In support of Palestine, all profits from the sale of their beautiful wish bracelets will be donated to NGOs working to provide medical aid and emergency assistance in Palestine. Together For Umi has also partnered with Snobar Kidswear to offer the cutest LOVE tee, sales of which will be donated to humanitarian relief in Palestine.
Faem Streetwear
Shop the Arabic pop culture inspired 'Not a watermelon' T-shirt or hoodie and 100 per cent of the profits will be donated to support the people of Gaza. Other designs are available – with a percentage of sales donated to the same cause.
aKINDemy
Helping you raise kind kids through good books, aKINDemy is a one-of-a-kind book membership that focuses on different themes each month and helps introduce children to societal topics and raise term with diversity and inclusivity in mind. And it gets better – aKINDemy have recently launched an initiative to gift a book to anyone who makes a donation of a minimum of AED 100 to the Emirates Red Crescent in support of Palestine.
Unchained
Wear your support close to your heart in the form of a beautiful necklace featuring a map of Palestine, created specially to support the relief efforts in Gaza. Whether you're buying for yourself or for someone near and dear – a gift that looks gorgeous and does some good too ticks every box for us.