A mountain lion who became the emblem for a wildlife conservation bridge being built to free him from being trapped in Los Angeles by a ring of motorways has sadly died.
The big cat, known as P-22, was stranded in the City Of Angels more than a decade ago after being cut off from his pride by the ten-lane 405 and 101 highways.
'As a lion alone, P-22 is living out the classic science-fiction narrative of the protagonist who wakes up to discover he is the last of his kind,' a piece in The New Yorker said as plans for the innovative wildlife crossing – backed by the likes of Leonardo DiCaprio – were made.
The Wallis Annenberg Wildlife Crossing – a bridge that will span the 101 freeway, be covered in native flora and connect the wild space of Simi Hills and huge Los Padres National Forest to Southern California's sprawling urban landscape – is set to be open in 2025.
Brad Pitt of Mountain Lions
But it is too late for the iconic P-22, who was known as 'the Brad Pitt of mountain lions', as he had to be put down because of injuries believed to have been sustained after being hit by a car.
'It was a tough decision,' said Beth Pratt, a regional executive director in California for the National Wildlife Federation, who often called herself P-22's agent and has a tattoo of the big cat. 'It was the right decision. This animal did not deserve to suffer.'
P-22 – the P stands for Puma and the number is from the National Park Service who tagged him – shot to fame after becoming the face of an international campaign to save Southern California's threatened pumas.
It was hoped that the wildlife bridge, which will be the biggest of its kind in the world at 200ft long and costing more than $90 million, would free the mountain lion which set up home in LA's Griffith Park.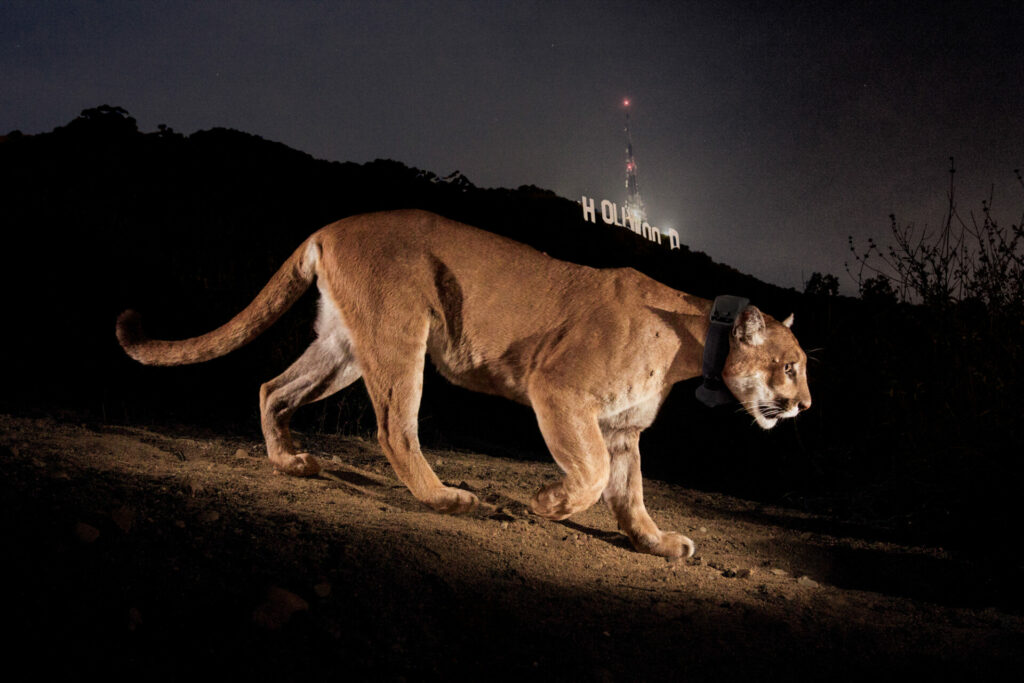 But he had to be euthanised because of the injuries which were making his behaviour erratic. Wildlife experts said that P-22 had carried out uncharacteristic attacks on pet dogs over recent weeks, and said that this was most likely due to his poor health.
The night before his capture, in the backyard of a home in the suburb of Los Feliz, an anonymous caller had reported a vehicle collision with a mountain lion a few blocks south of Griffith Park, and P-22's radio collar placed him nearby.
'This really hurts, and I know that,' said Chuck Bonham, director of the California Department of Fish and Wildlife, announcing his death. 'It's been an incredibly difficult several days. And for myself, I've felt the entire weight of the city of Los Angeles.'
Wildlife Bridge
The wildlife bridge organisers, which includes Wallis Annenberg, the heiress and philanthropist whose donation of $26million to the project earned her naming rights, said: 'We join LA in mourning the heart-breaking loss of our beloved P-22. There may be no single animal more important to today's conservation movement than P-22 – he will continue to be a symbol of the responsibility we have to preserve and protect our environment and better co-exist with Los Angeles wildlife.
'The Annenberg Wildlife Crossing did not come soon enough for P-22, but it will protect future mountain lions and other animals and ensure a safer future for them and our planet.'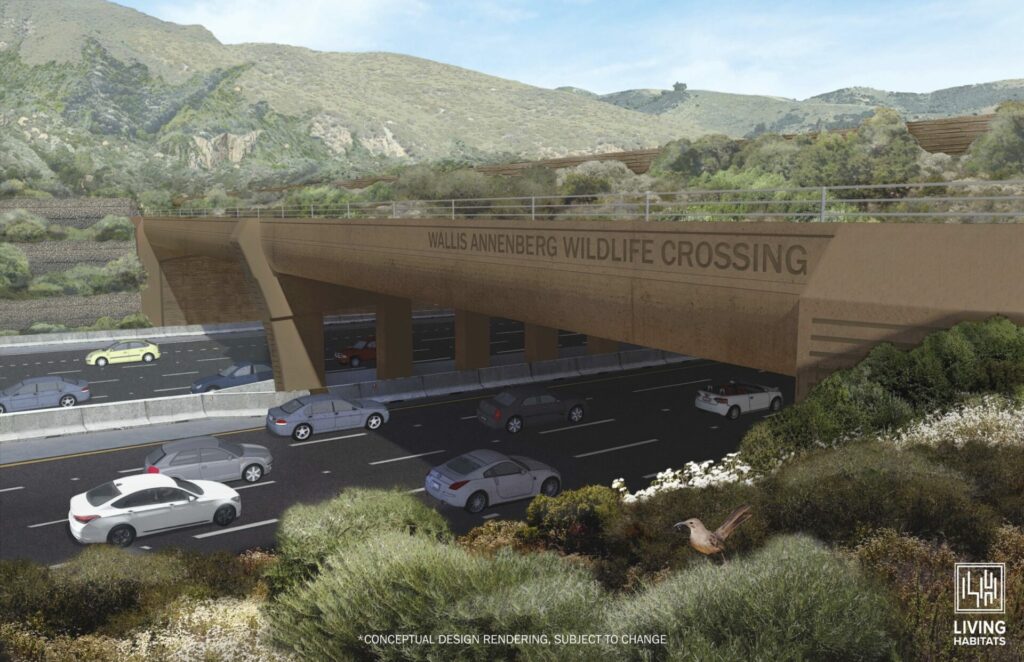 Health examinations revealed that P-22 weighed around 90 pounds, a loss of nearly 25 per cent of his normal body weight. He had a skull fracture, an injury to his right eye, herniated organs and a torn diaphragm.
Animal doctors also discovered he had heart, kidney and liver disease, a thinning coat and a parasitic infection.
P-22 came to the attention of Los Angeles residents in 2012 when he appeared on a photograph snapped by a motion-sensing camera in Griffith Park.
He'd arrived there after leaving the Santa Monica mountains and setting off on a 50-mile journey that took him across the two major Los Angeles freeways, evading traffic and human detection.
He set up home in the city's park, which at eight square miles was probably the smallest roaming territory of any known mountain lion, as typically a male cat's territory is 150 square miles.
The big cat then appeared in a National Geographic feature that showed him prowling past the Hollywood sign at night.
He became the face of a major campaign to save and protect the city's biodiversity as California nature activists spent more than a decade raising $77 million for the wildlife bridge which also received support from Leonardo DiCaprio's charitable foundation.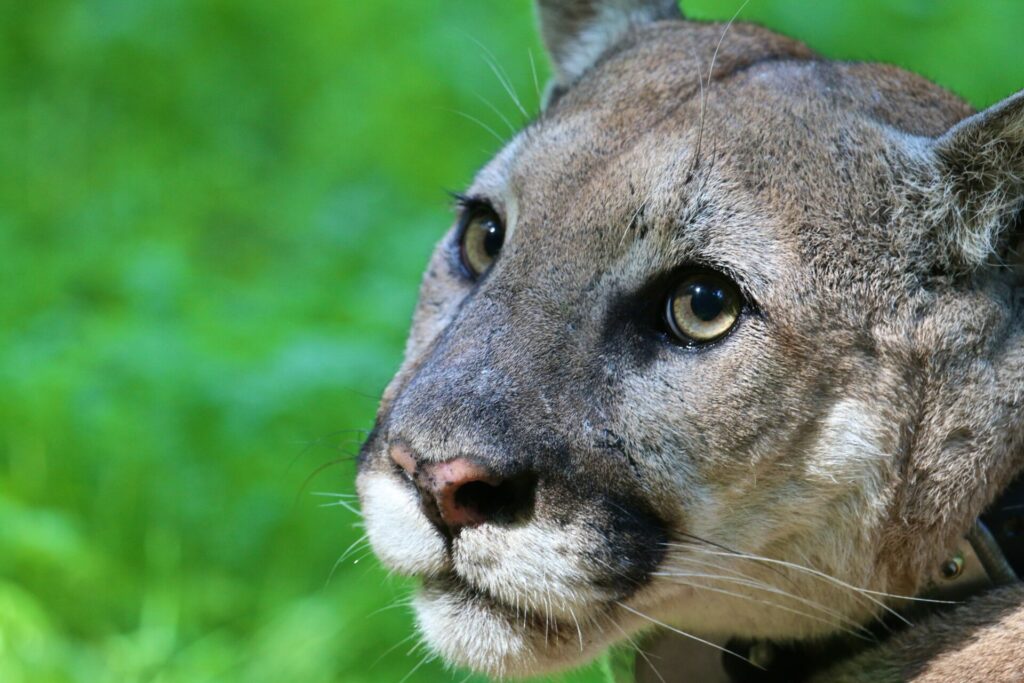 P-22's 'agent' Pratt dubbed the big cat the 'Brad Pitt of mountain lions' – saying he was attractive, enigmatic and unlucky in love, as he had plenty of deer to eat, no male competitors in his territory, but also no hope of finding a mate as he was marooned in the park with no way out.
Mountain lions once numbered hundreds in the region, but just 12 are believed to be living in the area today. At least 25 big cats have been killed on LA's freeways as they try to cross to find food or mates. Across America, the Federal Highway Administration has estimated there are more than one million animal-vehicle collisions on roads each year.