The heartbreaking conflict unfolding between Israel and Gaza has left many of us in the UAE feeling helpless and desperate to support the thousands of families in need.
Thankfully, many government approved fundraising events and initiatives are happening across the UAE, enabling all of us to do our bit to help those suffering.
Below is all you need to know about where to donate to this important cause.
Tarahum for Gaza
Tarahum for Gaza is the UAE's country-wide fundraising campaign to provide relief aid to the Palestinian people impacted by the war in the Gaza Strip.
Translating to mean Compassion for Gaza, the initiative by the Emirates Red Crescent, the World Food Programme, the Ministry of Foreign Affairs and the Ministry of Community Development offers multiple ways for UAE residents and visitors to donate money and supplies.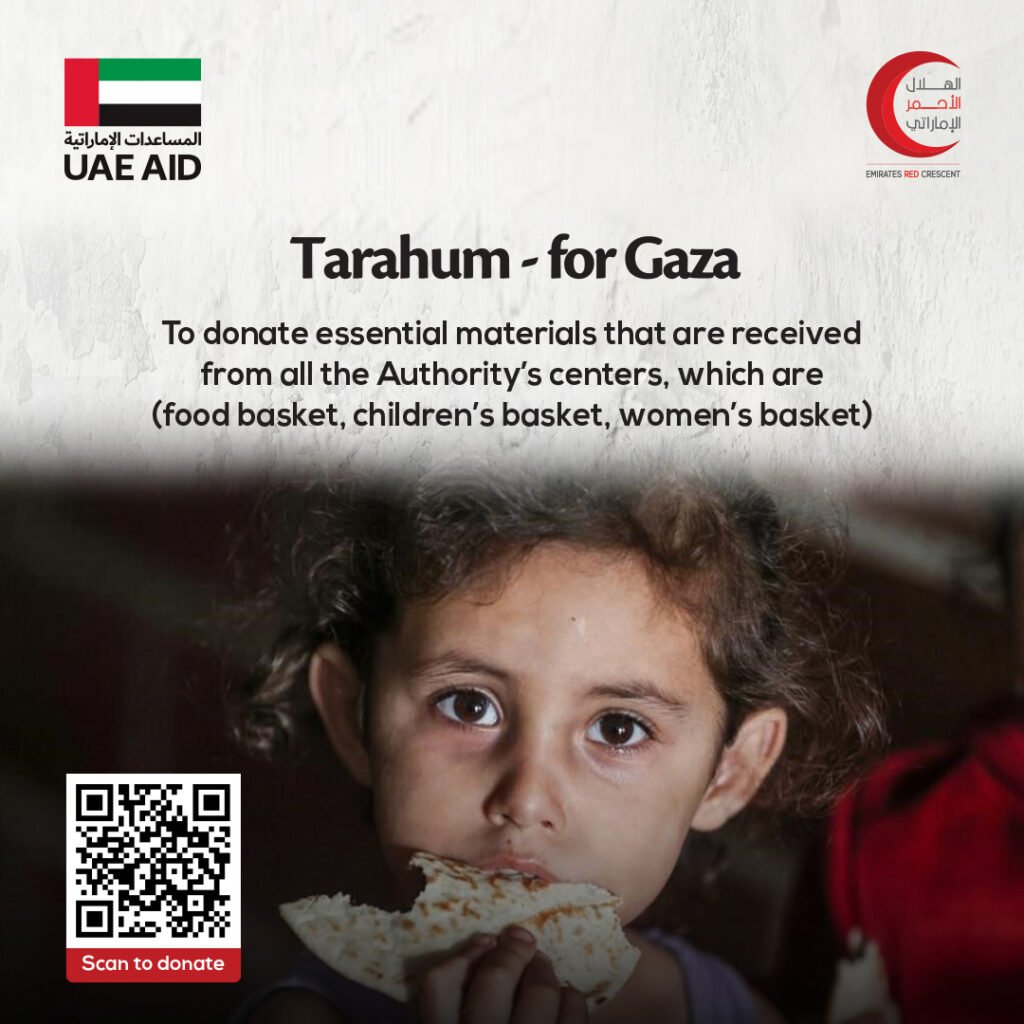 Donation points
The Emirates Red Crescent is collecting essential supplies such as canned foods, toiletries, towels and blankets at various locations. The full list of accepted items and materials can be found here. The donation drop off sites include:
Abu Dhabi: Emirates Red Crescent Headquarters; Carrefour, Airport Road; Marina Mall Caravan; Shahama, Baniyas Co-operative Society; Khalifa City (behind the shops); Baniyas City (next to Lulu Hypermarket); and Al Shawamekh (in front of Lulu Express).
Dubai: Emirates Red Crescent Headquarters in Al Quoz; Umm Ramool, Al Garhoud; Carrefour, Mall of the Emirates; City Centre Al Shindagha; City Centre Meaisem; City Centre Mirdif; and Arabian Centre.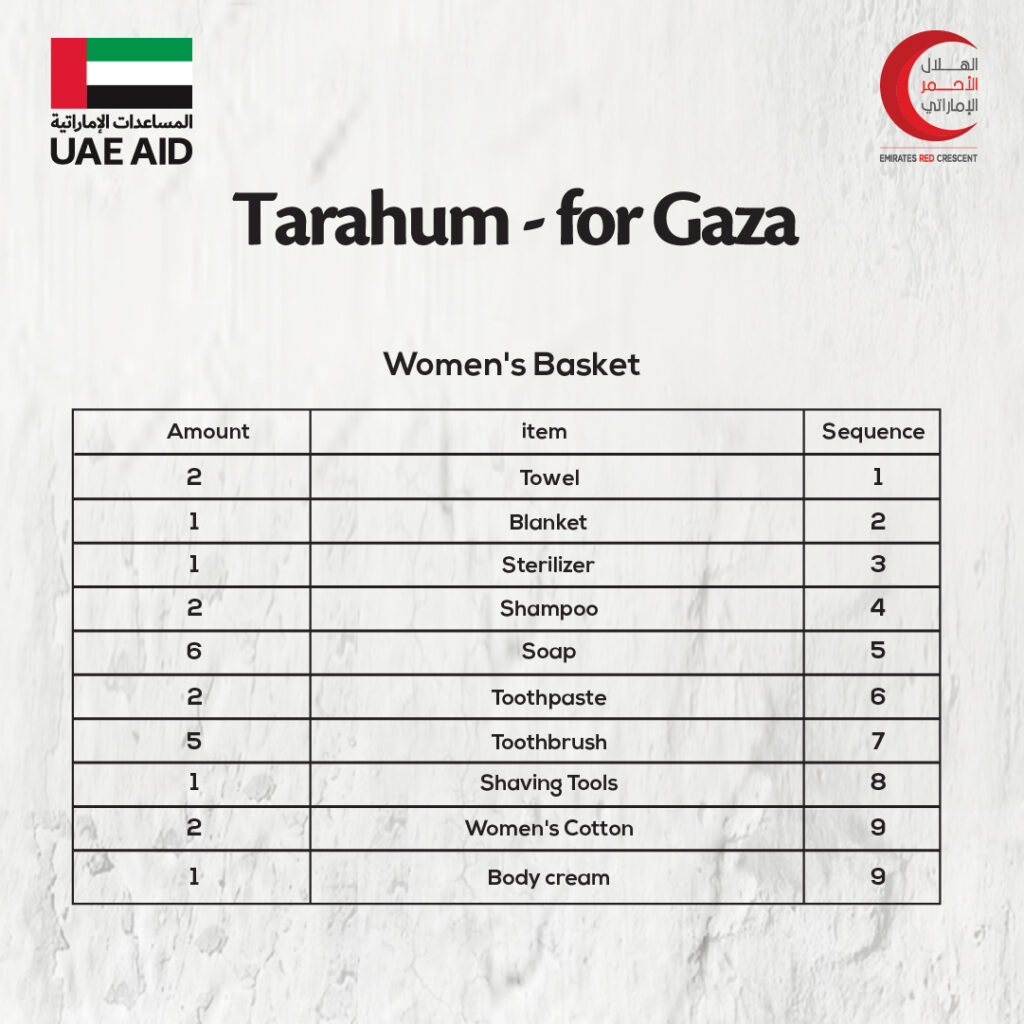 Sharjah: Nekheelat Authority Office; Sharjah Co-operative Society, Helwan; Sharjah Co-operative Society, Al Dhaid; and Lulu Hypermarket, Al Hazana.
Fujairah: Emirates Red Crescent Headquarters; Al Bustan Hall; Masafi Council; Bidiyah Council; Hawaya Suburb, Khorfakkan; Suhaila Suburb, Kaiba; and Dibba Fujairah Co-operative Society for Fishermen.
On Sunday October 22, 10,000 parcels of relief aid were prepared by more than 6,000 volunteers at Abu Dhabi National Exhibition Centre in just one day. To find out more about upcoming volunteer opportunities, visit @emiratesrc.
Mall donation boxes
Several UAE malls are supporting the Tarhum for Gaza campaign by providing donation boxes:
Mall of the Emirates
City Centre Mirdif
City Centre Deira
City Centre Al Zahia
City Centre Sharjah
City Centre Ajman
City Centre Fujairah
City Centre Me'aisem
City Centre Shindagha
Matajer Al Juraina
Matajer Al Qouz
My City Centre Masdar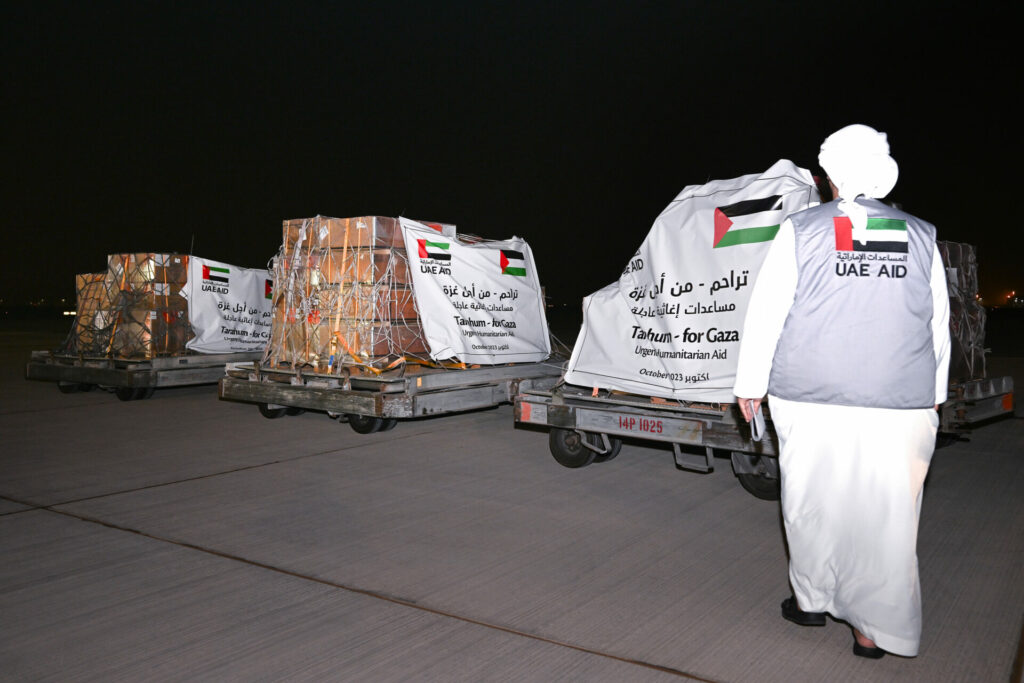 Cash donations
You can make cash donations for Tarahum for Gaza through the Emirates Red Crescent website.
Other charities raising relief funds for Palestine include Dubai Cares, the Palestine Children's Relief Fund, the World Food Programme and UNICEF Gulf, who is running a campaign specifically for the children of Gaza.
Events in Aid of Gaza
Alserkal Avenue
Various community fundraising activations are taking place at Alserkal Avenue. Record store The Flip Side is hosting a 'Voices For Palestine' music showcase on October 28. Bringing together leaders from the Palestinian music scene, all profits go to the Emirates Red Crescent. Meanwhile, The Grotto is raising funds through tote bag sales, and Gulf Photo Plus is donating all profits from the sales of its Palestine Forever disposable cameras.
Breathwork workshop at Bodytree Wellness Studio
Bodytree in Abu Dhabi is hosting a breathwork workshop in aid of Gaza. All participants are asked to make a donation of AED 25. In addition, the yoga studio is donating profits from its highest earning day to Tarahum for Gaza every week. Each amount raised is also matched by a private donor.
November 1, 10.30am to 11.30am.
421
Independent art gallery 421 in Abu Dhabi has collaborated with Reel Palestine Film Festival and Cinema Akil to host four film nights in aid of Gaza. Showcasing feature length-films and documentaries by Palestinian filmmakers and directors, entry is free with a receipt for a donation to the Emirates Red Crescent. The suggested donation is AED 50, and 421 is also collecting physical donations on all four days from 10am to 9pm.
October 26 to 29.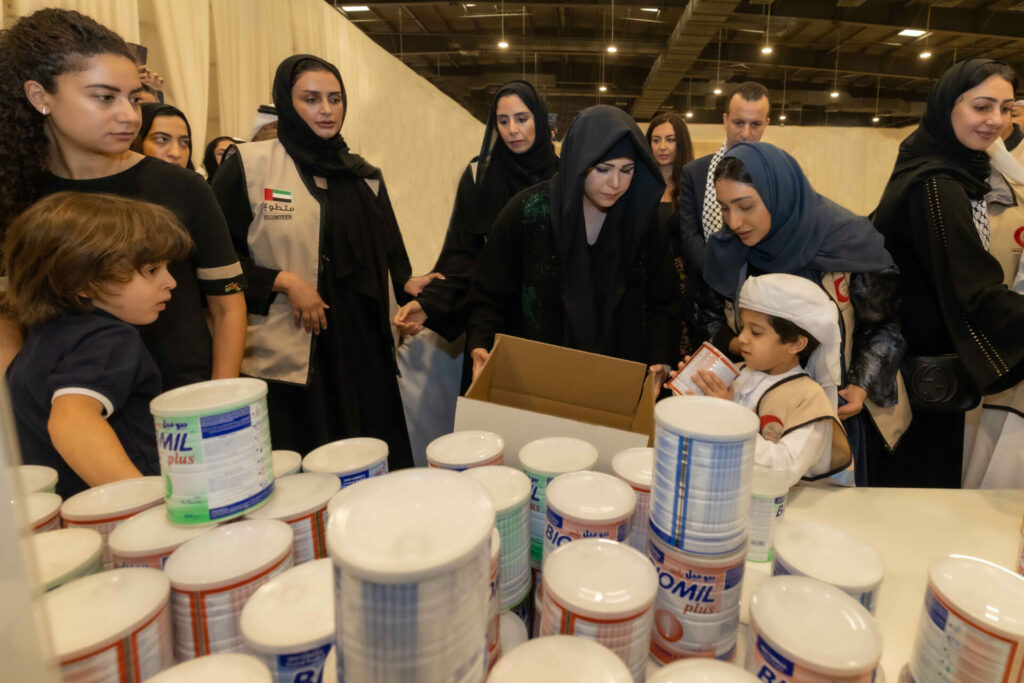 Vigil by candlelight
Palestinian yoga teachers Lina Nahhas, Dina Ghandour and Nancy Zabaneh are hosting a vigil in aid of humanity at Joint Space, Alserkal Avenue. The candlelit session of prayer and meditation aims to harness collective energy in support of those suffering in Gaza. Entry is free and participants are asked to bring a tealight and a tealight holder.
Saturday, October 28, 7.30pm to 9pm.
Art Therapy for Palestine
Artist Magda Scriabine and sustainable art and music studio Beit Fann are coming together to host an art therapy session in aid of Palestine. Participants are invited to join in with painting a mural dedicated to peace in Palestine, and release any pent-up emotions and share stories in a safe space. Entry is free, and participants are encouraged to donate to the Emirates Red Crescent.
Saturday, October 28, from 2pm to 5pm.
Paint Palestine at Maiz
Maiz, the Palestinian-owned Mexican joint is hosting a 'Paint Palestine' workshop to spread hope and foster awareness of the situation in Gaza. With all profits going to the Emirates Red Crescent, entry is AED 225, including art supplies and breakfast.
Saturday, October 28, from 10am to noon.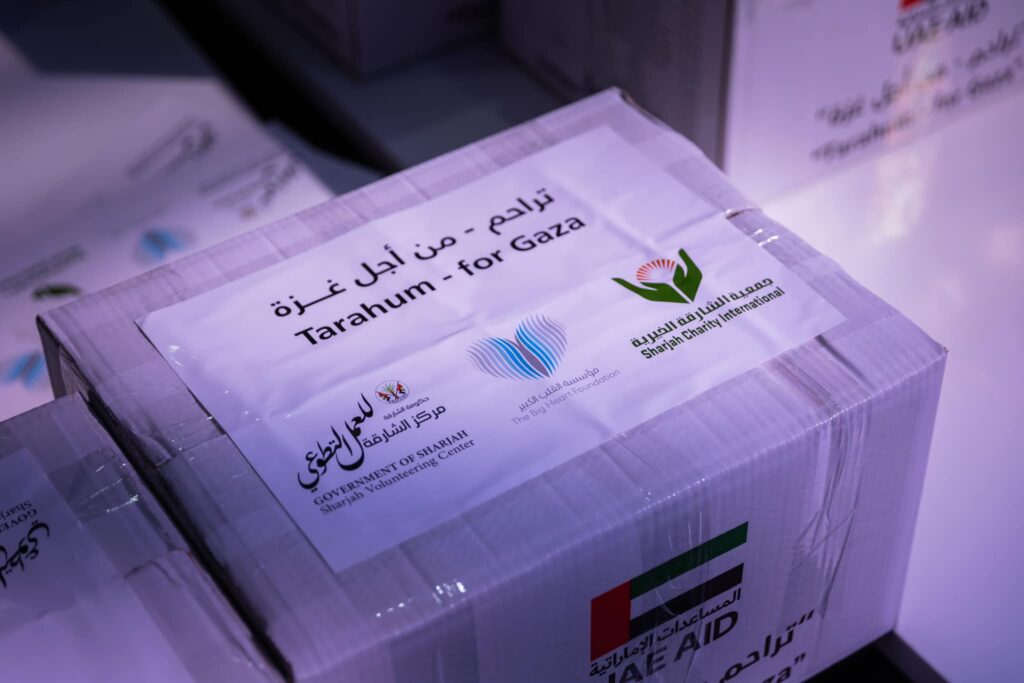 Companies Giving Back
Abu Dhabi institution Marmellata is giving out free pizza to everyone who donates to the Palestine Children's Relief Fund. Just show your donation receipt when ordering.
Open Tuesday and Thursday.
Many homegrown businesses are donating 100 per cent of their profits to Tarahum for Gaza this month. This includes homegrown healthy snack company Health Nation, Acai delivery All Things Acai, mother-daughter owned concept Mamarita, dessert specialist Just a Bite Cookies, meal kit delivery service Sumac and many more.
Vegan ice cream company House of Pops is also donating AED 5 for every pop ordered on the website for 30 days starting on October 24.
While home delivery service Kibsons is tripling donations to the ERC on their site. Just use the code 'DONATE' on check out.