In 2021 post pandemic, Iranian born UAE resident Sahar Karoubi, decided to quit her job in digital marketing and move into the unknown world of sustainable toilet paper. Not a typical career move one would think, but one that she quickly proved had a cavernous industry void to fill.
While most people don't think about the carbon footprint of their toilet paper, scratch the surface of the multi-billion dollar industry and you quickly realise it gets bottom marks for eco credentials. Toilet paper is traditionally made via a production process that requires cutting down trees and pulping them for fibre. This has significant environmental impacts, including deforestation of critically important carbon absorbing forests, habitat and biodiversity loss and water pollution. And that's before it's wrapped in plastic for supermarket shelves contributing to the enormous environmental pollution problem.
It was such startling environmental facts around the impact of traditional toilet paper that led to the birth of eco friendly alternative Bambuyu. As the name suggests, Sahar's toilet paper, kitchen roll and tissue brand is made from bamboo, a grass that grows 30 times faster than trees (up to 91 cm in 24 hours)! requires little water, produces 35 percent more oxygen than a tree of a similar size, grows back on its own and is 100 per cent biodegradable.
We decided to sit down with the eco entrepreneur to find out more including the inspiration and story behind her stylishly sustainable brand.
TE: There are so many other fields you could have explored. What is it that made you think, 'You know what? Let's go with toilet paper'?
SK: We had gone into lockdown and my second daughter was just a few months old and our house seemed to be filled with things that come with having a baby and a toddler. I remember walking through my home and thinking, "I can do better." I looked around the house, and I thought about the areas that are most high impact in our homes, and I found that our kitchen and our bathroom were creating the most plastic waste. I already felt that I did my bit when it came to being more conscious in the kitchen, but I was lacking with the bathroom.
As I assessed where to make changes, I thought toilet paper was the least of my concerns, it was paper after all not plastic. But when I scratched the surface, I came across a huge amount of negative information. I discovered that 27,000 trees are cut down daily around the globe to make toilet paper, and that it contributes to about 15 per cent of deforestation. It was just shocking, and I knew this is where I needed to make a difference.
I shopped around for ethical alternatives, but they were always packaged in plastic or poor quality so in fact rather than reducing consumption, we ended up using more. One evening my husband and I were jokingly discussing launching a sustainable toilet brand and in the morning, we woke up and thought, "You know what? It is a good idea."
TE: What makes Bambuyu different from other brands?
SK: I think one is, as much as we didn't design the product with a purpose of being design driven, it's ended up being something that really calls the customers to us. So we do have a lot of people who buy our product because they love the designs, and then they start discovering the why and the how of the brand, and they fall in love with it, and they stay with us because of the sustainability.
Two is, Bambuyu is both plastic free and tree free. You can get other alternative toilet paper, but they still do come in plastic packaging. We also put a lot of effort into the quality of our tissues so they are comfortable for the user and safe for your toilet. You don't need that many sheets, they're very absorbent, they do the job, they feel soft. The rolls also last nearly twice as long as other brands. We have 300 sheets, compared to the average of 120 to 180 sheets per toilet roll, so you get a lot more for your roll.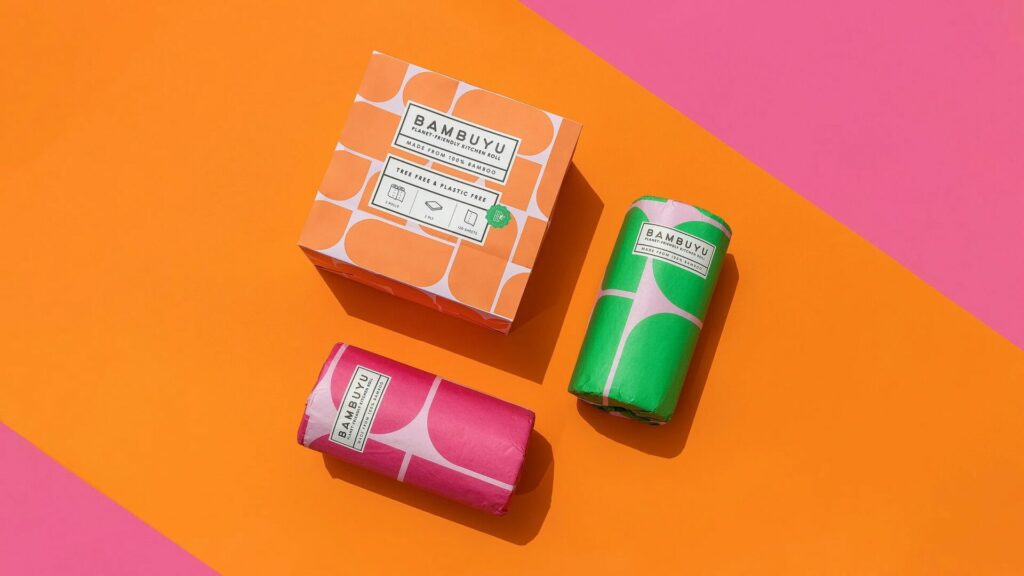 TE: If you had a couple of minutes to stand up in front of people who had no idea, why should we all be switching to sustainable toilet paper?
SK: Well, forests do so much more than provide us shade, and fruits, and vegetation; they are lungs for our entire planet. And it's very easy to protect them. There are solutions for alternative wood in architecture, there are alternatives to wood for paper production, you have bamboo. And bamboo is a grass that grows so incredibly quickly that it makes for an incredible alternative to wood pulp, which is used by the majority of standard toilet paper brands.
For me, when I discovered these statistics, it was a no-brainer. It's something that gives you better quality, it's better for the environment, it's a lot more sustainable; I don't see why every brand wouldn't have bamboo as an option for their customers.
TE: The Bambuyu packaging is stunning and a real draw to the brand. Where did the design come from?
SK: I come from a digital marketing background, and I worked with luxury beauty brands for several years, so I've always been in love with really, really good quality packaging, and packaging that tells a story. And I also like my home simple, but with pops of colour. So just having something that had that loud voice within a calm environment was something that I was always drawn to.
And we just wanted it to be young. A lot of our customers are young mothers, or millennials, who want good quality things, that do good for the environment, and I think we've managed to bring that balance of kind, attractive and sustainable that really speaks to our audience.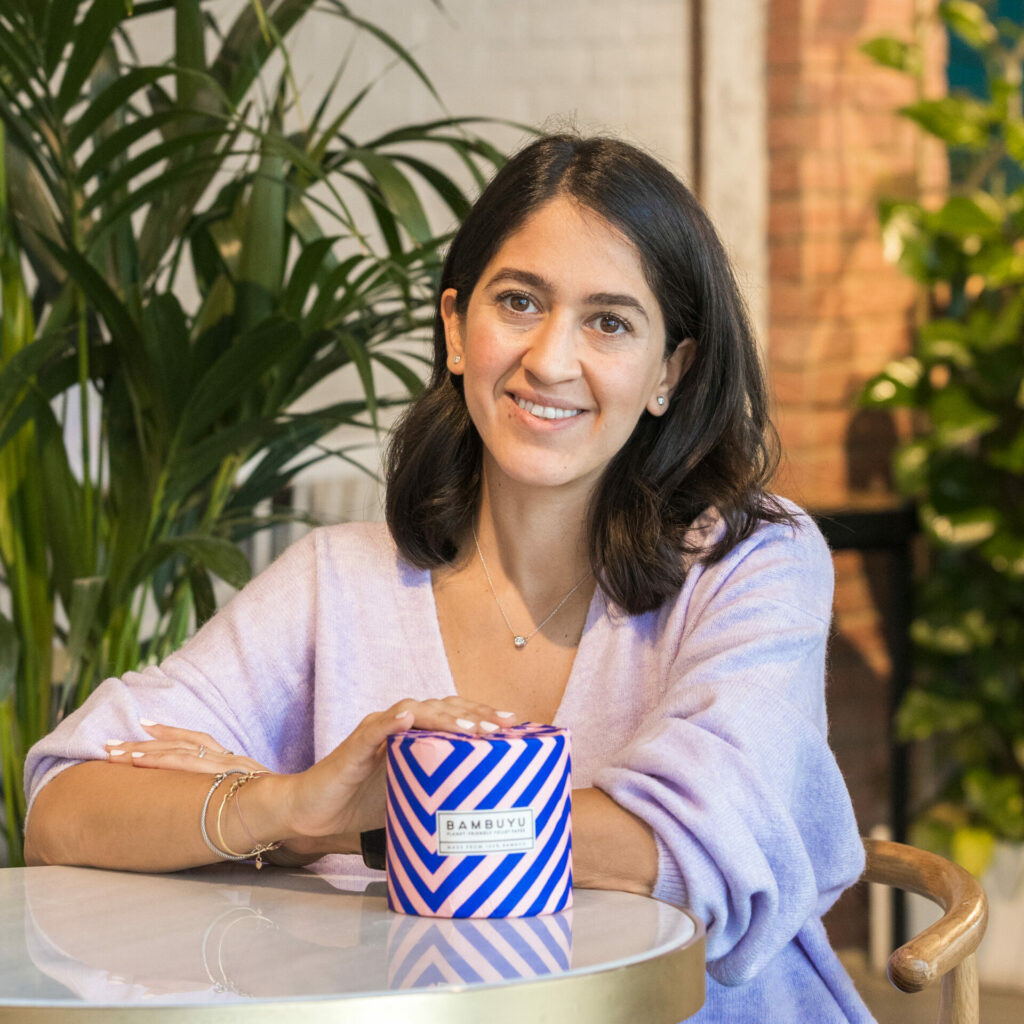 TE: Did you find it challenging to enter 'the toilet zone'? It's a topic some people are uncomfortable discussing. How did you overcome that?
SK: It wasn't easy, at first, but I think we've found a space to talk with our customers. We talk about deforestation; we share the facts around the environmental impact of the tissue industry. That's made it a lot easier to break the ice, and start the conversation, rather than, "Oh, hey, buy our toilet paper." It's really talking about the cause, and then talking about the products that we have.
And the specs are not very complicated, so we don't really have to showcase anything in detail. Everyone uses toilet paper, but when we started doing influencer outreach, some would say, "Oh, it's not something that I think my audience would like to hear about, or I would ever talk about," and I'd say, "You know what? I'll send it across, just see how you feel. You don't really have to talk about it, if it's not something that fits with you, or your aesthetic." And it just ended up being something that everyone very easily and comfortably shares and talks about, because it's an amazing cause and they're beautiful products.
TE: Do you think Bambuyu is less of a sustainable product and more of a statement for some?
'We find a lot of our customers buy our products when they have guests, or when they have parties, as they look good in your home, and it allows it to be shared much more easily than it would if it maybe was a standard toilet paper product. We have customers who buy Bambuyu as housewarming gifts. And, honestly, that's the biggest compliment anyone can ever give my brand, is that it's so beautiful, and it feels so good, and it does good for the environment, that you don't want to keep it for yourself, it's something that you want to share. It's just music to my ears when I hear people want to share it with others.
But also, what is really important to me is my children. I often questioned, "What is the value that I'm bringing to the world? And what example do I want to set for my kids?" My five-year-old now knows everything about the brand, he can be at a market stall with me and talk about Bambuyu as well as I could. It's just amazing having them experience this with me.'
To learn more or make the sustainable switch visit Bambuyu here