As influencers go, he is pretty big. Both revered and feared, he wears a collar, prowls the streets around Griffith Park in Los Angeles, is snapped in front of the famous Hollywood sign and goes by the name of P-22.
But P-22 isn't a rapper and doesn't have his own Instagram account. The P stands for Puma and the number is from the National Park Service who tagged him. He is a mountain lion stranded in the city of Angels after becoming marooned from his pride in the Santa Monica Mountains by a ring of freeways.
Mountain Lion Protagonist
P-22 has been trapped for more than a decade, unable to cross the 405 and 101 highways that he must have miraculously navigated as a young mountain lion, to get back home. 'As a lion alone,' journalist Dana Goodyear wrote in The New Yorker, 'P22 is living out the classic science-fiction narrative of the protagonist who wakes up to discover he is the last of his kind.'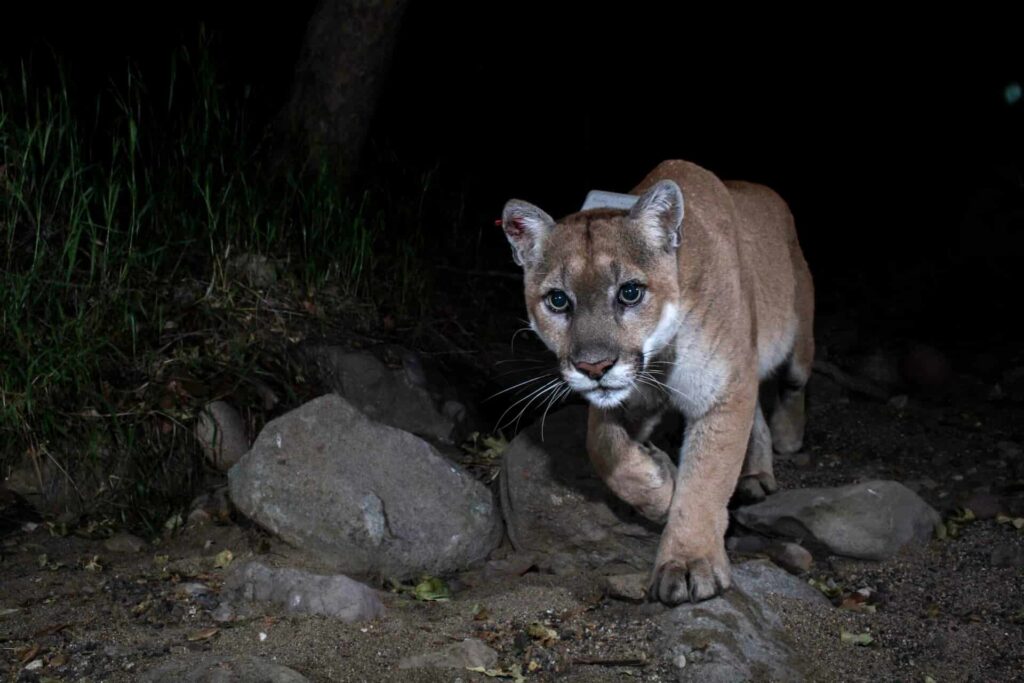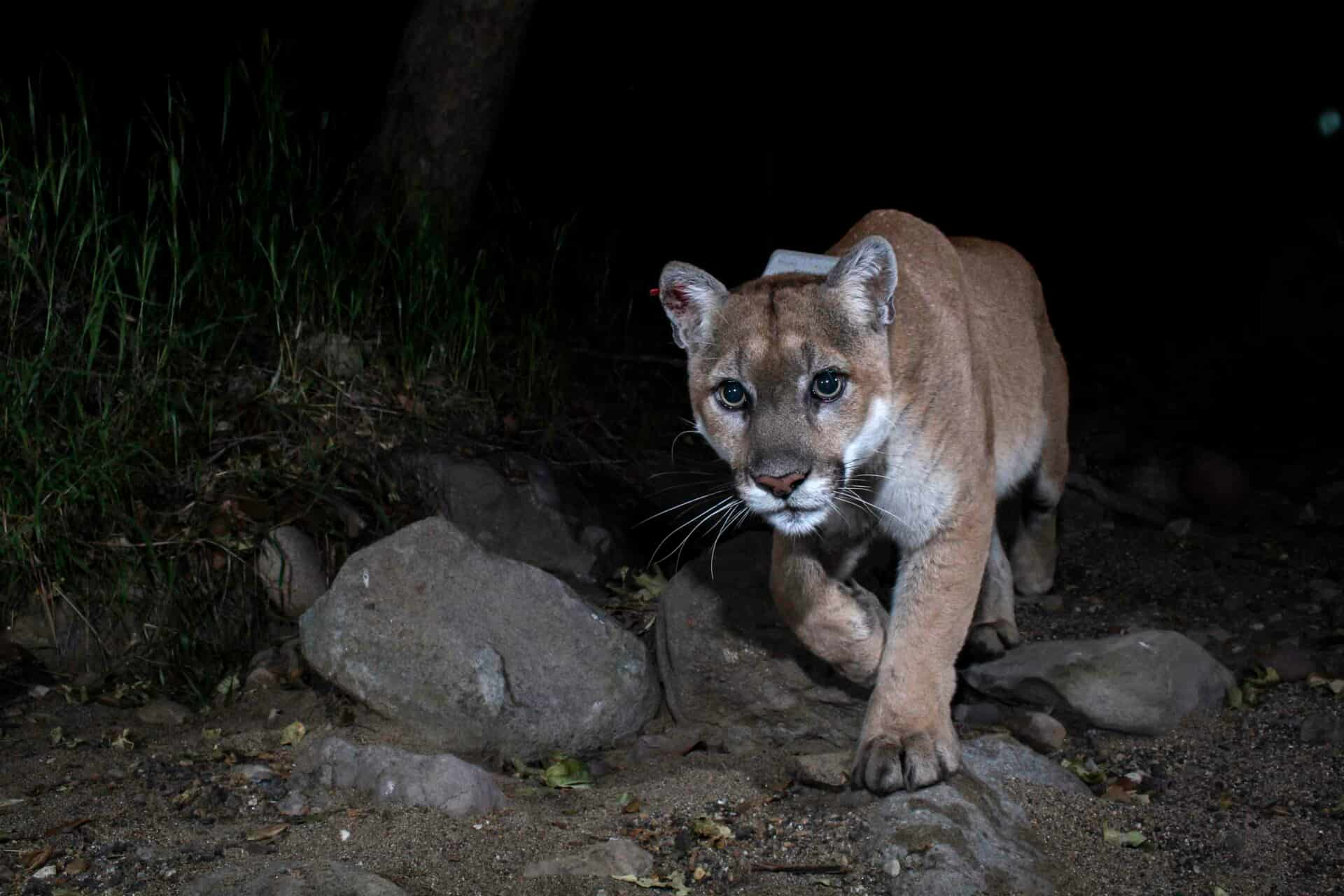 Now, 12 to 13 years old, P-22 was fitted with a radio collar when he was first spotted in the park which shows how he lives in a small patch of LA. He has regularly scared neighbours, has been seen leaping over fences – and is unlikely to ever be reunited with his pride or encounter another mountain lion, whose numbers are dwindling fast as they are killed trying to cross the freeways.
Now, though, there's hope for the mountain lions, along with deer, coyotes and myriad wildlife trapped in by the freeways surrounding South California's sprawling urban landscape and Santa Monica Mountains in the shape of the Wallis Annenberg Wildlife Crossing – a bridge that will span the 101 freeway, be covered in native flora and connect them to the wild space of Simi Hills and huge Los Padres National Forest behind them.
Highway to Freedom
Already under construction, once completed in 2025 it will be the biggest urban wildlife bridge of its kind in the world. The crossing is 200ft long, 165ft wide and costs more than $90 million. An acre of local plants on either side, and vegetated sound walls will dampen light and noise for nocturnal animals as they slip across at night.
Scientists say it will take time for the animals to explore, and then start to cross the bridge. For wary creatures, it may take up to five years to use the crossing successfully while big cats will normally follow smaller prey species, who generally more quickly adapt to any new territory.
But for Wallis Annenberg, the heiress and philanthropist whose donation of $26million to the project earned her naming rights says it's the beginning of humans and wild animals living harmoniously alongside each other. 'We can begin to make the land whole again for all,' she proclaimed. 'We can share this earth instead of claiming it and dominating it. We can coexist side by side.'
Wildlife Choke Point
The Wildlife corridor, which will be close to the small town of Agoura Hills, and sees 300,000 vehicles each day travel along the 10-lane highway, is the culmination of 40 years of conservation work – long before P-22 arrived – after experts realised it was a 'choke point' for wildlife in the area in the 1990s. Decades of negotiation has succeeded in acquiring the land of either side of the highways, so that construction could start. As well as Annenberg, donors including Leonardo DiCaprio's Foundation, are funding the bridge.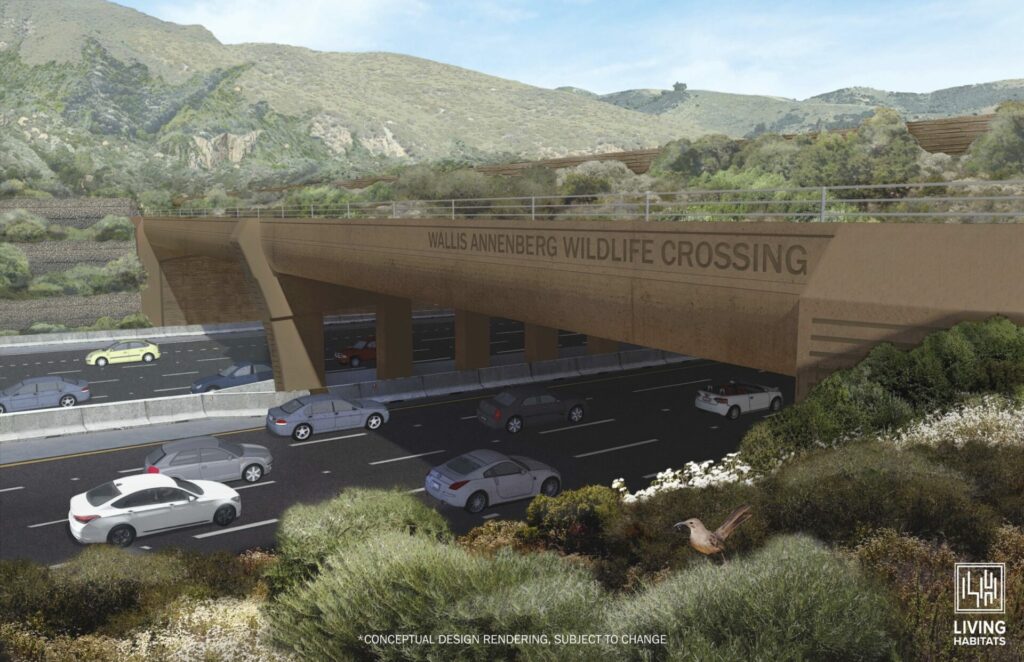 Mountain lions once numbered hundreds in the region, but just 12 are believed to be living in the area today. At least 25 big cats have been killed on LA's freeways as they try to cross to find food or mates. Across America, the Federal Highway Administration has estimated there are more than one million animal-vehicle collisions on roads each year.
Wildlife crossings seem the solution for both the animals and the environment and have worked in other countries successfully. There are special lanes for turtles across Japanese rail lines, reindeer viaducts in Sweden, a forested bridge for pangolins and other wildlife in Singapore, rope crossings for possums in Australia and a highway made out of flowers and green roofs for bees in Oslo. In Banff National Park, more than 200,000 animals have crossed the extensive network of crossings there that include 38 underpasses and six overpasses.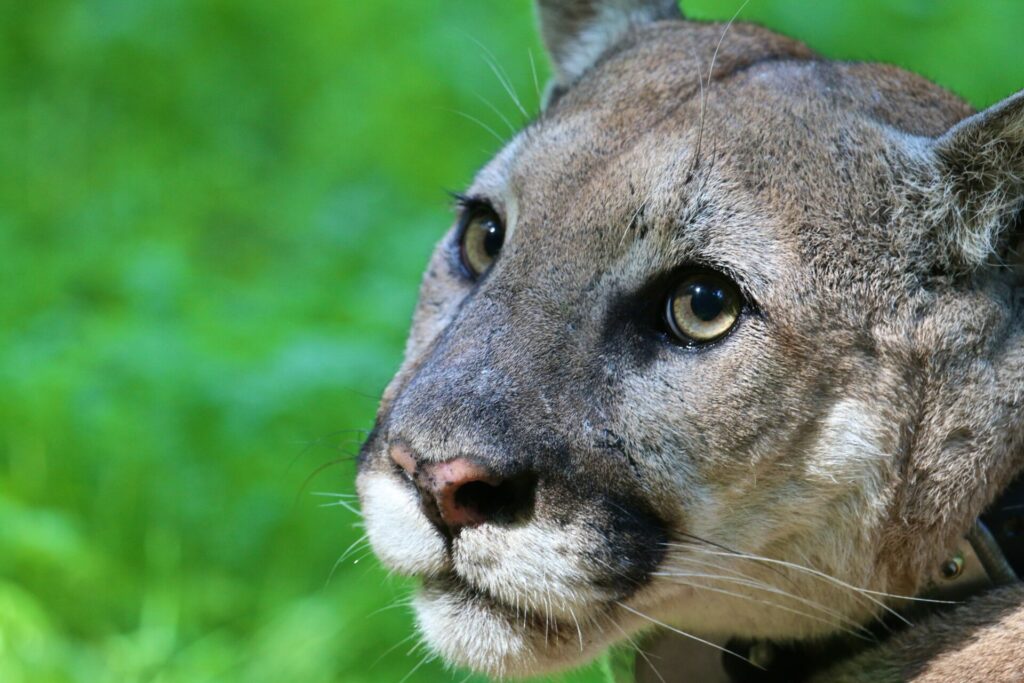 Robert Rock, a landscape architect with Living Futures in Chicago, who led the Californian Wildlife design, says this nature-cantered type of construction makes it unusual among other wildlife bridges, which are typically made of cement and steel, as it is designed to seamlessly glide into the environment on both sides.
'This wildlife crossing could not have come at a better time. It is truly a game changer,' said Jeff Sikich, biologist with the US National Park Service. 'Ground-breaking, it sets a path toward saving our local mountain lions and supporting the diversity of wildlife in this whole region.'
Bridging the future for Mountain Lions
Beth Pratt, a conservation leader with the National Wildlife Federation said: "We have the chance to give these mountain lions a shot at a future."
She said the project gives an opportunity for millions of Los Angeles residents to see how humans can live more harmoniously with nature. 'Someone could be in rush-hour traffic, and there could be a mountain lion right above them,' she explained. 'I think that's such a hopeful image, and one that inspires me that we can right some of these great wrongs.'
Scientists discovered that because of the lack of roaming space for the animals inbreeding was causing health problems across the region, with big cats the major focus. Similar traits were observed in smaller species such as lizards and birds.
But the most significant genetic effects have been seen in mountain lions, with the local population having one of the lowest levels of genetic diversity recorded in the western USA. Physical effects include deformed tails and low sperm quality, which would affect breeding, scientists at the University of California Los Angeles (UCLA) discovered.
Cara Lacey, project director for wildlife crossings at the National Conservancy, said she hoped the bridge would be one of many similar schemes, as such developments are far less common in the US than in Europe.
'We can do this everywhere,' she said. 'We and our partners have a vision for a reconnected California where wildlife does not have to compete with cars to cross roads.'
And, speaking at the ground-breaking ceremony, Democrat Governor of California Gavin Newsom linked the project to other state environmental initiatives, including the battle against global warming.
'With our rich natural heritage on the front lines of this crisis, California is building on our global climate leadership with bold strategies that harness the power of nature to fight climate change and protect our communities and ecosystems,' he said. 'Strong partnerships across the board will be critical to these efforts, and the project we're lifting up today is an inspiring example of the kind of creative collaborations that will help us protect our common home for generations to come.'