We live in tumultuous times. With the pandemic, the climate crisis and growing socio-political unrest, today's children, tweens and teens have already had more intense first-hand exposure to serious world issues than many of us adults ever had before Covid.
But they're also emerging as some of the world's bravest and most effective activists. From Swedish campaigner Greta Thunberg – who at 15 mobilised more than 20,000 students across the globe to skip school in a protest to pressure governments to meet carbon emissions targets – to Pakistani Nobel Laureate Malala Yousafzai, whose public stand against Taliban in the name of girls' education led to her (thankfully non-fatal) shooting when she was 15, young people are showing time and time again that age is no barrier when it comes to fighting for what's right.
So how can you encourage your own little Greta or Malala? Here's how to raise a mini activist…
Include Children in the Conversation
We often dismiss the idea of including children in difficult or hard-hitting conversations, preferring to err on the side of protection rather than empowerment. But this is a mistake, says Jessica Taft, author of Rebel Girls. 'Youth, given the opportunity to work alongside adults who are willing to manage their own power, can lead activist communities and organizations,' she says. 'To not include them is anti-democratic. They deserve to be listened to, to be seen as collaborators and treated as equals.'
This was exactly the attitude of Pakistani activist Malala's father Zia Yousafzai. Raised in a culture where daughters are often expected to be seen and not heard, Yousafzai ensured that his daughter would not only be seen, but that her young ideas would be respected and taken seriously.
'When Malala was small, I encouraged her to come and sit with me during meetings and join me in conversation when I had friends over,' he said. 'Parents must appreciate the small merits of their children. They're wise and smart so tell them that they are. Controlling them doesn't work, so be open and believe in your children.'
Foster Resilience
Resilience is a key weapon in the activist's artillery, and you can begin to nurture this skill even from babyhood. Instead of swooping in to help your child if they're struggling with a task or project, allow them to muddle through, make mistakes and problem-solve on their own. 'It might be tempting to help the child by instructing her, or finishing tasks that are frustrating her, but these can both serve to undermine confidence,' says parenting expert Sarah Ockwell-Smith, author of How to Be A Calm Parent.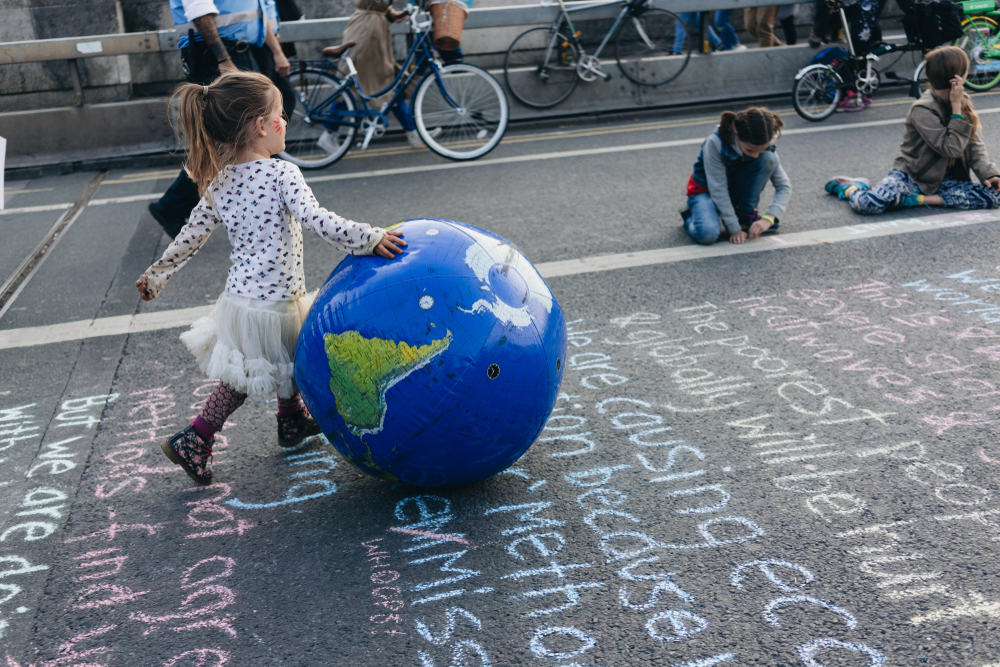 'In the same way that you should encourage children to solve their own problems, you also need to let them take care of their own needs as much as possible,' she says. 'If a task is age appropriate, allow them to complete it unaided, to make them feel capable and confident. Too many parents take on tasks for their children that they are capable of doing themselves. And each time they do so, they take away some of the confidence and self-esteem that accompany the sense of achievement and feelings of "I did it!"'
Get Comfortable with Conflict
Any change-maker is going to come up against resistance and criticism. Teach children to get comfortable with conflicting views, and role-model the principles of respectful debate. Make it clear that just because you might disagree or feel differently to them, this will not affect your love for them, and it should not change their self-worth.
This also means not shaming or punishing children if they don't always co-operate – and getting comfortable with a certain level (within reason) of 'back-chat' or rebellion yourself. As Gentle Parenting advocate and parenting-book author Ockwell-Smith says: 'Disagreements, debates, and healthy conflict may be harder on us as parents – but it makes for a much more positive future for our children.'
Be Supportive, but Not Too Supportive
When Swedish child-campaigner Greta Thunberg first made headlines, there were rumours that her celebrity father and mother – actor Svante Thunberg and opera singer Malena Ernman, who once competed on Eurovision for Sweden – were pushy parents, forcing Greta into the limelight for their own ends. But this could not be further from the truth. They were actually not very happy with her school-strike initiative, and put her through some tough questioning before finally allowing her to do it.
'She is supposed to be in school, we cannot support her action. But we respect that she wants to make a stand,' her father told The Guardian in September 2018. This is an example of what education-policy academic Dr Jerusha O. Connor and author of book The New Student Activists dubs 'critical support'.
Dr Conner says parental support tends to fall into one of three categories: 'Reluctant support' occurs when parents don't encourage their child's activist mindset but don't actively block it either. 'Full-on support' is when parents fully and unquestioningly embrace their child's civic engagement. 'Critical support' is the middle ground, and it involves being respectful of a child's activism, but also challenging them on it and asking critical, open-ended questions. Dr Conner says this is the best type of parental support, as it forces children to reflect on their opinion and refine their positioning and strategy.
Start Small
Setting out with the goal of 'fixing climate change' is overwhelming and, ultimately, demotivating. But focusing on small, achievable actions can set the foundations for bigger activism as children grow in experience and confidence. Something as simple as leaving a patch in your garden to grow wild to encourage bees, or growing your own vegetables to show children the link between food and planet Earth, are a great start.
It can be the beginning of real change too; a Harvard University paper found that it takes 3.5 per cent of a population to actively participate in a protest to drive meaningful political change. In the UAE that's roughly 350,000 people, or around 115,500 people in Dubai. Take that 3.5 percentage rule even closer to home – in your school for example, or your family compound – and it can start to feel really achievable.
Find their Passion
Instead of setting out to promote a general concept like 'sustainability', encourage your child to choose specific topics to focus on, says mother-of-three and founder of UAE-based environmental social enterprise Goumbook, Tatiana Antonelli-Abella. She suggests Netflix documentaries as a good starting point. 'Expose your child to a range of topics to see what takes their interest. Their passion might be marine environments, food security, gender equality, accessibility for differently abled people, research into cancer or other diseases; each child might be inspired by something completely different.'
Do the Research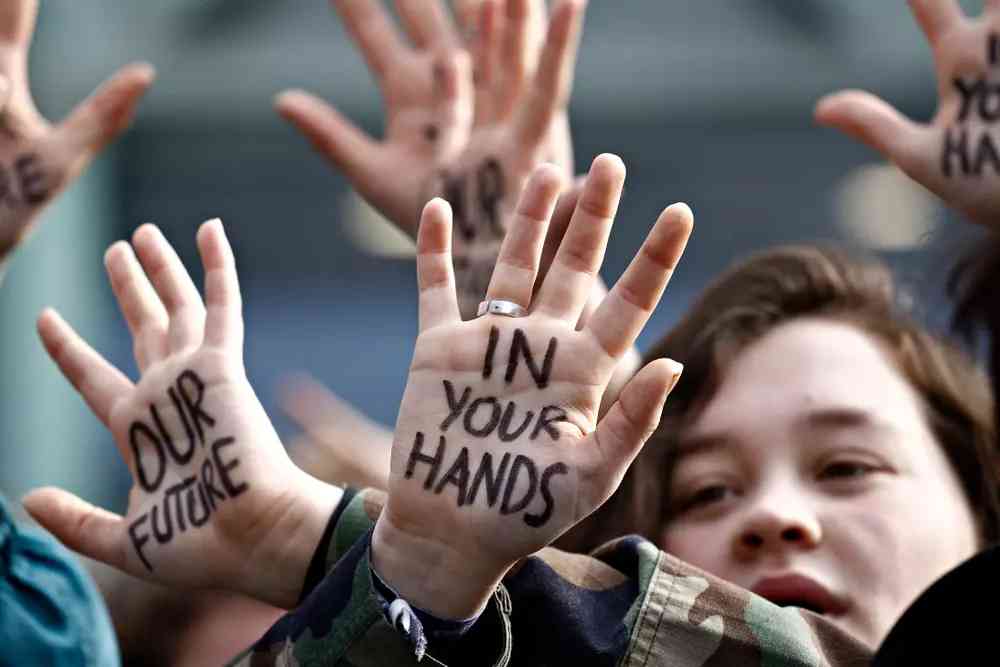 Once you've identified your child's passion, you can help them structure a campaign and become an activist. Tatiana works extensively with youth campaigners and her company holds multiple initiatives to help children and teens with their activism. She recommends signing your child up to an online course to learn more about their chosen topic or to investigate campaigning techniques. 'Sometimes we think our children are too young, but they might be interested in further learning on specific subjects, and channels like Coursera have a huge range of options.'
Spread the Message
On a practical level, there's lots that parents can do to help their activist child strategize and execute a campaign. Tatiana says: 'Help them put their message out there. Social media is such a powerful tool. Help them create social media accounts on Instagram and LinkedIn to raise awareness about their chosen topic,' she says. 'Encourage them to partner with relevant brands online to help boost their campaign's profile. Suggest that they volunteer to do a presentation about it to their peers at school. Research awards and prize schemes that might help children gain recognition and visibility for their campaign and help spread the word further.'
There's so much parents can do to help their mini activist, says Tatiana, and investing your effort can make a big difference: 'In my work with young activists I see all the time that the support of parents is fundamental. They are the first enablers.'