The international union for footballers (FIFPRO) has called for the over-turning of a death penalty sentence passed on an Iranian player who took part in protests against the country's regime.
Amir Nasr-Azadani, a former youth international, was arrested in September for allegedly taking part in an 'armed riot' in the city of Isfahan, in which three members of the security forces died.
The 26-year-old defender was charged with 'rebellion, membership in illegal gangs, collusion to undermine security and therefore assisting in moharabeh'.
The charge of moharabeh, meaning 'waging war against God', carries the death penalty in Iran.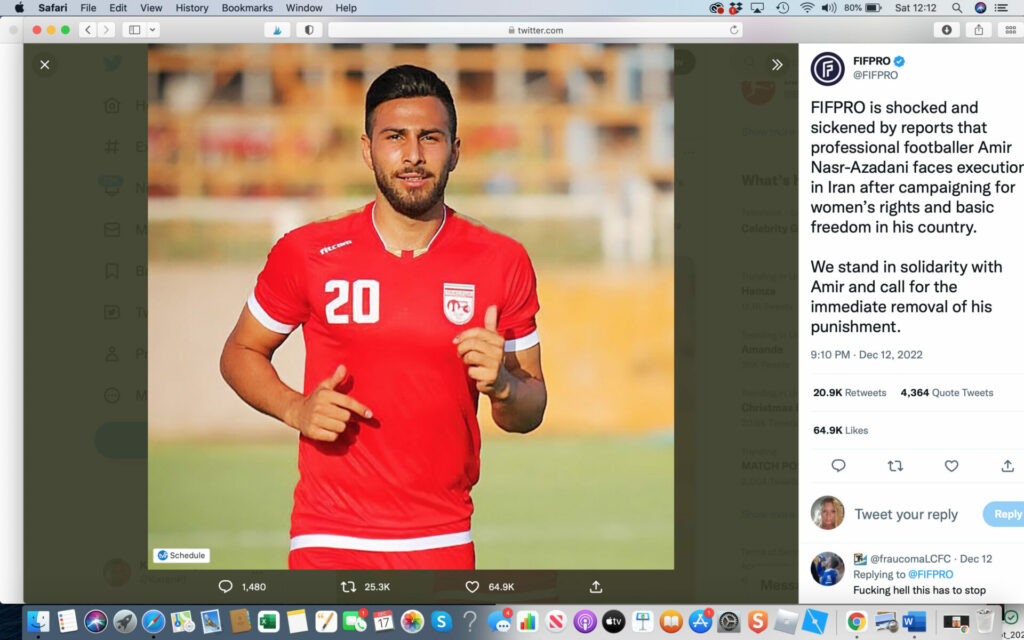 FIFPRO posted its outrage in a Twitter post calling for the sentence to be immediately revoked. 'FIFPRO is shocked and sickened by reports that professional footballer Amir Nasr-Azadani faces execution in Iran after campaigning for women's rights and basic freedom in his country,' it said. 'We stand in solidarity with Amir and call for the immediate removal of his punishment.'
Iran is facing protests sparked by the September 16 death of Mahsa Amini, a 22-year-old Iranian Kurd who died after she was arrested by morality police for allegedly violating the Islamic republic's strict dress code for women.
Amnesty International claims that 11 people have already been given the death penalty over the protests and at least another nine, including Nasr-Azadani, face execution.
Alireza Beiranvand, Iran's goalkeeper, and former team captain, Masoud Shojaei, have shared images on social media in support of the accused , who played at Under-16 level for the national team, and began his football career with Tehran team Rah-Ahan, with whom he played in Iran's top flight league.
Death Penalty
Former Iranian international star Ali Karimi, a strong supporter of the protests, also added his voice about the story making headlines around the world, tweeting: 'Do not execute Amir'.
Two former Iran national team footballers who were arrested were released from custody last month on bail. Right-back Voria Ghafouri and former goalkeeper Parviz Boroumand were both detained for attending protest rallies in Tehran.
The Iranian national team took part in the World Cup in Qatar and staged a protest by refusing to sing the national anthem in their opening match against England, which they lost 6-2.
However, they sang the anthem for subsequent matches against Wales and the USA.
Iran's judiciary said that 400 people in the capital alone have been handed jail sentences of up to 10 years over their involvement in the protests.
'In hearings on cases of rioters in Tehran province, 160 people were sentenced to between five and 10 years in prison, 80 people to two to five years and 160 people of up to two years,' a spokesman for Tehran's judiciary said.