More than 2,000 bodies have now been recovered in Libya, but an estimated 30,000 people are missing and feared dead after the deadliest climate disaster this year so far.
Storm Daniel – a 'medicane' or Mediterranean-hurricane – struck the conflict-ravaged country's eastern city of Derna as floodwaters smashed through two 50-year-old dams – with the effects of the global warming 'supercharging' the ferocious rainfall, say experts.
The city, with a population of 90,000, is bisected by the Wadi Derna, a seasonal river that flows from southern highlands to the coast, and is normally protected from flooding by dams.
The disaster started at 3am on Monday (September 11th) as the residents of the coastal city were sleeping. One dam burst, then a second, sending a huge wave of water gushing down through the mountains, killing thousands as entire neighbourhoods were swept into the sea.
The dams were constructed in the 1970s by a company from the former Yugoslavia. The upper Al-Bilad Dam, had a storage capacity of 1.5 million cubic metres of water, whilst the lower Abu Mansour Dam had a storage capacity of 22.5 million cubic metres. Both the breached flood defences had a core of compacted clay with a carapace of stone.
Experts believe the first dam was destroyed by water pressure, releasing water and sediment downstream. This would have mixed with existing water in the river channel to overwhelm the lower dam, which collapsed catastrophically too. The location of the second dam, just 1 km upstream of the city, was a contributing factor in the deaths, as such a short distance meant that the flood had almost no opportunity to dissipate, so Derna received the full force of the raging torrent.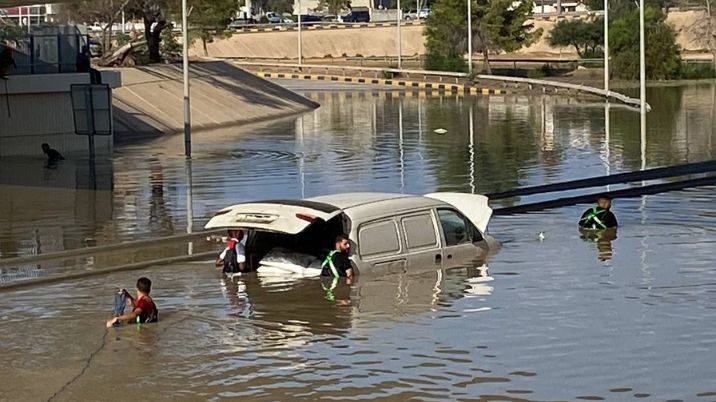 'Medicanes such as Storm Daniel are relatively rare, and tend to occur more frequently in the western portion of the Mediterranean Sea than the arid Libyan coastline,' explained Liz Stephens, professor in climate risks and resilience at the UK's University of Reading. 'Climate change is thought to be increasing the intensity of the strongest medicanes, and we are confident that climate change is supercharging the rainfall associated with such storms.'
Warm Surface Water Effects
The heavy rain and flooding in Libya were a consequence of remnants from a potent low-pressure system.
Scientists have noted how warmer sea surface waters are making storms stronger, and before arriving in Libya, the storm went through an intensification process over the warm waters of the Mediterranean region..
Karsten Haustein, a climate scientist and meteorologist at Leipzig University, said Storm Daniel had dumped a massive 440mm of rain on eastern Libya in a short time.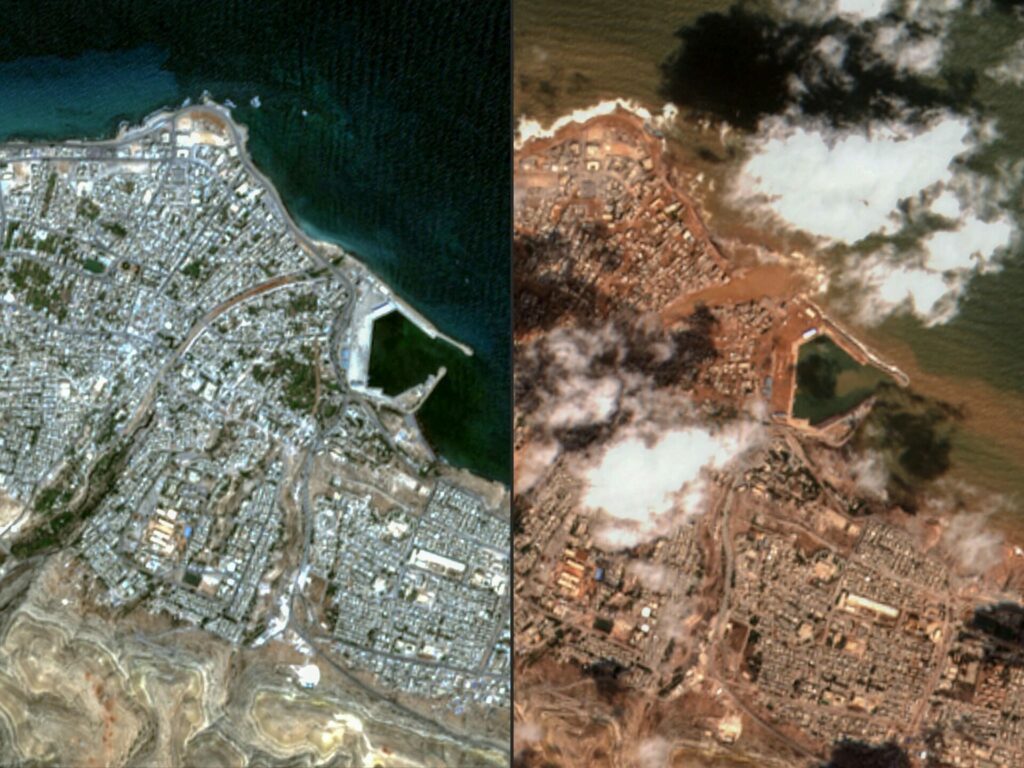 She noted that the Mediterranean has been two to three degrees centigrade warmer this year than in the past. And while weather patterns that formed Daniel would have occurred even without climate change, the consequences probably wouldn't have been as severe.
In a cooler world, Daniel probably 'wouldn't have developed as quickly and rapidly as it did,' Haustein said. 'And it wouldn't have hit Libya with such ferocious strength.'
Poor forecasting and early warning systems also play a huge role in saving lives, said scientists. But Libya, divided between two governments, has been mired in conflict for years that has left it highly vulnerable.
'To be effective, flood forecasting systems need good data on forecast rainfall and river levels, a network of well-maintained measuring instruments on the ground, and a clear plan to get people out of harm's way,' said Dr Hannah Cloke, professor of hydrology at the University of Reading. 'The tragic death toll in Libya from catastrophic flooding that has decimated a city shows what can happen if any parts of this chain are not in place or don't work properly.'
She added human-induced rises in water-surface temperatures likely added to the storm's intensity.
Sky New's Africa correspondent Yousra Elbagir, reporting from one of the dams, said it is now known as 'The Dam of Death'.
She said though it has been days since the disaster struck, residents are still in a complete state of shock – with some survivors coming to the site to look at the catastrophic scale of the tragedy the dam unleashed on them in a matter of moments.
'The flood has completely changed their lives,' one person told her. 'This is not a natural disaster, this is a catastrophe' she said.