Awa was born with a cleft lip and palate, a condition that, in developed nations, would have been repaired with surgery when she was between six months and a year old. But Awa was born in a remote village in Senegal, West Africa. Access to surgery was limited and beyond the means of her family.
Instead of simple surgery, Awa learned to live with the birth defect, which affected the way she talked as well as her breathing, while her mother Rougui worried about her future. By the age of five Awa was an object of ridicule in her community.
'People in my village did not cast her out, but they laughed at her, and she was ashamed,' says Rougui. 'She used to hide her mouth with her hand whenever she spoke and she wouldn't smile.'
Mercy Ships
Awa's life was changed thanks to an international charity, Mercy Ships, whose floating hospitals and volunteer surgeons operate on some of the five billion people on the planet who do not have access to safe and affordable surgery.
When Mercy Ships vessel, Africa Mercy, docked in the port of Dakar, Senegal, in 2022, Awa was assessed and cleared for surgery that gave her back her smile. She is now one of the thousands of people whose lives have been transformed by Mercy Ships.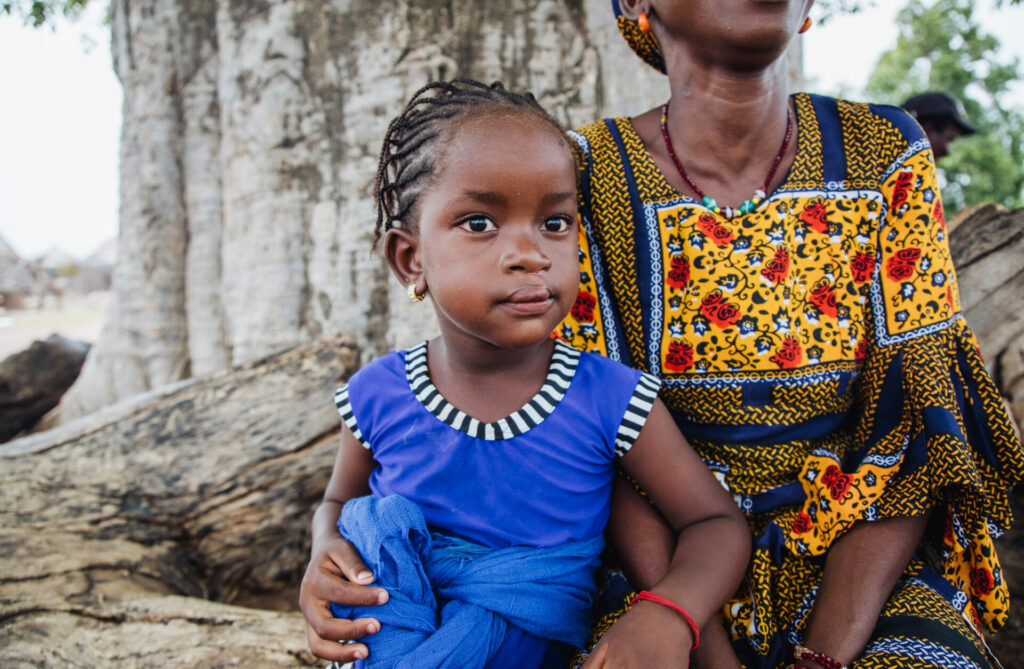 And this year even more people will benefit from this unique, life-saving organisation thanks to the charity's latest ship, Global Mercy, which is the world's largest purpose-built hospital ship, and means the charity can more than double its surgical and training capacity. Over her 50-year expected lifespan, more than 150,000 people will be treated onboard the 174-meter, 37,000-ton ship.
It boasts six operating theatres, houses more than 600 volunteers from around the world, has space for 200 patients and also features a 682-seat auditorium, student academy, gymnasium, café, shop and library – all of which have been designed to accommodate up to 950 crew onboard, the vast majority of who are volunteers – when docked in port.
Floating Hospital
Nathan Claus is the Global Mercy's Senior Director of Clinical Services and he welcomed The Ethicalist as the first patients arrived onboard in Dakar, Senegal, for check-ups and treatment plans, having already been assessed in-country by the charity's outreach teams. That's the beauty of the ships – they allow the charity to take surgical expertise to areas of need so the patients don't have to travel for days to reach a hospital.
'Today these patients are part of our orthopaedic programme and will typically be children 15 years old or younger who have lower extremity deformities, such as bow legs or knock knees,' he explains. The ship will be in port for ten months during which time the most complex cases who are admitted first will receive their surgery and go through full recovery.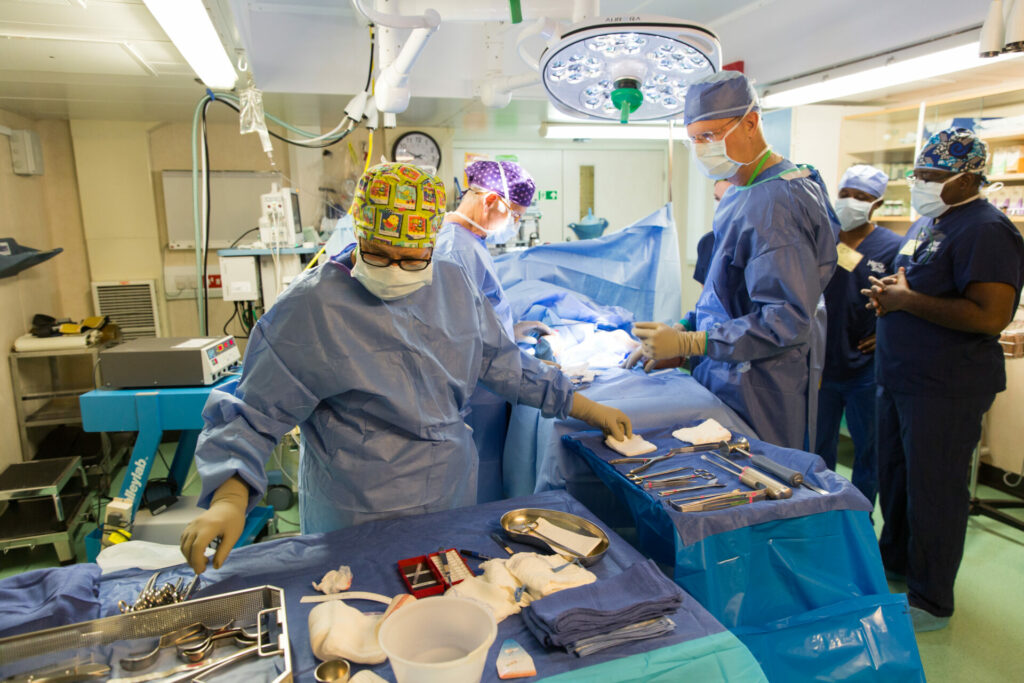 The ship undertakes seven types of surgery for a wide range of conditions. These are paediatric orthopaedics, maxillofacial head and neck surgery, typically for tumours and cleft palates, reconstructive plastic surgery, general surgery, specialised paediatrics, women's health and ophthalmic surgery, primarily for cataracts.
Each patient is carefully assessed, and Mercy Ships works closely with the Ministry of Health in the host nation to identify suitable cases.
'There is no shortage of potential patients,' Nathan explains. 'Rates of people without access to safe, affordable surgery are particularly high rates in sub-Saharan Africa where we typically operate. In Senegal we have patients from all health districts and also from neighbouring Gambia.
'We get referrals from healthcare providers and clinics and assess them according to our seven specialities. We have teams who go out and register patients who are referred to us so we see those patients to make sure they are eligible. This means they don't have the travel burden of coming to us and then being told they are not suitable for the type of surgeries we provide. We only take on conditions that are curative and can be solved in the time we are in the country.'
Removing Stigma
Over the coming months around 800 patients will be treated aboard the Global Mercy and in each case the treatment received will be life changing.'We are incredibly lucky because we get to see the results of our work,' says Nathan. 'We get to see them walk out transformed.'
He recalls one case of a young man from Cameroon who had a facial tumour which had been growing for over ten years and was the size of a melon. 'We only really hear their stories when they come on board and this man told us he had been depressed for most of the ten years his tumour was growing. He couldn't afford to have surgery to remove it and had no hope of it being solved. He couldn't go out without people staring at him and ridiculing him, so he was at home locked away from the stigma and with the shame.
'He became a new man after surgery and had an outlook on life again,' smiles Nathan. 'For people in developed nations where access to healthcare and surgery is universal, that benign tumour would have been picked up by a routine dental exam or a doctor and dealt with when it was the size of a pea. But when there is no access to the type of surgery we can provide, these things are left to grow until they start to cut off blood supply or air supply and become a threat to life.'
Mercy Ships was founded in Switzerland in 1978 by married couple Don and Deyon Stephens, both devout Christians. When he was 19, Don and his Colorado youth group were in the Bahamas when Hurricane Cleo hit and caused massive devastation. As the group sheltered in an aircraft hangar, Don overheard one of his friends praying for a ship to come in and save everyone. This prayer stayed with him.
Later, Don and his wife had a son, John Paul, who was born with special needs. John Paul's condition reinforced their belief that they had to bring medical help to people with no access to any form of health care.
Finally, on a trip to India, Don met Mother Teresa who encouraged him to pursue the vision in his heart and soon he was looking for a ship. Together, Don, Deyon, and a team of volunteers who shared their vision for Mercy Ships, raised $1m to buy a rusty liner which volunteers converted to a hospital ship. Don and Deyon spent ten years living on board that first Mercy Ship, Anastasis, with their family before relocating to the charity's International Operations Center in Texas, USA.
Since then, the charity has worked in more than 55 countries, providing services valued at more than £1.3 billion. Among the countries Mercy Ships serves, which lie on the lower third of the World Health Organisation's Human Development Index, access to safe, affordable and timely surgery is extremely limited.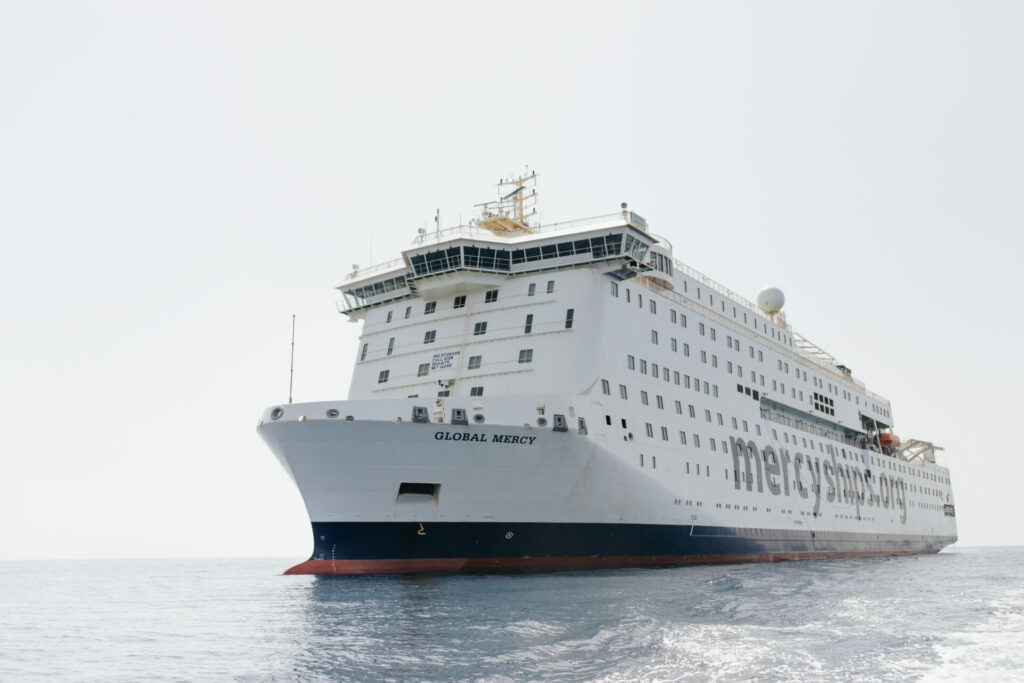 One of the charity's missions is to create sustainability in the regions it works and it does this by providing training and mentoring for healthcare workers. On an initial trip to Senegal last year before it began to take patients aboard, the Global Mercy ran training sessions for more than 260 Senegalese healthcare professionals. They were taken through a variety of courses addressing topics impacting delivery of safe surgical care, including surgical skills, SAFE anaesthesia, and nursing skills. There was also in-country training and a train-the-trainer programme.
Nathan explains:'We also train healthcare providers in order to leave a lasting impact in the places we visit and to try and fill the hole we have globally with this burden of surgical disease. We have training programmes for the whole surgical ecosystem, from nurses to surgeons and anaesthetists. 
'We train the entire team through courses and mentoring on ship. We use the hospital as a training hospital. We are working on upskilling care providers and increasing the workforce as a whole because there aren't enough providers.'
This all means that when the Global Mercy does eventually leave port and head back to base for maintenance and upkeep, not only will it leave hundreds of lives changed for the better through surgery, it will also leave a legacy of trained professionals who can continue to help some of the most impoverished people in the world.
The People Who've Been Helped By Mercy Ships
Cire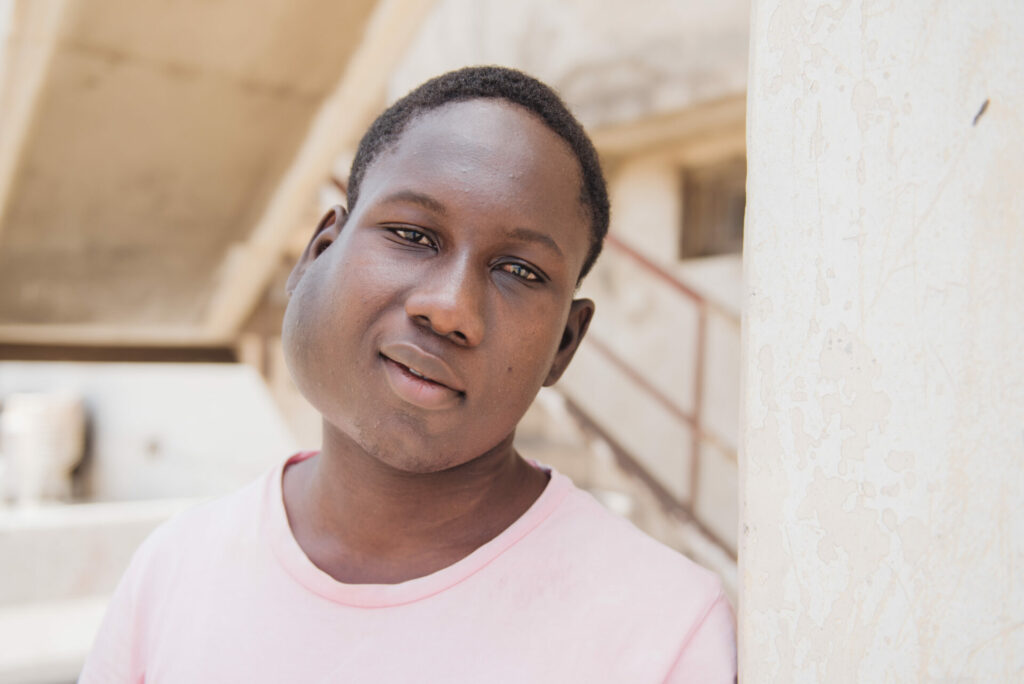 Cire, from Senegal, West Africa, was devastated when he discovered he had a rare parotid tumour growing on the right side of his face aged 16. Three years previously he'd had an identical tumour removed from the left side of his face. The cost of the first surgery at his local hospital used up all his family's savings and involved a community fundraising effort in his village. As his parents had no way of financing his second surgery, they could only wait and hope for a miracle. All the while, the tumour – which US sniffer dogs have been trained to detect before it is even visible – kept growing.
In 2019, his father heard about Mercy Ships from a friend and encouraged Cire to go for an appointment when the charity was in the area looking for patients for an upcoming programme of free surgeries in the country. Cire was deemed eligible but COVID-19 meant he waited for another two years before he could get to the port and board the Africa Mercy.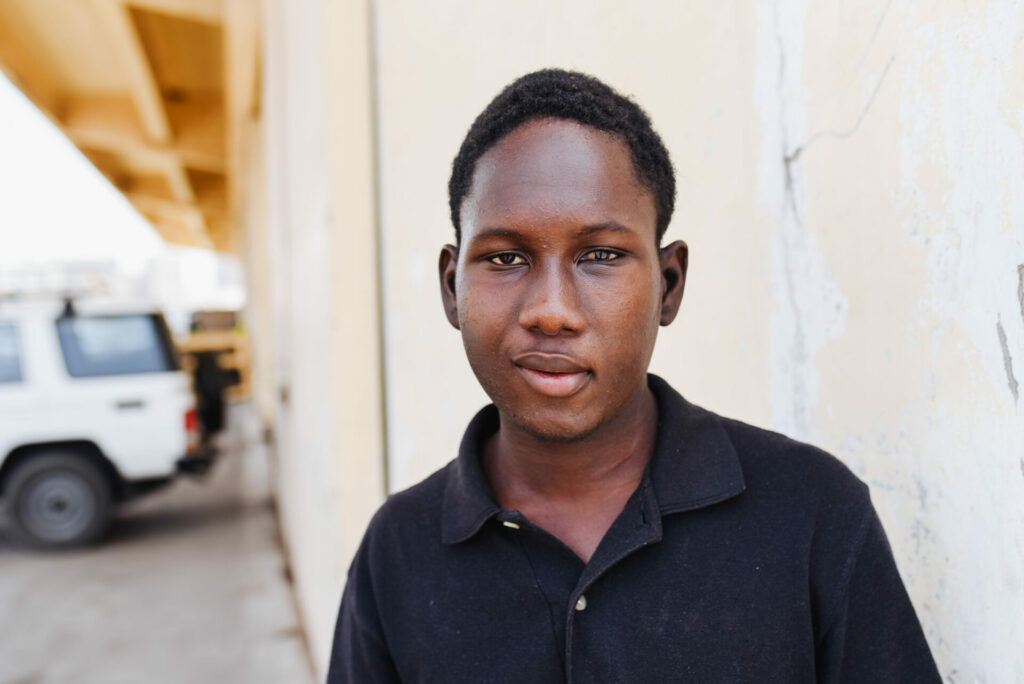 He received successful surgery on the morning of his 20th birthday in April last year. The operation took more than two hours and was completed by the hospital ship's chief surgeon from the United States, Dr Gary Parker, a maxillofacial surgeon. With his health restored, Cire resumed his studies and hopes to become a teacher.
Ulrich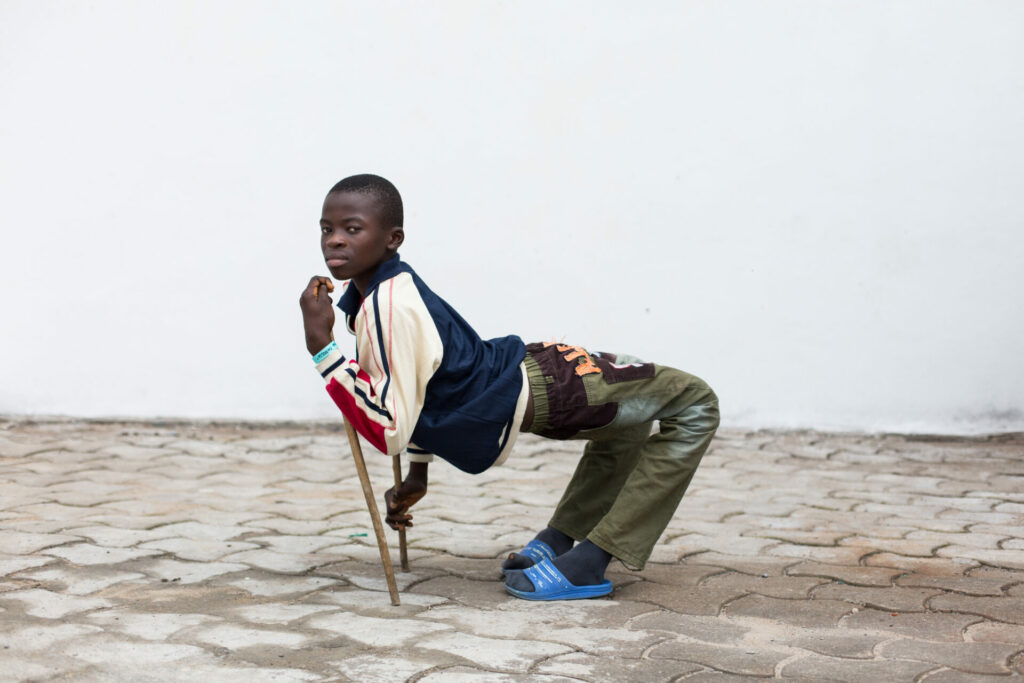 Ulrich was born with dislocated knees and a condition known as quadriceps contracture. His muscles do not develop at the same rate as his bones, causing his legs to bend drastically backward.
His mother, Georgette, desperately tried to find Ulrich the surgery he needed to walk and function like the other boys his age. But the cost of the operation and the severity of his condition defeated her. 'Surgeons wouldn't touch him,' Georgette said. 'It was hard to see him hurting. When he hurts, I hurt.'
Ulrich's life was transformed when he received free surgery onboard the Africa Mercy in 2019. The severity of his condition required several complicated operations, but finally Ulrich woke up with two straight legs in casts.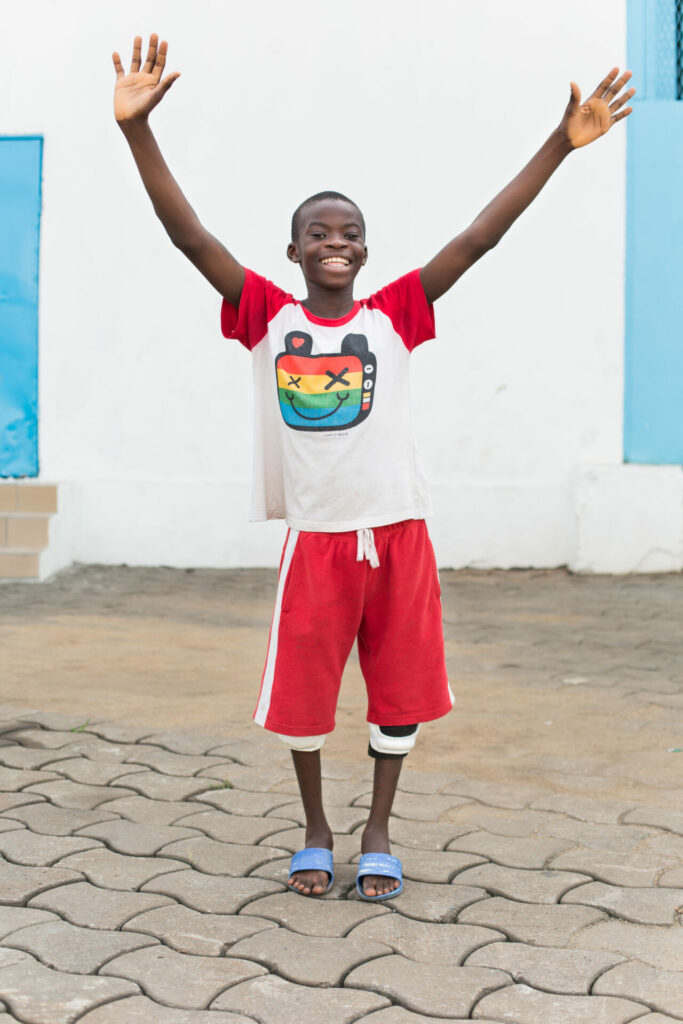 He couldn't believe they were actually his legs. When he stood, he reached up to see if he could touch the ceiling. And when he finally walked again, the first thing he did was hug his mum. Now Ulrich is walking straight and tall, and he can fulfil his dream of getting a proper education.
To read more stories like this about charities and people making a difference head to our CHANGE section