Out with the old, and in with the new! That's the vibe of a new year, right? And if your children were lucky, no doubt they got some lovely new toys from Santa. But what if you didn't have time for a mega sort-out before the festivities? Are you itching to create more space, wondering where on earth to store all the new toys? And what will happen to the old toys?
The last thing any of us want to do is toss great chunks of plastic into the trash so it's worth learning how to repurpose because before you know it, a birthday will creep up on you which means… yep, more toys.
So here are some ways to create space, repurpose and rekindle the love for all those purposeful playthings.
Change is Magic
Simply moving the furniture around can ignite a child's imagination. Children will see their toys and belongings in a whole new light and take advantage of this immediately. Professional organisation coach, Maeve Richmond says, 'In a child's room, I like to bring tables away from walls. Parents don't tend to do this, as it seems like wasted space. But it allows kids to move more freely and fully around it, and welcome friends.' She also recommends adding a rug to visually anchor the room, creating a mini room within the room. By creating this distinct boundary, it's easier to identify an activity. It helps the child to focus, rather than overwhelm them in a big space with a lot of stuff.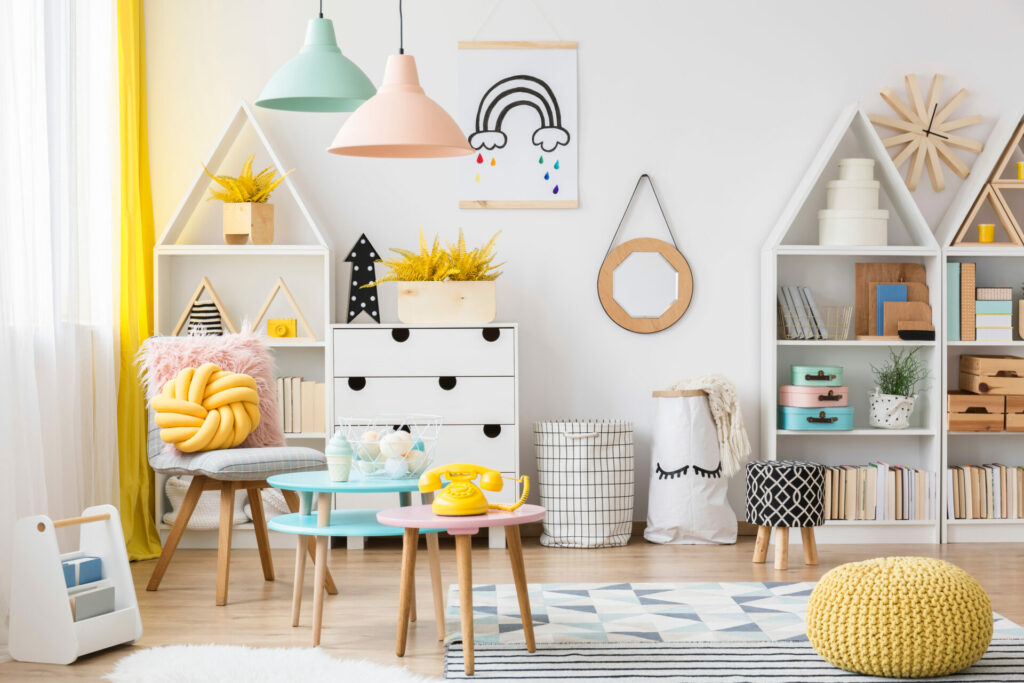 Less is More
Ever heard of toy rotation? Montessori has a more minimalist approach, encouraging fewer objects neatly arranged on low shelves so the child can easily grab them. But this doesn't mean you have to get rid of toys. Instead, simply store them away for a while. It is believed this method keeps your child's toys fresh and interesting. Also, set up the toys in their room with intention. Think 'Display' and not 'Storage.' Displayed toys should be easy to see from a distance. Stored toys can be hidden in your wardrobe, ready to surprise when it's time to next rotate. And having less toys on display is easier to tidy up…your little one might even help!
Upcycle Funk
Before you let toys hit the junk, you should give them some funk! It's time to get creative and reinvent your child's unwanted playthings. Transform the toys into art, making a bold collage of toy cars or plastic creatures. Upcycle old puzzle pieces into magnets or key-rings. Make a lamp out of an old spaceship, boat, tractor or unicorn. The internet is jam-packed with ideas; check out the clock made from Playmobil figures. A great starting point is browsing through London-based artist Zoe Pocock's website Muck N Brass, as featured on CBeebies' Junk Rescue. She breathes life into all bits and bobs, creating some incredible pieces of work with unwanted toys.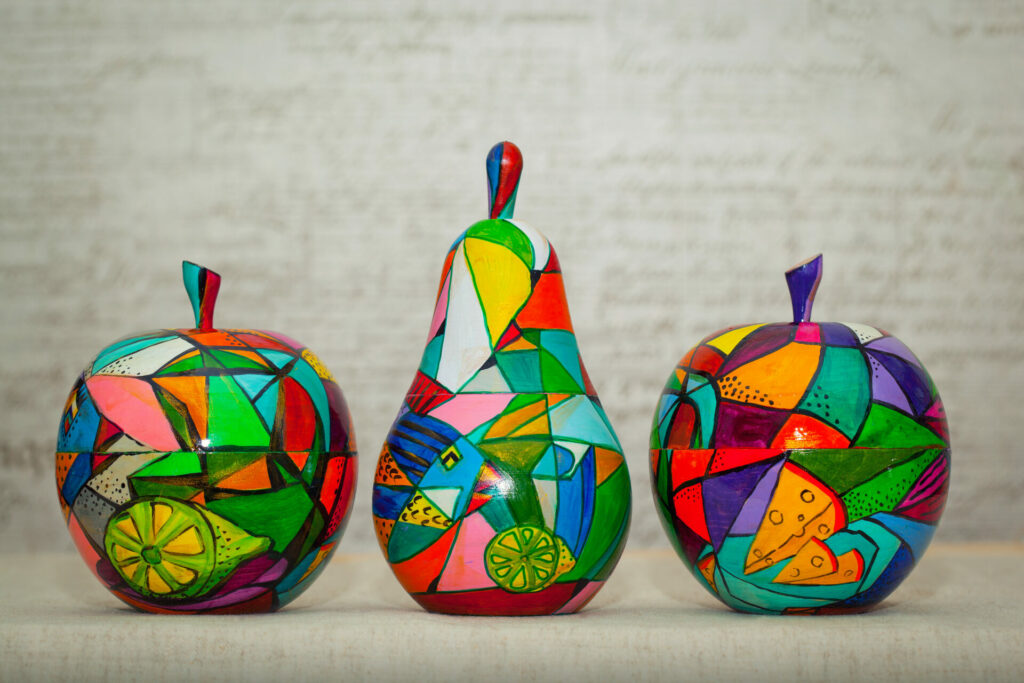 Sell or Buy Toys Secondhand
In efforts to reduce plastic waste and decrease our lifestyle's carbon footprint, parents are keen to buy and sell second hand more than ever. Big brand toys like Fisher Price and Playmobil are expertly made and keep in excellent condition. Apps such as Vinted, Dubizzle and Facebook Marketplace have plenty to choose from at a fraction of the retail price so you can save your pennies too. What's more, buying second hand will avoid having to build the toy from scratch. No more late nights putting a doll's house together, terrified of making a sound in case you wake the little one and spoil the big surprise!
Involve your child
You might be inclined to do a sort out when your child is at nursery or school. But letting them make their own choices is both more empowering and less deceptive than sneaking toys away. Your child might find comfort in knowing where the toy is going, for example, "We can give this to another little boy who doesn't have a teddy bear." Set out two blankets and play a game; for every toy they keep, they have to give one away to charity. If you're being met with too much resistance, this is normal, leave it for another day.
Remember, it can take adults a long time to make a decision about what to sell or donate, so imagine how your child feels suddenly trying to figure out which of their cherished toys to give away. Set aside plenty of time so that your child is not rushed, and you are not losing your patience. If all goes well, it might become a habit that you both do together before birthdays and festivities!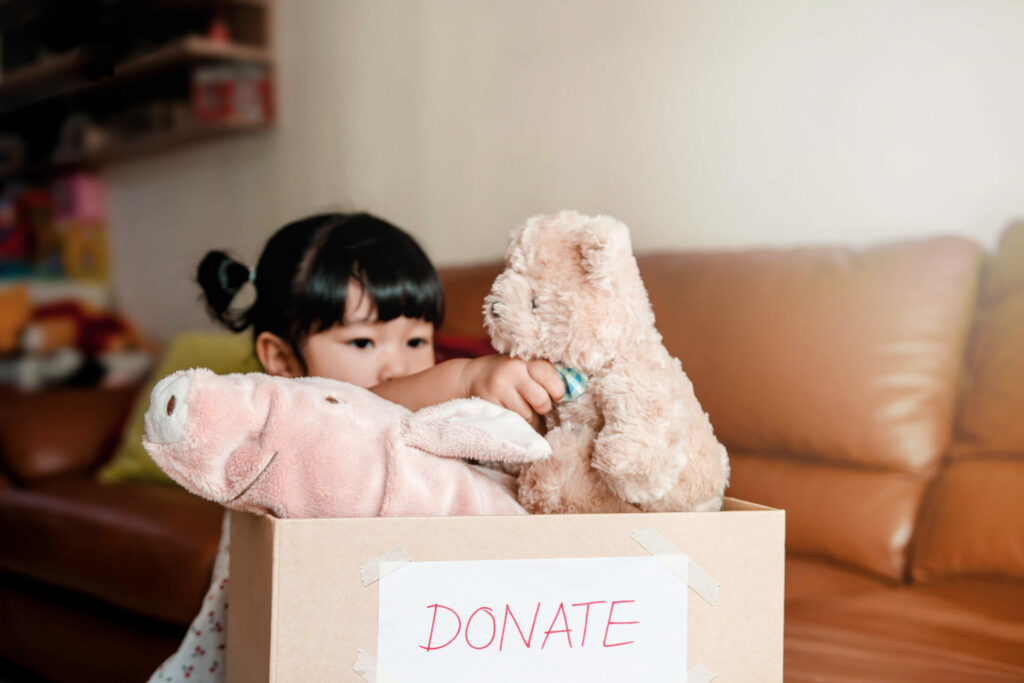 Where to Donate
Any unwanted toys can be donated to Dubai Center for Special Needs, located in Al Karama. Al Ihsan Charity helps families get back on their feet after loss of their only breadwinner and accepts charitable collections such as second-hand stationary and school supplies. The Old Library is a popular second-hand bookstore in Dubai, located in the Gold and Diamond Park. You can donate children's books so long as they are in good condition.