In the wake of the devastating earthquakes which have hit Turkey and Syria online footage shows a baby being rescued from the remains of a collapsed building – just minutes after the girl was born.
The viral video shows the baby being carried to safety in the arms of a rescuer in Jenderes, in a north eastern region of Syria which was devastated by the 7.8-magnitude earthquake that hit early Monday morning.
The newborn's mother is thought to have died after giving birth amid the rubble. According to local media, the pregnant woman – displaced from Syria's Deir Ezzor region – went into labour during the quake which has so far claimed more than 5,000 lives across Turkey and Syria, with the total expected to rise.
The film captures the moment one rescuer ran from the devastated building carrying the tiny infant to safety across a mass of twisted metal, broken concrete and other debris. A second man is seen running after him with a green blanket which he then throws to the rescuer to keep the newborn baby warm.
Devastation
A third large tremor hit Turkey early Tuesday (February 7) morning after two others devastated the country and its neighbour Syria a day earlier.
The latest 5.8-magnitude quake struck at a depth of 1.2 miles in central Turkey, the European Mediterranean Seismological Centre (EMSC) said as rescue efforts continued to free people from the rubble of destroyed buildings, with the cold weather making the need to reach trapped survivors even more urgent.
The World Health Organisation (WHO) warned that the toll could hit 20,000, and on Tuesday said that 23 million people – including 1.4 million children – could be affected.
Syria's humanitarian needs were the highest of all, WHO noted, because years of conflict have devastated its infrastructure.
Across the two countries tens of thousands have been left homeless and sleeping in their cars, or searching for temporary accommodation, after thousands of buildings were brought down in an area already plagued by war, insurgency, refugee crises and a recent cholera outbreak.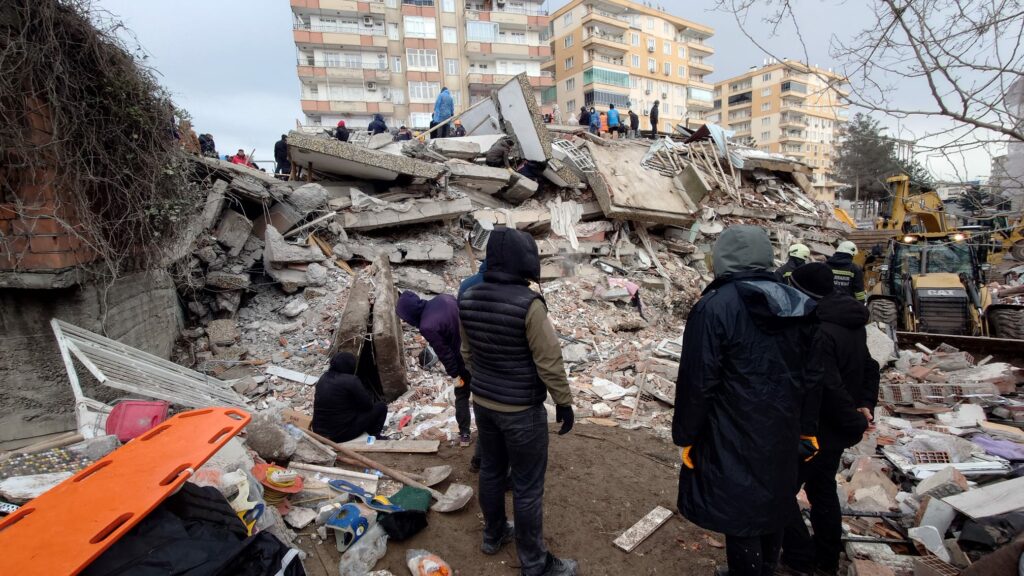 Residents who return to their homes are risking their lives as aftershocks continue to shake the foundations.
Turkey's ministry of transport and infrastructure said that overnight on Monday 3,400 people took shelter in trains being used as emergency accommodation.
UAE Sends Earthquake Aid
As part of a massive international aid operation just hours after the first massive earthquake struck, the UAE announced the launch of Gallant Knight/2 — an operation that will support thousands of people reeling from the tragedy.
The first aid plane took off on Monday evening, carrying search and rescue teams, crews, and medical equipment. On Tuesday, the Ministry of Defence (MoD) said three aid planes had already arrived in Turkey.
In a video tweeted by the Ministry of Defence, UAE personnel are seen loading several boxes of relief aid from Emirates Red Crescent (ERC).
Search-and-rescue teams also climbed on board, while rapid-response trucks and vehicles were lifted to the cargo hold.
UAE President Sheikh Mohamed bin Zayed Al Nahyan said field hospitals are currently being established, while Sheikh Mohammed bin Rashid Al Maktoum, Vice President and Prime Minister of the UAE and Ruler of Dubai, directed the dispatch of urgent humanitarian aid worth AED50 million to Syria.
Other Gulf countries have also joined the UAE in the rescue effort. Saudi Arabia, Jordan, Kuwait and Qatar have announced they will send aid and rescue teams to the affected countries.
According to Professor Carlo Doglioni, an Italian seismology expert, the Arabian plate shifted three meters during the quake.
The initial earthquake was so powerful it was felt as far away as Greenland and was followed by a series of more than 200 aftershocks, including a 7.5-magnitude tremor that struck in the middle of search and rescue work on Monday.
Another quake of 5.6 magnitude struck central Turkey on Tuesday, the European Mediterranean Seismological Centre said. While it was not as powerful as the previous two, it was recorded at a depth of 1.2 miles, and shallower quakes cause more damage. The rescue mission continues.