While the UAE is widely associated with luxury hotels, glamorous beach clubs and enormous shopping malls, its rapidly growing literary scene is largely underrated.
But with cavernous libraries, star-studded book fairs and many more wonderful ways to engage with the magic of reading, the seven emirates are home to thriving book-loving community.
So, if you enjoy nothing more than getting lost in a good read, check out our guide to being a book lover in the UAE.
Book Fairs
The Abu Dhabi International Book Fair ADNEC, Abu Dhabi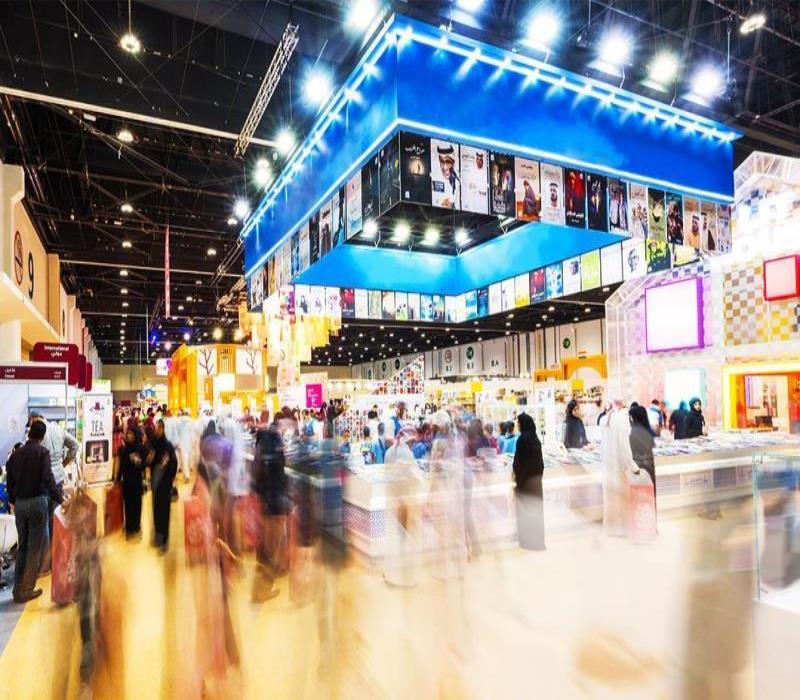 Always busy and popular, this family-friendly book fair has been an annual highlight since 1981. Mainly focused on showcasing the many incredible authors of the Arab world, it also offers an enticing array of reasonably priced English books, and a packed line up of panel discussions and workshops. Along with being completely free to attend, every ticket to the 2023 edition came with a complimentary pass to the Louvre Abu Dhabi and other cultural landmarks of the UAE capital. We're hopeful that the same amazing perk will be offered to all book lovers next year, too.
Free. adbookfair.com.
Emirates LitFest, Dubai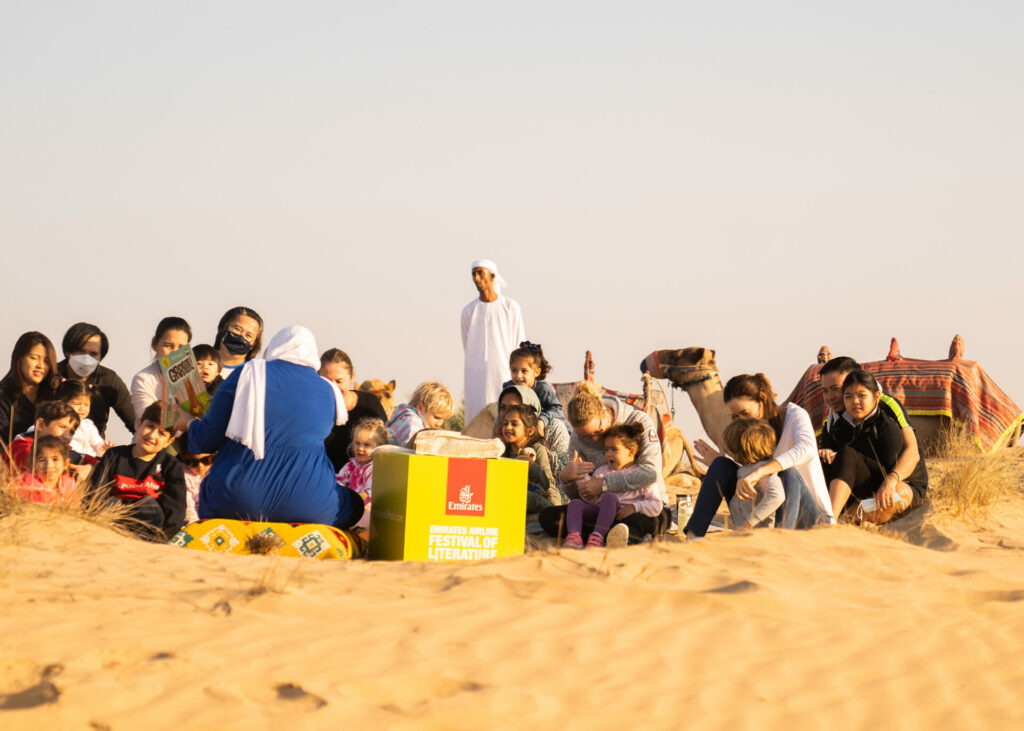 Bringing the world's biggest authors to the UAE for six days of riveting literary action, Emirates LitFest is arguably the region's most exciting and celebrity-filled book fair. The 2023 edition featured David Walliams, Cecelia Ahern, Brian Cox and 250 other major authors, and the 2024 hosting is expected to be even bigger. Offering meet-and-great opportunities, book readings, writing competitions and more, it's a book lover's dream day out.
Sessions are individually priced. Day passes start from AED299. emirateslitfest.com.
Book Clubs
Girl Gone International Abu Dhabi – Book Club
Part of the global Girl Gone International Facebook movement, this ultra-friendly book club is open to every woman in Abu Dhabi. Meeting once a month at various cafes around Downtown, no membership fee is required, and most sessions are followed by a book swap. Along with being a fabulous way of making new friends, and encouraging yourself to read new books that are outside your usual chosen genres, it provides a rare chance to engage in thought-provoking dialogues about nothing but books, books and more books.
Girl Gone Facebook Group
Second-hand books
Bookends, Silicone Oasis Dubai
Founded in 2020, Bookends is the UAE's largest marketplace for preloved books. Started as an online platform, it became so popular that it opened its first physical branch this July at Dubai Silicon Oasis. Dedicated to spreading the joy of reading and making books accessible and affordable for all, the eclectic and varied collection includes some real bargains, with books available for as little as AED1 or AED2. Selling your secondhand reads via Bookends is also simple and straightforward, and it is even hosting its own event for this year's world Book Lovers Day. Taking place on Saturday, August 12, you can expect book-themed games, complimentary coffees and of course loads more cheap secondhand books to browse and purchase.
@bookendsae.
Thrift Distribution and Books: Tourist Club Area, Abu Dhabi
Tucked away in the crumbling, bustling and rather chaotic streets of Abu Dhabi's gloriously unpolished Tourist Club Area, this is one of the UAE's only proper second-hand book shops. As untidy and 'real' as its neighbourhood, there's little order to the jam-packed shelves, so what you find is all purely down to luck. The very definition of a 'hidden gem', this is where the truly money savvy book lovers come to shop.
thrift-used-bookstore.business.site.
Spill the Bean: The Sustainable City, Dubai
Boasting a decent selection of adults and children's books, the book exchange corner at this bohemian cafe offers an easy and cheap way of refreshing your bookshelf. Simply drop off some books that you've read and want to pass on, and pick up any new ones that grab your eye in return. Named as 'one of the best coffee shops in the world' by the Financial Times, we also recommend getting stuck into your new read whilst sampling the truly excellent vegan cakes and homemade nut milk lattes.
@spillthebeancoffee.
The Third Place: Corniche Road, Abu Dhabi
Homey and cosy, The Third Place has been a favourite spot for remote workers and students since 2014. While the huge paninis, all-day breakfasts and tremendous sweet potato fries draw in the crowds, ethical-minded book lovers flock here for its huge secondhand book collection. All available to be rented for free, you just need to pay a small deposit that you get back once your borrowed reads are returned. Once you've chosen a book from the overflowing shelves, you can sink into one of the many snug arms chairs (or find a shaded spot in the pretty garden), and enjoy getting lost in another unforgettable tale whilst absorbing the welcoming vibe of this local institution.
New Books
Kinokuniya UAE: The Galleria Mall, Abu Dhabi and Dubai Mall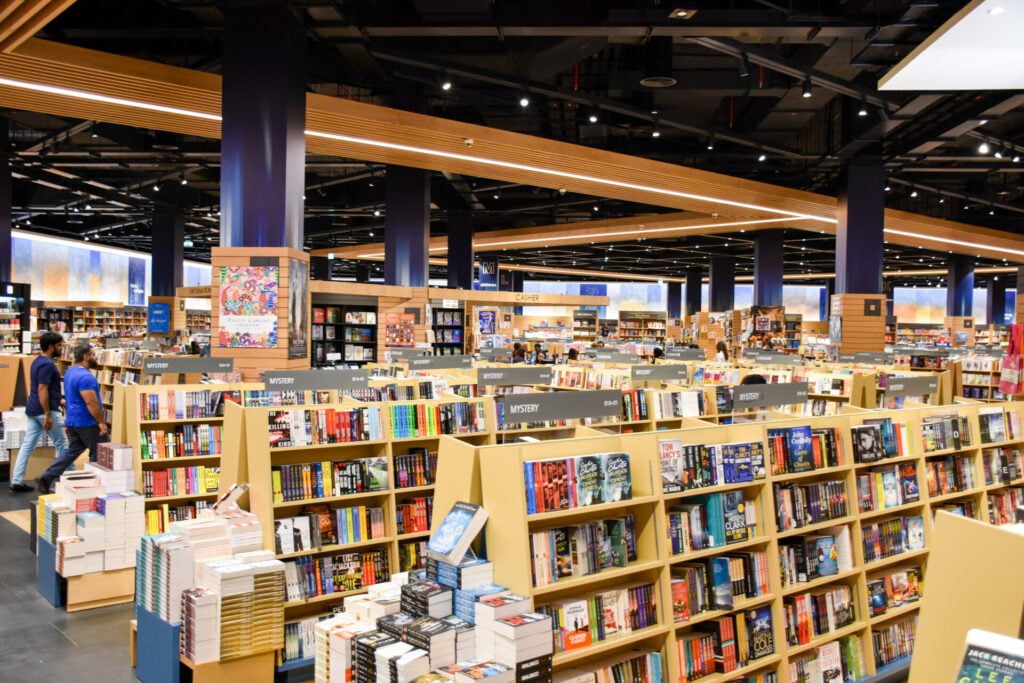 If you think you've found the best bookshop in the world, it's time to think again. There's just something about entering Kinokuniya that immediately fills every avid reader with pure joy. A homage to the power of reading, the Japanese chain stocks an enormous array of best sellers, literary classics, manga, graphic novels, and books about art and design, cookery, travel, self care and every other genre you can imagine. The gifts, stationery and accessories section is filled with lovely present ideas for your book lover friends, and the super friendly staff are always eager to help you find what you're looking for.
uae.kinokuniya.com.
Libraries
Mohammed Bin Rashid Library: Al Jaddaf, Dubai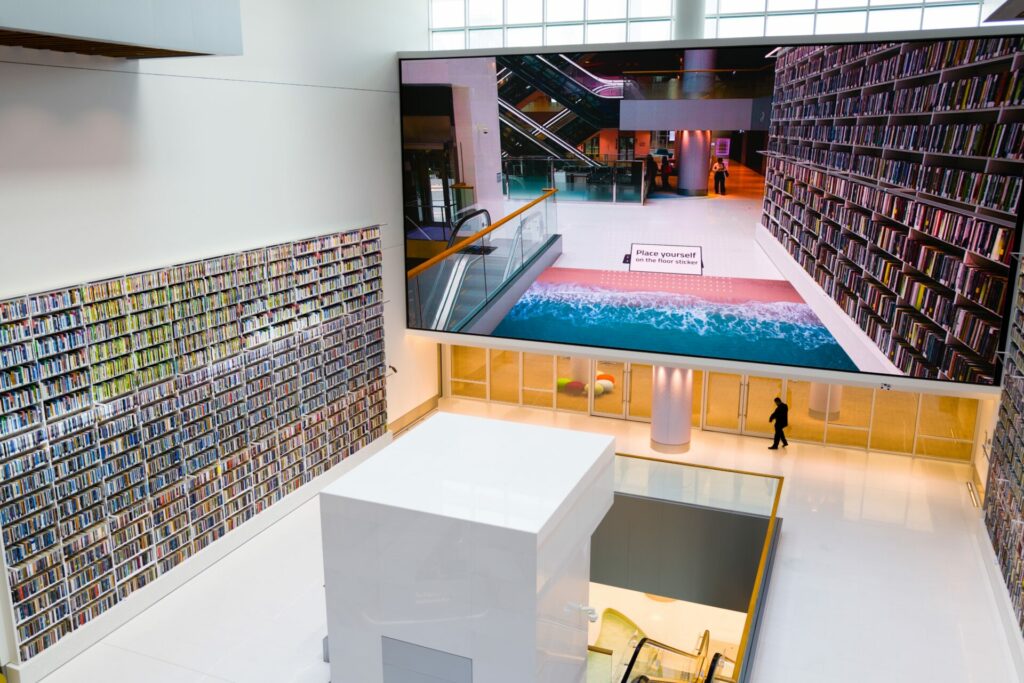 A truly stunning architectural masterpiece, the seven-floor Mohammed Bin Rashid Library is shaped like an open book sitting on a rehl (the traditional rest that holds the Quran). Said to be the biggest library in the MENA region, it contains ten huge library collections, spanning categories as varied as Children's and Young Adult, Media and Arts, Business, Periodicals, Special Collections and more. Always offering something new to discover and explore, the exhibition hall displays fascinating philosophical and religious works from throughout history, while the workshops encompass art, gardening, calligraphy, film and more creative activities.
Memberships and day passes are free. mbrl.ae/homepage.
House of Wisdom: Sharjah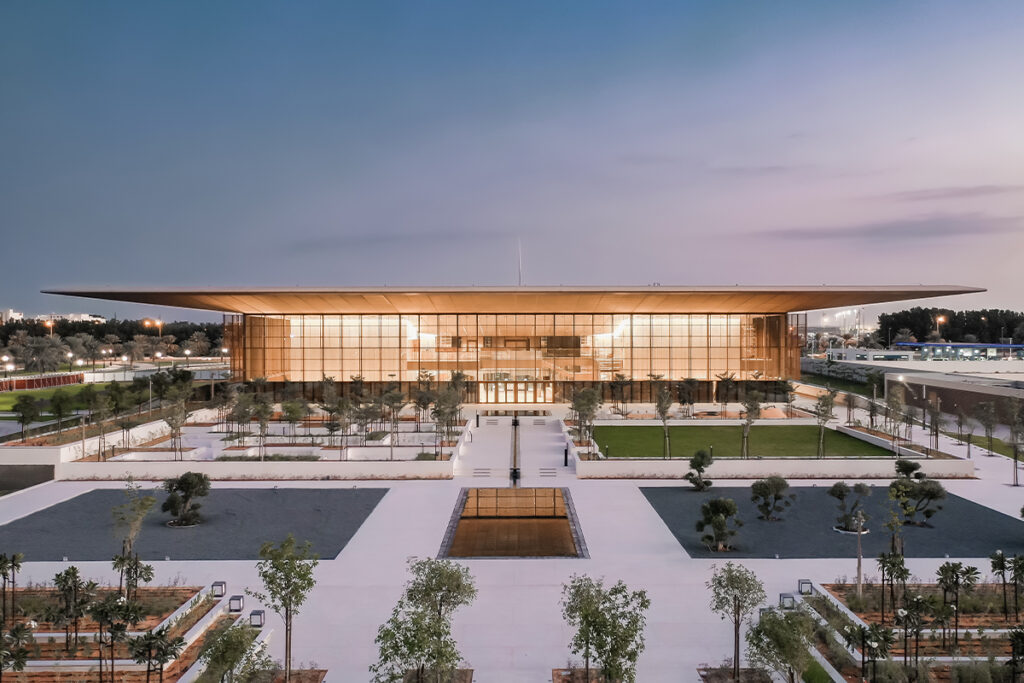 Built in celebration of Sharjah being named the 2019 UNESCO World Book Capital, the House of Wisdom is a magnificent contemporary library that harnesses the best of cutting-edge technology and innovation. Far more than just a place to find and read books, this hub for cultural enlightenment and community learning contains a multitude of memorable spaces and experiences.
The peaceful central courtyard – said to be inspired by the layered canopies of the Al Ain Oasis – is hung with lush greenery, and the outdoor landscaped gardens contain sculptures, playgrounds, water features and more hidden treasures. Inside there's numerous quiet reading nooks, vast exhibition halls and a dedicated children's area. Last but not least, the futuristic 'book espresso machine' – a device that instantly prints and binds books on-demand – is basically an attraction in itself.
Khalifa Park Library: Khalifa Park, Abu Dhabi
A sensational library for little ones, the children's annex contains over 10,000 books for kids of all ages, while storytelling sessions and other fun events are held on a regular basis. Offering plenty for adults as well, history lovers will relish the 21,000 books dedicated to the heritage and culture of the Gulf region, and the grand Reading Hall is perfect for quiet study time.
Abu Dhabi Children's Library, Cultural Foundation, Qasr Al Hosn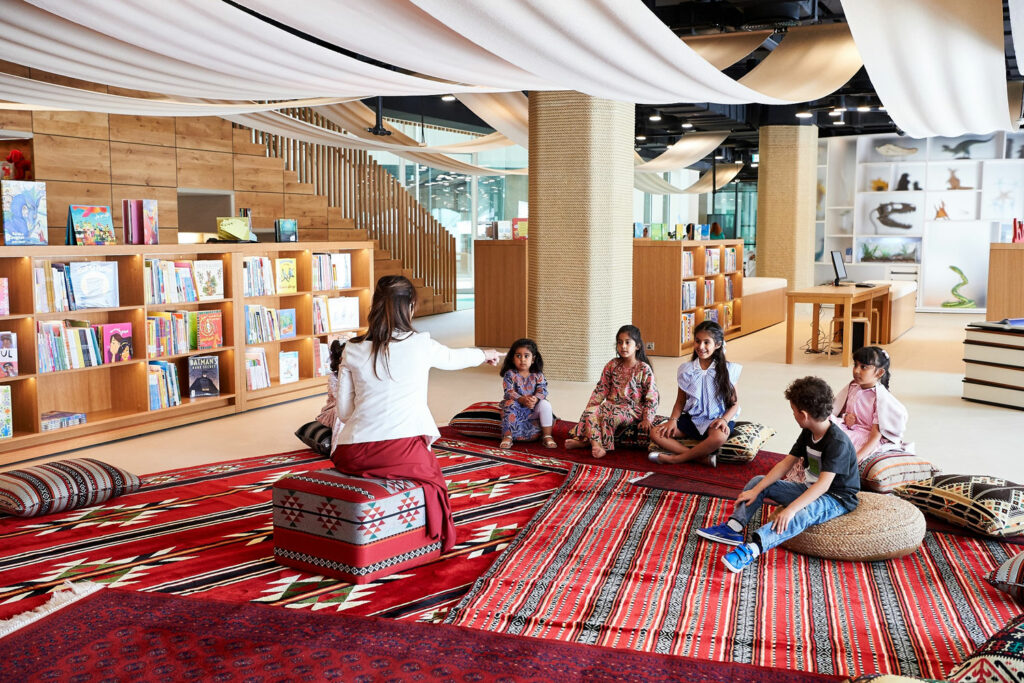 If only we were all still young enough to enjoy this beautiful tribute to imagination, creativity and art. Abu Dhabi's stunning Children's Library invites kids to discover the true magic of storytelling, and explore a towering book mountain, realistic desert landscape, miniature tree houses, cosy reading nooks and more intricately decorated worlds that are sure to entice every young curious mind and help them fall in love with reading. Alongside the daily program of book readings and activities, it runs a fun and engaging summer camp, and art and film clubs.
Beans & Pages: Reem Island, Abu Dhabi
Opened earlier this year, this ingenious cross between a library and a cafe is quickly becoming a second home for the UAE capital's literature fans. Members can rent up to eight books for 21 days at a time, and alongside the shelves upon shelves of physical books, there's a constantly revolving line up of electronic ones to borrow as well. A quiet and peaceful place to work and read, its coffees and frappes are pretty great too.
Memberships start from AED399 per year. @beansandpages_uae.