With plastic-pollution taking the global spotlight this Plastic Free July, an increasing number of people are looking to change their purchasing habits for the long term; switching to sustainable products and solutions.
However, living a plastic free and zero waste existence takes a bit of effort and careful planning. Aside from the obvious items such as carrier bags, everything from food products to toiletries and household detergents normally involves some form of plastic.
Luckily, like much of the world, the UAE is filling up fast with forward thinking entrepreneurs looking to make the world'a more sustainable place. Determined sustainability champions are rife with many embracing businesses that provide us with environmentally friendly alternatives.
With eight million tons of plastic reported to be making its way into our oceans every year, there has never been a better time to support these local start-ups and begin reversing the damage.
Here are our six picks of the best plastic-free and zero waste stores to try in the UAE…
Ripe Market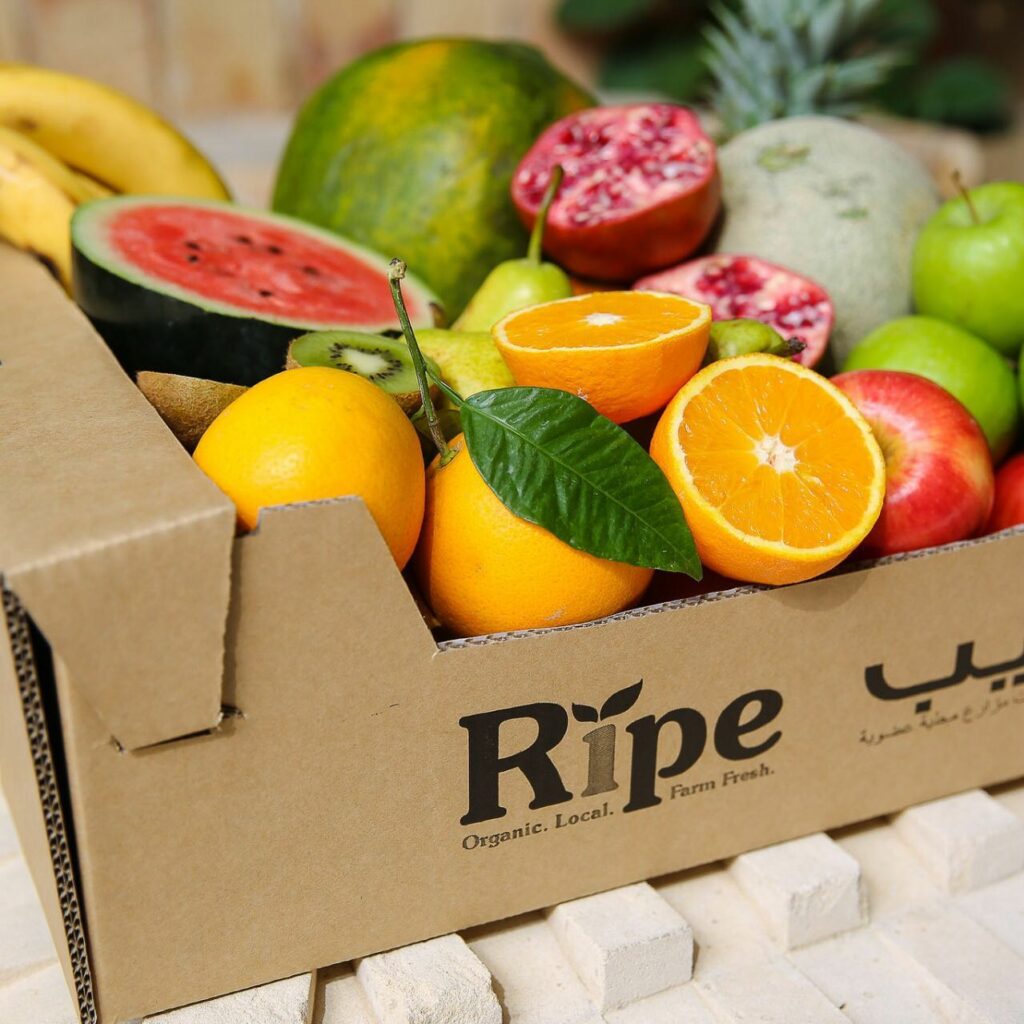 Ripe Market is an institution in the UAE. The community market has been supporting local artisans, makers, and entrepreneurs with a popular platform to showcase predominately planet-friendly products for many years. More recently they also set up their own farm shop where you can pick up plastic free locally grown fruits and veggies. Situated in Al Manara the organic food store offers everything from organic fruit and vegetables, local eggs, raw honey and superfoods, to dairy free alternatives and gluten free products.  The Ripe Organic Farm Shop also offers a delicious selection of locally made artisan products including fresh bread, olives and pantry items.
Spice Souk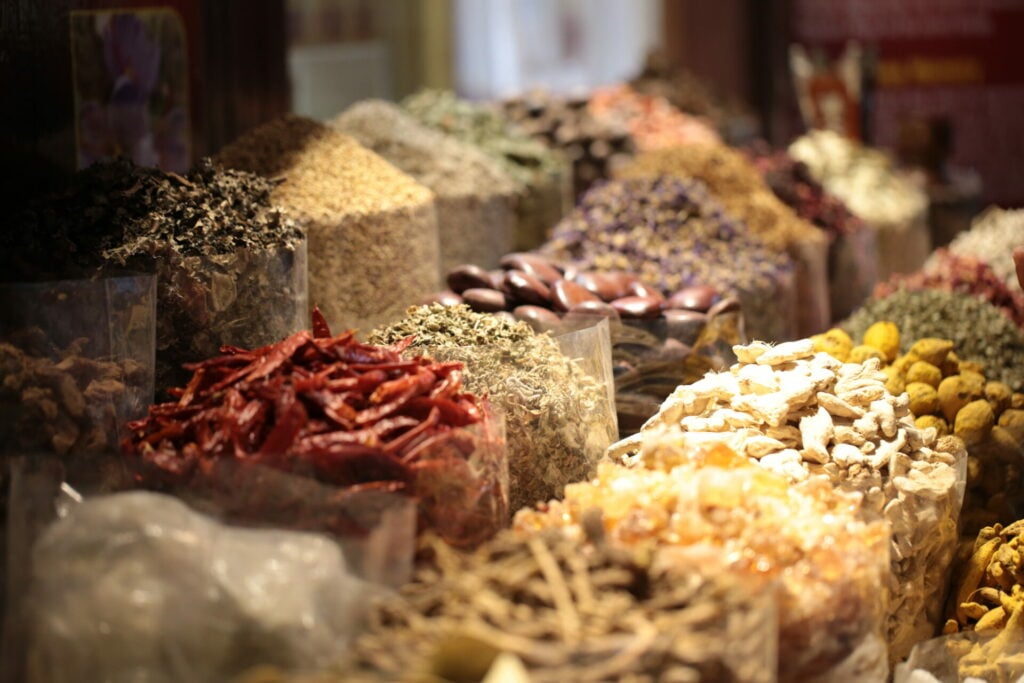 Dubai Spice Souk may be an iconic tourist attraction, but the traditional market should not be overlooked for the zero-waste shopper. Located in Deira near the Gold Souk, it's narrow lanes comprises of many stalls selling a variety of fragrances and spices from frankincense and shisha to popular herbs used in Arabic and Asian cuisines. Most spices are imported with the main source markets being nearby India, Pakistan, Iran, Turkey and other countries in the Middle East. It's essential to take your own plastic free bags along with you and don't leave your haggling skills at home either.
Spinneys UAE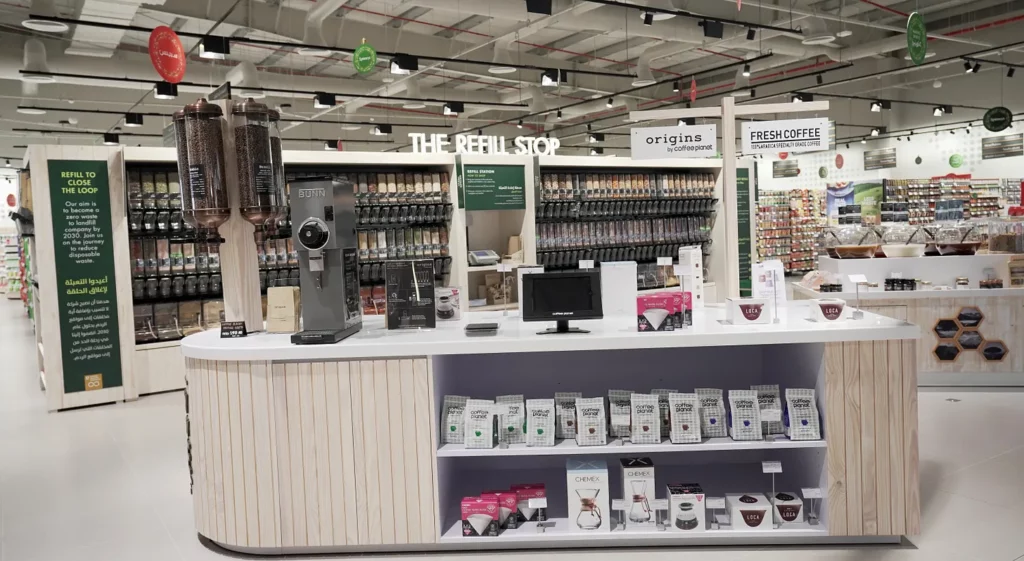 Bringing the genius art of refillable, package-free shopping to the glamorous streets of Dubai, the first Spinneys 'sustainable concept store' is a dream come true for any eco-minded resident. Just bring along your own bag of containers to the pretty branch in the Layan Community, and feel the sheer joy of stocking up on staples like coffee, spices, honey, pasta, pulses, snacks and detergent, all without wasting a single bit of plastic packaging. As an added bonus, the deli counter rewards you with a discount whenever you order any of the fresh salads, cheeses or dips using your own receptacles, and you're also invited to top up your bottles at the free water station. Powered by 650 solar panels, the groundbreaking destination even farms honey bees on the roof to help boost the area's flora and fauna!
spinneys.com.
The Herbal Thymes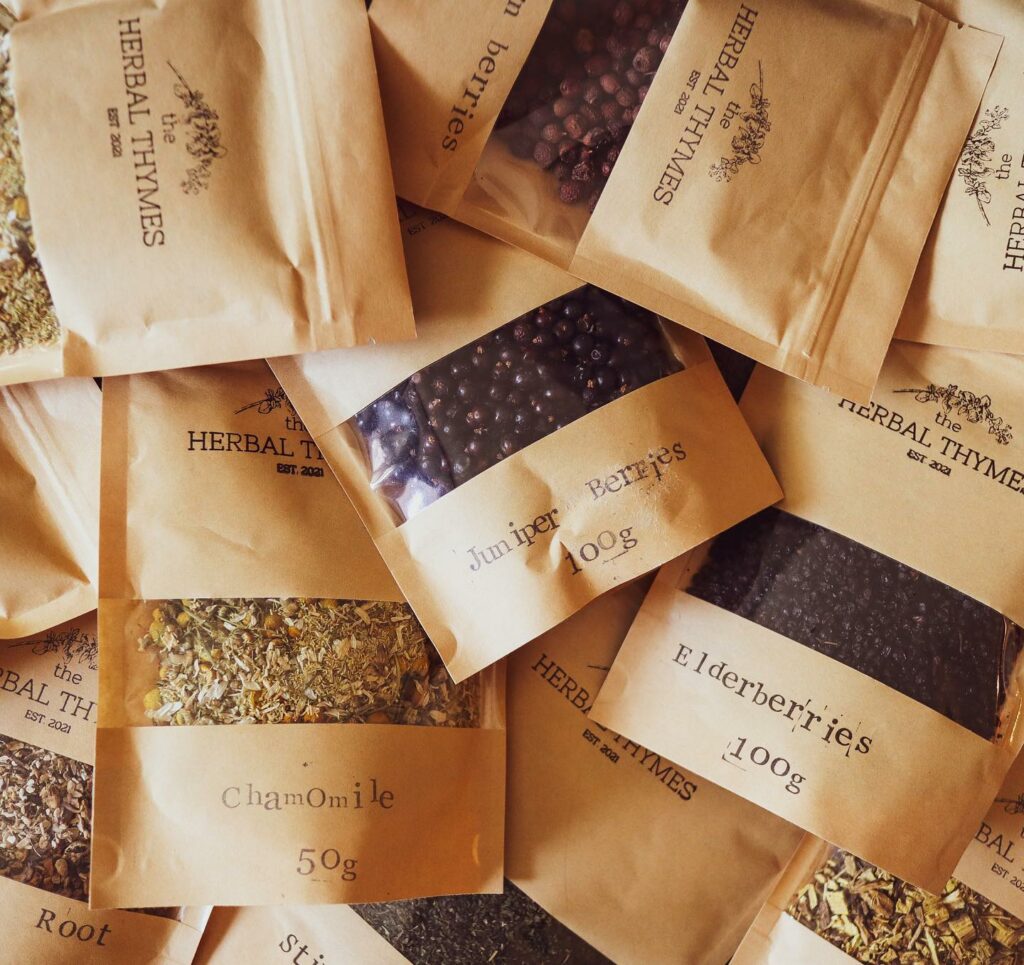 Made carefully by hand in the kitchen of entrepreneur Yuliya Bulatova, every beautifully aromatic tea, bath bomb, lip balm, body butter and scrub from The Herbal Thymes comes thoughtfully presented in handmade and plastic-free packaging. Invested in enlightening UAE residents about how they can achieve better health and happiness through the natural powers of herbs, its organic dried ingredients and homemade beauty products are regulars at sustainability-themed events and markets. Also offering customised herbal blends to suit your body and needs, not one sprig of herb or drop of essential oil is wasted in any of the bespoke recipes.
theherbalthymes.com.
Lush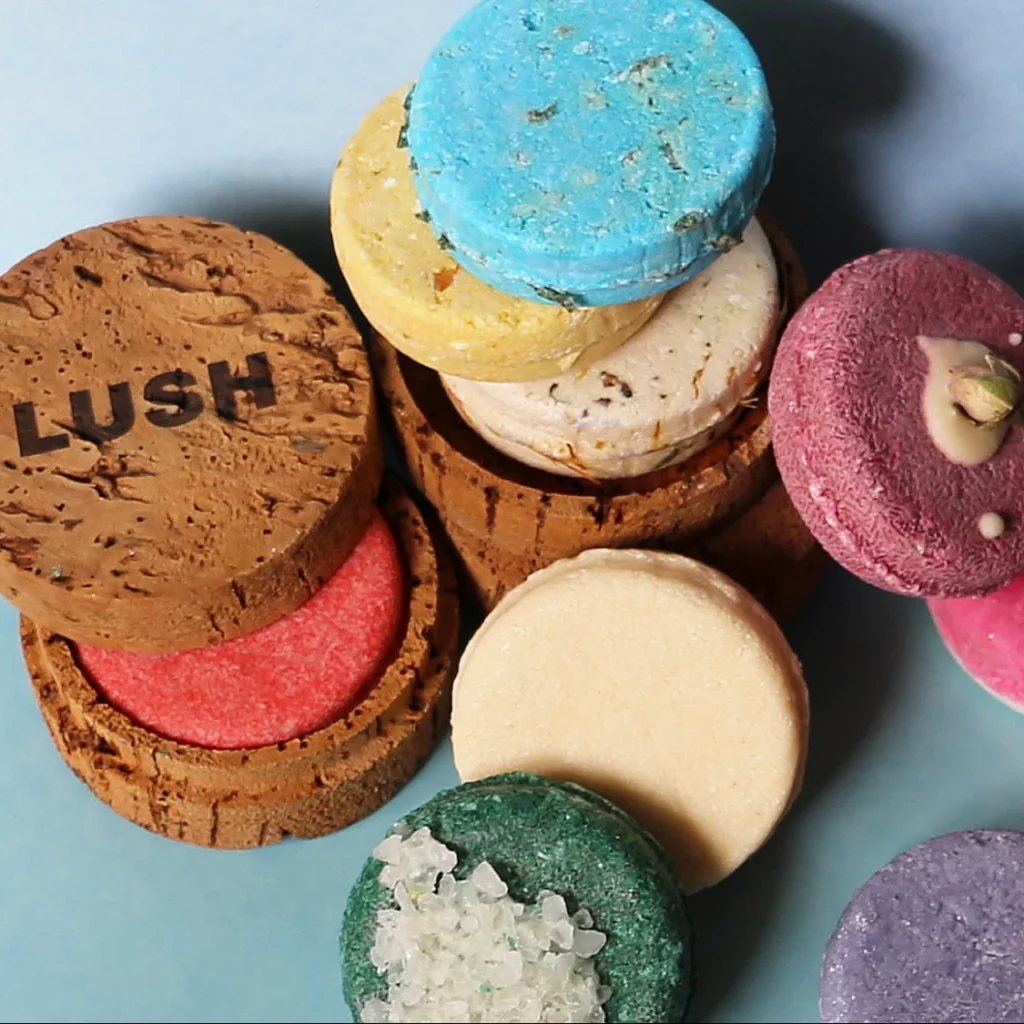 Ethical bathroom favourites brand Lush have been championing plastic free products for quite sometime now. Product inventor and co-founder Mo Constantine said: 'My first invention was the shampoo bar in the late eighties. Since then we've taken the concept much further.' From travel perfect solid shampoo bars (that are the equivalent of three 250g bottles) to solid shower gels that are packed with a concentrated formula of juicy ingredients, Lush prides themselves on using only good quality ingredients that can look after your skin and the environment all in one waste-free wash. They are easy to find too, Lush now has a grand total of thirteen stores dotted around the UAE.
Upcycle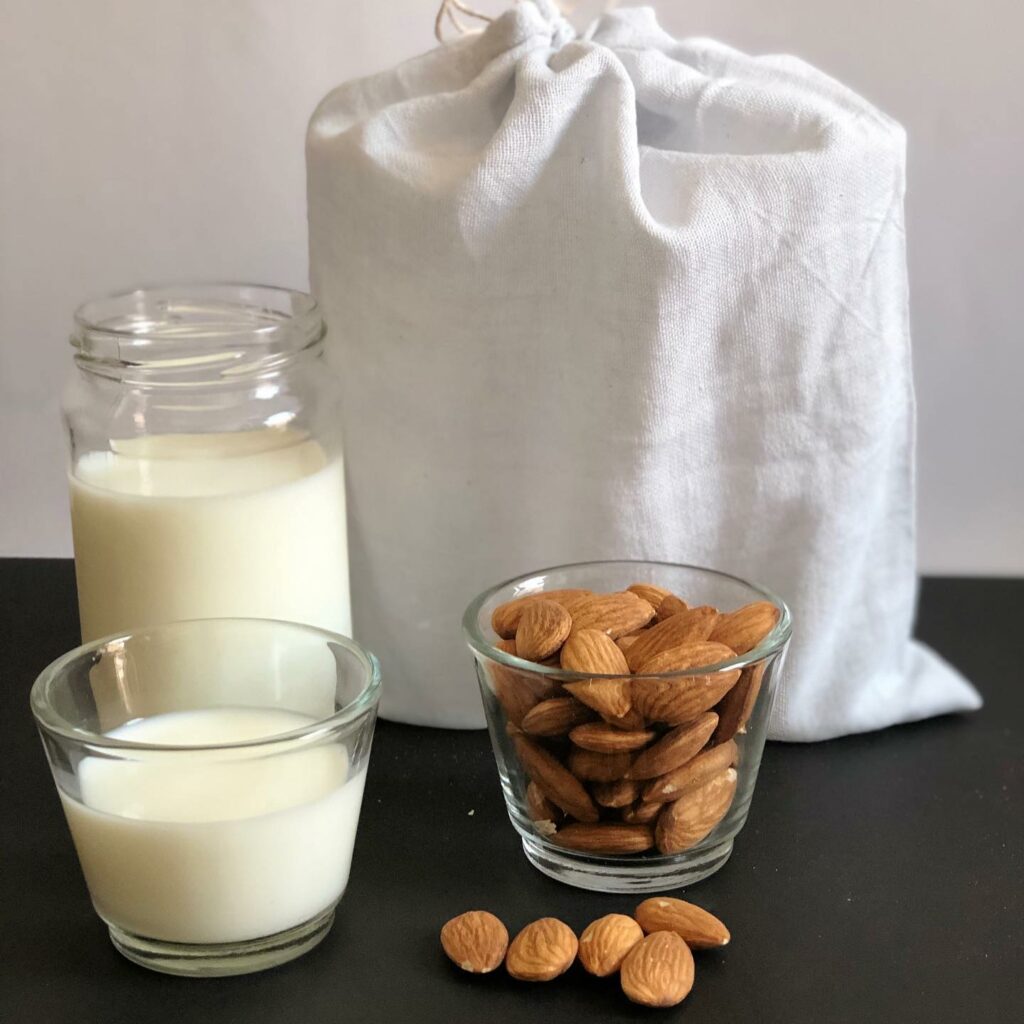 While plastic free shopping is on the rise, bags with which do it are also crucial. Although single-use plastic bags are now banned or chargeable across the UAE, thin plastic bags for fruit and veg are still sadly commonplace. Luckily, Upcycle has been tackling this issue since 2018 with its range of quality and affordable reusable cotton bags. Starting from just AED 4 and totally breathable, durable and washable, they keep your foods fresher for longer, remove any risk of chemical contamination and have a life span equivalent to that of 700 single-use plastic bags. All designed with love by two local Dubai mums, eco-friendly plant grow bags, nut milk bags, tea bags and tote bags are available too. Dedicated to sustainable living, the founders deliver zero-waste sessions for schools and businesses, and its numerous local partners include legendary ethical produce specialist, Greenheart Organic Farms.
upcycleletstransform.com.