The health of Planet Earth is hanging in the balance. With carbon emissions rising, biodiversity nosediving, the global population continually rising and climate emergencies becoming the norm, our earth faces an unprecedented challenge that can't be won without humanity's cooperation.
On World Environmental Health day, Sept 27th, we explore the most pressing problems the Earth has faced this year so far and how we must adapt to meet the shifting global landscape.
Toxic Train Derailment, Ohio, US
On a Friday night in February, residents of East Palestine, Ohio, watched astounded as the night sky was illuminated by red flames and billowing black smoke.
Word quickly spread among the almost 5,000 residents of the sleepy American town. A train carrying toxic chemicals had derailed. Now a controlled burn was necessary to stop a catastrophic disaster.
By the next day, the ill-effects of this mitigatory measure were causing great alarm. One resident described the overbearing fumes as 'like a mix of gasoline, paint thinner and nail polish remover.'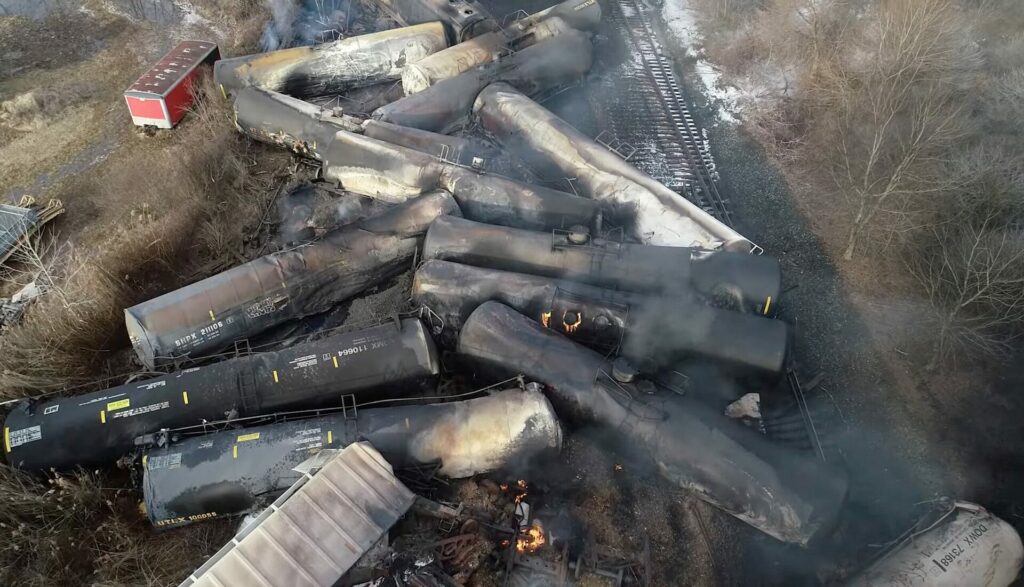 In the coming weeks, an estimated 43,000 aquatic animals would die following the derailment, a concerning indicator of the impact on local ecosystems for years to come.
Months later locals are still reeling from the disaster. Following the burn, they experienced headaches, coughing, congestion and eye discomfort. Not to mention anxiety.
The trains are back trundling through the town, with the sound triggering unease from residents, who are awaiting an investigative hearing. Meanwhile, a U.S. Senate panel has cracked down on rules for trains carrying explosives.
The disaster highlights the high stakes of our global addiction to plastic, which two of the train's most toxic chemicals are used to make.
As Judith Enck, a former administrator at the U.S. Environmental Protection Agency, told Bloomberg: 'This tragedy reminds us we have to pay attention not to just what happens to plastic when you are done with it, but the whole life cycle of using massive amounts of toxic chemicals that have to be transported all over the world to make plastic products.'
Oil Spill, Mindoro, Philippines
Transporting fuel by ship also comes with its risks, and in February 2023, 800,000 litres of heavy industrial oil leaked into the sea on the east coast of Mindoro Island in the Philippines, after a tanker sank in rough seas.
Black acrid sludge from the 75-mile slick washed up on beaches, devastated fishing yields, and sickened islanders who complained of ailments including coughs, vomiting, dizziness, and diarrhea. The contaminated water also threatened the biodiversity of more than 20 marine protected areas, acclaimed for corals, whale sharks, and turtles.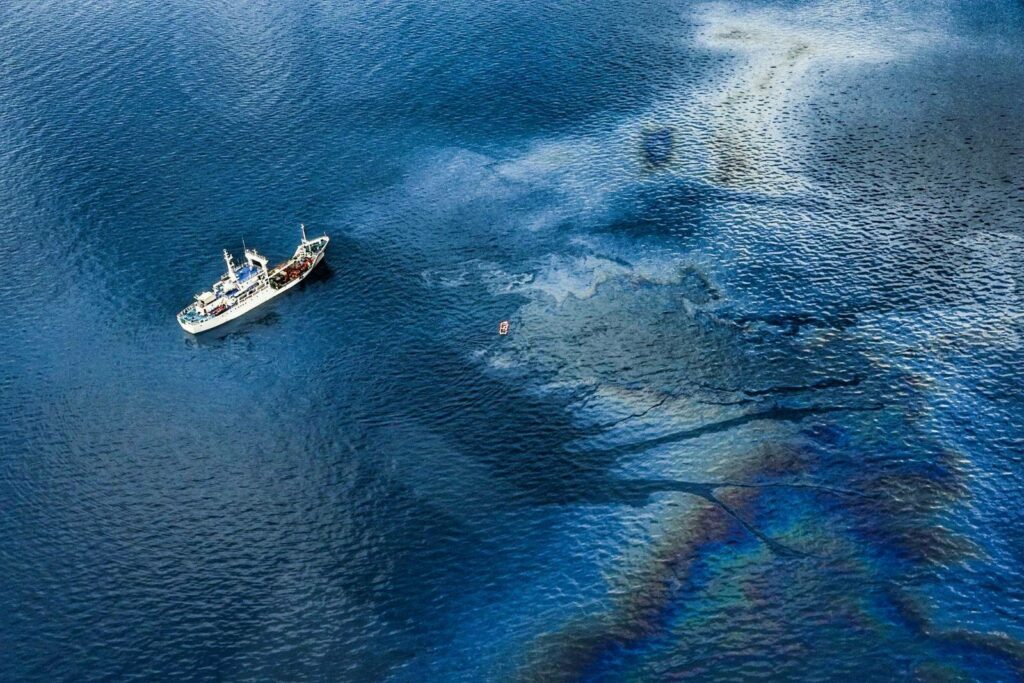 The fallout from the disaster compelled environmentalists from the Philippines to travel to the UK to implore British banks not to fund the expansion of liquefied natural gas (LNG) infrastructure near the Verde Island Passage.
"Banks would do well to remember that their financing decisions are not made in a vacuum," activist Fr Edwin "Edu" Gariguez told The Guardian. "They have consequences for local communities, who don't want fossil-fuel gas operations polluting their environment."
Worsening Wildfires
If there's been one type of disaster dominating headlines this summer, it's wildfires. Unprecedented and extreme blazes have caused death and destruction across the globe with Canada, Hawaii, and Greece among the worst places impacted.
At the peak of Canada's infernos, toxic smoke drifted to many states in the U.S. sounding air pollution alerts and causing hazy skylines in major cities such as New York, Washington D.C., and Chicago.
In Hawaii, downed power lines reportedly started a catastrophic fire on the island of Maui, with a warming climate exacerbating conditions. To date 115 deaths have been confirmed and 388 people are still unaccounted for.
As climate scientist Michael E Mann explained, 'What we're seeing in Maui is a "compound" climate catastrophe, where an immediate factor (in this case, unusually strong winds from the outer bands of a passing hurricane) interact with [the] background state (extreme drought that has been in place for a month).'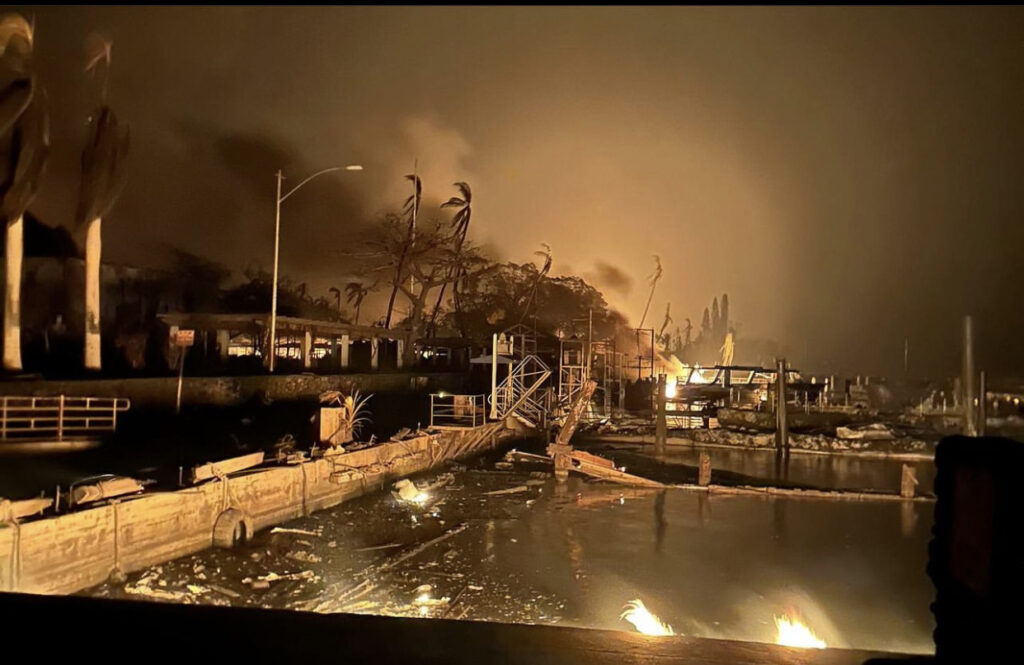 In Greece a summer of unrelenting wildfires have killed at least 21 people and destroyed forests, monasteries, and vineyards. Most of the wildfires were started by human hand but inflamed by prolonged record heat.
'The difference with other years were the weather conditions,' concluded Vassilis Kikilias, the Greek minister of climate crisis and civil protection. 'Climate change, which yielded a historic and unprecedented heatwave, is here. There were very few days where the extreme weather was not combined with strong winds.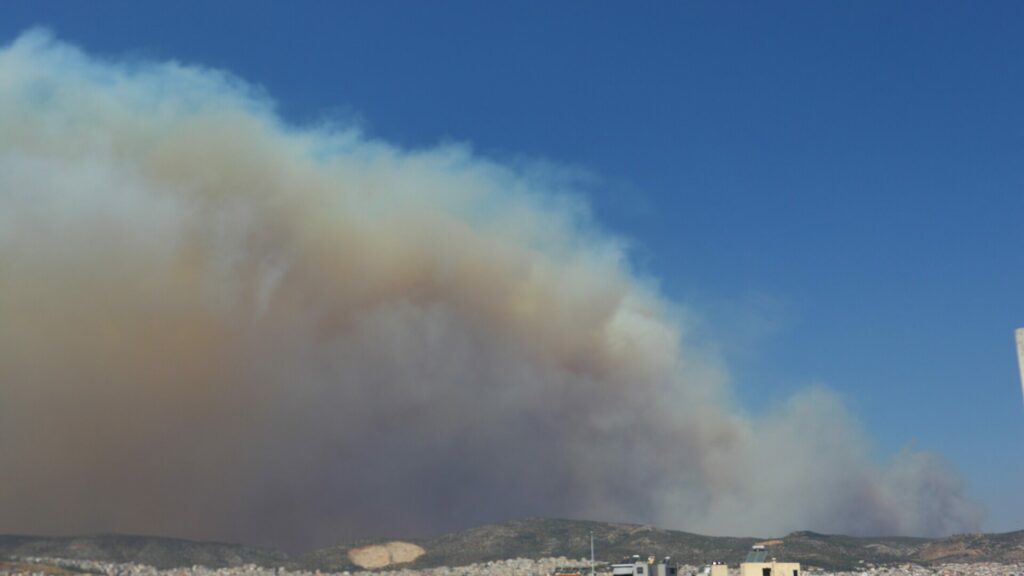 All around the globe, countries are experiencing more intense wildfires, exacerbated by carbon-emission-driven climate change.
'As the climate gets warmer, as we see more heat waves, that dries out the forest more quickly, it dries out the litter, and that increases the risk of wildfire,' Nathan Gillett, a research scientist with Environment and Climate Change Canada, told Reuters. 'Over time, we expect more heat waves, more extreme fire seasons… These events are going to become more and more frequent into the future as the climate continues to warm.'
Indeed, climate scientists who conducted a 2022 global analysis found the frequency and severity of fire weather—the temperature, humidity, rainfall and wind factors that rate the level of wildfire threat—has increased in recent decades and is projected to escalate as the world warms.
Globally, countries are making pledges to lower carbon emissions with world leaders meeting in the UAE this November to continue talks at the United Nations Climate Change Conference COP28.
For now, UAE Minister of Climate Change and Environment, Mariam Almheiri, is cautious about phasing out fossil fuels, commenting it would hurt countries that depend on them economically or who cannot easily transition to renewable energy sources.
But as long as heat-trapping greenhouse gases are released into the atmosphere, our world will continue to warm, exacerbating wildfires and other climate extremes.
The Environmental War Toll
More than a year of war in Ukraine has caused vast environmental damage.
The conflict has destroyed farmland, obliterated forests and tarnished national parks; battles around the Zaporizhzhia nuclear power plant have elevated the risk of a nuclear accident; relentless bombing has exposed civilians to toxic air and contaminated water.
The Ukrainian government is keeping a running tally of the harm, estimating the country has already suffered over $51 billion in environmental damage since the start of the war.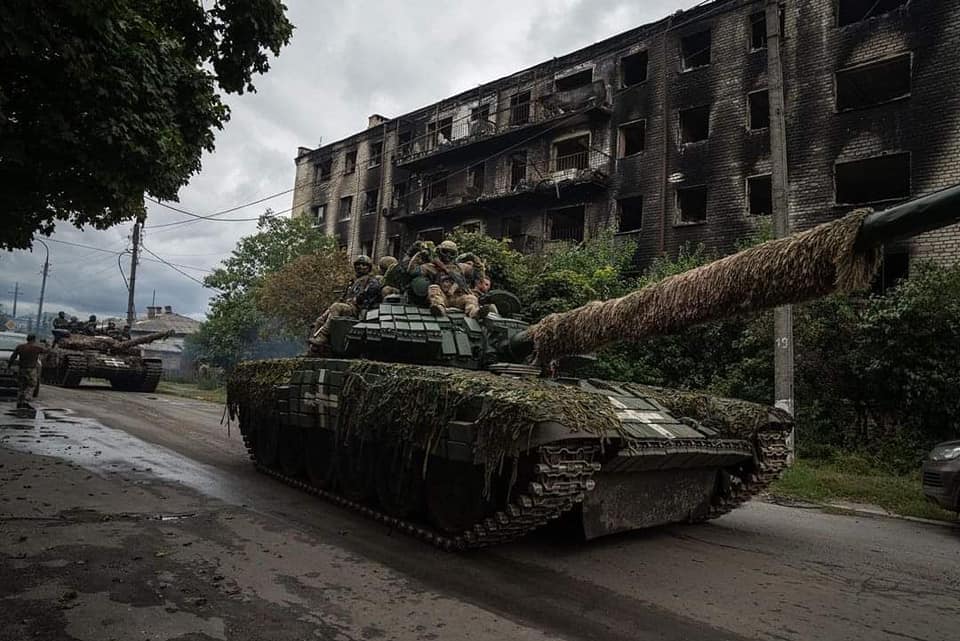 Meanwhile, the country's biggest animal rights organization, UAnimals, is admirably helping the wildlifeimpacted by war. Its volunteers run rescue missions to provide aid for domestic and wild animals including bears, deer, bats and birds of prey.
The organization's determination to highlight "ecocide" in Ukraine has paid off. Earlier this year the Parliamentary Assembly of the Council of Europe pledged to explore legal steps to protect the environment during times of war.
Without an end to the conflict in sight, it can be hard to find hope, but as American television personality Fred Rogers urged, 'Look for the helpers.'