The glorious UAE winter is well and truly here, and beach season (odd showers aside) is back with a bang offering buckets of Vitamin D to UAE residents and visitors revelling in the sun. However, just as we are all taking strides to ensure our wardrobes are sustainable, having a responsible and ethical approach to swimwear is equally as important.
With approximately 8 million pieces of plastic pollution finding their way into our oceans every day, many brands are taking on the responsibility of not only fighting the problem but also contributing to the solution. Enter brands repurposing waste that would otherwise pollute our oceans to make sustainable swimwear that not only looks good but helps save the planet.
Slow fashion has in the past lagged when it comes to size inclusivity with many brands only offering limited size ranges. The growing demand for sustainable fashion however and consequent pressure on brands to cater for bodies of all shapes and sizes, is making positive waves across the industry.
Emerging sustainable brands are finding new and innovative ways to create stylish bikinis and one-pieces that are kinder to the environment than their nylon and polyester forebears as well as being size-friendly.
Here are our favourite swimwear brands making a splash in the sustainable sector.
Stay Wild Swimwear
Stay Wild's mission is to produce inclusive plus size swimwear with a purpose. The London-based brand encourages their customers to buy less, but buy better. Certified B Corp, they create swimwear using ECONYL® yarn, a 100 per cent regenerated nylon fibre developed from waste including fishing nets, fabric scraps, carpet flooring and industrial plastic rescued from all over the world. Their pieces are designed to flatter every woman with sizes ranging from UK6 – UK24. They are also currently working towards a circular production system with the ultimate goal to take back used and loved Stay Wild pieces and regenerate them into beautiful new designs.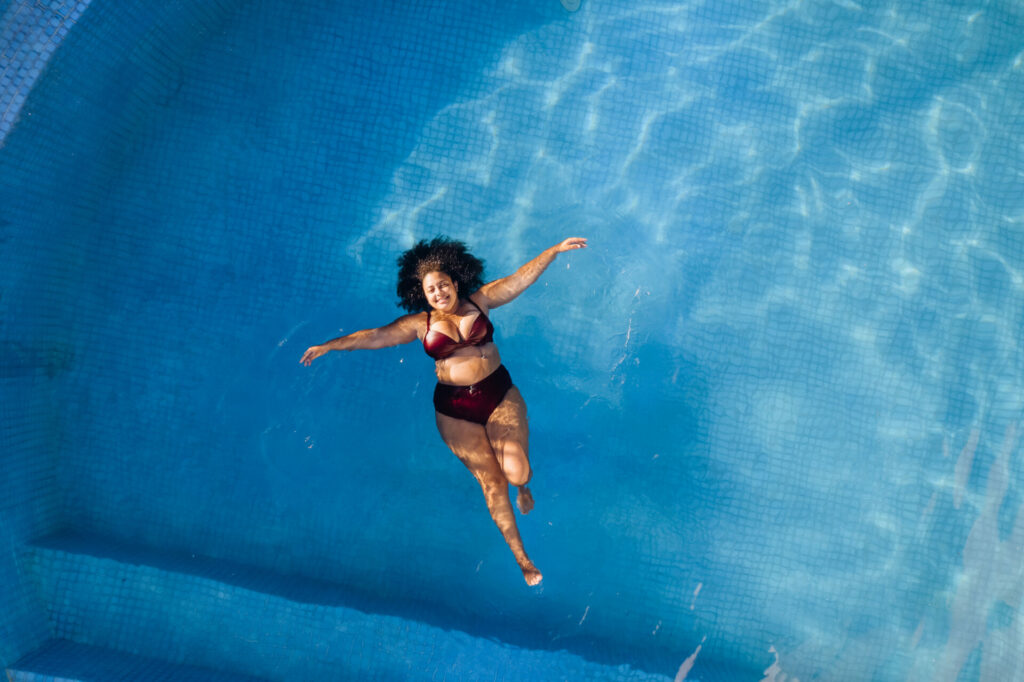 Baiia Swimwear
Award winning Australian swimwear brand Baiia is not only an environmental pioneer in the industry but also a champion brand supporting the empowerment of women. Their swimwear is designed to basically look good on everyone. Sizing ranges from UK2 – UK22 and are all reversible (so you get two for the price of one!). Similar to Wild Swimwear, Baiia's products are made from recycled nylon derived from waste – fishnets, carpets, plastic bottles and textiles – that would otherwise pollute our earth and oceans. Baiia is also certified Standard 100 by Oeko-Tex, the world's leader in testing fabrics to regulate harmful substances.
TKD Lingerie
Homegrown UAE based swimwear and lingerie brand, TKD Lingerie offers a wide selection of sustainable and size inclusive options online and in their stores from UK8 – UK26 and up to a 40K bra cup. Their main aim is to provide a fashionable and sustainable choice of swimwear and lingerie for busty women of all sizes whilst providing a first-rate fitting service.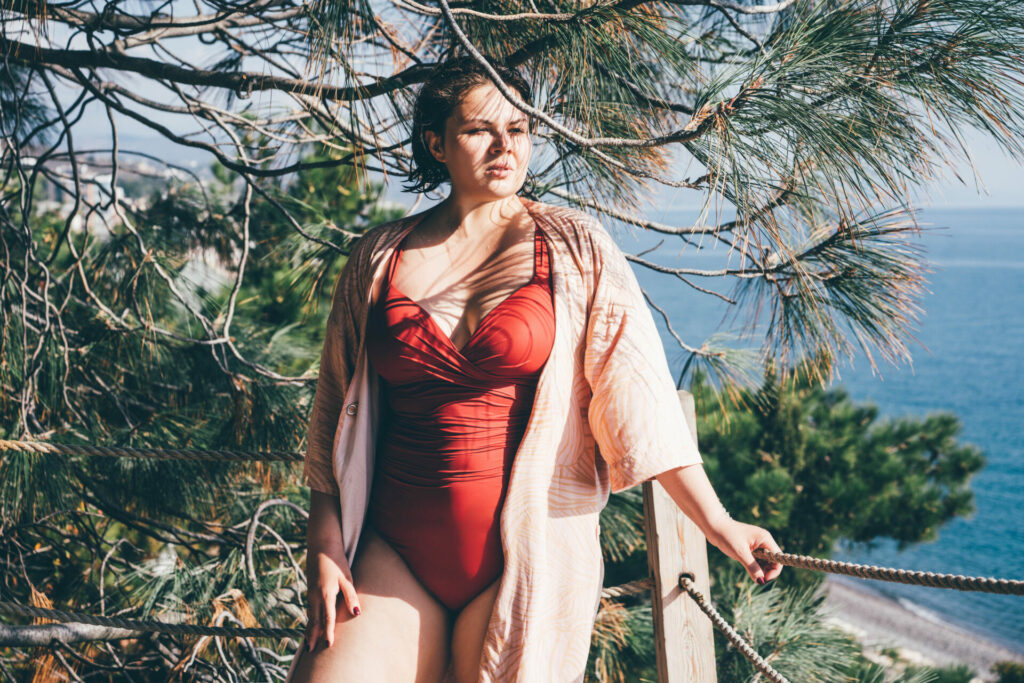 Londre
With their materials made from recycled polyester, Londre is a beautiful female-owned brand with sizing up to 5XL and their swimwear all made out of recycled plastic bottles. Each swimsuit uses at least six plastic bottles, salvaged from the ocean. Plus for each swimwear purchase made, Londre plants baby coral in Baja California. They manufacture in OEKO-TEX 100 certified factories where the reuse their water in a closed-loop process. In addition, the company provides a recycling program that repurposes your old swimwear.
Girlfriend Collective
Offering extended, inclusive sizing in vibrant colours and affordable prices – Girlfriend Collective is certainly making waves in the eco-fashion friendly world. Sizes range from XXS to 6XL and everything in between. Because Girlfriend Collective uses stretchy but compressive fabric to create its clothing, all the pieces are truly size-inclusive – meaning they won't ride up or down during awkward moments. The brand uses a medium proportion of more sustainable materials, including recycled PET plastic and ECONYL®.
Its designs are coloured with eco-friendly dye and it ensures wastewater in its supply chain is treated and discharged properly. The brand also tackles an important and often overlooked part of a garment's lifecycle; the end-of-life. Through its ReGirlfriend Program, you can send back any old torn, worn or stained Girlfriend pieces to be upcycled into new ones. In a world where the fashion industry creates 92 million tons of textile waste annually, this is a crucial step towards circularity.
Kitty and Vibe
Using recycled polyester and Xtra Life Lycra in their products, swimwear sizes at Kitty and Vibe range up to 3XL bottoms and up to size G in tops. Whilst each swimsuit also has SPF 50+ protection, their styles are a variety of both cheeky and full coverage. Standing out from the crowd is the added bonus of the brand offering two different bum sizes for each hip size.
Tomboy
Female founded and run, Tomboy is an awesome and unique sustainable swimwear company that truly fits different bodies and styles. Their swimsuits are made from quick drying, OEKO-TEX certified fabric with UV protection plus the brand is in the process of achieving B Corp certification. They fit-test their items to ensure correct and comfortable sizing plus everything is produced in socially responsible factories.