When it comes to summer style we all want the same thing: to look hot, hot, hot while keeping our cool. Step forward in gorgeously guilt-free luxe linen for looks that sizzle without feeling the heat.
Made from flax crop fibres, linen is one of the most biodegradable fabrics in fashion. The production methods use far less water than cotton, fewer pesticides and linen fibres can be processed without the use of chemicals – which means you can feel good while looking good, knowing it didn't cost the Earth.
In The Ethicalist's first fashion editorial, we've teamed up with the UAE's top sustainable fashion designers and boutiques to bring you our favourite linen pieces from Sustainably U, Emilia Ohrtman, By M.a.r.y, My Kaftan and La Suite along with ethical accessories from Odis Studio and Shop Kimana.
Photographer: Dawn Marie Jones Model: Sophie CZU Model and Stylist: Silke Styles Make Up Artist: Sophie Leach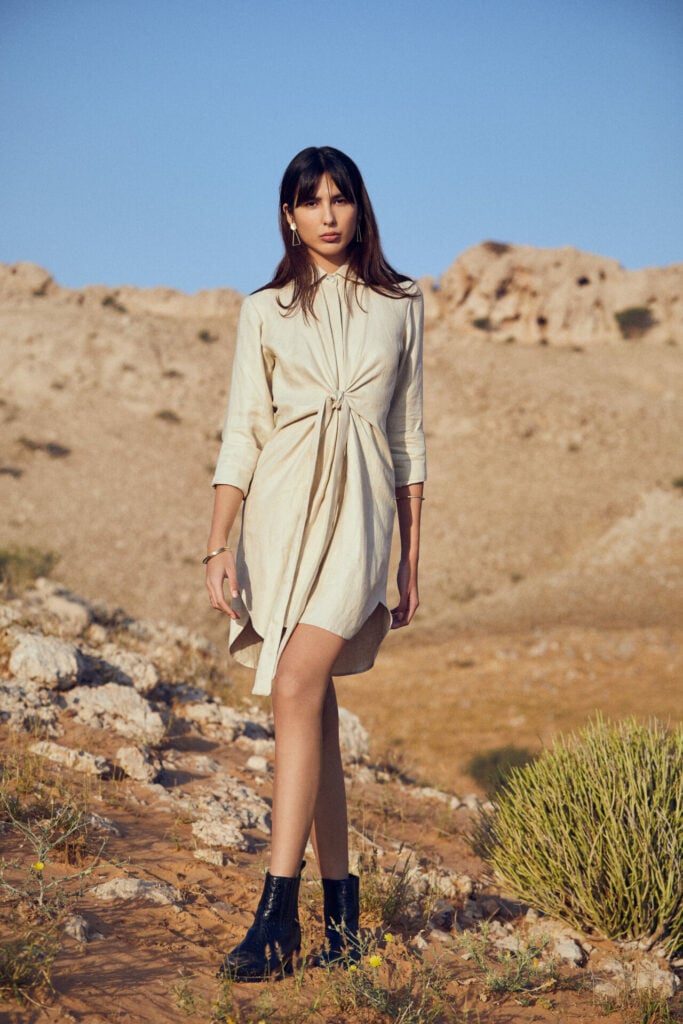 This versatile Irish linen dress from Sustainably U, is the perfect summer style staple to see you from day to night. Handmade in the UAE by founder Simy J Hammer, the Zoya dress is part of her upcoming collection and will be ready for order from July. All Sustainably U clothing is made to order and comes with a two-year warranty. They have a recycling scheme too meaning you can do good for the planet and get a 15 per cent discount on future purchases!
The earrings and bracelet are part of the upcoming summer collection from Odis Studio available from July. Their jewellery is hand made in Abu Dhabi using Argentium silver – an ethical high quality metal made with 100 per cent recycled silver. For environmental reasons they carry a limited inventory so grab them while you can.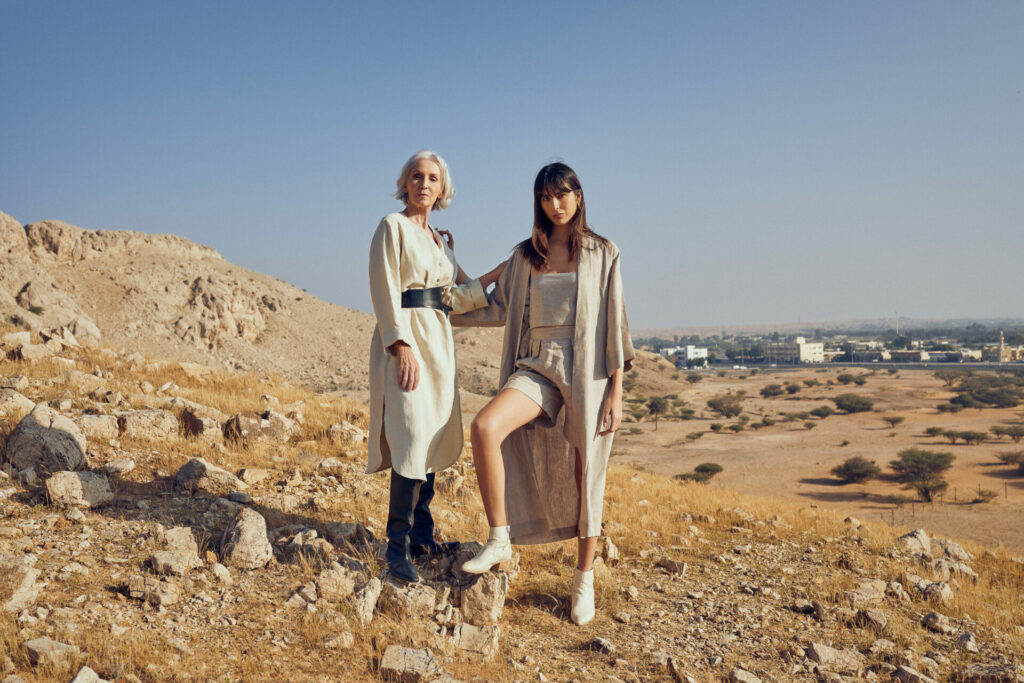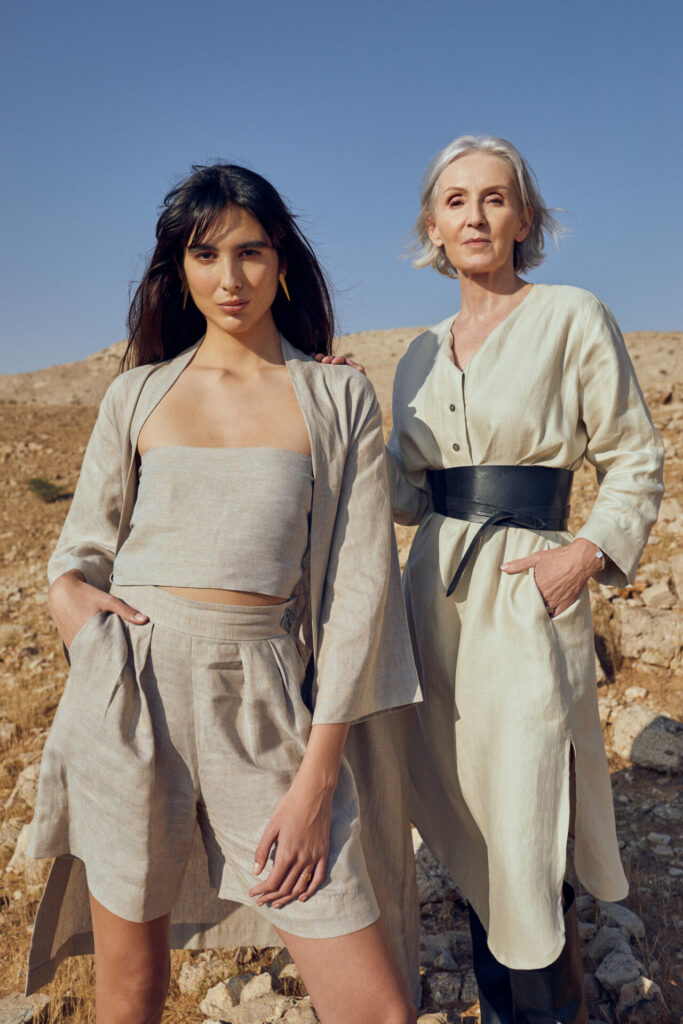 The statement belt for Silke's look is second hand from preloved boutique, La Suite a multi-label second-hand fashion retailer in Dubai. The showroom offers new pieces of premium brands weekly.
Model Sophie (right) wears the limited edition Desert Haze linen Kimono and shorts from My Kaftan, handmade in the UAE from 100 per cent Japanese linen. The special colour is achieved by mixing contrasting threads rather than artificial dyes. Rock this at the beach or for balmy evening BBQ's.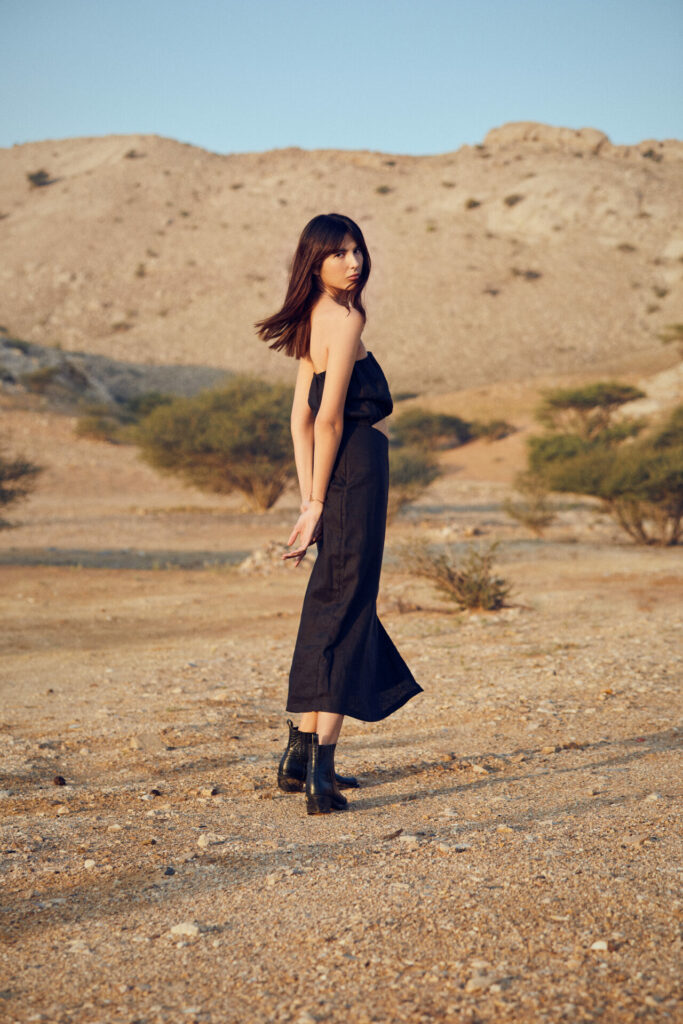 For a totally unique take on sustainable fashion, UAE based brand By Mary fuses modern looks with African heritage and French inspired rock chic. Every garment is designed by the founder, Marie Hosatte and made by hand with sustainably sourced fabrics. This gorgeous Daniella dress in black is the perfect summer style staple for all your holiday needs.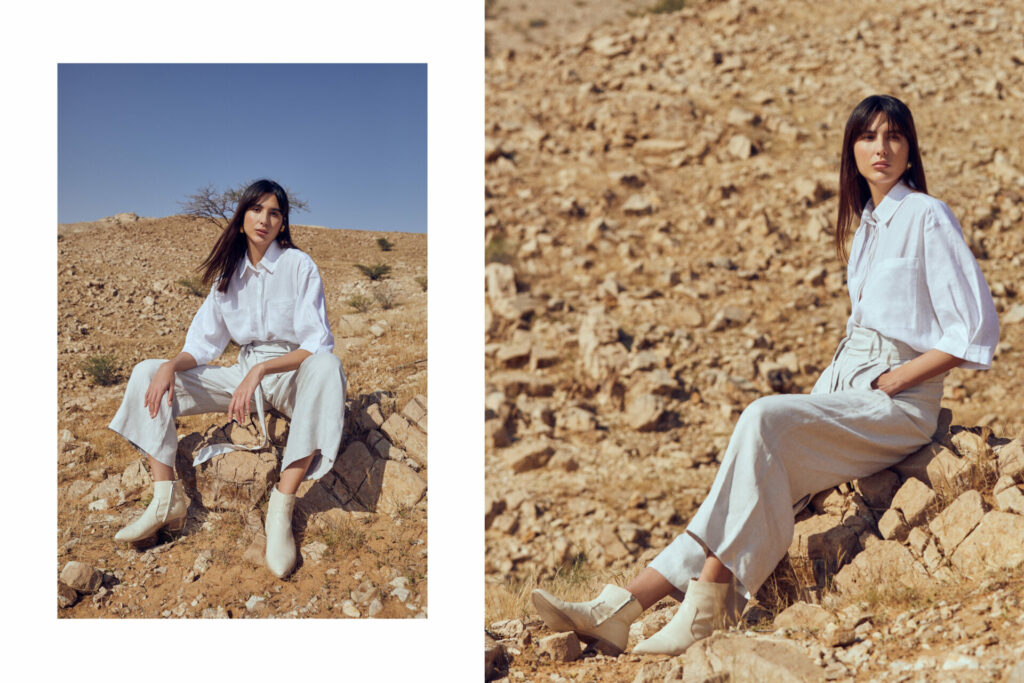 Emilia Ohrtmann is UAE based designer whose minimalist pieces in monochromatic palettes have an elegant and timeless appeal. A proponent of the capsule wardrobe – less is more – Emilia's clean lines and modern tailoring ensure her sustainable pieces are flattering and functional for all. We love these sustainably manufactured wide-legged Tyra trousers paired with the Audrey Portuguese linen short sleeved shirt. Perfect summer style for the office and the weekend!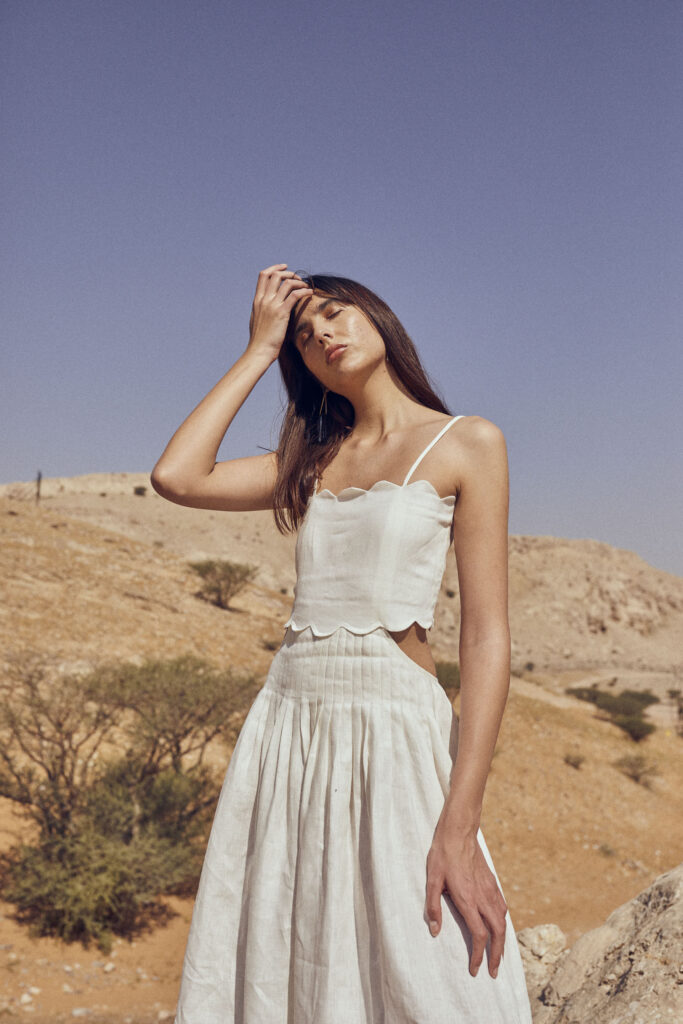 This gorgeous linen dress from By M.A.R.Y is part of her new collection and will be available online from her website this summer. The Safwa linen head scarf is handmade from Kimana Design, inspired by the diverse motifs of West Asia and North Africa.
Summer Style Beauty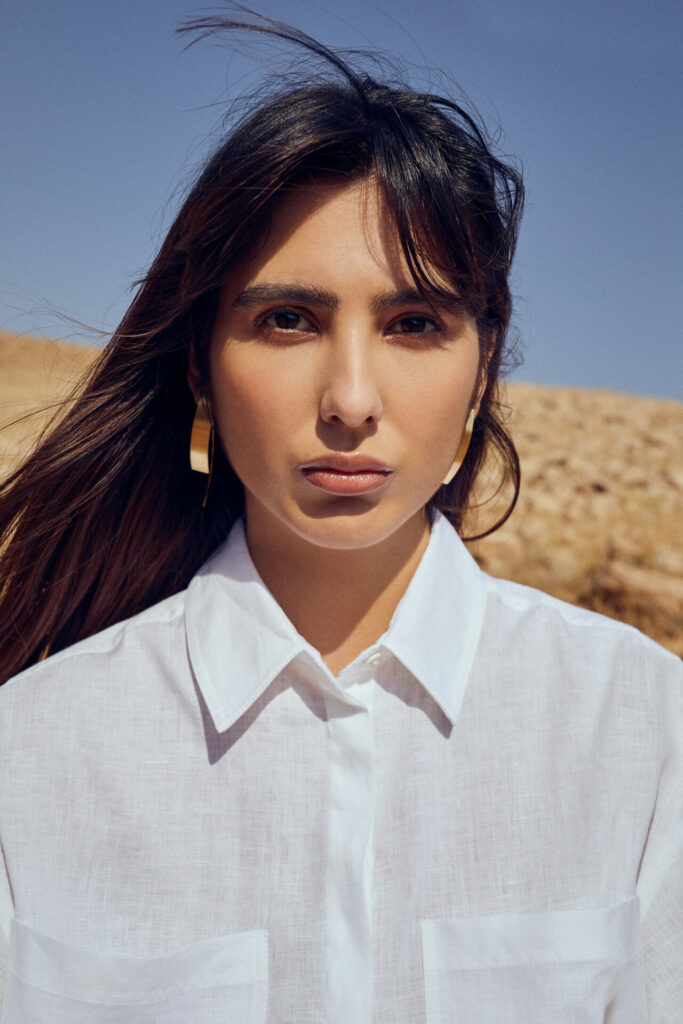 Makeup artist Sophie Leach kept the look simple with natural hues from all clean beauty brands.
Here model Sophie is wearing: Skin: Ilia C Beyond triple serum SPF40 tone 2, Roen beauty cheeky blush and Roen beauty glow stick glazed. Eyes: Roen Beauty Gold lust palette Silke Shape It eyebrow gel and Ilia fullest volumizing mascara. Lips: Roen beauty – kiss my liquid lip balm shimmer in nude rose. All the makeup is available from the Powder Beauty Official site.
Follow the team: Photography Dawn Marie Photography, Styling Silke Styles, Make Up Artist Sophie Leach, Models: SophieCZU and Silke