'The name is always a good talking point,' laughs Chris Margetts, founder of footwear brand Humans Are Vain – perhaps not the most obvious way of wooing someone into shopping for sneakers. 'It comes from the idea of being stuck between organisations who are just after profit and the end consumer who just wants to look good. It seemed to sum up what we're about straight away.'
Not that Chris is opposed to the idea of making money or dressing stylishly, of course. It's as much a reflection of the dismay he felt as a footwear designer working for British high street fast fashion chains and, one Black Friday, the way he kind of flipped.
'I just got so fed up with it all,' he says. 'It all seemed to represent the downfall of the industry I knew. When I started out even a lot of supermarket fashion was made in Europe with an emphasis on lasting quality. But there was this great rush to the Far East to chase the profit margins everyone was expected to hit.'
Instead Chris relocated from London to Sweden, with his Swedish wife, to make good on his intention to do things differently, putting sustainability at the heart of his own ecodeluxe brand. 'If you're not taking that direction with a new brand then there's a big problem somewhere I feel,' he says. The result is a new idea in sustainable footwear design too: making new shoes from old shoes, the latter ground down and mixed with some recycled rubber to make comfortable, hard-wearing soles for the former.
The first model to follow this process is the Tide R1, a classic go-with-anything white sneaker, with the upper in a matte vegan microfibre. Water-based glues, organic cotton, natural latex, recycled PET and corn fibre 'leather' linings, and so on, are used throughout.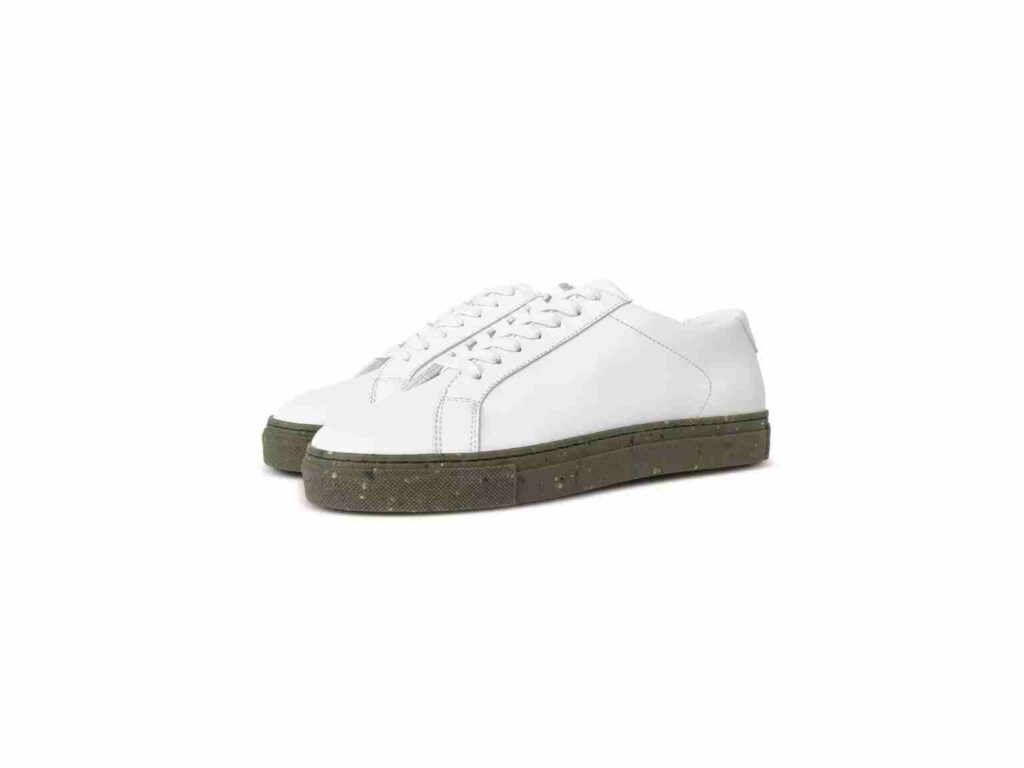 The Zero Waste Sustainable Shoe
'Working with a shoe manufacturer in Portugal we worked out that you could use old shoes if a shoe was designed in a specific way from the outset – and that also meant zero waste system for the factory because all samples, offcuts and so on could also be used,' explains Chris.
A basic pair of shoes, he explains, may comprise some 25 components (making complete traceability especially taxing), including metal embellishments, eyelets and, hidden away, a metal shank the length of the insole board that gives the shoe its structural support. He notes that recent years have seen a boom in the availability of sustainable shoe components, but that – counter-productively – their durability isn't comparable yet. It's something, he says, the sustainable shoe sector needs to be mindful of.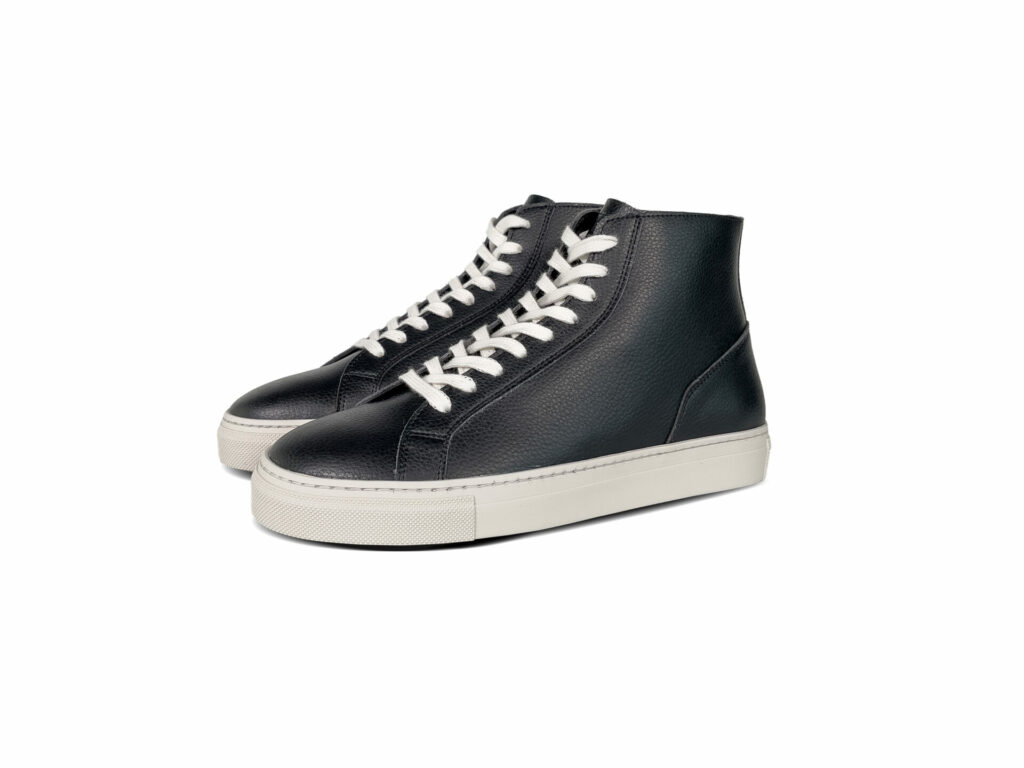 'Metal is the big issue when it comes to repurposing shoes,' the designer explains, 'so the first thing was to replace that shank with a kind of strong reinforced recycled board, then to find another way of reinforcing eyelets, and so on.'
Well-Shod Community
He now uses apple 'leather' and material made from recycled plastic ocean trash throughout his eco-conscious contempory collection of sustainable shoes. The ultimate plan is for customers to drive a circular system by returning their metal-free Humans Are Vain sustainable shoes for a discount on their next pair, thus also creating a like-minded, well-shod community in the process.
Chris' first problem, however, was getting enough old shoes to start the initial production run of his own sustainable shoe product. His lightbulb moment came when he spotted a skip full of discarded shoes outside the factory, destined for landfill. He started approaching other factories for their waste too.
'Most of the factories just laughed and said 'help yourself'," he says, 'though a few are now realising what an opportunity there is there and want to be involved in our production on a regular basis.'
Admittedly, not all end customers get it either. While his vegan sneakers and Chelsea boots sell from £80 and £90 a pair, some people have bought the Tide R1 (£80) for its distinctive flecked sole – which is unique every time as a result of the recycling process – and expected it to look exactly as it does in the web-shop picture. 'So there's a lot of explaining to do with some people,' says Chris,'but I definitely don't want to make the kind of shoes that signal they're recycled. Yes, I want people to be more environmentally-conscious, but it's understandable that they want their shoes to look as immaculate as they might from any other brand.'
3D Printed Shoes
Having brought this sustainable shoe experiment to fruition, Chris has another on the go too – a (so far) three year-long assessment of the machinery and materials required to 3D print footwear, and how the machinery could be customised in order to ramp up production to workable levels.
'With the right push and evolution of the tech 3D printing could prove the most sustainable way of making footwear, because my feeling is that we can't just change a few materials in a shoe, as we're doing now, and think 'job done'. We have to aim for maximum sustainability,' he says.
To date the materials usable with 3D printing have either been insufficiently durable or flexible for footwear – most 3D printed objects are hard and brittle – so the project is now trialling the use of recycled textiles, specifically synthetic ones that often end up in landfill.
Chris is keen too to avoid producing a high concept, Crocs-style one-piece shoe – he refuses to sacrifice style – but by the end of the year will have a one-piece sandal ready at least for wear trials.
'Early feedback has been that people are happy with the material but wouldn't pay for it,' he says. 'As ever with sustainable products, they have to be right to carry the customer.' And, after all, humans are vain.