Every year we all get excited when advent calendar season arrives as it means the holidays are coming. But while we're popping open those teeny windows to reveal a gorgeous surprise, tasty chocolate treat, or even luxury beauty product, we're forgetting just how much waste is created by Christmas each year – and it's not very jolly.
Along with a staggering £700 million of unwanted Christmas presents and an extra three million tonnes of rubbish in the UK each year alone, advent calendars are usually made of plastic, which adds to the mountain of waste.
Around 16.5 million advent calendars containing single-use plastic were bought in 2019 – the latest figures – meaning they can't be recycled and will sit in landfill for hundreds of years.
But none of wants to be the Grinch (or Scrooge) this Christmas, so here at The Ethicalist, we've been searching high and low for the best sustainable advent calendars for 2022. And we're not just talking about the packaging – the treats inside are kind to the planet, too, with many made by ethical brands who support people as well as the planet, so you can really get into the spirit of giving this Christmas.
Vegan Chocolate
Moo Free's 'Milk' Chocolate Advent Calendar, £3.99 (AED23)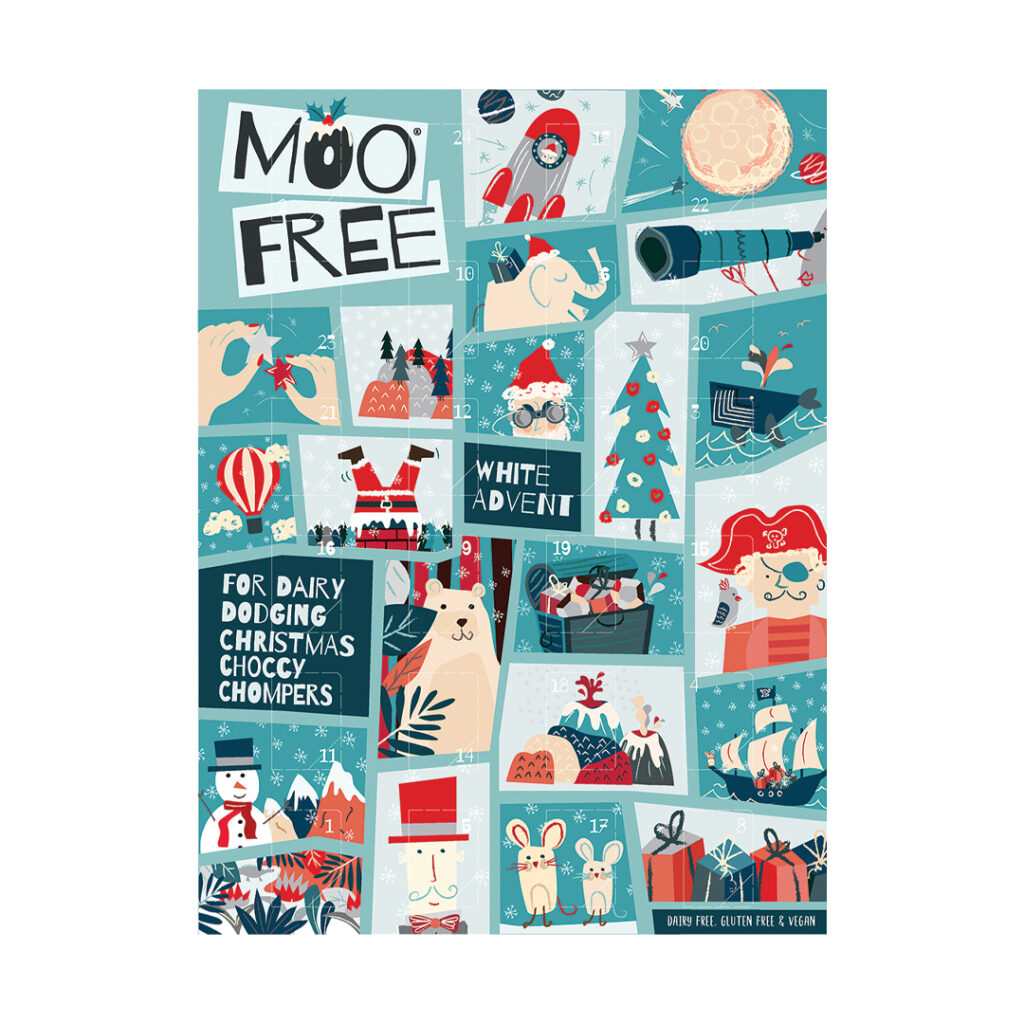 Vegan chocolate lovers rejoice! Moo Free has been making free-from (dairy, gluten and soya free) chocolate for more than 10 years using ethically-sourced Rainforest Alliance cocoa, which helps cocoa farmers, as well as organic cocoa from the Dominic Republic.
The packaging doesn't use any single-use plastic and can be fully recycled – part of the company's commitment to sending zero waste to landfill. And the chocolate is delicious!
Available from Kibsons, Waitrose, Asda, and Tesco.
Luxury Beauty
L'Occitane Classic Advent Calendar, £55 (AED 249-449)
L'Occitane Reusable Advent Calendar, £165 (Only available in the UK)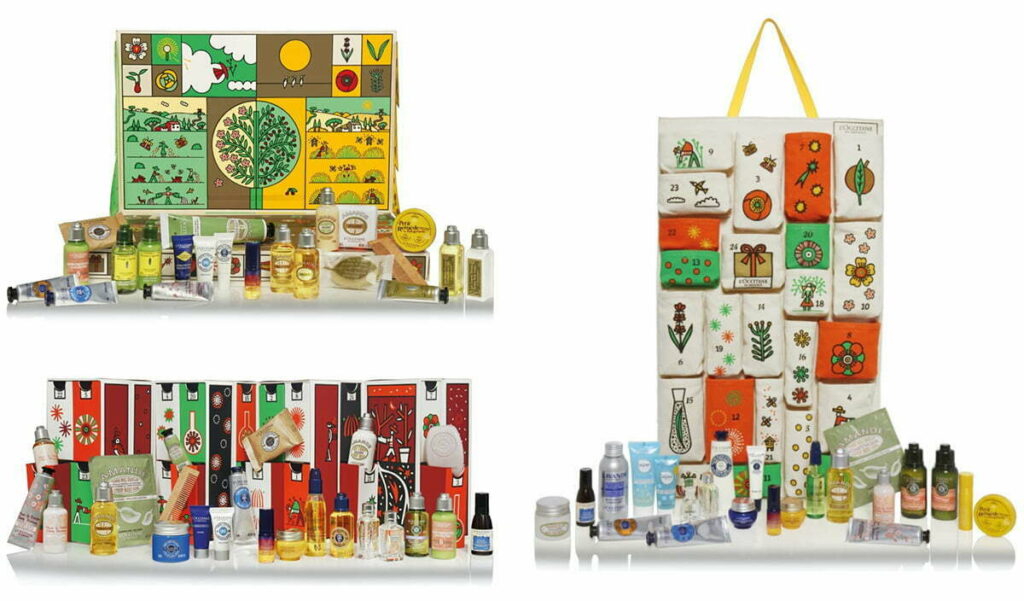 Whatever your budget, L'Occitane have an advent calendar for you this year. Whether you fancy the classic advent calendar – with plenty of the brand's iconic products – or would like to indulge in some sustainable retail therapy, try L'Occitane's reusable, eco-friendly advent calendar.
Forget plastic – this luxury calendar comes with pockets, made from cotton and filled to the brim with the brand's most popular toiletries and cosmetics.
L'Occitane's sustainable credentials are impeccable – it collaborates with 130 French farmers and 10,000 pickers to improve the quality and sustainability of its product ingredients. So far they have protected 150 different plant species, and the brand is now on a mission to help safeguard 1,000 by 2025. Don't forget you can recycle empty L'Occitane packaging at any of the brand's boutiques.
Available in store and online and John Lewis (£55.00), M&S (£55.00)
Little Ones
Pottery Barn Kids, £89 (AED 449)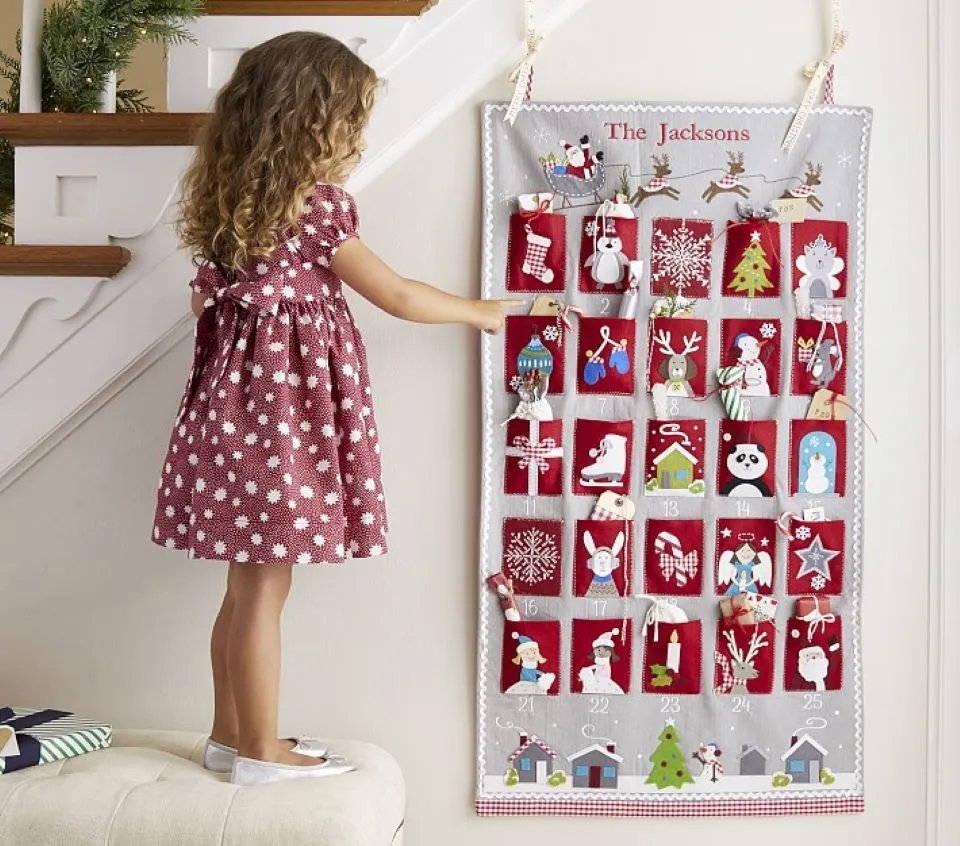 Let the Christmas countdown commence! Have your child countdown the number of days before Christmas with this gorgeous quilted advent calendar. Designed with sweet holiday characters, you can choose what little treats are hidden inside so that your little one will look forward to finding something new every day!
Available online in the UK and UAE and in store
Love and Joy
The Body Shop 'Share Love & Joy' Ultimate Advent Calendar, £174.79 (AED849)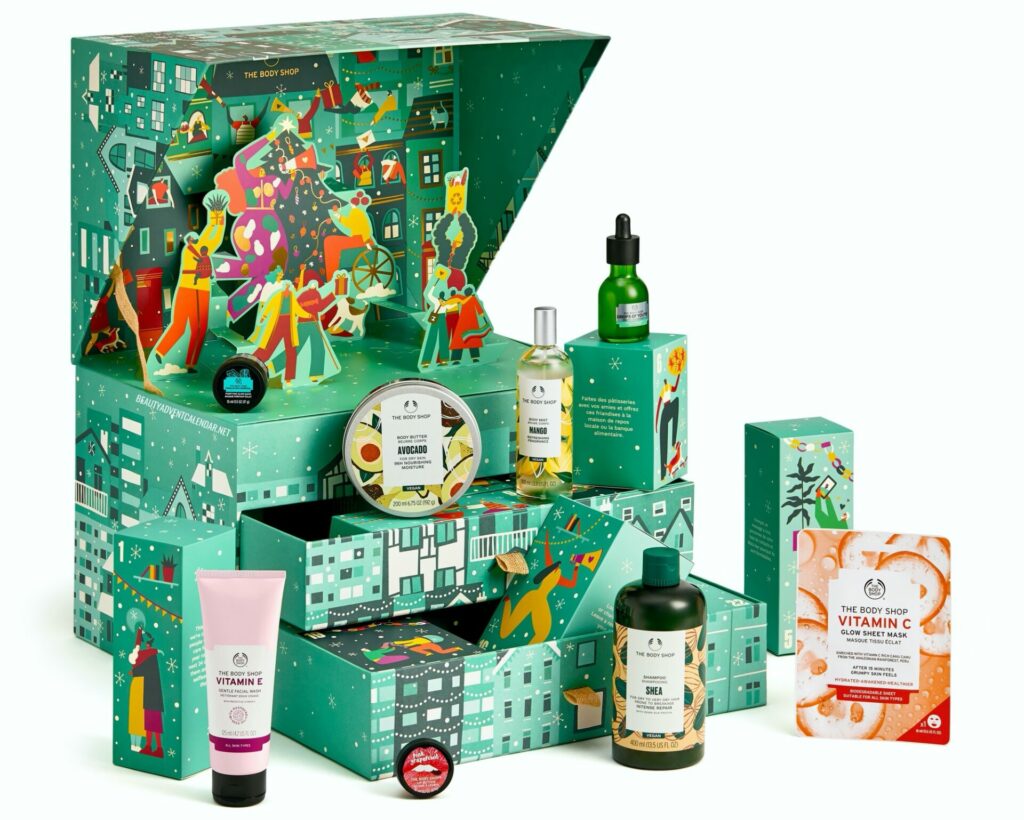 It has always been at the forefront of everything ethical and this year The Body Shop has created a luxurious but eco-friendly advent calendar which not only includes 25 goodies – some of them full-sized – but there's also an 'act of kindness' inside each box to inspire goodwill at Christmas. 
Stunning to look at, and exciting to open, you can either recycle the calendar once you've finished opening it, or keep it as a unique storage or jewellery box. There are gorgeous illustrations, pop-up characters plus the beauty products are vegan, ethical and divine!
Available in store and online
Joyeux Noel!
Bonne Maman Advent Calendar £25.99 plus £3.99 p&p (AED394)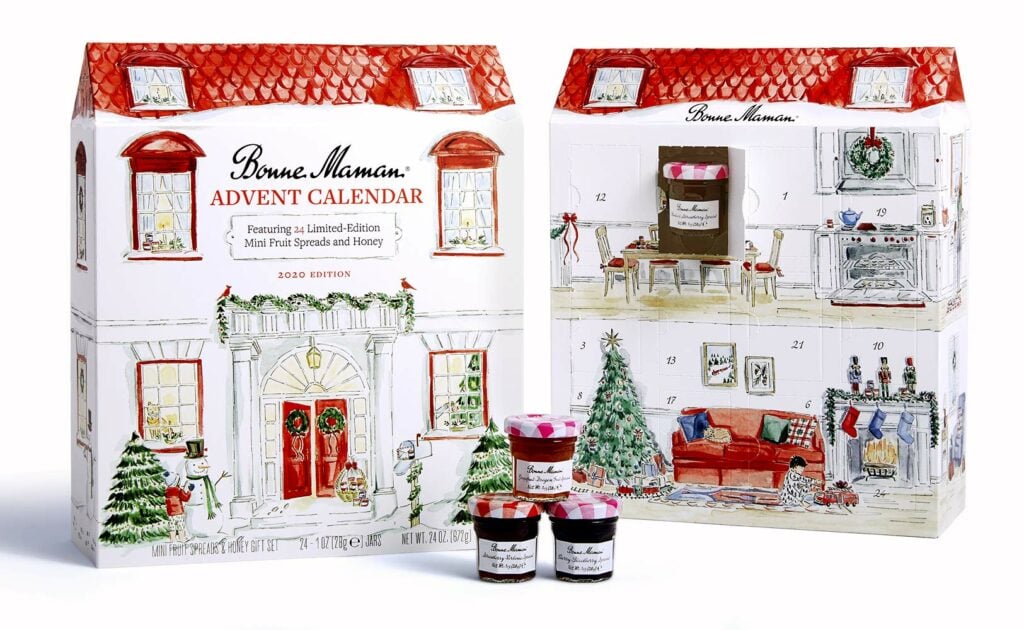 The Bonne Maman advent calendar for 2022 is jam packed with 23 mini jars of unique and special flavour combinations of marmalades and, er, jams for this Christmas, plus two surprise gifts.
While the jams are all very delicious, the mini jars can be reused and upcycled into Christmas decorations or filled with treats and popped into a stocking to create an eco gift that will never get thrown away.
This year's calendar is a traditional Christmas home with 23 doors hiding a 30g mini jar with festive flavours including Mirabelle plum with Linden blossom spread, fig with cardamom extra jam, orange with cinnamon marmalade and chestnut and orange with spices spread. It's the perfect way to say Joyeux Noel! 
Available from www.bonnemaman.co.uk and from DesertCart in the UAE
Bathtime Goodies
The Lush Advent Calendar 2022, £185 (AED 995)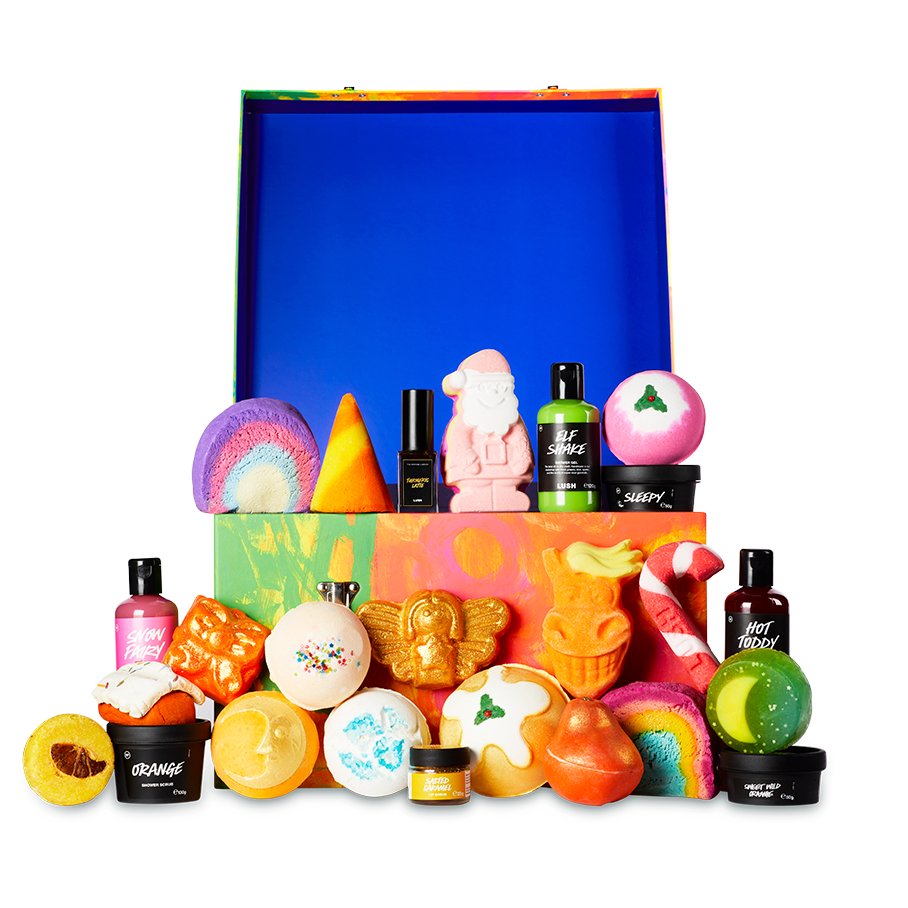 One of the most hotly-anticipated advent calendars, Lush's 2022 vegan offering is beyond cool.
Always a crowd-pleaser, this year's selection features 25 specially selected vegan products all packaged in a limited edition box designed by ARTHOUSE Meath – a UK based enterprise that showcases the talents of people living with severe epilepsy, learning or physical disabilities. The box is hand-constructed from completely recycled board and paper with a ribbon made from recycled polyester and plastic bottles all of which you can reuse. Even the tissue paper inside is made from 100 per cent recycled paper.
Inside the ethical, vegan festive treats include the retro Gingerbread House bubble bar, Christmas Party bath bomb, Christmas Eve bath soap and Ice Rainbow bubble bar – all exclusive to the calendar. There's also an elf shake shower gel, salted caramel lip scrub, magical santa bath bomb and candy cane reusable bubble bar. 
Available from lush.com and lush.com/ae
Conscious Beauty
Holland & Barrett 25 Days of Conscious Beauty calendar, £55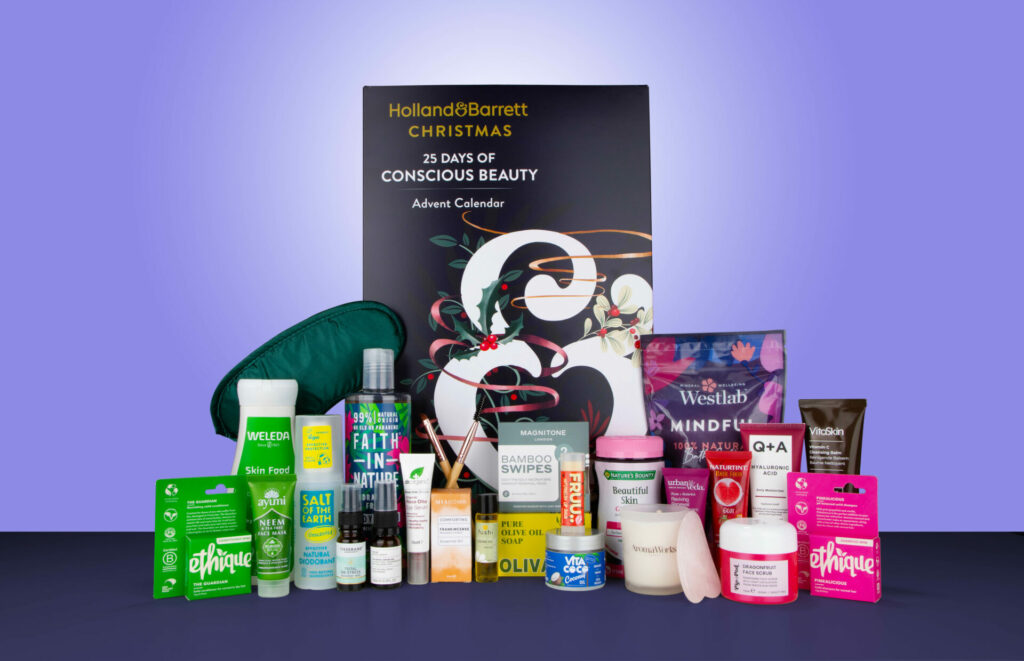 This beauty and home accessories advent calendar is as kind to your skin as it is to the planet with a whopping 25 treats in the countdown to Christmas. Incredibly popular, the luxurious conscious products are worth £180 which is why there has been a waiting list for the last month.
Inside are natural beauty products – 14 of which are full size including cult favourite, Weleda Skin Food Body Lotion, as well as a candle and essential oils. Other customer favourites and new launches include Holland & Barrett's very own Pip & Pod, VitaSkin and Oleus and big-name brands including Evolve, Dr Organic, Q+A, and Ethique.
Only available in the UK. The vegan calendar is available in selected stores and online
HAPPi Christmas!
HAPPi Advent Calendar, £15.00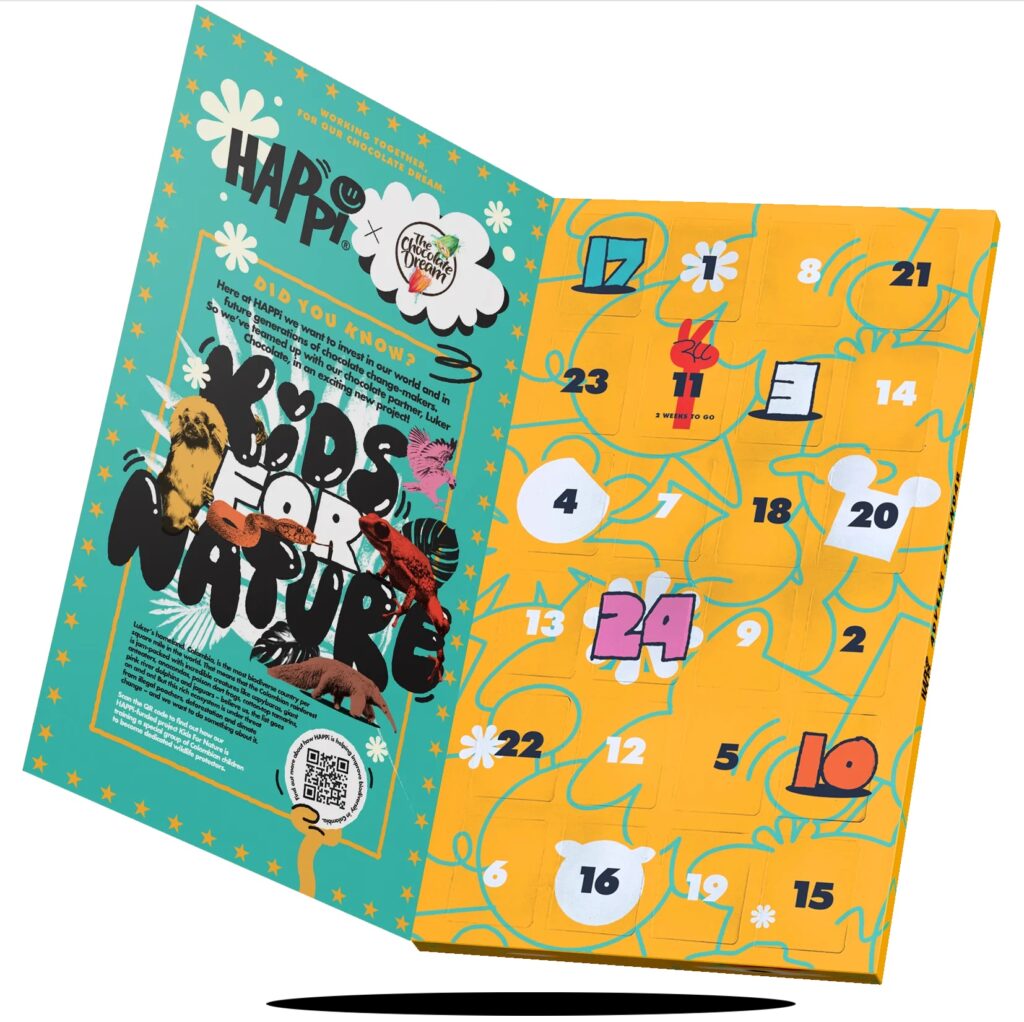 Forget the single-use plastic problem with this sustainable advent calendar from m!lk choclate brand HAPPi which is 100 per cent plastic free and uses ethically-sourced cacao and oats for its chocolate.
The calendar contains 24 pieces of its award-winning Oat M!lk chocolate, which are vegan and gluten free. HAPPi's chocolate also contains less sugar than other leading brands, which is good for those of us with a sweet tooth who don't fancy a visit to the dentist over the festive season or a shock standing on the scales! The bright packaging will be a hit with kids, too.
Only available in the UK. www.happifreefrom.com.
Cadbury Heritage
H!P 2022 Advent Calendar, £9.99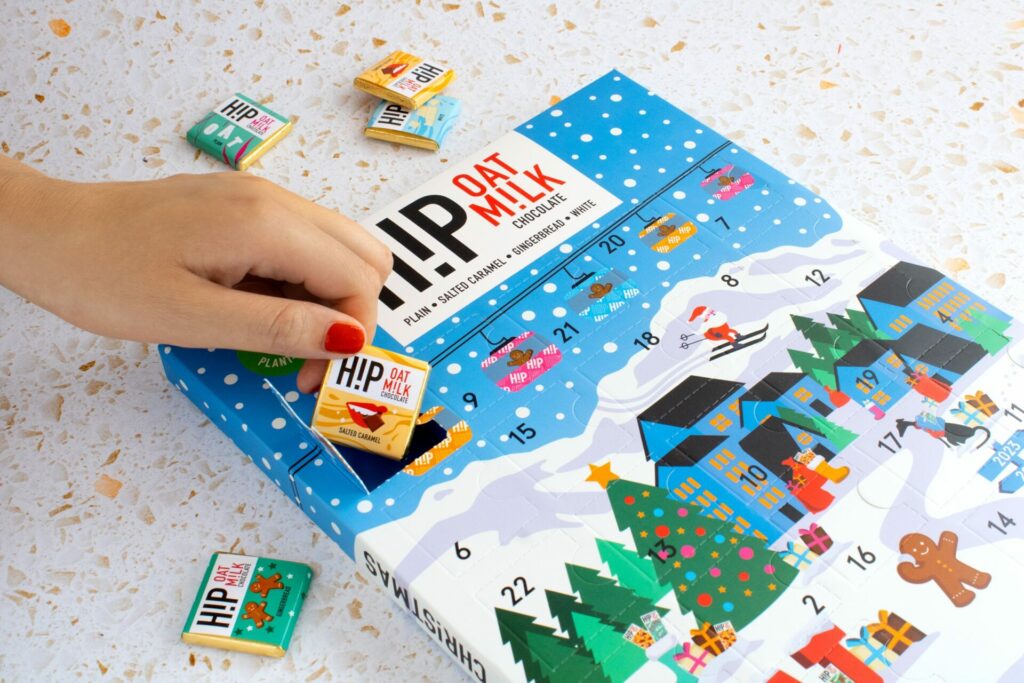 When it comes to chocolate one name rules supreme – Cadbury, who created the Dairy Milk megabrand that is loved the world over. Now there's a new oat meal chocolate from H!P (Happiness in Plants) whose founder is James Cadbury, the great-great-great grandson of the original Mr John Cadbury and who has put not one, but four flavours into the 2022 advent calendar.
Sustainably produced using slavery free, single origin Colombian chocolate and deliciously creamy oat milk, there are four plant-powered flavours in the 24 squares to enjoy: original, salted caramel, white and gingerbread. The vegan chocolate has 30 per cent less sugar than your average dairy milk chocolate and the calendar is entirely plastic free and has recyclable packaging.
H!P's carbon footprint is also more than 50 per cent lower than chocolate made with cow's milk which makes us very happy.
The calendar is only available in the UK from H!P Chocolate, Amazon, Ocado and Whole Foods.