Across the world, governments have bold plans to increase the take-up of electric cars. The UAE economy was built on oil wealth, but this has not stopped the rulers from launching the National Electric Vehicles Policy which aims to increase the share of EVs to 50 per cent of total vehicles on the UAE's roads by 2050.
A July 2023 report by CARS24 reveals that electric vehicles (EVs) currently make up a little over 1 per cent of the UAE car market, but demand is projected to grow by 28 per cent annually until 2030. As an incentive to encourage more drivers to take up zero-emissions motoring, EVs are exempt from Salik highway tolls
The target of 50 per cent EVs on UAE roads by 2050 isn't quite as ambitious as European countries that aim to ban the sale of all new petrol- and diesel-powered cars in the 2030s, but it has the potential to change the face of motoring in a country where gas-guzzling SUVs, luxurious saloons and powerful supercars have long ruled the roads.
Is this the end of the petrol station?
To successfully ensure more drivers swap petrol for electricity, infrastructure is essential. The days of driving up to a petrol station to get your car filled and windscreen washed are far from over, but public charging points are becoming more accessible in the UAE.
Alix Capper-Murdoch, an automotive influencer and trainer, says that in Dubai, there are charging points in 'every shopping mall, car park, every business car park, at the airport, there's even one at Town Square Skate Park.'
'Dubai, Sharjah, Ajman and Abu Dhabi are good – there's more forward thinking than many other places around the world,' she adds.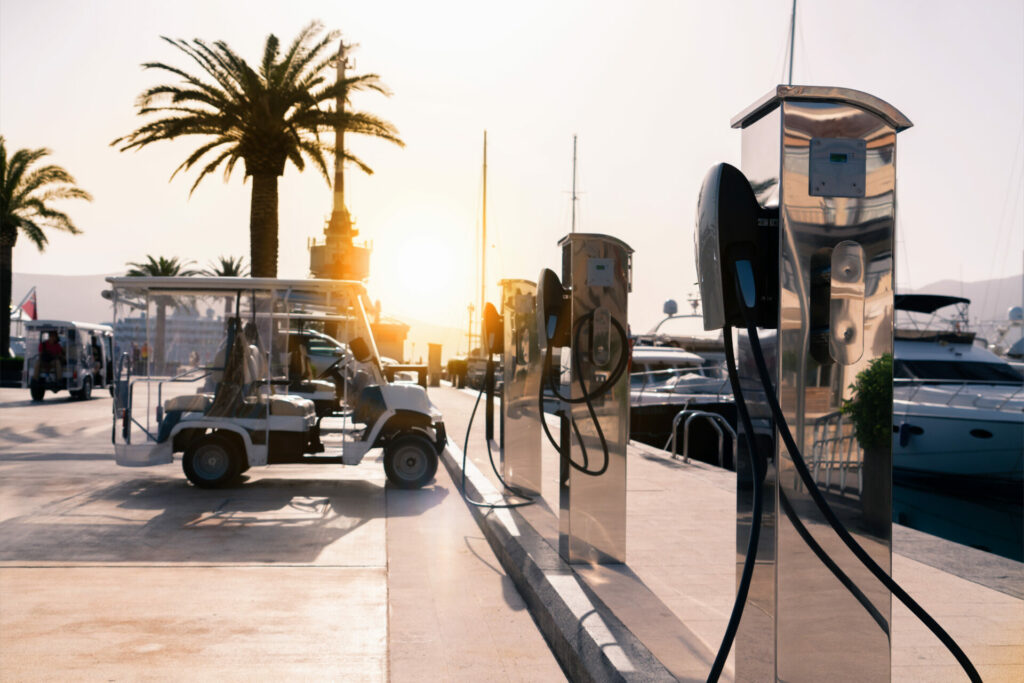 While great progress has been made already with public charging points, Alix says the one area where there could be issues is 'installing home charging machines, as most properties are rented, due to the transient nature of the country.'
The good news is that the UAE is not a big country and many people's daily commutes do not cover great distances, which should create an ideal market for going electric.
'Having tested EVs in various countries around the world, I can wholeheartedly say that the infrastructure in the UAE far outweighs many other places,' she adds. 'It's a relatively small country, therefore fairly efficient if you're only required to drive short journeys.'
Will more EV charging points be installed?
The UAE's Global EV Market project was announced in May 2023. The Ministry of Energy and Infrastructure (MOEI) has signed agreements with academia, the private sector and utilities with one of the aims being to attract more investment in charging facilities, installing them across federal government buildings, roads and truck stops.
Popular automotive brands have signed up to the project, including Audi, BMW, General Motors, Jaguar Land Rover and Porsche.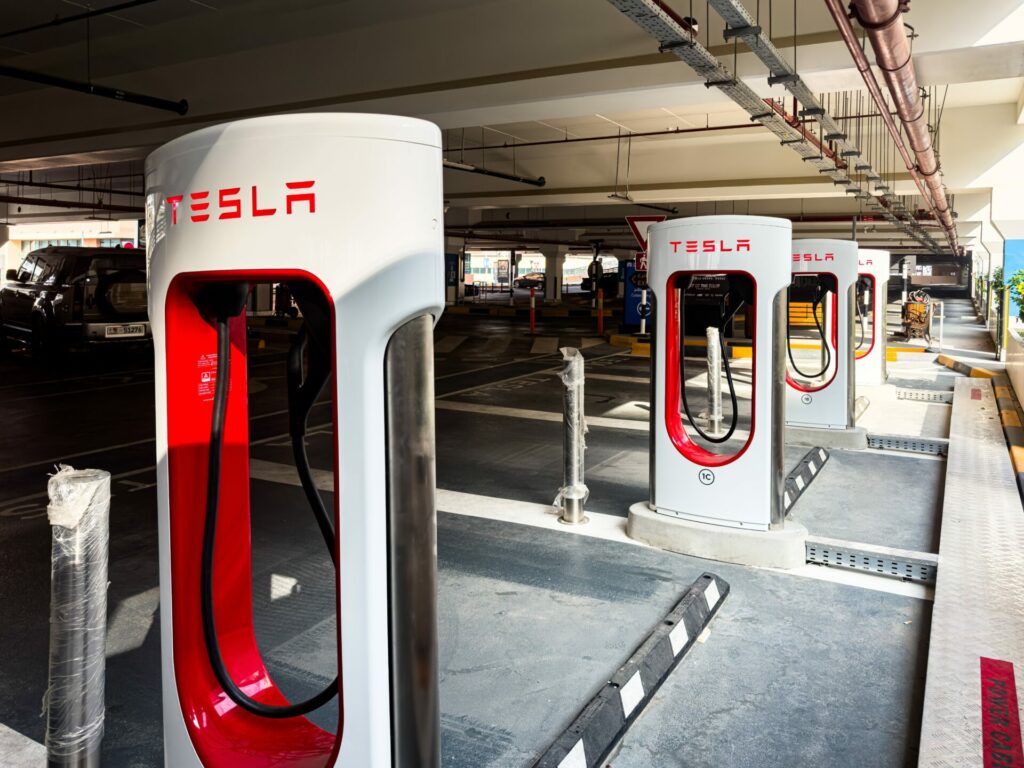 By the end of the year, the MOEI aims to have 914 charging stations installed in the UAE, and is working to create an EV GCC corridor with fast-charging stations on the borders with Saudi Arabia and Oman.
In Dubai, utility provider DEWA has already installed 620 public charging stations, and plans to increase this to 1,000 by 2025.
BEEAH Group is one of the companies that has partnered with the government to help roll out more charging points across the UAE. Nasir Al Shamsi, the company's chief transport officer says that ION – BEEAH's sustainable transport arm – will 'take charge of establishing, managing and maintaining the essential charging infrastructure required to accelerate the widespread adoption of electric vehicles.'
Nasir says ION will be installing and maintaining charging points in 'public areas, commercial spaces, parking facilities, and residential complexes' and use real-time monitoring to ensure timely repairs and maintenance.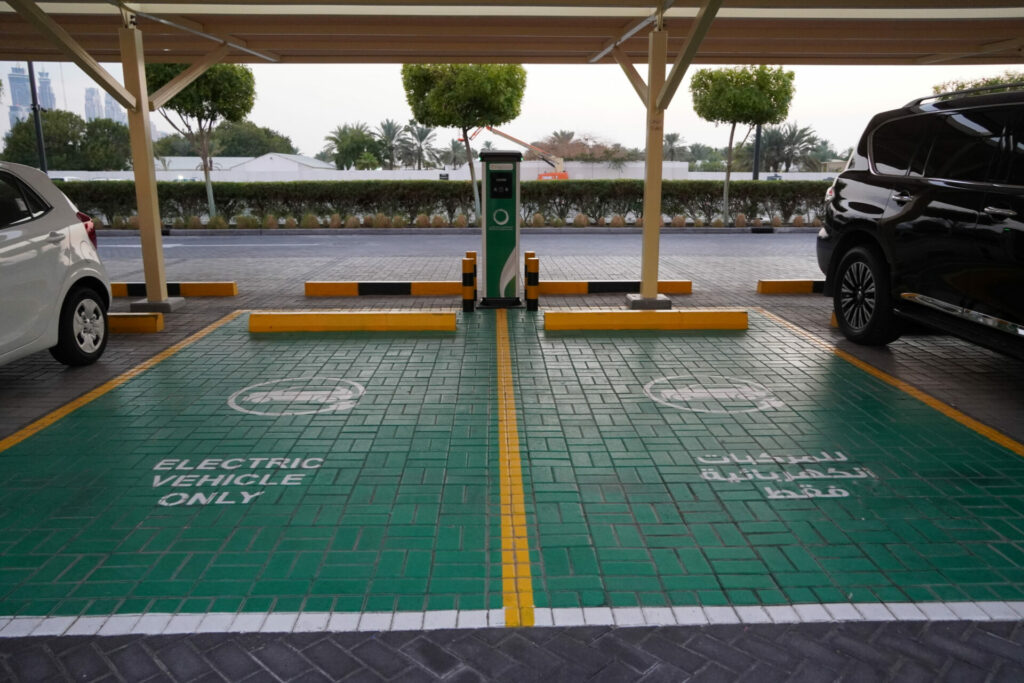 'Swift identification and resolution of technical issues are a priority to minimise any disruptions and inconvenience for EV users, ensuring a seamless charging experience,' he says.
Another partnership with big ambitions for charging points is the ADNOC-Abu Dhabi National Energy Company (TAQA) joint venture, E2GO. This partnership aims to build and operate electric car infrastructure across Abu Dhabi and the wider UAE. With an estimated 70,000 charging points needed by 2030, E2GO is set to be a busy project.
Are there many EV's on the market?
Currently, more than 60 electric and plug-in hybrid electric models are on sale in the UAE, across a range of brands, including high-end luxury vehicles, sports cars, practical passenger cars and vans. Among them is General Motors, which sells the Chevrolet Bolt electric utility vehicle, and has plans to launch five more models in the UAE market.
As well as selling new electric cars, Jack Uppal, president and managing director for General Motors Africa & Middle East, says the company is working with Al Wegdaniyah Transport to explore EV leasing for private clientele. With most EVs available in the UAE priced at more than Dh100,000, this could be a more affordable option for eco-conscious drivers.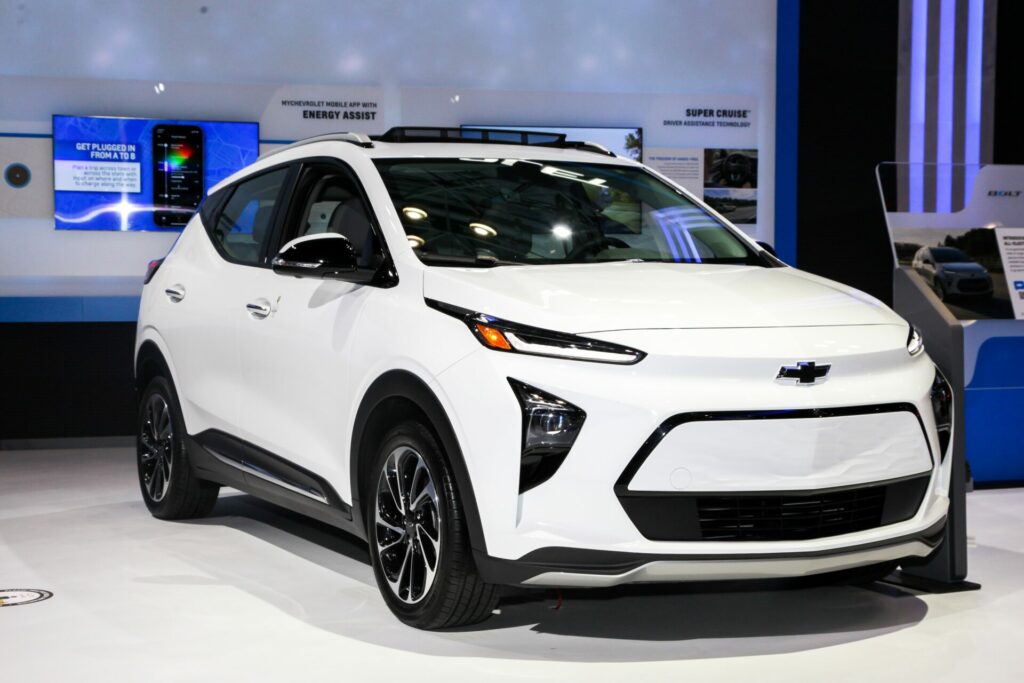 At the more competitively priced end of the market, Peugeot is selling its electric 208 hatchback from Dh77,900 and there are relative bargains in the used car market, such as the Zotye E200 model, a Chinese electric supermini that was made between 2016 and 2021. Secondhand E200s can be picked up for around Dh60,000.
Who's going to fix my EV?
As cars have become more complicated, mechanics have had to upskill to keep up with technology. Fixing a car with a basic toolkit is impossible with most modern cars, and electric cars require even more specialist skills. The Global EV Market project includes incentives to invest in electric car service centres, so drivers can be confident of competent repairs and maintenance.
With all major automotive brands in the UAE already operating service centres, it is expected that these facilities will continually evolve to have the ongoing capacity to work on EVs. Independent specialist EV service centres have already opened in the UAE. EVS and Royal Swiss Auto Services both have two garages in Dubai and one in Abu Dhabi, for example.
Looking ahead, there is optimism in the UAE automotive industry about the potential for zero-emissions motoring. Speaking at an EV summit in May this year, Hasan Nergiz, managing director of Al-Futtaim Electric Mobility Company, the sustainable transport arm of Al-Futtaim Motors, believes government policy is translating into sales: 'The market dynamics continue to change with electrification and carbon-zero growing from a national agenda to a prolific customer demand.'