Crushed date seeds, dried fish scales and kombucha, a sweetened black tea. No, they're not raw dishes from the menu of a newly-launched restaurant or the secret recipe to the elixir of youth. They are, in fact, the ingredients used to make a sleek vanity console, a three-tier floor lamp and a hanging light fixture.
Four budding designers in the UAE have married sustainability creatively with functionality to design these ingenious luxury furniture pieces.
Unveiled at the recently concluded Dubai Design Week 2022, these cutting-edge interior decor designs were part of the Tanween collection by Tashkeel. They were created by the designers during a 12-month design programme, held annually at Tashkeel, a multi-disciplinary studio and workspace in Dubai.
Innovating with waste materials that would otherwise have been dumped in landfills, the designers also effectively made use of produce intrinsic to the region.
Sara Abu Farah and Khaled Shalkha grew up in Sharjah and Abu Dhabi, cities dotted with date palms. So, when it came to designing a sustainable interior decor product as part of the programme, the husband-and-wife duo, with their background in engineering and architecture, ended up creating Datecrete – claimed to be the first cement-style material made of date seeds that has no traces of concrete or resin.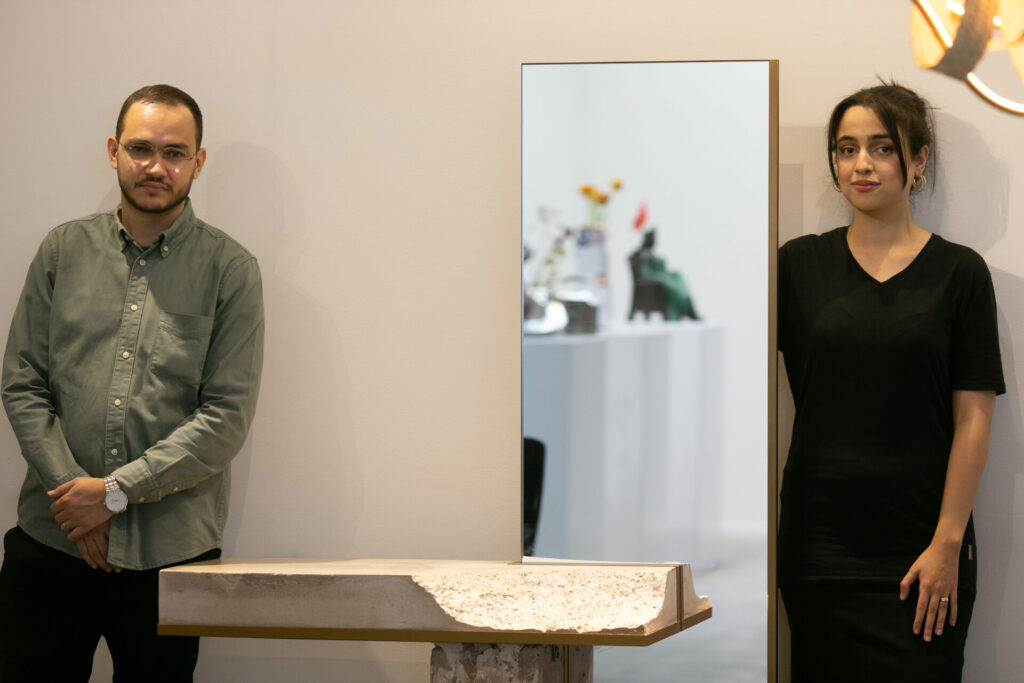 'Sara and I saw that date seeds are an extremely hard material, they are similar to wood,' Shalkha tells The Ethicalist. 'We also referred to a few academic journals that inspired us to grind the date seeds into a form of aggregate in combination with a chemical binder to structurally enhance the material.
After experimenting with drying and grinding the seeds in their home lab, and testing different proportions, scales and ratios they were happy with the final material mix. 'In the end we got something that is stronger than concrete and can be a local alternative to Portland cement,' shares Shalkha.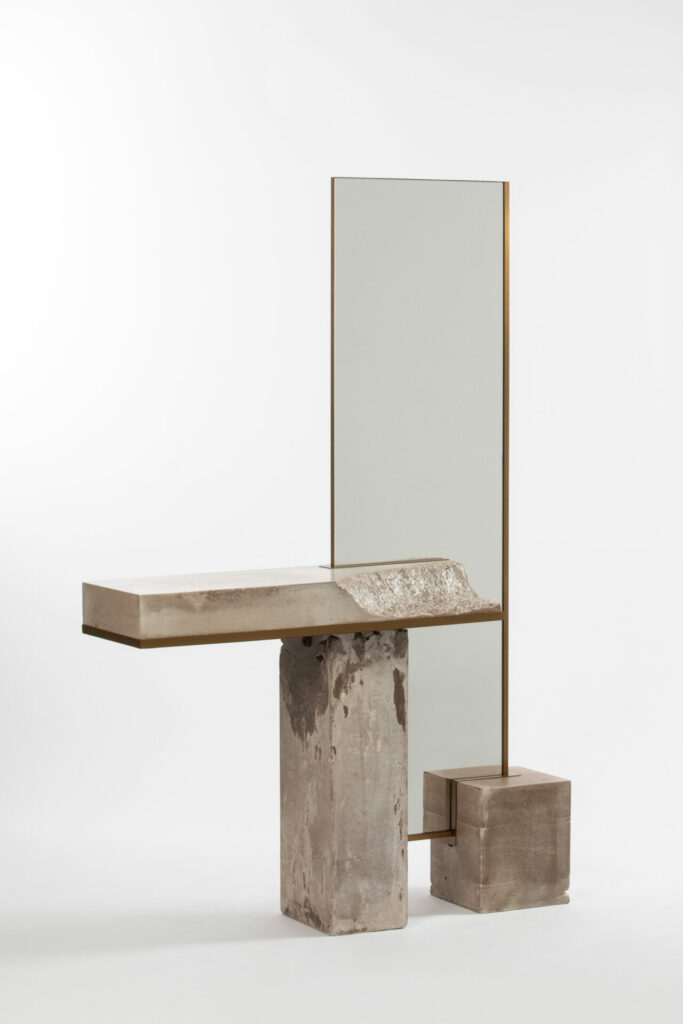 The UAE produces 750,000 tonnes of dates annually – 14 per cent of the global output. Historically, a pinch of roasted,and ground, date seeds was used in the production of organic kohl, used for eye make-up and a tradition that continues in Emirati homes even today.
This cultural aspect inspired the designers to build a vanity console with the date material. They fitted the final product with brass-plated stainless steel and a silver coated Belgian mirror. The designers say the minimalistic console received a positive response at the design fair. 'There was surprise and delight that what was considered a regional waste material could be used to create something so beautiful and functional,' says Shalkha.
Sustainable Interior Decor
For Emirati architect Reema Al Mheri, her family's association with indigenous fishing communities in the UAE proved to be the inspiration behind designing a lampshade made with fish scales. The biodegradable three-tier golden floor lamp, created out of dried fish scales, and a seaweed extract bio-binder and stainless steel, is called Tibrah.
'The marine ecosystem is part of my family – my grandfather was a guide of ships in the fishing sector in the UAE, Al Mheri explains. 'During my research, I found that 40 per cent of fish waste is discarded. The pearlescent nature of fish scales led me to design a lampshade made with them,'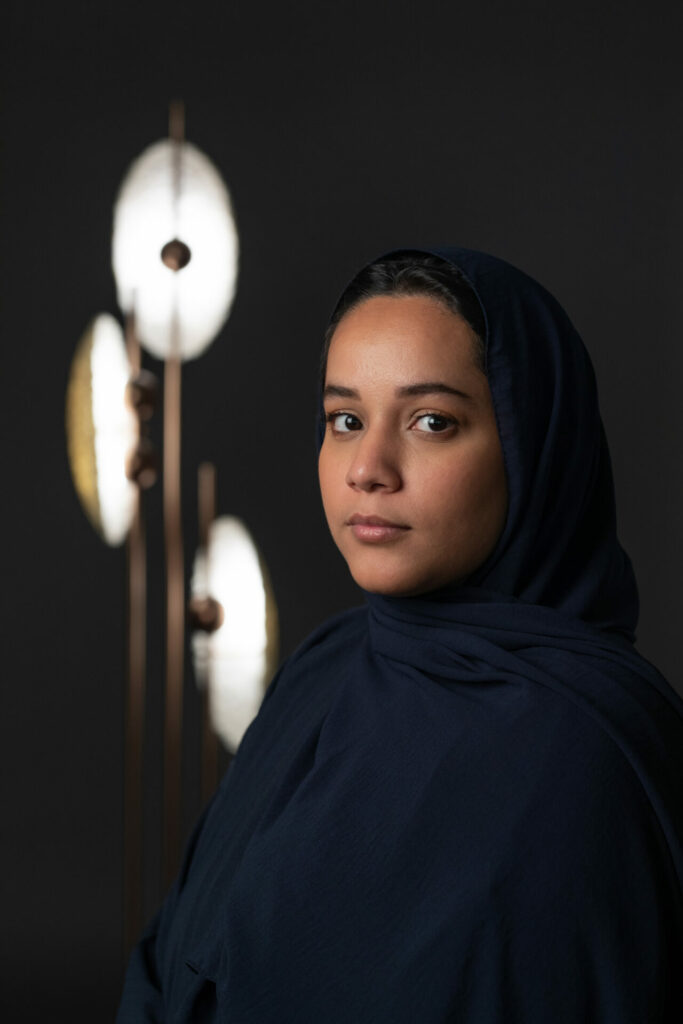 During the interior decor design process, Al Mheri collected 6-10 kgs of fish scales every day from the Ajman fish market. They were dried until they became white, pearl-like and odourless. Once she discovered a suitable bio-binder, she moulded the paste into a shell-like material. As an ode to the pearling industry in the UAE, the lamp was named Tibrah, an Emirati term used to refer to the location of oyster beds.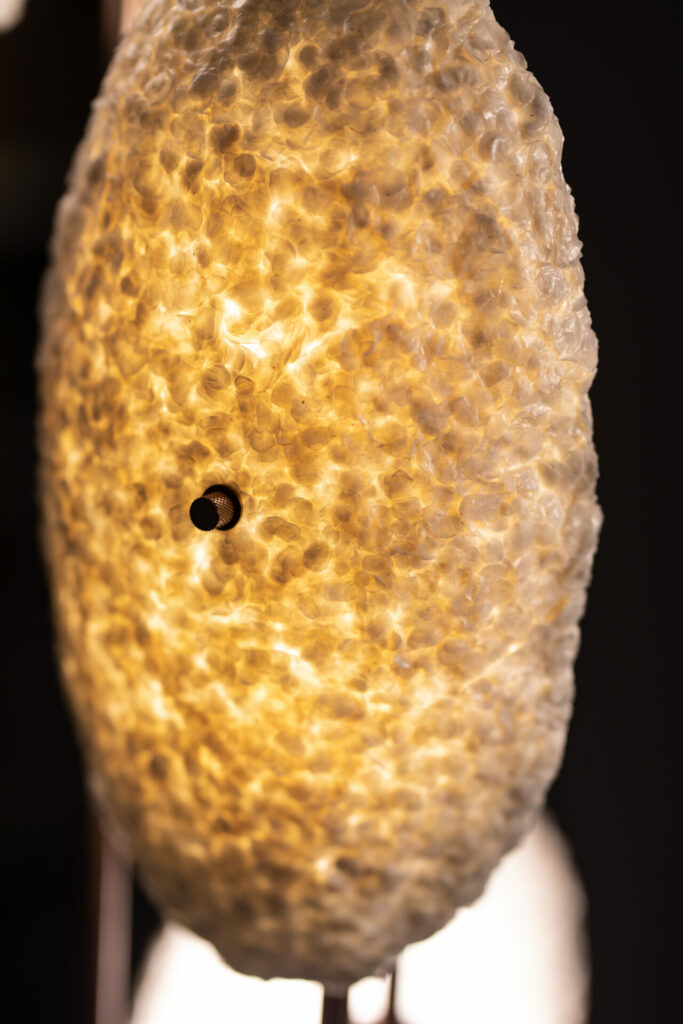 Working With Nature
'Sustainability is vital to me,' she says. 'I believe in co-existing with nature rather than being human centric. Accountability in design is important, it enables us to have an honest conversation about how we can progress as a community in being sustainable.'
If Al Mheri took a cue from the ocean, Egyptian designer Shaza Khalil found her muse in a cup of Kombucha. Shaza's glowing white hanging light – titled sKin 2022 – in the shape of a plumeria leaf is covered with it. 'Experimenting with Kombucha has been a personal passion for years, the versatility, sustainability and beauty of it has always inspired me,' she says. 'It was a concept that I wanted to research further and integrate into product design.'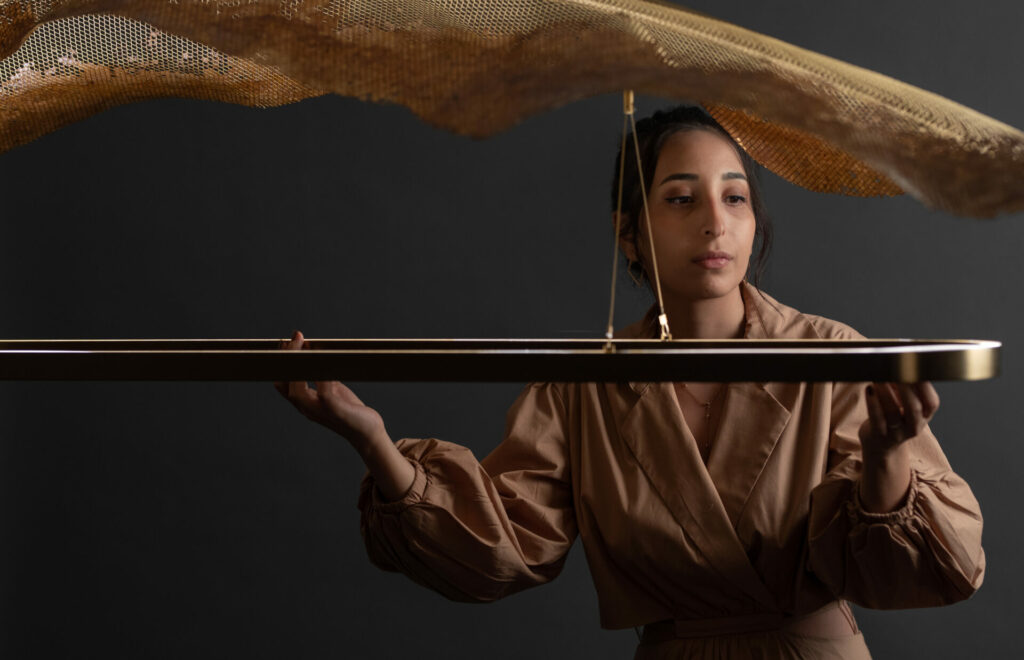 For the Tanween interior decor programme, Khalil brewed Kombucha using honey, tea and vinegar. 'I then washed the material that grew on top to create a paste, which was then embedded into the metal mesh,' she explains. The sKin structure is aluminium with stainless steel, so, in effect, it is Kombucha and metal with an LED light.
As Kombucha is a biodegradable material, Khalil sealed it with beeswax and oil to protect it. 'It's a hanging lamp and ideally it should not be touched regularly,' she says. 'It is strong and durable and I am hoping to develop a range of products with Kombucha and metal mesh in the future.'
Profits from the sale of every item in the Tanween collection are re-invested into the design programme at Tashkeel to provide training to gifted product designers in the early stages of their careers.