'Tis the season to be planning those pricier purchases for our loved ones such as special jewellery or a trending timepiece. However, while lavish gifts such as watches are generous and irrefutably stylish, the real question prevails… are they sustainable?
The watch industry has long been at the centre of controversial discussions regarding humanitarian and ecological abuse due to its close affiliation with gold and metal mining. Metal, gold and other materials make up the components of a watch including the hands, the movement, the case, the crown, the bezel – a ring of material that secures the watch crystal in place – and in some cases the bracelet and buckle.
Extracting metals from the earth has been linked to deforestation, wildlife displacement, soil and water contamination and high emissions. In fact up to one-third of the world's forests may already be affected by mining, with regions such as the Amazon, the Congo Basin and Southeast Asia at particular risk. That's because raw materials such as metals, diamonds and gemstones are often extracted from mines that turn biodiverse rain forests into vast, barren moonscapes. That's not to mention the asociated human rights violations.
Moving away from mined metals and its dinosaur sized ecological footprint is high on the agenda for a wave of watchmakers keen to align with the new consumer sentiment of healing not harming our planet. Brands, such as Oris and Mondaine, have placed carbon neutrality at the centre of their manufacturing process while others including luxury names Breitling and Panerai, have started using recycled materials to attract conscious consumers.
However, the ethos behind the luxury watch market is arguably sustainable in its own right. The tradition of handing a timepiece down through generations has long been the mindset behind traditional watchmaking virtues. Patek Philippe famously coined the expression that 'You never actually own a Patek Philippe, you merely take care of it for the next generation.'
So if buying a watch for your loved one is on your agenda this month, take a look at our 'Top 3 High Street versus Luxury Brand equivalents that covers all the price points.
LUXURY
Carl F Bucherer, Patravi ScubaTec Black Manta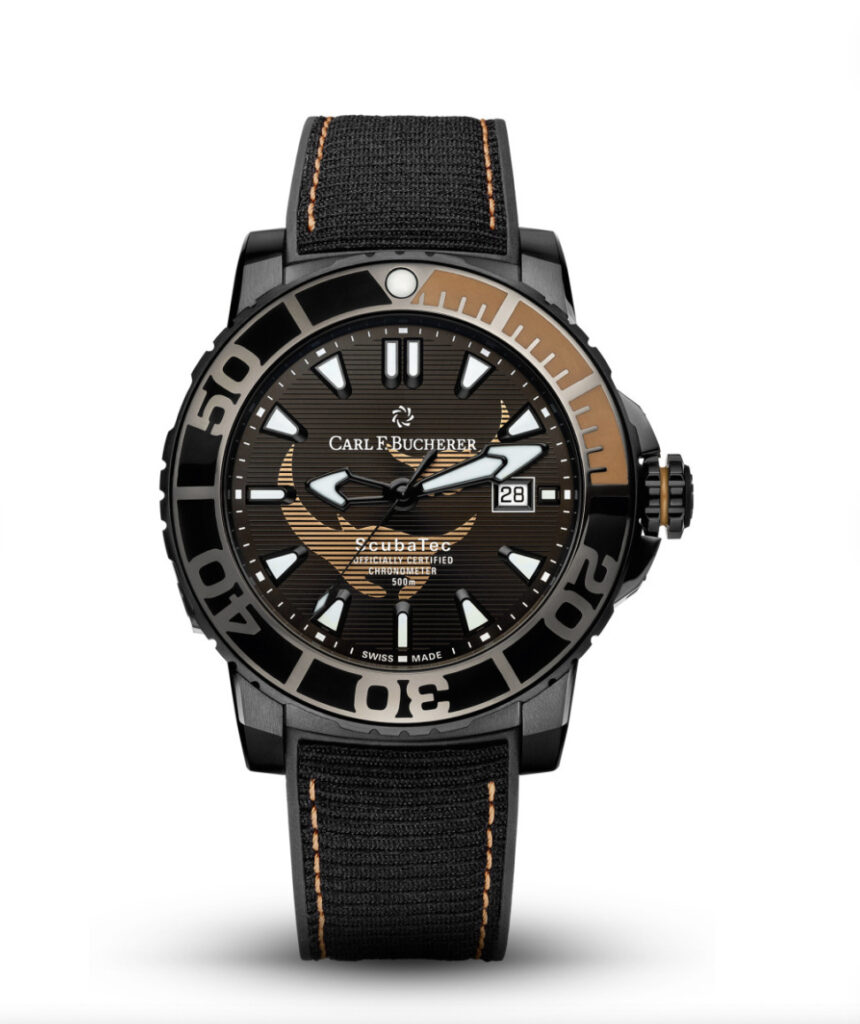 The brand joined forces with the Manta Trust – an organisation active in 16 countries worldwide that promotes conservation of manta and devil rays – to create an innovative textile strap that is mostly composed of recycled PET bottles. Part of the proceeds go to the charity.
Buy second hand from https://www.chrono24.com/ prices start from AED18,000
HIGH STREET
Triwa, SUB Ocean Plastic Nemo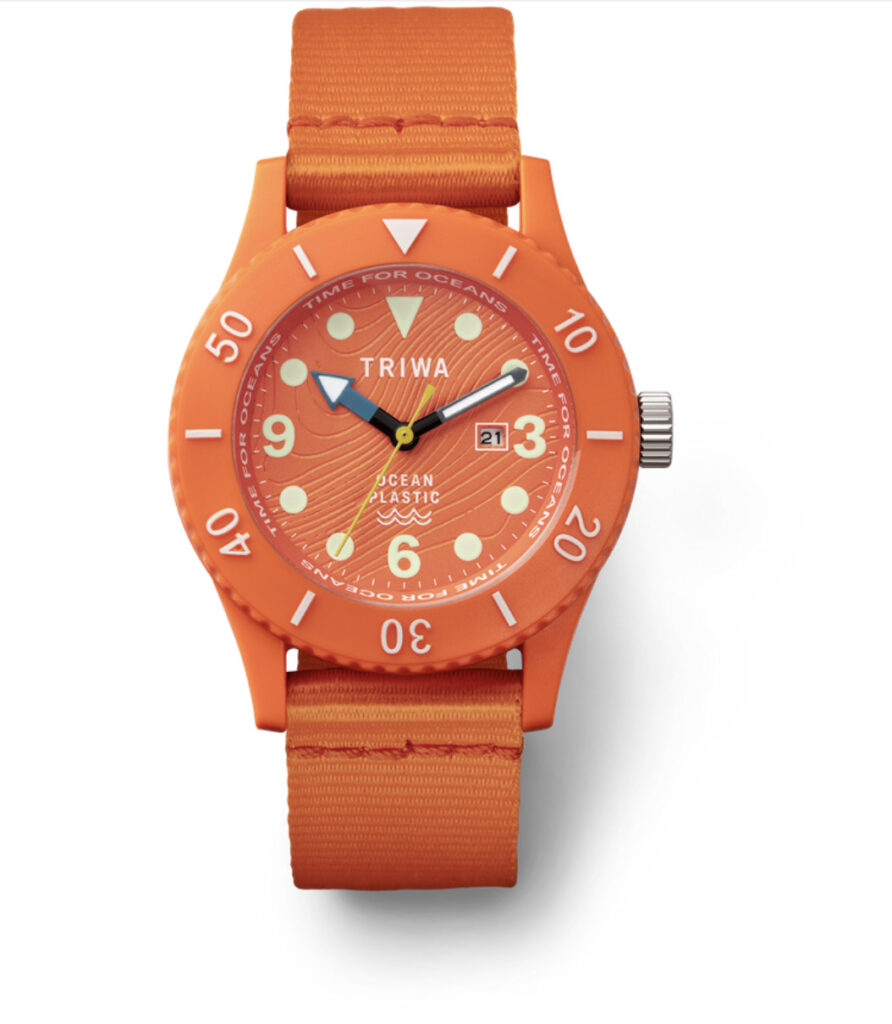 The 'Time for Oceans' line might just be our favourite, creating both straps and cases from recycled plastic but you should also check out the Time for Peace range which uses Humanium metal, made from recycled illegal firearms sourced from local authorities in El Salvador. Triwa definitely lives up to its acronym (Transforming the Industry of Watches).
Buy from Triwa.com prices start from AED620
LUXURY
Breitling, The Superocean Heritage Chronograph 44 Outerknown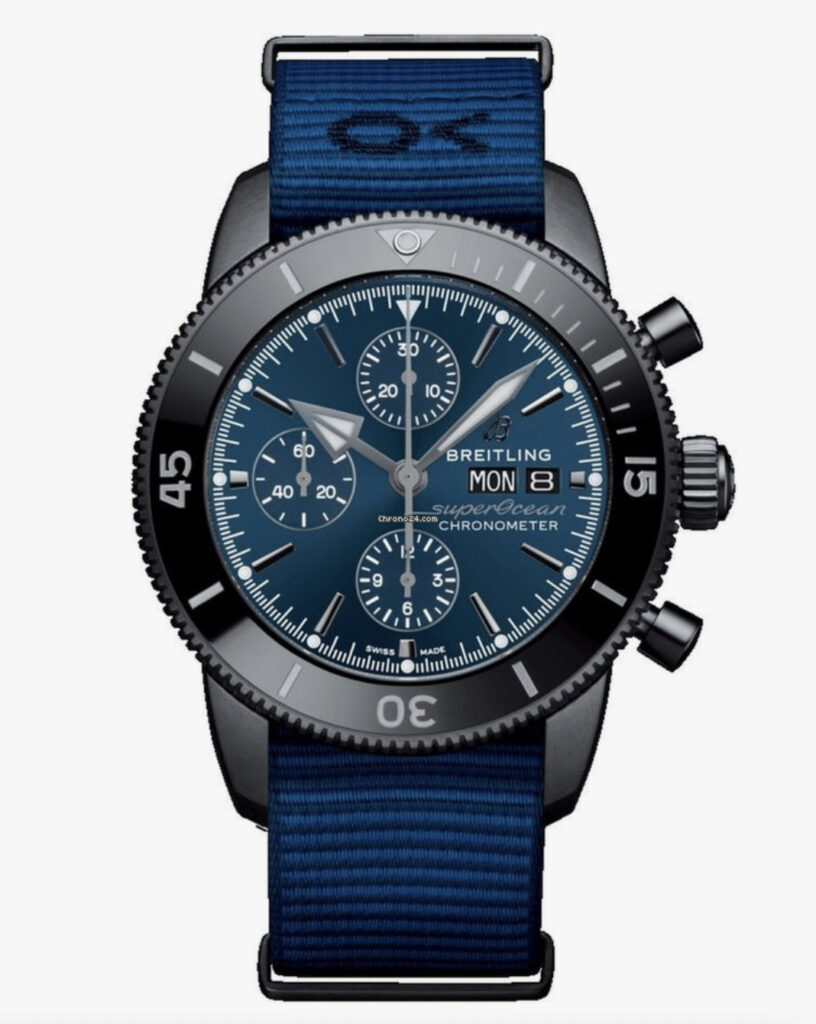 Breitling partnered with sustainable apparel manufacturer Outerknown and created a single piece strap from Econyl, a yarn made from nylon waste including abandoned fishing nets.
Buy second hand from https://www.chrono24.com/ prices start from AED18,000
High Street
Mondaine, Classic Ocean Blue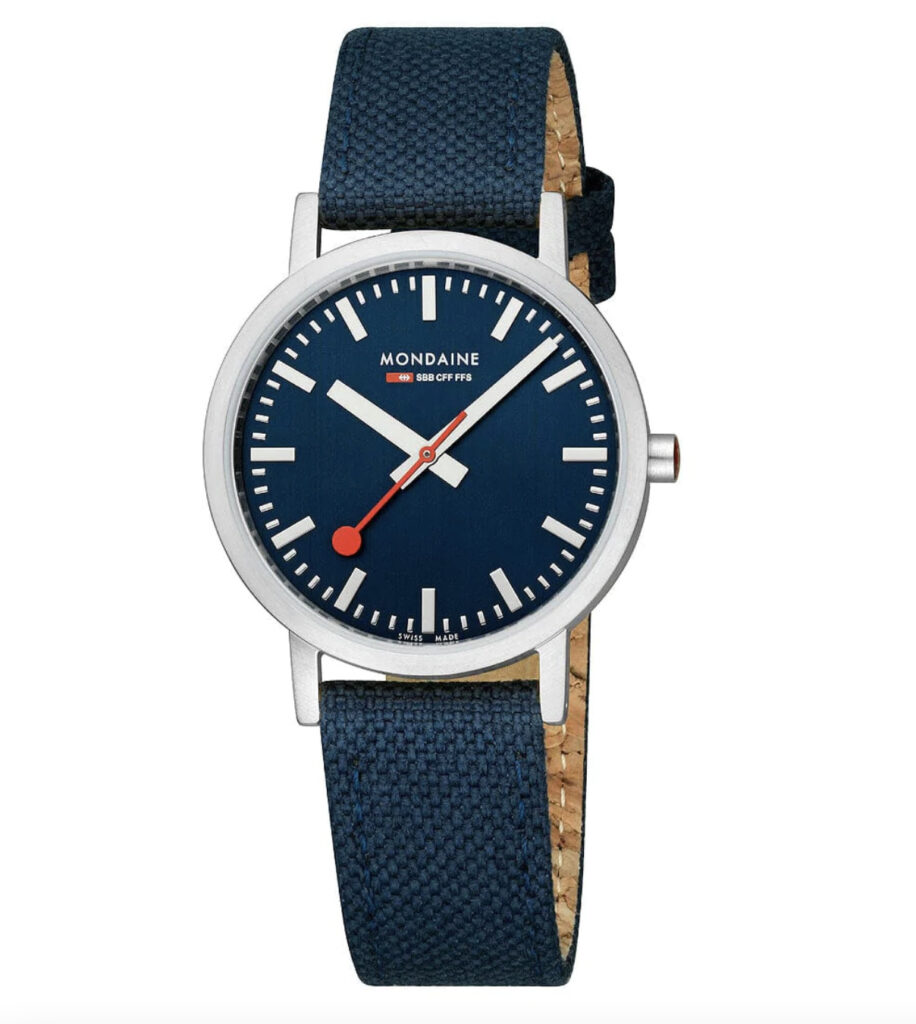 Mondaine is the oldest and most established ethical watch brand. They developed the first solar powered analog wristwatch, and for over 30 years have been developing products with recyclable materials. They also achieved carbon neutrality by supporting tropic reforestation projects. This model features a recycled PET textile strap with comfortable cork lining and stitches
Buy from mondaine.com from AED1,000
LUXURY
Oris, Clean Ocean Limited Edition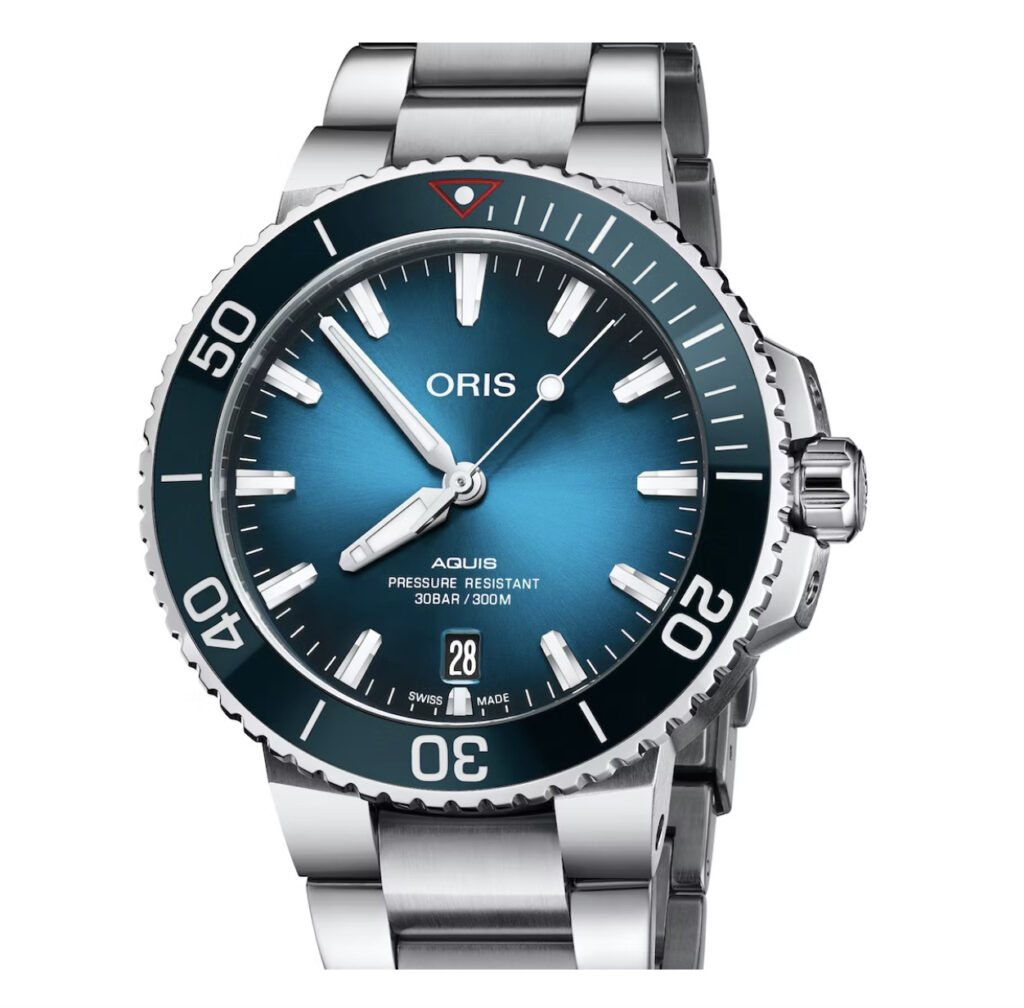 Oris was declared climate neutral in 2021 by ClimatePartner, the world's leading independent climate action experts. They have since created a collaborative timepiece with Pacific Garbage Screening – a pioneering new ocean conservation organisation turning plastic waste into energy – to release a limited series of 2,000 watches. Each piece is presented to its buyer in a box made from algae, or recycled paper, the straps are made of recycled PET and the plastic insert is also made of recycled PET plastic.
If you can get your hands on one of these pieces from Oris, it will set you back approximately AED8,600.
HIGH STREET
Nuun Official, Escential Collection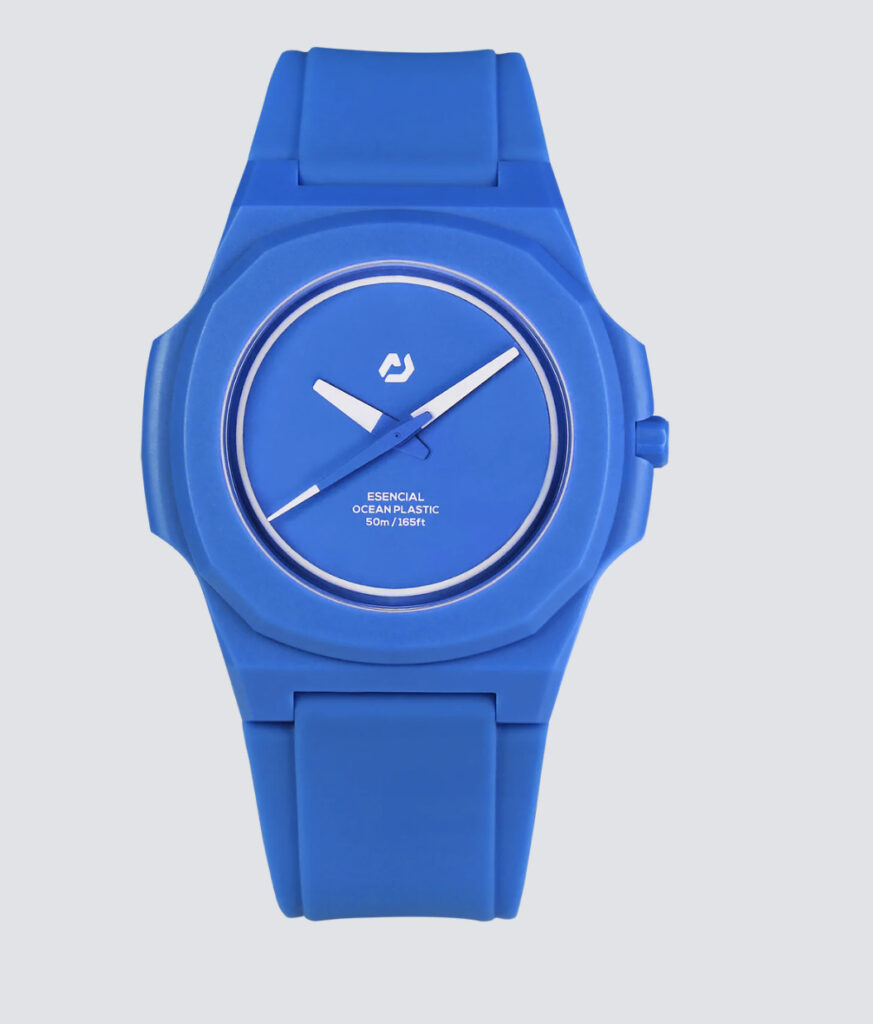 Maybe you have an affinity for the ocean and its marine life? Their new Esencial collection from Nuun collaborates with Tide Ocean Materials – and each watch has been created from four recycled plastic bottles removed from the ocean.
Buy from nuunofficial.com prices start from AED580
Which exact way to go with these eco choices ultimately comes down to your own values and taste.
You can follow the watch enthusiast author on her instagram @WatchOurWorld