At least 177 environmental defenders were killed last year, with a fifth of the murders taking place in the Amazon rainforest and Colombia, the deadliest country for activists recording 60 deaths.
Murdered in the main by organised crime groups and land invaders, environmental campaigners were killed at a rate of one every other day in 2022, figures from the NGO Global Witness show.
Indigenous communities were extremely hard hit making up 34 per cent of those killed, despite representing about five per cent of the world's population.
The new figures mean that at least 1,910 environmental defenders have been killed between 2012 and 2022, with most of the murders going unpunished.
Other deadly countries last year include Brazil, with 34 killings, Mexico with 31, and Honduras with 14. A total of 11 defenders were killed in the Philippines.
The figures are a drop from the 200 killings recorded in 2021 but remain high, prompting Global Witness to call for special protections for environmental defenders of climate-critical ecosystems. The group's report highlights the scramble for resources in Latin America, Asia and Africa as a cause of the murders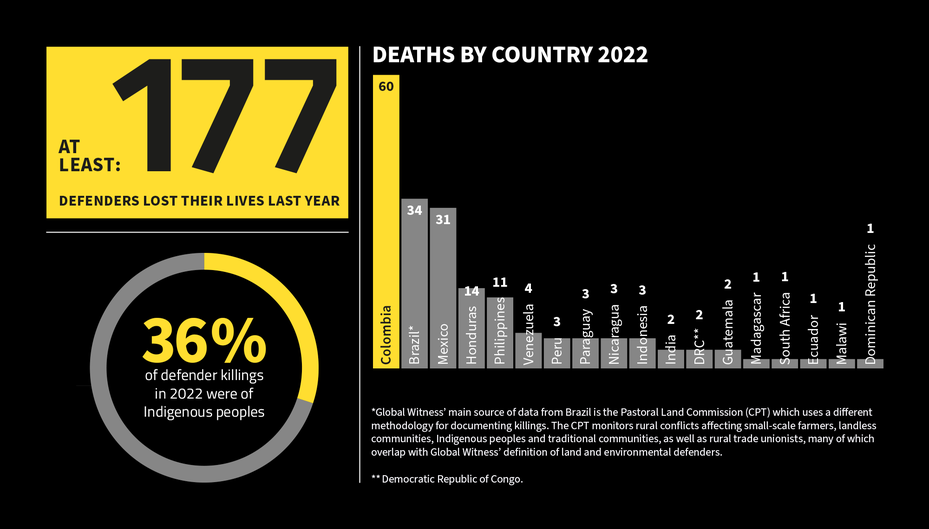 'For too long, those responsible for lethal attacks against defenders have been getting away with murder,' said Shruti Suresh, the co-director of campaigns at Global Witness. 'Despite being threatened by irresponsible corporate and government actions, this global movement of people, united by determination and a commitment to defending their homes and communities, are standing firm – and they cannot and will not be silenced.
'Governments around the world must urgently address the senseless killings of those who stand up for our planet, including for the protection of its most precious ecosystems which have a critical role to play in tackling the climate emergency. United action is needed at regional, national, and international levels to end the violence and injustice they face. Far too many lives have already been lost. We cannot afford to lose any more.'
Amazon Targets
In 2022, more than one in five of the 177 killings recorded globally happened in the Amazon.
Last year, the murders of Brazilian Indigenous expert Bruno Pereira and British Guardian journalist Dom Phillips in the Brazilian Amazon sent shockwaves around the world. They had been reporting on and defending Indigenous communities against land and environmental rights abuses in Brazil.
Tragically though, stories of violence, torture and threats are a shared reality for Amazonian communities across the region.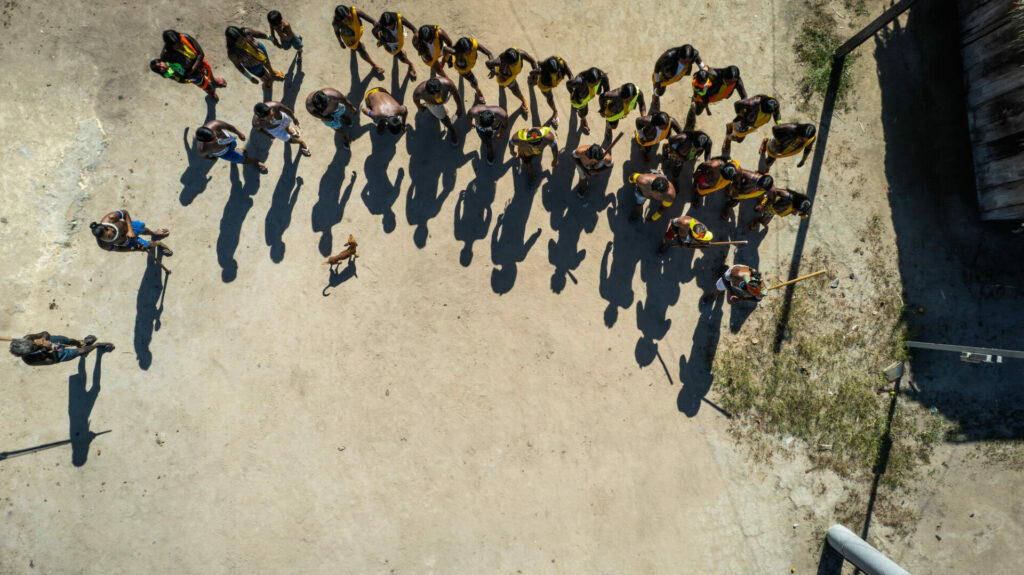 The Kayapó Indigenous peoples in Brazil, the Uwottüja Indigenous peoples in Venezuela, and the Kakataibo and Shipibo- Konibos Indigenous peoples in Peru are from distant corners of the Amazon, and yet they are connected by shared experiences of abuse inflicted by those who see the rainforest as an opportunity to line their pockets. These environmental defenders are also connected by their determination, against all odds, to protect their territories and the Amazon rainforest.
According to the report, activists also face a range of threats from activities including gold mining and logging. It stated that several companies based in the UK, the EU and the US are said to have been linked to human rights violations.
The campaign group stated: 'The extractive business models of destructive industries like mining, logging and large-scale agriculture come into direct conflict with the ways in which defenders live their lives. In too many countries, rich in natural resources and biodiversity, corporations are operating with almost complete impunity – safe in the knowledge that the state will look the other way and prioritise short-term profits rather than protect the rights of local communities.
'In their pursuit of profit, these industries may begin by intimidating communities to give up their land, or collaborating with state officials to take it from them. Where people object, companies often back up their demands with threats, intimidation, legal crackdowns or outright violence – using company security guards, state security forces, or hired assassins.'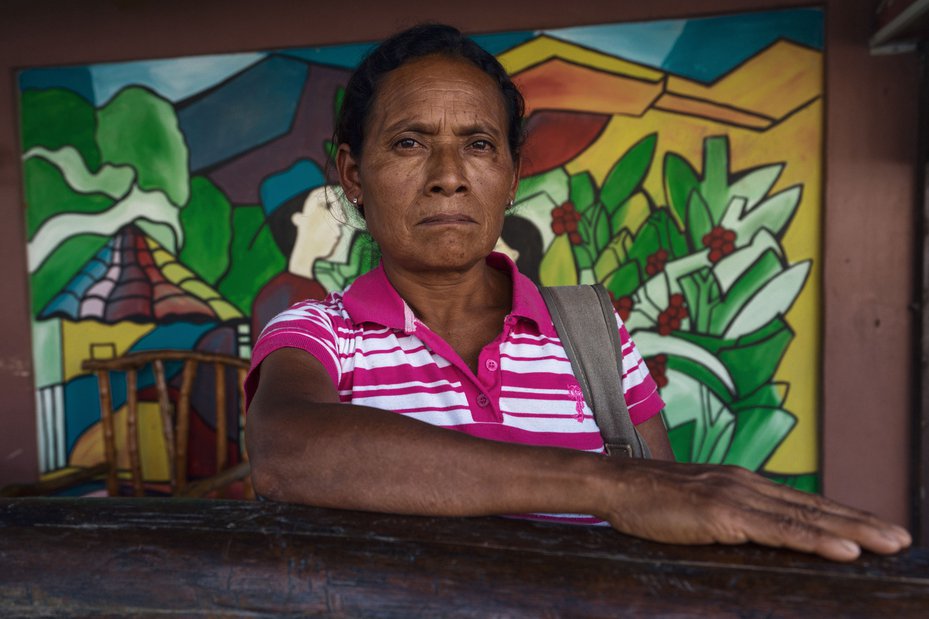 Global Witness is urging governments to enforce existing laws to create a safe environment for people trying to protect their lands and ecosystems and called for businesses to ensure their supply chains and activities are not involved in driving the violence.
Laura Furones, a forest governance expert who advised on the report, highlighted attacks against indigenous communities as a particular cause for concern.
'Research has shown again and again that Indigenous peoples are the best guardians of the forests and therefore play a fundamental role in mitigating the climate crisis,' she said. 'Yet they are under siege in countries like Brazil, Peru and Venezuela for doing precisely that. If we are to keep the forests standing, we must recognise that this relies upon the protection of those who call the forest home.
'No one is jailed. No one is tried. Nothing happens, so it's clear that killing a defender doesn't really entail too many risks for the murderers.'