It's a three-hour drive to the Virunga Mountains from Rwanda's capital, Kigali, and every minute gives me something to marvel at, from the women carrying great weights on their heads – sheaves of maize, bundles of sugarcane and yellow water containers – to the extraordinary dexterity of the men who transport everything from livestock to building materials on rickety bikes.
Field upon field of potato and cassava flash by as do small-scale banana and avocado plantations, and huge wooden drying frames hung with butter-coloured corn cobs. Finally, the tarmac runs out and we turn on to red dust roads to make the bumpy ascent up to Volcanoes Safaris' Virunga Lodge, where my suite is reflective of the local culture and landscape in its Afro-shabby-chic design, and there's an emphasis on using handmade traditional furnishings.
I have a fire-pit on the terrace with dreamy views over lakes Bulera and Ruhonduo, dotted with dormant volcanoes and tiny verdant islands, and I really could not be more content as I settle down to watch the sun set.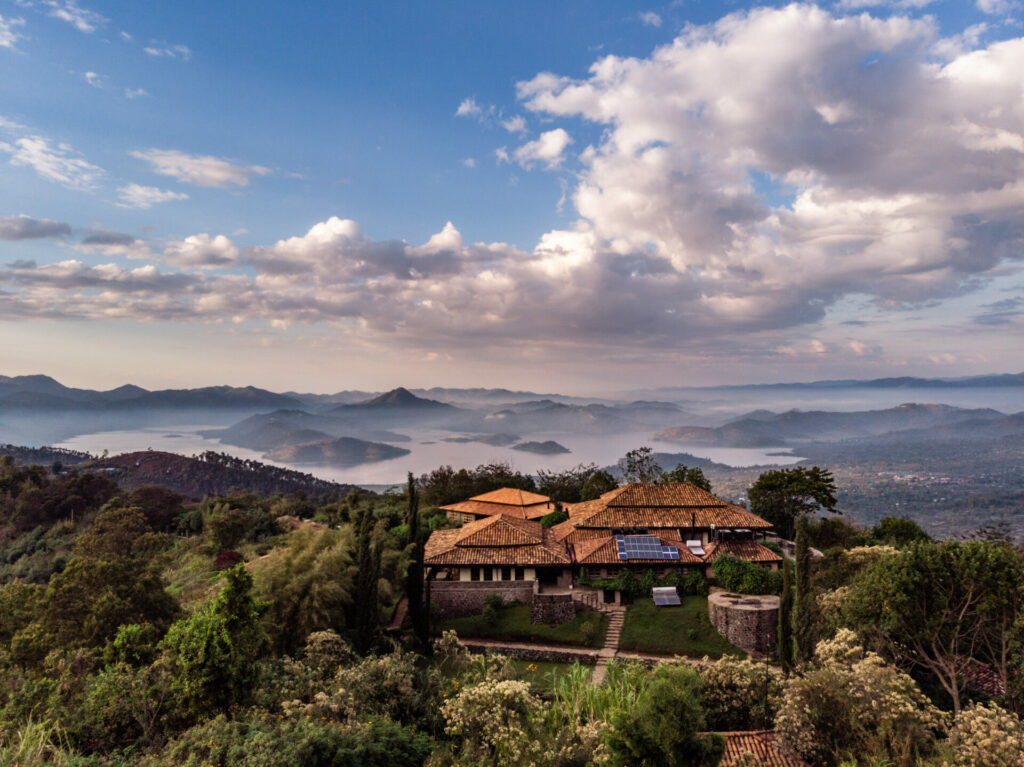 Call me picky, but these days there are a few new boxes I like to tick wen I'm choosing a luxury holiday and number one on the list are the green credentials of the company I'm travelling with. There were no need for concerns here as Volcanoes Safaris is a trailblazer, pioneered by founder Praveen Moman, who is celebrating 25 years of responsible wildlife ecotourism in Rwanda and Uganda, and is a signatory of the UN Kinshasha Declaration on Saving the Great Apes.
Owner of four luxury lodges (one in Rwanda, three in Uganda, with another to open later this year close to Kibale National Park, Uganda), Praveen's take on luxury travel is that subtlety is key. No question that the lodges are luxurious but he's also big on minimising environmental impact.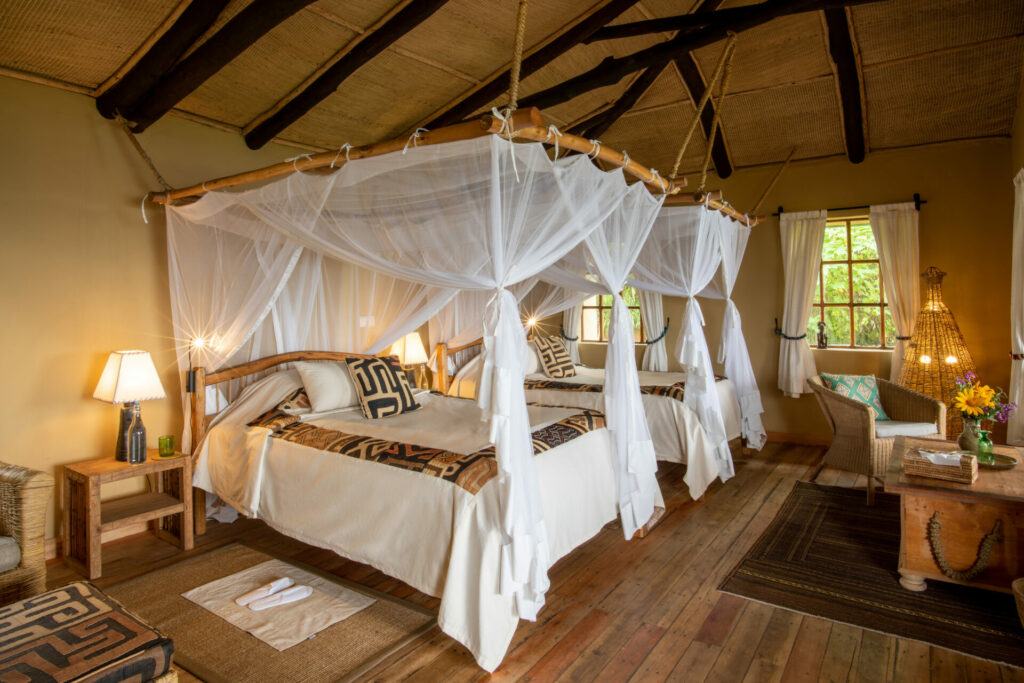 'At the age of 12, I first went walking in Mgahinga, in the Virungas, with my Father, who was passionate about the wilderness of Africa, and we visited many of the national parks,' Praveen tells me. 'It was around the time that Dian Fossey started her research with the gorilla here, and my romantic notions of safeguarding the wilderness began.'
In 1995, Praveen, who was born in Uganda, but whose family moved to the UK during challenging times post-independence, returned to Rwanda with a big dream: to kick-start gorilla tourism after the 1994 genocide.
It is these incredible great apes, which we share 98 per cen of the same DNA with, that I'm here to spend time with, so next morning I'm up at dawn, striking out over fields planted with Irish potatoes and the daisy-like pyrethrum, grown to make a natural insecticide, ready to begin my ascent in search of the Muhuzo gorilla family, one in eleven habituated (accustomed to people) gorilla groups.
While walking I have the etiquette surrounding an encounter with a mountain gorilla drilled into me (in a nutshell, to crouch and offer a 'mm mer' if threatened, which is gorilla speak for 'I'm no threat') by National Park Ranger, Christophe, but nothing can really prepare you for the moment when you come face to face with one.
This comes after just forty minutes of climbing through forest on a nettle-strewn path cut away by the constant swish of machete, when a juvenile male swings on a mossy vine before my eyes. Next a female emerges from the ferns with an infant on her back, which peers over the top his mother's head to lock huge round brown eyes with mine.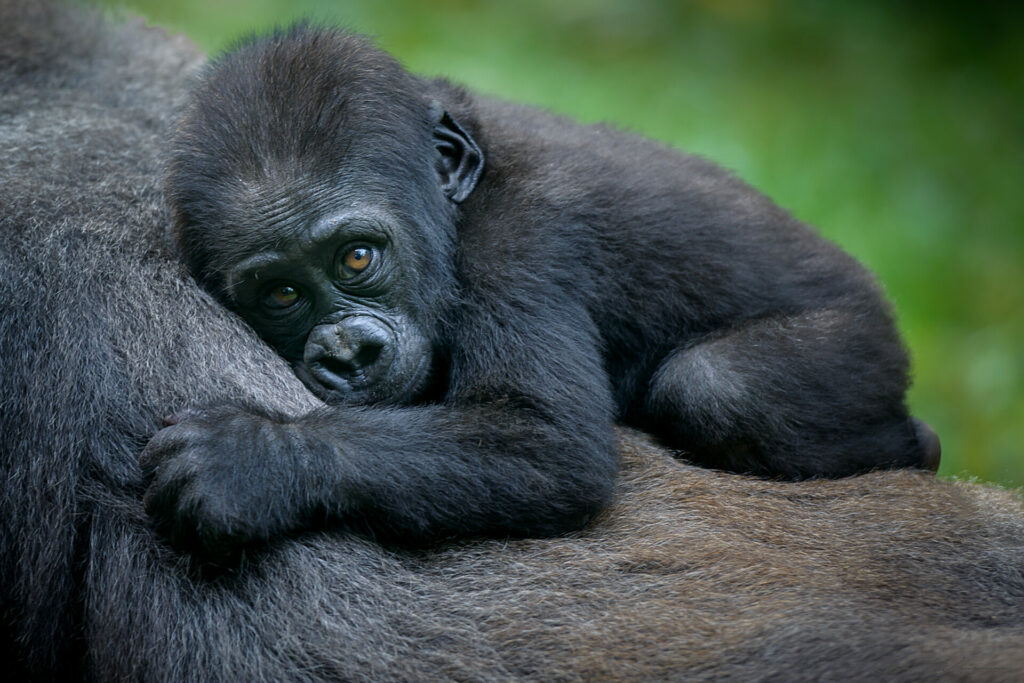 And when the fine figure of silverback Marambo comes into view with all 198kg of his muscle rippling and moves stealthily towards us, I'm pretty sure that I forget to breathe until I'm reminded by Christophe that at the juncture a "Mm mer" might be a good idea. I spend a spell-binding hour within Marambo's royal court, observing their meticulous grooming, steady chomping, recreational play (game of chase anyone?) and mating habits (so enthusiastically performed, I felt myself blushing), reminding myself constantly to take my mental pictures first before raising my camera.
Saving Rwanda's Mountain Gorilla
According to a 2019 census, there are around 1063 mountain gorillas left in the wild, with 604 residing within Volcanoes National Park (a string of dormant volcanoes that make up the Virunga Massif) shared by Rwanda, Uganda, and the Democratic Republic of Congo, and another 459 in Bwindi Impenetrable National Park in Uganda.
As I gaze upon Marambo and his family, I'm reminded of famous gorilla conservationist, Dian Fossey's, words: 'When you realise the value of all life, you dwell less on what is past and concentrate more on the preservation of the future.' It's clear that the continuation of sensitive, responsible gorilla tourism (small group visits for one hour once-a-day to each gorilla family) is key to these gorilla's future.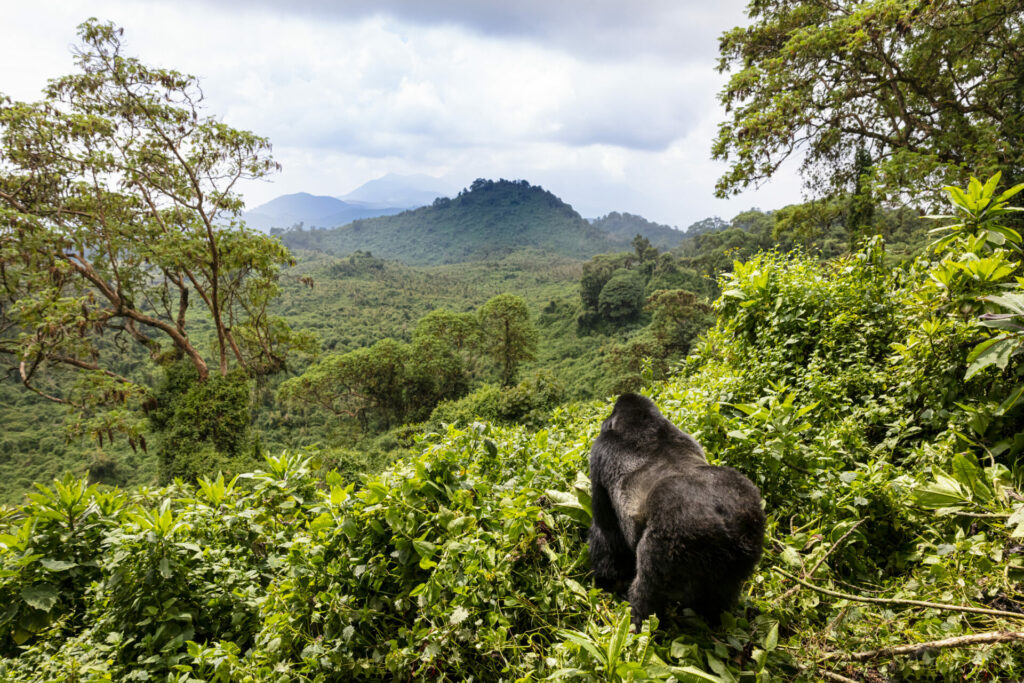 As well as tracking mountain gorillas and the endangered golden monkeys, with their adorable puff ball faces, and enjoying bird-watching excursions (spectacular native Rwenzori turaco, Regal sunbird, and Strange weaver are among the many spotted), you're encouraged to strike out for a walk within local communities. 'If you don't like people, then Virunga's probably not for you,' jokes Praveen.
On one such morning stroll, I soon spot water tanks marked with the Volcanoes Safaris' logo that have been donated to almost three hundred homes. I meet a trio of giggling four-year olds in matching red gingham shirts making their way to school; a female octogenarian smoking a pipe, who wishes me a 'mwaramutse' (good morning) and a young guy spreading shogun seeds on to a mat to dry – the key ingredient in a home-brew of banana beer.
The soundtrack to my walk is the bleat of sheep as every family now are proud owners since Virunga Lodge launched the "One Sheep per Family" project in 2014, which provides a steady supply of manure and, through a breeding programme, lambs to sell at market.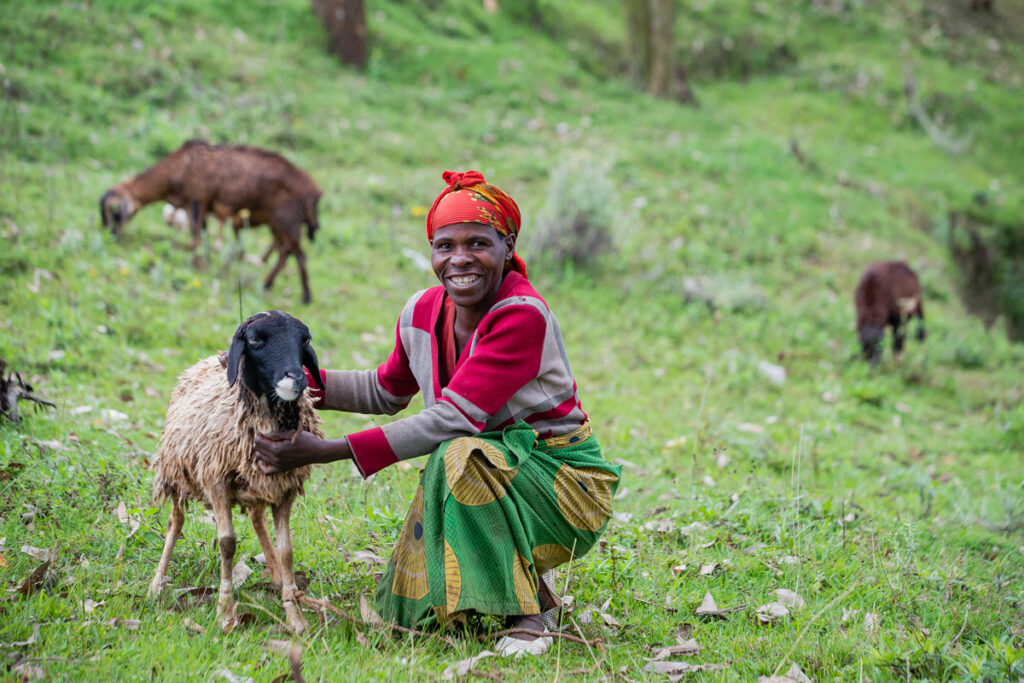 This isn't just lip service, it's clear to see that within this Rwandan community Volcanoes Safaris is making a huge difference. In Uganda it's the same: at Gahinga, a village has been built for the disenfranchised Batwa community (the original hunters and gathers of the Virunga, who were ousted from the forest with no support when it became a national park); and at Bwindi, training in hospitality is offered at the Bwindi Bar (pop in here to try the signature Gorillini cocktail) to local disadvantaged youngsters, many of whom are offered full-time employment within the lodges.
Not to mention the support given to women's co-operatives, youth groups, and ongoing gorilla and chimp conservation such as the Mountain Gorilla Veterinary Project that provides medical care to gorillas in the wild.
As a guest here, it feels an immense privilege to play a small part in all of this good work, and sitting on the terrace of Virunga Lodge, as day morphs to night and the Rwandan sky turns from candyfloss pink to inky mauve, I'm imagining that within the distant forested hills, silverback Marambo and his family are now snugly curled in fresh straw nests, and gazing upwards, just like I am, ready to count their lucky stars.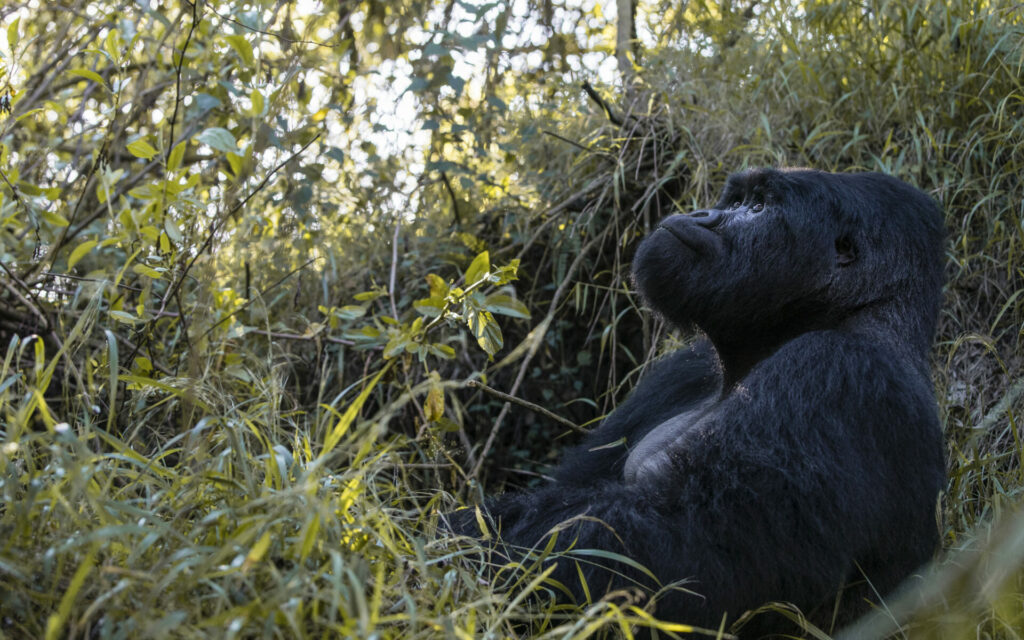 Volcanoes Safaris Facts:
Eco credentials: Rainwater is collected, wastewater recycled, solar power harnessed, single use plastic avoided. Plus, $50 per day for every guest who books guest goes straight to the Volcanoes Safaris Partnership Trust, which creates self-sustaining projects that enrich the quality of life in local communities and wildlife conservation.
Best time for gorilla tracking: Perfect conditions in Rwanda and Uganda are from June to mid-October or from December to the beginning of March.
What it costs: Spending time with a mountain gorilla family is one of the world's greatest wildlife experiences but it comes with a hefty price tag at $1500 for a permit per person in Rwanda and $700 in Uganda. It's money well spent though as the fee goes towards conservation work, research, payment of National Park staff, and supporting local communities.
A six-day safari starts at $7711 per person. For all options of 4-to-10-day safaris, visit Volcanoes Safaris here
Kate Wickers is the author of travel memoir, Shape of a Boy, My Family & Other Adventures available now on Amazon.
For more travel inspiration head to our TRAVEL section